How to Convert vCard Contacts to HTML for Google Chrome?
In this scenario, learn about how to convert VCF contacts to HTML (webpage) format in batch. This article gives you a route for exporting contacts from vCard to HTML files. It is not possible to manually convert contacts to HTML format. Therefore, we will explain a professional method that can easily convert contacts into MHT or HTML formats. So, keep reading this post.
A file with a *.vcf extension is a vCard file used to preserve or share contact information. In addition to an optional binary image, vCard files are created with text and include many details such as title name, contacts, addresses, email, phone number, and other details.
Due to the popularity of the vCard format, many programs and online platforms support importing or exporting vCard files. But manually no one can get the vCard file data without a proper utility.
Reasons to Export vCard Contacts to HTML Format
However, you can copy the content details from your source vCard location to any text editor application. But once you copy the content from the vCard file to a text editor, you will lose the original formatting of the contact details.
Therefore, to overcome such issues, many users want to convert vCard to HTML document format for easy and all-time accessibility. One such query explained below:
"Hi, I had my contact list exported from my old email client. My contact file extension is *.vcf format. I know that I can import this file to any Android phone or web portal. But I am looking for a solution to convert VCF to HTML format. Does RecoveryTools have a solution for me to do this task?"
More Helpful Articles:
vCard to HTML Converter – Smart Solution
RecoveryTools vCard Converter Tool allows you to export bulk contacts to HTML format. An easy-to-use and proficient utility that allows you to convert vCard contacts to web page format. The product is a reliable solution that grants a rapid solution to open your vCard files in all web browsers. After complete the process, you can easily open vCard files in Chrome without any issues. You can download this application on all Windows computers including Windows 11.
Free Download the Software Now:
Note: This is a demo edition of this application to convert only 5 contacts from VCF files to MHT or HTML format. For an unlimited conversion process, purchase the licensed key to activate the software.
How to Convert vCard to HTML for Importing Contacts in Chrome?
In the first step, you need to install this application on your Windows computer.
The software gives you a dual-mode of selection vCard files – Add Files or Add Folders.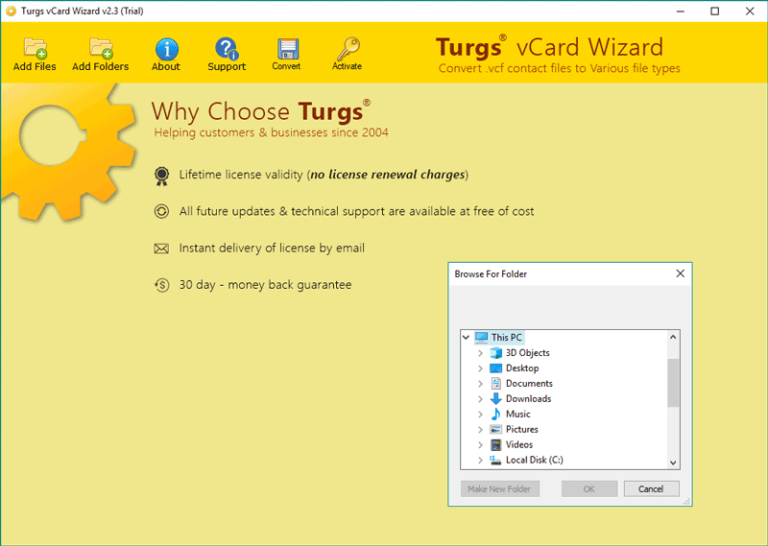 It gives you the facilities to preview your vCard contacts in the interface. This option is helpful for choosing the right vCard file.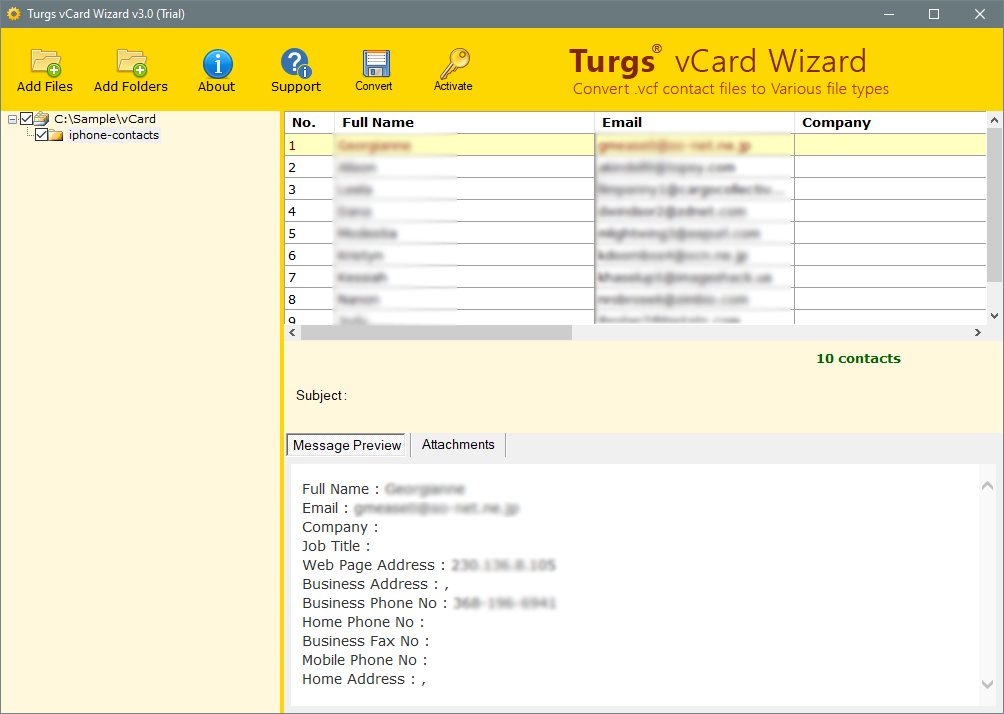 Now, in the list of file options, choose the HTML file format.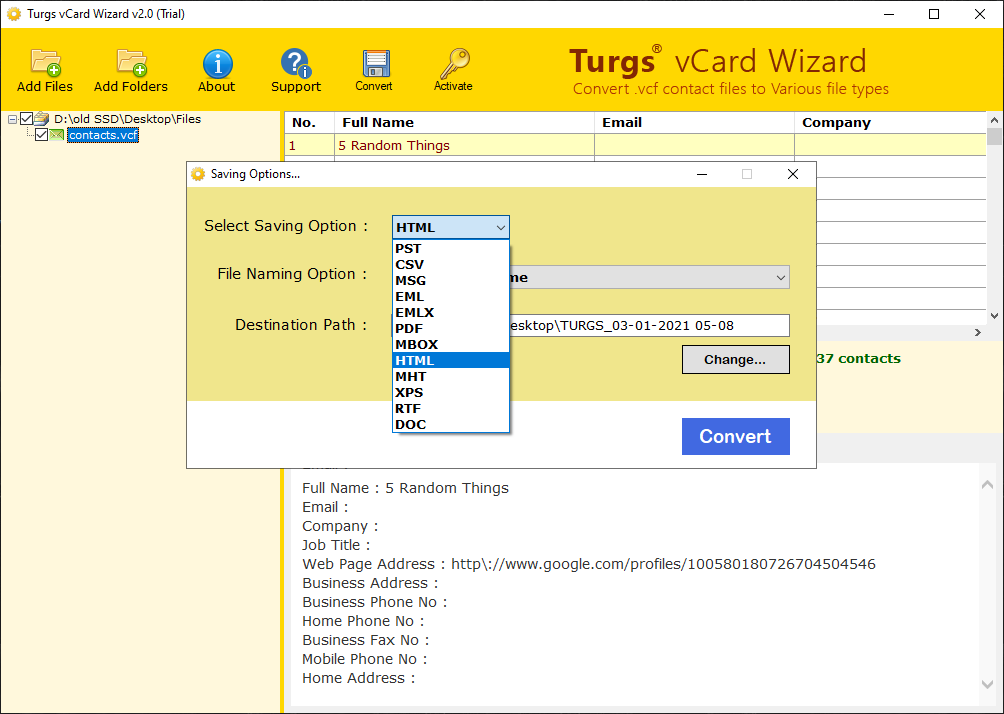 Also, you can select the File Naming Options to arrange your resultant data according to the requirements.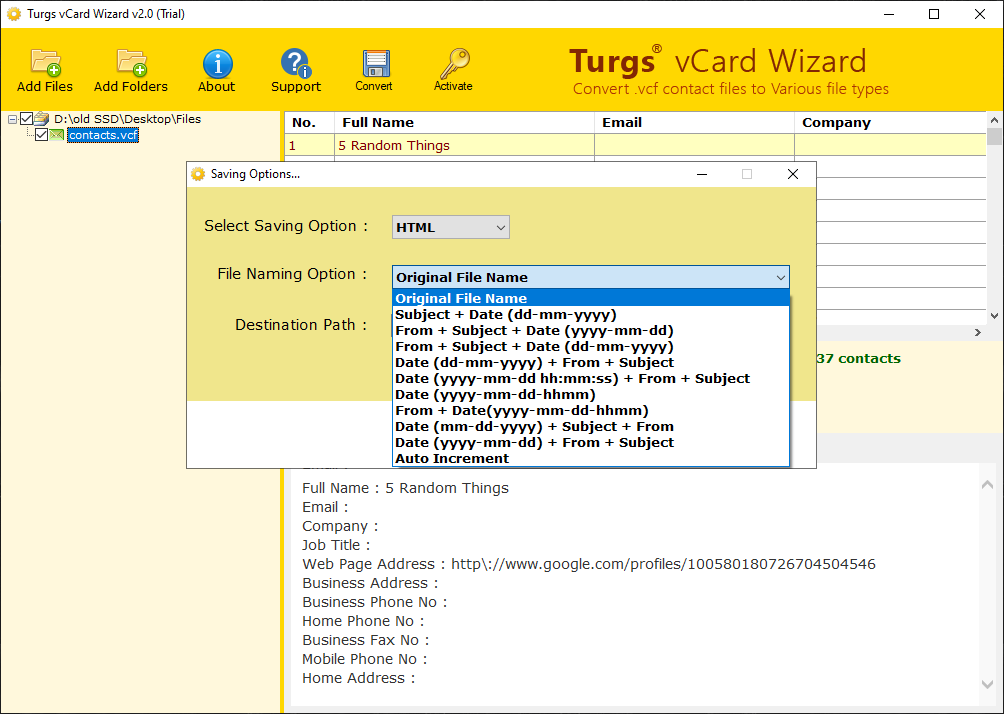 Then, select the resultant location path to save converted data at your location.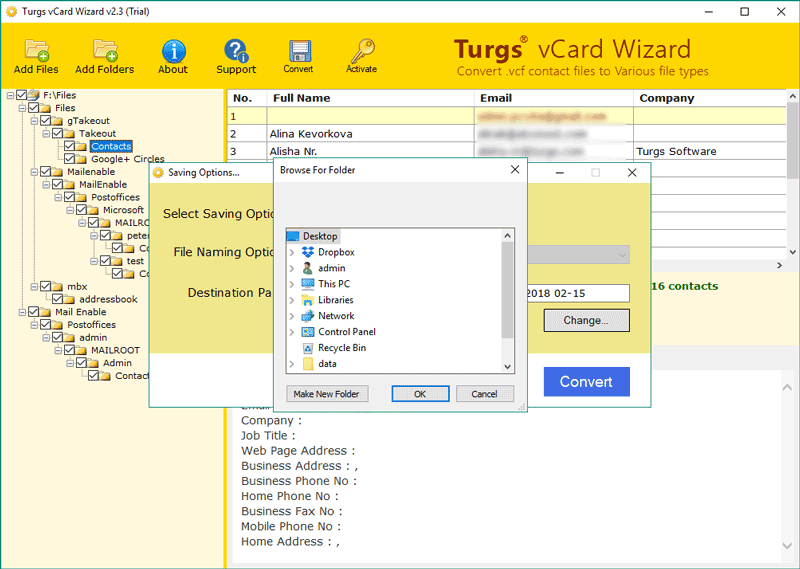 In the final step, you need to hit on the next button to start the vCard to HTML Conversion process.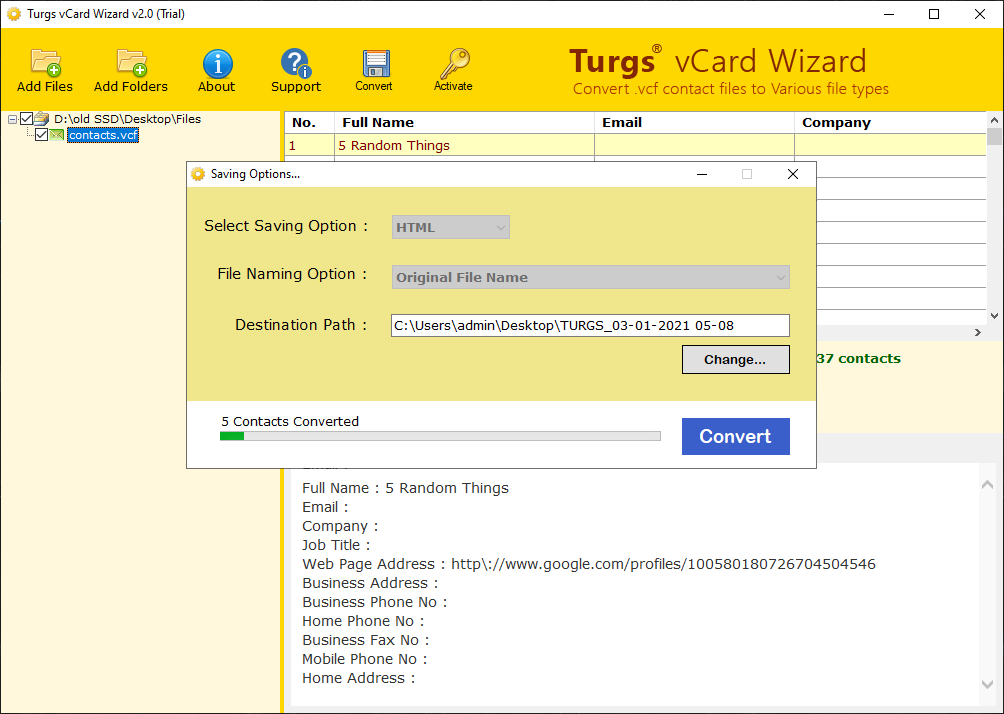 Once the conversion process is finished, click on the OK button.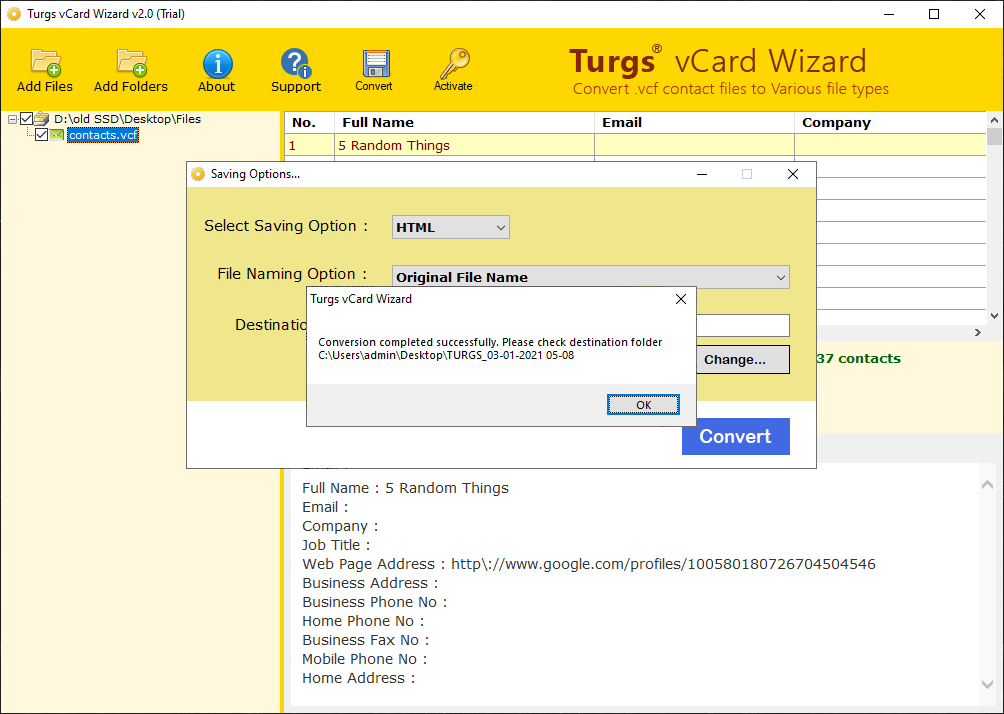 Now, your resultant location will open automatically.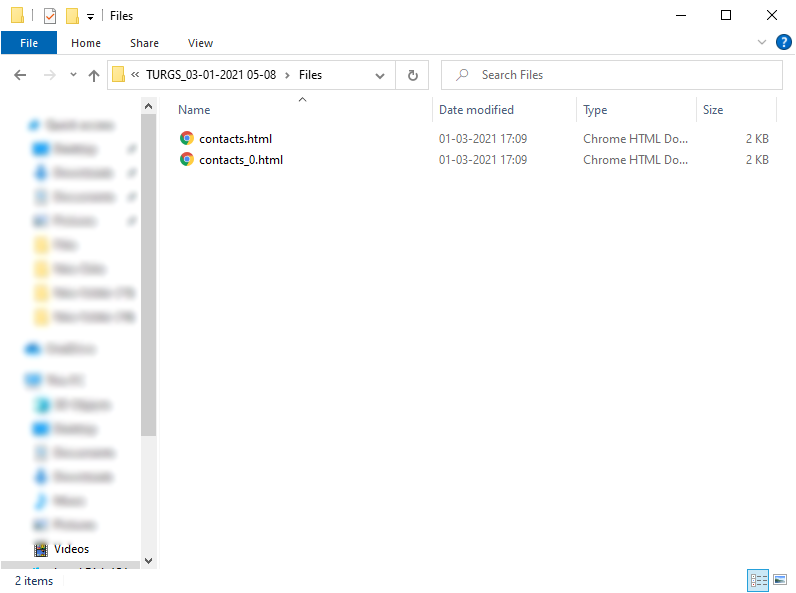 VCF to HTML Converter – Benefits & Its Advantages
Dual Selection Options: The program gives the facility to choose multiple vCard or VCF files at once. It provides Add Files or Add Folders option to load all vCard files in the interface at once.
Open VCF or vCard Contacts Easily: The software gives you a platform where you can easily open vCard or VCF files without any utility. HTML is a platform-independent format. One can easily open an HTML file on a phone, computer (Mac, Linux, Windows), and other devices.
Retain Original Contact Properties: The software keeps all properties of contacts during the vCard to HTML conversion process. After completing the process, you will get all the details in the web browser such as title, name, phone no, address, email, etc.
Convert All vCard File Versions: The program supports all versions of the vCard file created by any email program or online account. You can easily convert vCard 2.1 to HTML, vCard 3.0 to HTML, vCard 4.0 to HTML, etc. without any issues.
Freedom to Select Converted Location Path: The software lets you choose the location path where you save the resulting data easily. This option will help when you want to save the resulting HTML files in external as well as internal storage locations.
Windows Supportable Solution: The software supports or installs on all versions of Microsoft Windows operating systems. You can use this application on Windows 10, Windows 8.1, Windows 8, Windows 7, Windows Server 2019, Windows Server 2016, Windows Server 2012, Windows Server 2008, etc.
Some Common Queries

How many contacts can I export as HTML format with a demo edition of this application ?

The demo edition of this application can allow you to convert only 5 contacts to HTML format.

Can I use this VCF to HTML Converter on my Mac Computer ?

No, the software supports only the Windows environment.

How many vCard files can I convert to HTML format using this application ?

The software provides dual selection options which allow you to choose unlimited vCard or VCF files at once. So, you can convert VCF to HTML without any limitation.

Does the program keep contact properties during the process ?

Yes, the software preserves all the properties during the VCF to HTML conversion process.

Can I install this application on Windows Server 2016 machine ?

Yes, the software supports all editions of Microsoft Windows including the Server 2016 computer.
Conclusion
In this write-up, you learned the process to convert vCard contacts to HTML format. If you have any questions about this utility and its process, contact us via email or live chat process. We already provide a free trial edition to test this application before purchasing the licensed edition. One can easily install this application on their Windows Computer and convert 5 vCard contacts to HTML or other formats. For more information, contact the technical team.