How to Convert VCF File to PDF for Sharing Contacts ?
Karen Chard
~ Modified: 21-05-2022 ~ How To ~ 8 Minutes Reading
Do you want to open vCard contacts anywhere ? Or looking for a solution to easily share your VCF contact information with others ? – So, somewhere you want to convert vCard to PDF ? – If your answer is Yes! then this article is for you.
Contacts represent opportunities in leads, clients, tips, research, networking, and successful business marketing. While only one out of every odd contact will be advantageous in each circumstance, a decent marketer realizes how to rapidly call the correct contact for the right circumstance.
However, to share contact information with others, vCard is one of the popular contact saving formats. That's why most applications and devices use vCard or VCF format to store their contact information.
What is the Difference Between vCard and VCF – Both are Same ?
Don't confuse between vCard vs VCF, they are both similar. Actually, vCard is also known as VCF file. A standard contact sharing format vCard enables you to send contact information to other applications such as email clients. The vCard file is saved as a *.VCF extension.
As we know a vCard file is a contact format, that's why we can't open it manually without a proper application. To read contacts from vCard files, we need to convert vCard to PDF or a similar readable format.
Importing vCard files to Outlook and other email clients is a simple task. Because you can easily use contact management facilities to import or access your contacts from vCard files in any applications.
But the problem arises when we don't have the right application to read vCard files. That's why many people choose PDF format. Because PDF file is a platform-independent format, many users want to convert VCF to PDF format.
Why PDF is Better than Other Formats ?

Since the PDF document turned into an open norm in 2008, it has received widespread support across all types of apps today. Most current browsers are completely equipped for opening and showing PDF documents. So, a single PDF document can open on Windows, Mac, or Linux as well as Android, iPhone, Windows Phone, and more.
After long research, we find that a large number of users looking for a method to change VCF to PDF format. However, we all know the fact that most of application and phones doesn't allow to print Contacts to PDF format. That's why we can't manually convert vCard to PDF format.
If you want to convert vCard file to PDF document, you need to take the help of RecoveryTools vCard Migrator utility. This application allows you to change VCF with multiple contacts to PDF in batch mode.
Instant Solution: vCard to PDF Converter
To save vCard contacts to PDF format, we suggest you to download this application on your computer. This is a completely Windows-based solution to change VCF to PDF in batch. Download the software free of cost by the given button.
Note: This is a free trial application with all benefits like a pro version. But, you can only export 5 contacts from vCard to PDF format. You can check the efficiency of this application using this demo edition. After you are completely satisfied, please upgrade it for unlimited vCard to PDF Conversion process.
How do I Convert a VCF File to PDF ?
Download this application on Windows.
Choose VCF or vCard files with dual options.
Select and get free preview of vCard contacts.
Pick PDF option and set the destination location.
Click on the next to Convert vCard File to PDF format.
Reasons to Convert vCard File to PDF
Over a long period of research, we find that a large number of people are looking for ways to convert vCard to PDF.
Well, we all know the truth that Android, iPhone, and email client applications such as Outlook, Thunderbird, etc. do not provide the option to print vCard contact list to PDF document format.
That's why no any can manually export contacts to PDF or other document formats. To illustrate the topic, we give an example of a user question: –
"Hello, I want to save my Gmail contact list in PDF document format. Gmail allows me to export the contact list to vCard or CSV format. But it does not allow me to export contact data in PDF format. Does RecoveryTools help me in this matter?"
"Hey, I want to reset my iPhone settings. I have stored my contact list in phone memory. The iPhone can export all contact lists in vCard format. But I want to make a PDF copy of all my contact lists. Is there any solution available to export iPhone contacts to PDF format?"
Some of the Common Reasons Why User Want to Convert vCard to PDF
Well, PDF is a platform-independent document format. After converting vCard to PDF, one can easily open this file on any operating system or device.
PDF file takes lower space according to other document formats. It has a lot of image compression algorithms.
For added security, you can set a password in PDF. And users can also customize security settings in PDF files, such as restrict printing or editing.
How to Convert vCard with Multiple Contacts to PDF Document ?
Downlaod and install the software on your Windows Computer.
Launch the software on your computer and read the instructions of this utility before the process.
Now, select your vCard or VCF with multiple contacts using add files or add folders option.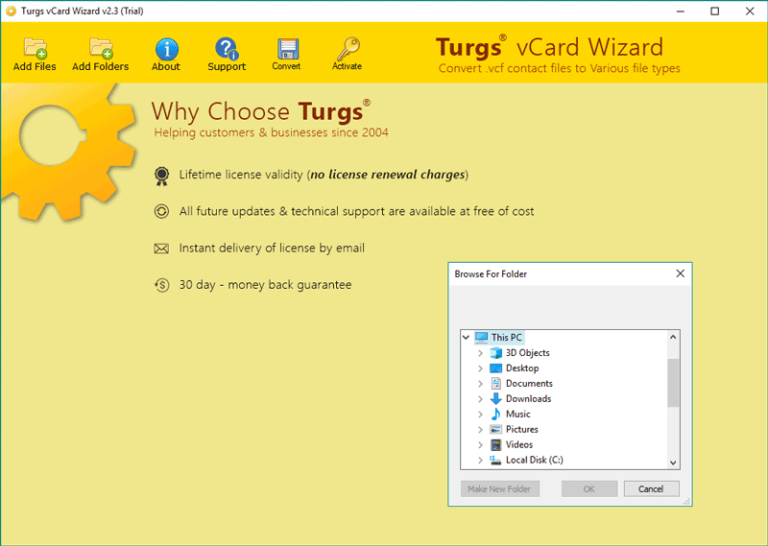 After this, the software gives the facilities to preview your VCF contact data inside the interface.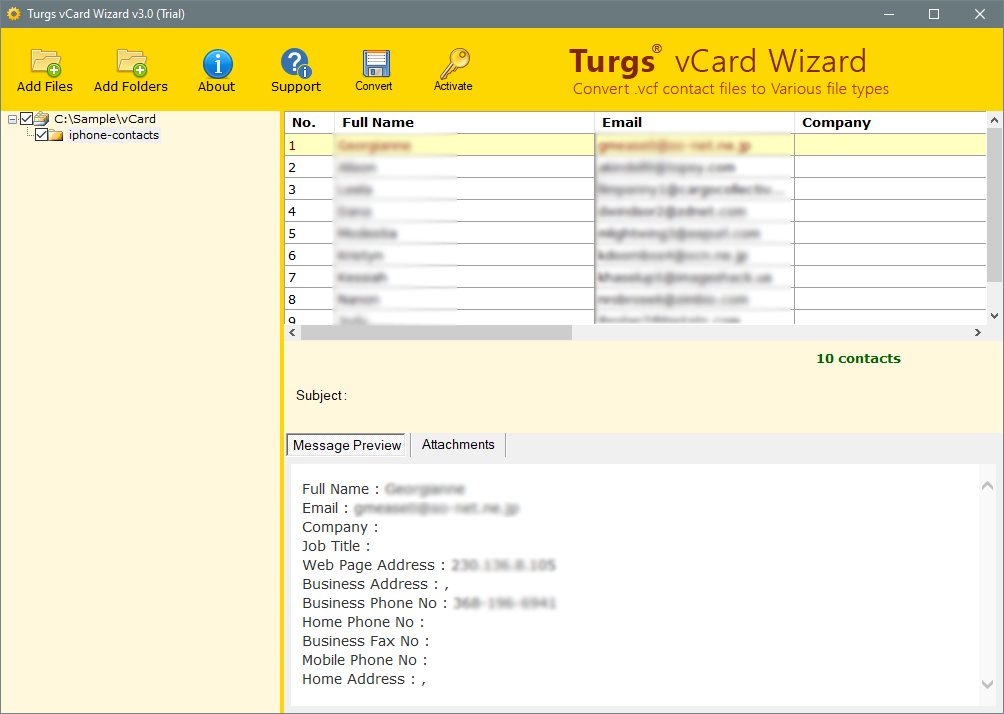 Click on the Convert button, and choose the PDF format option in the saving list.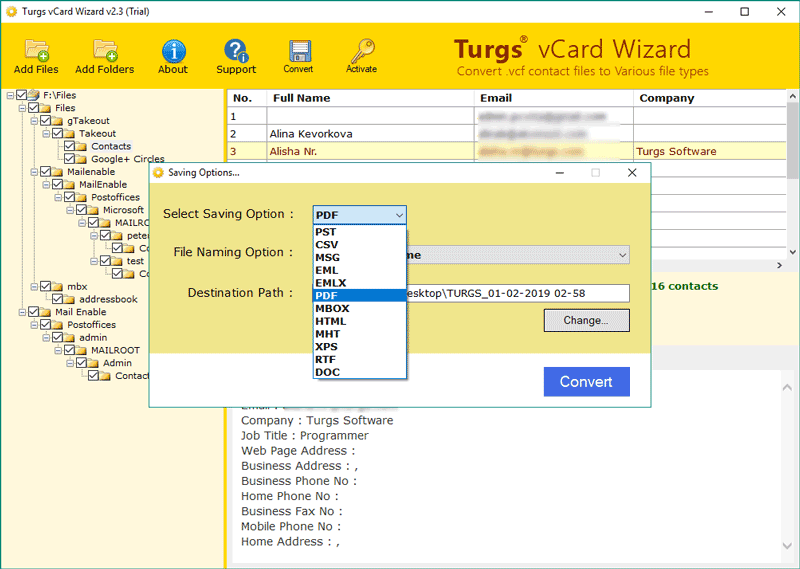 The software provides multiple file arrangement facilities to manage your resultant data.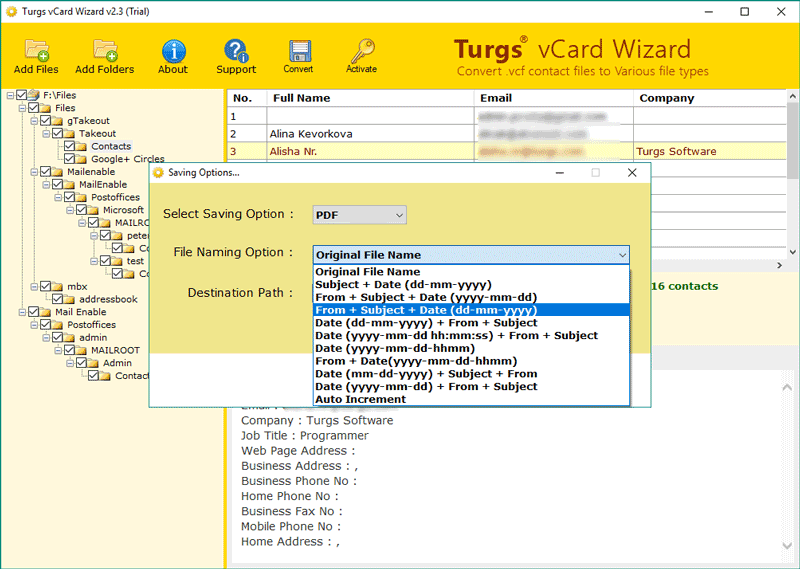 Click on the Browse button and choose the resultant location path.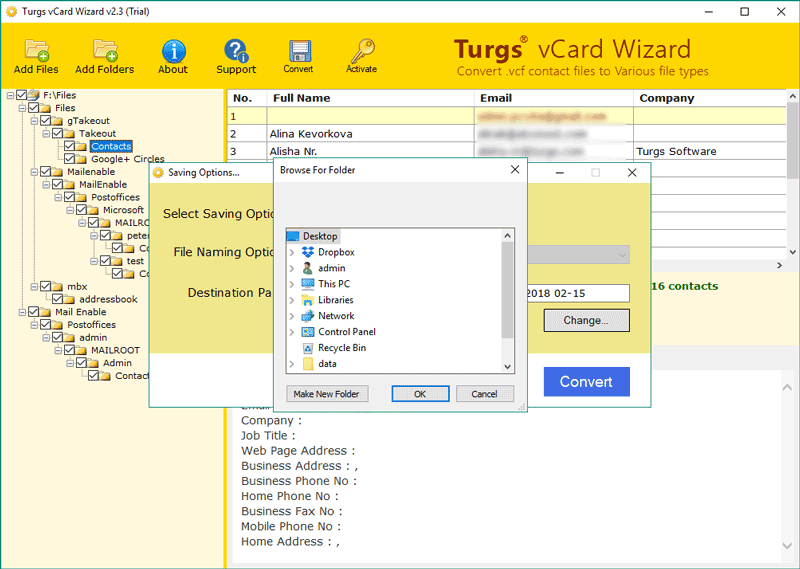 In the final step, click on the next button to start vCard to PDF Conversion process.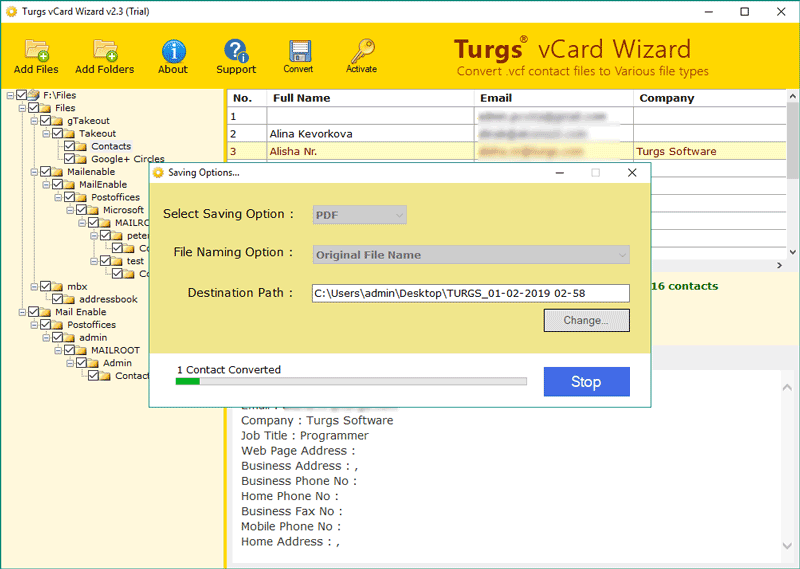 After the complete the conversion process, the tool will inform you by a pop-up message.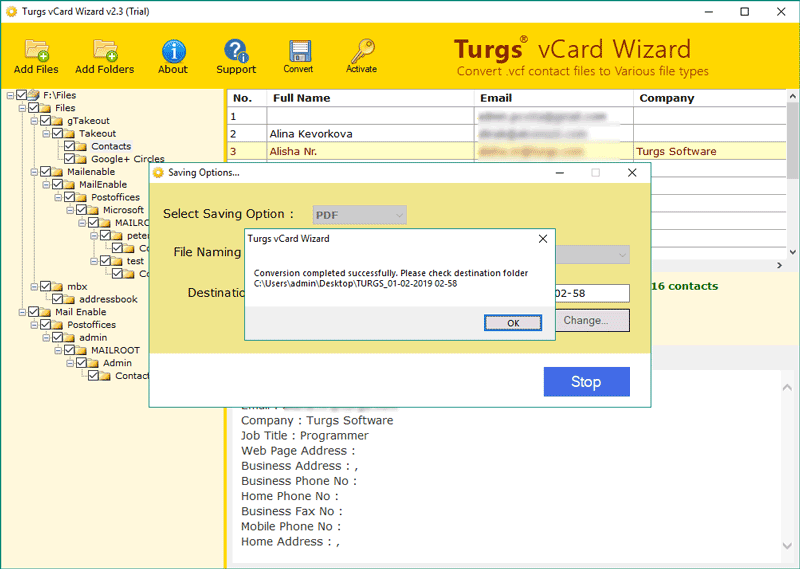 After click on the pop-up message, the utility will automatically open your resultant location.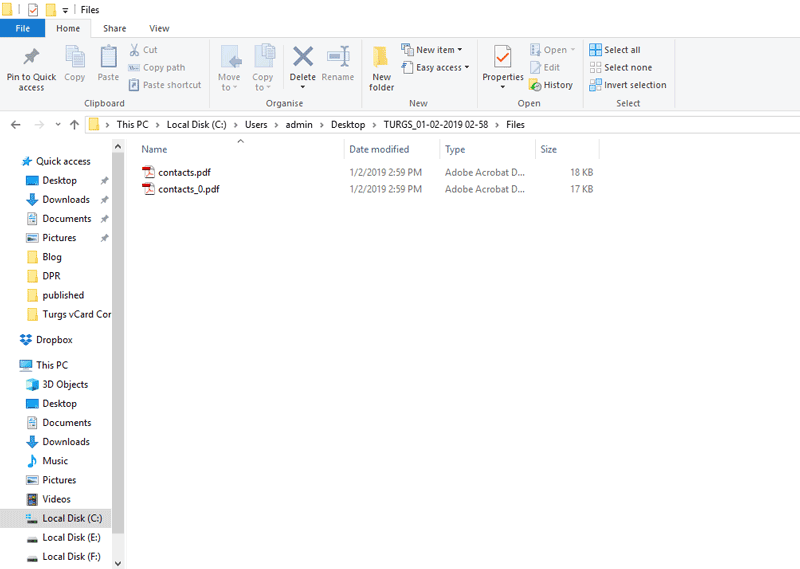 Advantages of VCF to PDF Converter Tool
Dual Options for Batch vCard File Selection:
The program developed with dual options to choose single as well as multiple VCF files at once. You can easily choose multiple vCard files and convert them into PDF and 9+ more formats without any issues.
Option to Arrange Resultant Files with Filters:
Most users want to arrange their resultant data according to the file name, contacts name, phone number name, etc. For this, the application provides multiple file naming filter options to arrange your resultant data according to the requirements.
Supports to Convert All vCard File Versions:
Periodically upgrade vCard file with standard updates or versions. This is why this application evolved with all the latest technologies that provide a platform where you can easily convert all versions vCard file to PDF format. You can easily convert vCard 2.1 to PDF, vCard 3.0 to PDF, vCard 4.0 to PDF, etc.
Maintain vCard Contact Properties:
A large number of users are concerned about their contact properties when converting vCard to PDF format. This application allows you a platform where you can easily convert VCF to PDF with maintained contact properties such as name, phone number, image, address, email, etc.
Convert VCF to PDF for Multiple Platforms:
This software is a platform where you can easily share your contacts with multiple platforms. The software gives multiple saving options including a PDF option. So that, you can easily share this vCard to PDF converted file on your online platform, phones, laptops, tablets, etc.
Freedom to Choose Resultant Location:
The program allows the freedom to take any location to save the converted data. This option will help you save the resultant PDF file on your external and internal storage location directly.
User Common Asked Queries
Does your tool support all versions of vCard files ?
Yes, one can easily convert vCard 2.1, vCard 3.0, vCard 4.0, etc. to PDF documents without any issues.
Is a VCF file used to store single contact information and a vCard file is used to store multiple contacts ?
vCard is a standard format to store and share contacts over platforms. A VCF is just a vCard file extension. However, VCF files can store single as well as multiple contacts in a single file without any issues.
Can I convert vCard to PDF for Mac computer using this application ?
Yes, the software allows you to convert vCard file to PDF for Mac and other platforms on Windows Computer.
Does the software support Mac Computers ?
No, currently the software supports only the Windows environment.
Can I install this application on my Windows Server 2016 computer ?
Yes, this application supports all Windows operating systems including Windows Server machines. One can easily install this application on Windows 10, 8.1, 8, 7, as well as Server 2019, 2016, 2012, etc.
Conclusion
This post explained the way to change vCard file to PDF document with multiple contacts. If you are looking for a method to Convert VCF to PDF format, then this article is for you. Read this blog completely and download the recommended solution for converting vCard files to PDF format. For more information, you can contact us via live chat or email.