How to Convert vCard to Word Document ?
VCF is one of the most effortless and quickest approaches to trade contact data than utilizing other conventional business cards. These VCF or vCard files are prepared to use as they are upheld by a huge number of gadgets, and applications. Users can convert vCard to word Document format for easy and all-time accessibility.
As we know a vCard file is a contact format, that's why we can't open it manually without a proper application. But manually you can copy the contact information from your database to a Word document one by one.
Once you convert VCF file to word with manual approaches, you could end up losing the original formatting of contacts details as well as the contact fields. Hence, to overcome such issues, you can use a VCF to Word converter software to export VCF file to DOC and DOCX format with preserved formatting. In this blog post, learn about the most efficient solution to convert vCard to DOC / DOCX format with the help of the vCard to Word Converter tool.
VCF to Word Converter Software: Hassle-Free Solution
A simple to utilize and proficient application that permits to convert vCard to word Document. It's a reliable vCard to DOC converter tool that grants users to swiftly extract all information from vCard contacts and store it in MS Word Documents.
One of the interesting functions of the VCF file to DOCX Converter is that it supports the batch contacts conversion process. Alternatively, users can open VCF files in word by one-by-one also.
Since the DOCX files are much simpler to handle and edit so the users can convert vCard to word Document with this RecoveryTools vCard Migrator. With this software, you can also convert it into HTML, and other savings.
Now, you can test the VCF to DOC converter software without paying any money. Please hit on the download button in order to use the free Demo version. With it, you'll be able to change VCF to word with a limitation of 5 times. If you have a greater number of vCard then you need to purchase the license keys of the product.
Windows Compatibility:
The vCard contacts to word converter support all Windows editions. It is compatible with Windows 10, Windows 8.1, Windows 8, Windows 7, Windows XP, Windows Vista, Windows Server 2019, Windows Server 2016, etc.
How to Convert vCard to Word Documents?
Quickly go through these step-by-step guidelines in order to convert VCF to DOC / DOCX format.
Firstly, download and launch the VCF to word converter software on your Windows machine.
Now, browse the VCF files using the dual options- Add Files or Add Folders.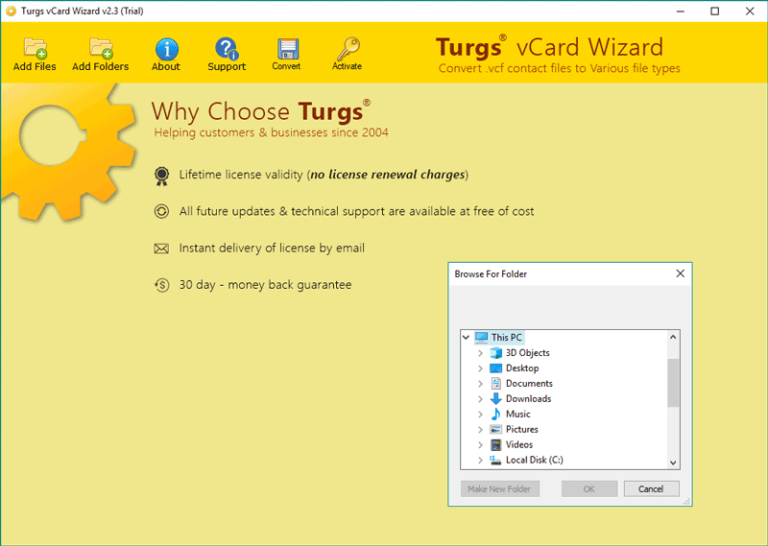 Just take a preview of the vCard or VCF file contacts into the software panel.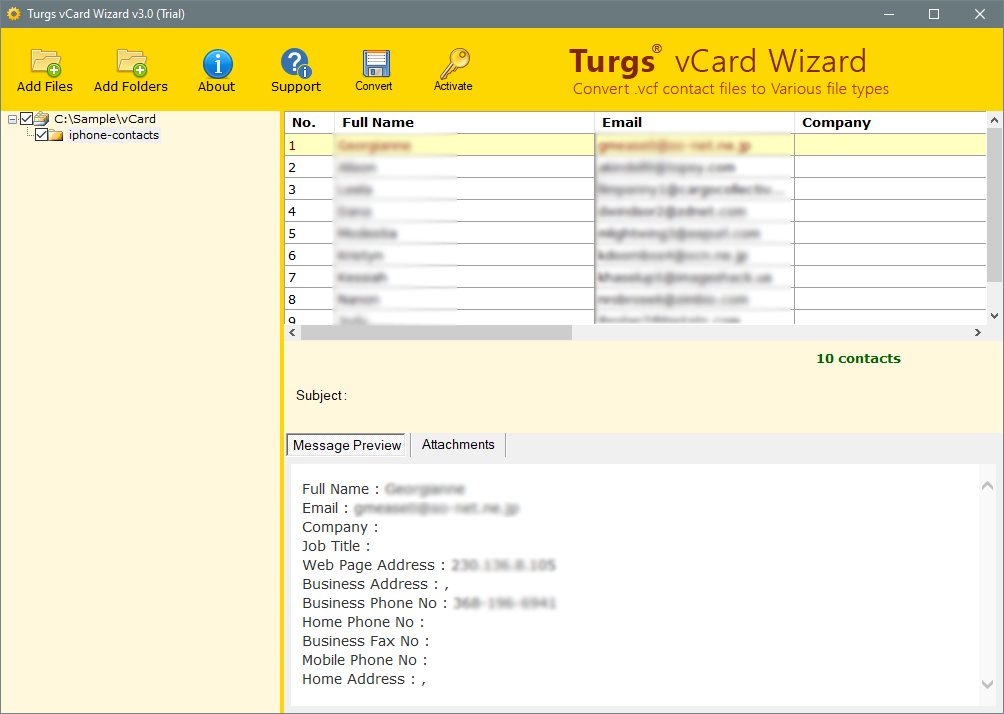 From the Saving Options list, choose DOC file format.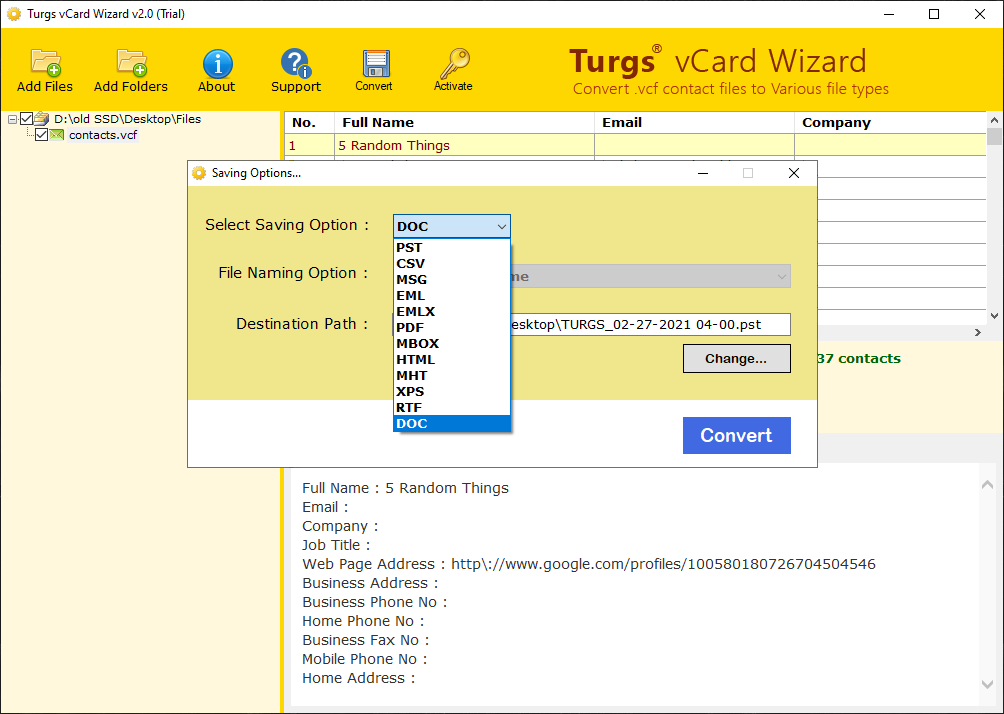 Then, change the file naming option as per your requirement. Also, add a destination location for saving vCard contacts to word-converted files.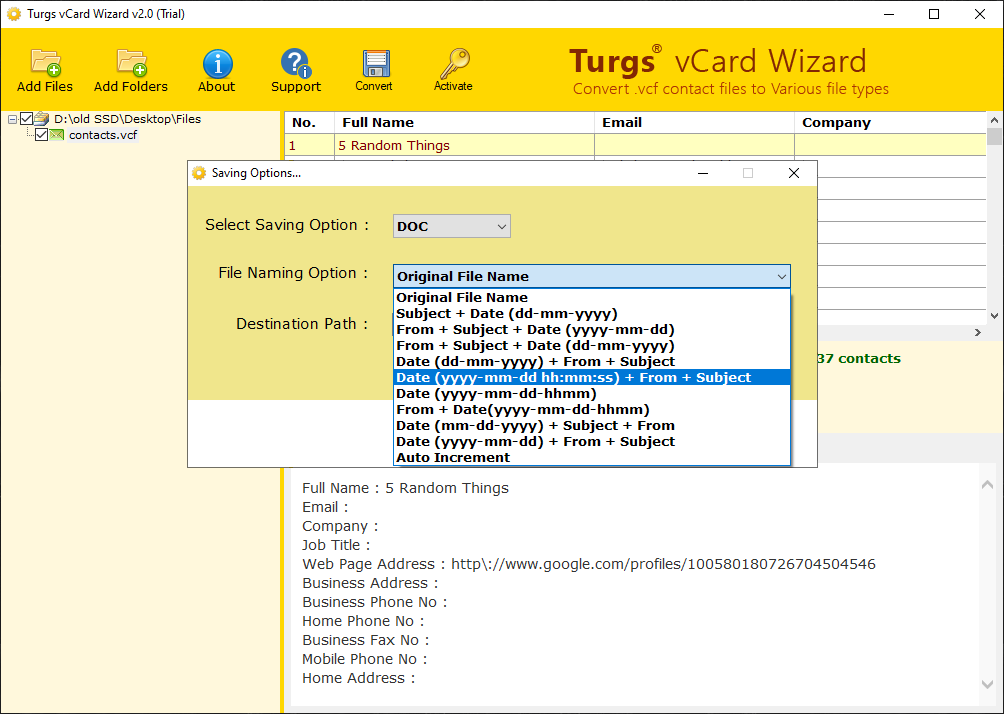 Finally, tap on the Convert button. Soon your vCard contacts will start to export into DOC file format.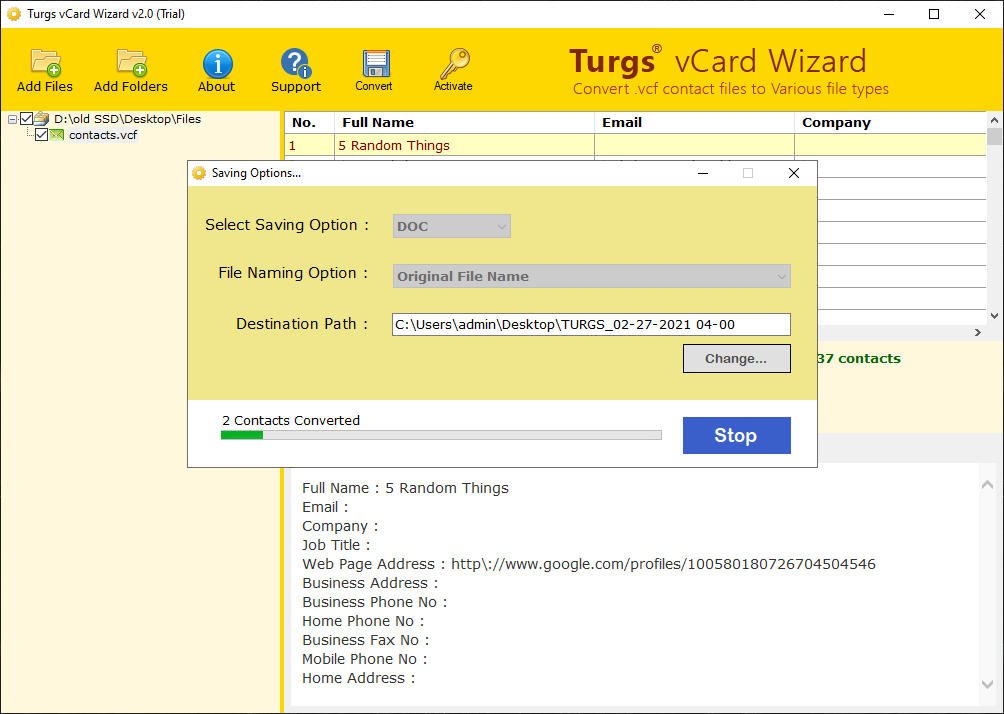 Once the entire VCF to DOC conversion process comes to an end, you'll get a confirmation message – 'Conversion completed successfully. Hit on OK to exit the screen.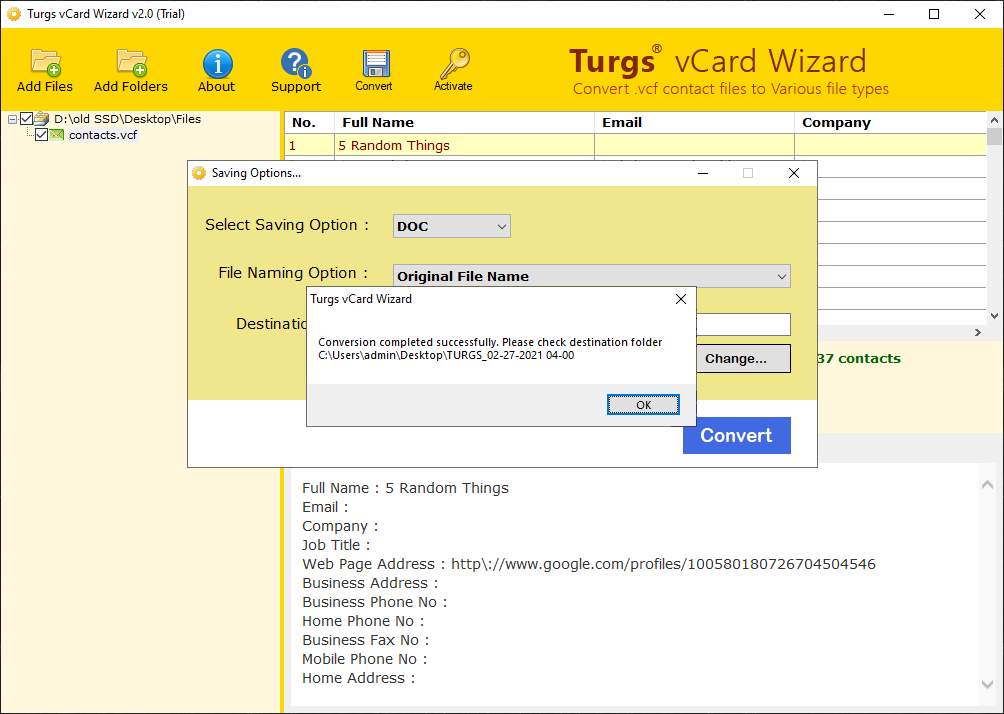 Now, you can straightforwardly access all vCard contacts to DOC-converted files from the resultant location.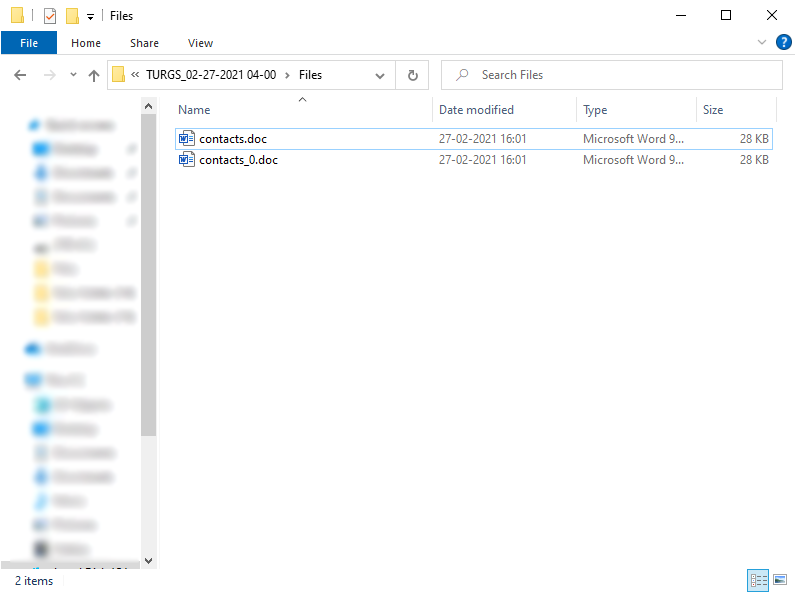 vCard to DOC / DOCX Converter – Outstanding Features of Software
Convert VCF to DOCX with All Details: The vCard to word converter software made no alterations in the original contacts and address book. It will convert VCF to Word document with all fields like Name, Address, Title, Business Address, Email Address, Gender, Company, Job Title, Business Phone No, Fax No, etc.
Compatible with All vCard Encoded Files & Version: Using the VCF file to word Document converter, you can implement the contacts conversion with all sorts of encoded files. You can convert UNICODE VCF, ANSI VCF, UTF-8 vCard files, UTF-32 VCF files, and UTF-7 vCard files with this utility. The software supports all editions of vCard files such as vCard 2.1, vCard 3.0, vCard 4.0, etc.
Store Output with any File Name: Once you have initiated the task to open the VCF file in word, thereafter you can select any file naming options. This option may be a combination of subject, from, and Date format. It enables users to arrange vCard to word-converted files in a proper manner.
Two Ways to Add VCF Files: There will be a dual method to browse the VCF contacts for conversion. Either the user can choose VCF files with the Add Files option or can load multiple files with the Add Folder option.
Preview Information of vCard Contacts: During the process to convert vCard to word Document, you can take a complete preview of vCard contacts with attachments. You can read all details of vCard file such as Company, Job Title, Web Page Address, Business Address, Business Phone Number, Address, etc.
Any Destination Location: After performing the VCF file to word conversion, you can save the output at a location of your choice. You can also create a new saving folder directly through the vCard to word converter tool.
Common FAQs
Hello, I have bought a new Android phone and right now I am having around 1500+ contacts in the address book. Now, I want to open vCard contacts in word Document. I tried to save VCF files to DOC/ DOCX format, but I got nothing in the results. Is there any automated solution that could help me to convert vCard to word Document? It would be better if the solution will help me to batch convert the VCF file to DOCX format because the contacts are in huge numbers.
Yes, there is a direct solution known as VCF to word converter software. It is specifically built for users like you who intend to convert VCF to Microsoft Word file. You can perform batch conversion of VCF contacts to DOCX with it as well.
How many contacts can I import into the VCF to DOC converter tool for the conversion?
You can choose any number of files or folders to implement vCard contacts to DOC conversion.
Does vCard to DOCX file converter compatible with Windows Server 2019?
Yes, it runs absolutely fine on all Microsoft Windows OS including the Windows Server 2019 machine.
Conclusion
In the above blog, we have explained a brief solution to convert vCard to word Documents. Using the VCF to DOC converter, even a non-technical user can perform the conversion. It is a simple, efficient, and trustworthy tool. You can evaluate how the software works with the demo edition. Please contact to our support team if you have any queries regarding the product or vCard to DOCX conversion.