How to Backup Lotus Notes Emails Folders – Easy Method
It is recommended that you always keep backup Lotus Notes Emails & folder copies in your system. Lotus Notes data can be exported to NSF files, but the user can make copies as .pst files for future use.
This article explains in more detail how a user can back up Lotus Notes documents and views.
Did you know?
In Lotus Notes, e-mail messages are referred to as documents, and folders are named by views. Don't get confused as I am using Docs and Views instead of emails and folders in the article.
The Lotus Notes document client is one of the popular e-mail client software. It provides its users with the highest level of data security. However, over time, the size of the Lotus Notes database file will increase due to the regular transfer of documents to or from the Inbox.
As the size of the NSF file increases, so does the chance of damage. If your main NSF file is damaged, all your data would no longer be available to you.
The best scenario for dealing with such situations is to back up Lotus Notes emails regularly over a period of time.
Instant Solution:
With this software, the user can try Lotus Notes Migration software. It also has advanced filter settings for selective backup of Lotus Notes mailboxes. The user can back up specific Lotus Notes email folders/views or emails retrieved in a given period.
How to Backup Lotus Notes Emails & Folders?
Watch the video above, which provides you a direct solution to take a backup of old Lotus Notes mailbox items to a new file format.
Taking backup of Lotus Notes mailbox items is an important task. By taking backup of your mailboxes time-to-time, a user is ensuring data security. Lotus Notes database items are mainly stored in NSF files. A user can backup Lotus Notes emails, contacts, & calendars to the NSF file, by following these steps:
Start your Lotus Notes email application. Click Actions, choose Archive, and then click Create Criteria.
You will now get the Archive options window. Enter the name of the file folder you want to save in Lotus Notes.
Activate the "Enable the criteria" checkbox and select your selection criteria.
Then select the files you want to Archive and click OK.
You can see the location of the file database. By default, a unique folder name is also available.
Click the Schedule tab, select the time and days during which files or documents will be automatically scanned, and click OK.
Select Actions now, Archive, and finally choose Archive Now save to save your Lotus Notes email to your hard drive.
In the last step, a dialog box will pop-out. Click Yes.
However, the more important question is that archiving Lotus Notes mailboxes will solve the problem.
The answer is no. The archiving process allows you to store information for a longer period of time. However, the Archive.nsf file cannot be used for the data migration process.
Best Way to Increase Data Accessibility & Availability:
To use Lotus Notes backup files for convenience and availability, it is essential to modify Lotus Notes archive files to more popular and useful file formats. There are several useful formats that are becoming a vital part of the IT user. Some of the useful formats in which a user can backup Lotus Notes email messages are:
PDF, EML, PST, XPS, RTF, DOC, MBOX, MSG, HTML, MHT, CSV, TIFF, BMP, GIF, JPEG, PNG, DXL, TGZ, Maildir, RGE, OLM, etc.
Quick Guide to Backup Lotus Notes Databases into Standard Formats: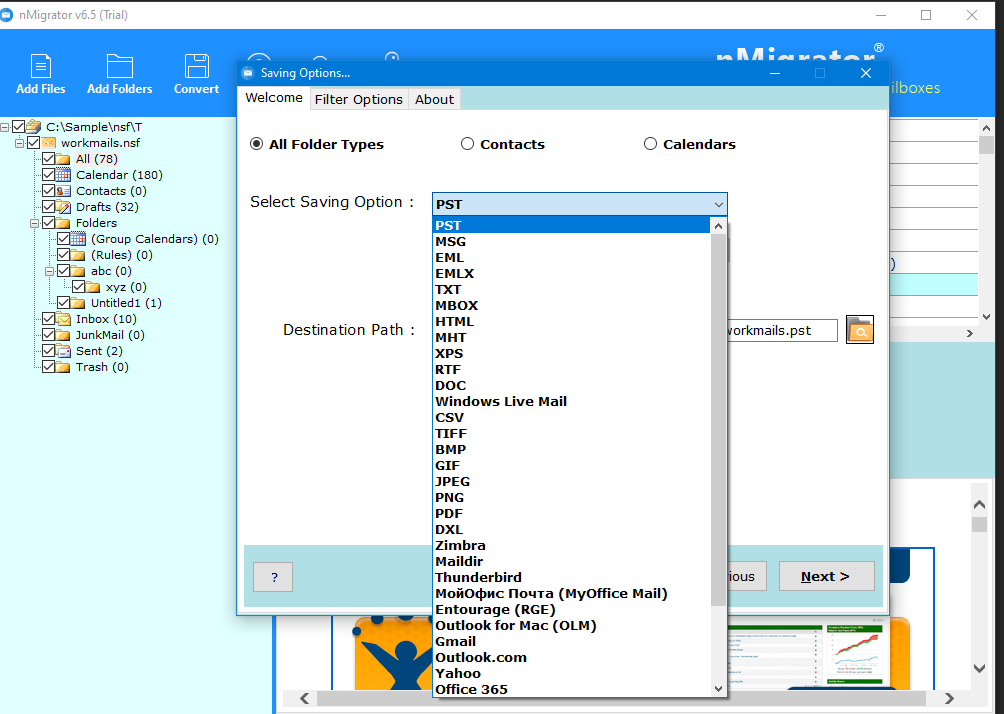 Save Lotus Notes email as DOC file
Convert Lotus Notes to MBOX
Backup NSF to RGE File
Export Lotus Notes emails to MSG file
Convert NSF to MHT File
Backup Lotus Notes Emails to Maildir file
Convert Lotus Notes emails to Image (JPG, BMP, GIF, TIFF, PNG)
With a single nMigrator software, you can easily archive and backup your Lotus Notes email messages to your hard drive.
Conclusion:
I hope after reading this blog, you won't face any problem while backing up Lotus Notes emails to your hard drive. Apart from Lotus Notes emails, users can also backup Lotus Notes folders, such as backup inbox/drafts / sent items / all items, etc. Lotus Notes.