How to Save Gmail Emails Locally on Computer ?
Karen Chard
~ Modified: 05-08-2020 ~ Data Backup ~ 4 Minutes Reading
So let's just talk about how emails (save Gmail emails locally) have become an important part of our life these days.
Do you people remember the last time you wrote something on paper?
A letter, a greeting or anything other than note-to-self stickies?
I personally don't remember writing much on paper in a long time.
Nowadays, as we have seen, we are all absorbed by digital versions of note writing – many options being available. Over the earlier generations or so, we have seen that most of our individual correspondence has been over emails.
It is now omnipresent and being so easy to use, people are now wondering how they were functioning before it. So, we write whatever it is that we need in the future, store it in a folder in our email program of choice and forget about storing it there.
We always think that we will find it there because it is not going anywhere, it will always be stored there, right?
Well, the thing is that it might not be present there when we need it. And for that to not happen, we need to take some measures to preserve it.
Users use email for communication in both professional and friendly manner. Email is a "born digital" material, meaning, it was originally created in digital form. So, whatever we store in our emails, both professional and our personal lives, is now digitally born. And digital being fragile, we should save our emails and for that we are supposed to take some measures so that we can find these files in the future later as some files could be very important.
Now how would you feel if the data that you had filed in an email program for later,  is now nowhere to be found?
There are plenty of reasons as to why an email can get lost, a few being – archival limitations of a program, corruption of a file or a current program being replaced with another program entirely.
Gmail Save Emails Locally into MBOX Format – Step-by-Step
Go to a web browser and type in myaccount.google.com and sign in to your account.
Now choose Manage your data and personalization.
After that, scroll down until you find download your data and click on that.
Then, choose the deselect all option, scroll down and then select mail and then click on the all mail data included option.
You will see a pop-up window, you have to deselect include all messages in the mail and then you will be able to choose which type of messages are to be included, click on okay and scroll down, click on next step.
Just when you click on next step, you will reach on the top, then you can click on send download link via email, and then you can choose a file format for the download, also, your preferred delivery method from the drop down menu. Scroll down to find create archive and click on that.
When you choose the create archive option, a message will pop-up to inform you that an archive is being created. After creating the archive, you'll receive a file containing all the messages. The messages will be in MBOX format.
Users can use these steps to download your emails for backup. You will also have access to them offline on your computer system.
Save Gmail Emails Locally in Multiple Formats
Do you want to save Gmail emails locally on computer in multiple formats? If yes, then download RecoveryTools Gmail Backup Software that is capable to store Google Gmail emails in multiple formats. This mentioned software is a professional technique for solving "how to save Gmail emails locally" related queries. The tool is capable to save emails into PST, MSG, EML, EMLX, MBOX, PDF, HTML, MHT, XPS, RTF, etc. Just follow these simple steps for Gmail save emails locally.

1 – Start the mentioned software, enter Google Mail account credentials, and click on the Login button.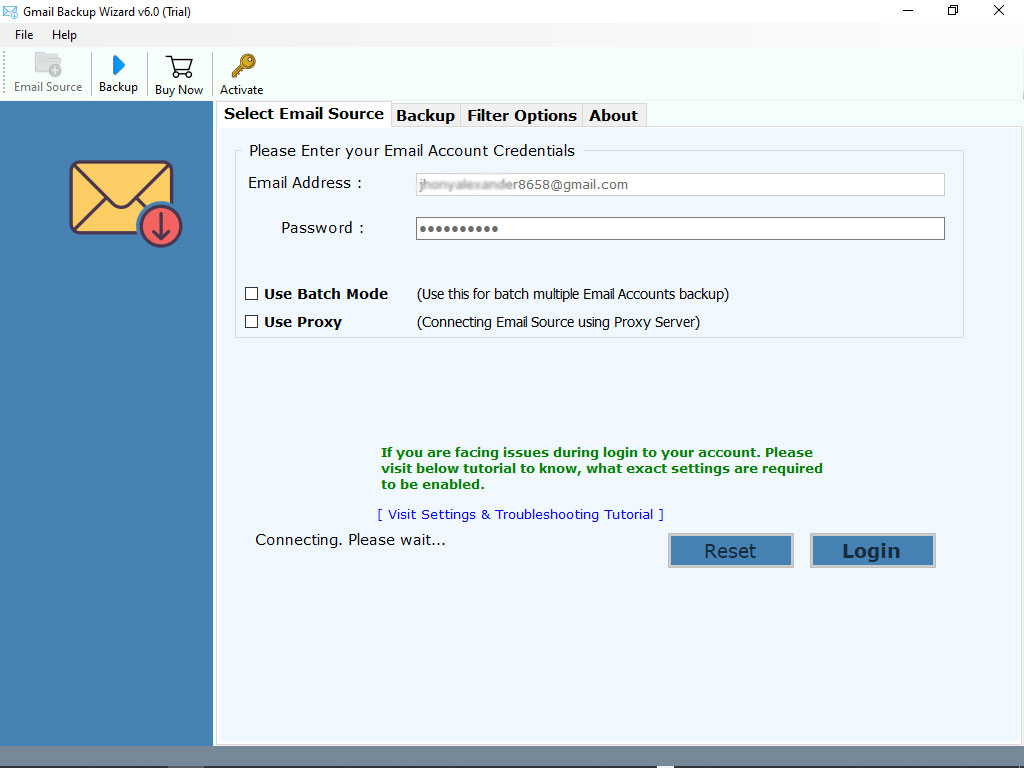 2 – Choose Gmail folders from the software interface and after that select a saving format like PST, MSG, EML, EMLX, PDF, XPS, RTF, HTML, MHT, etc.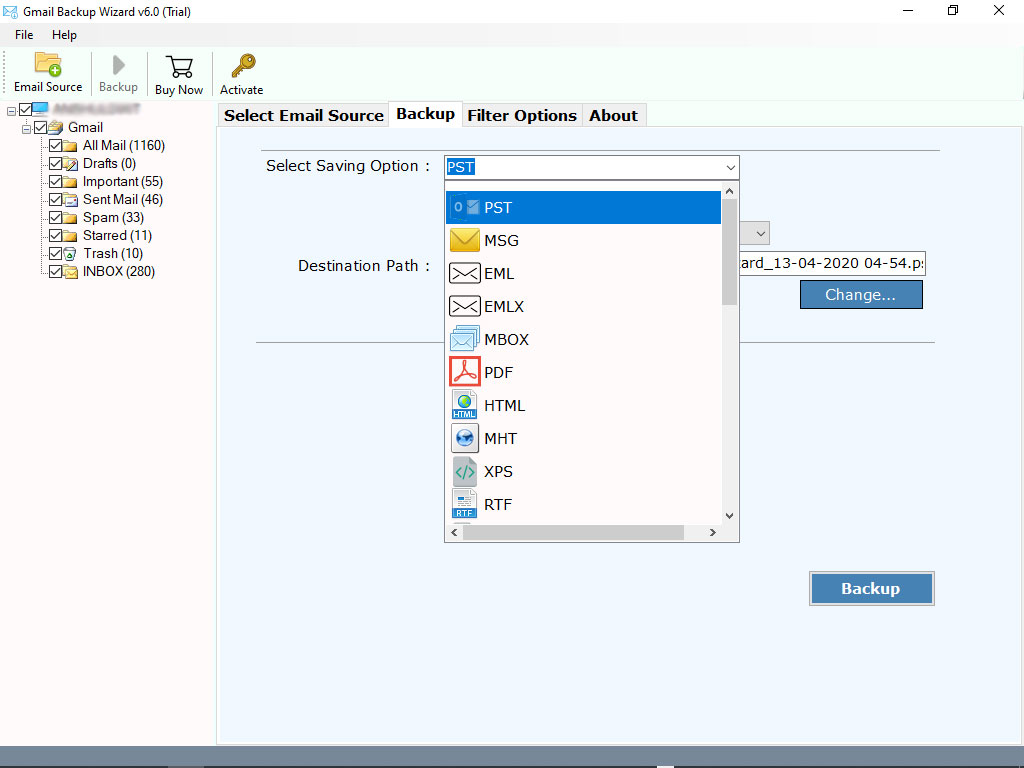 3 – Browse a destination path to store resultant data and click on the Backup button to start the process to save Gmail emails locally on computer.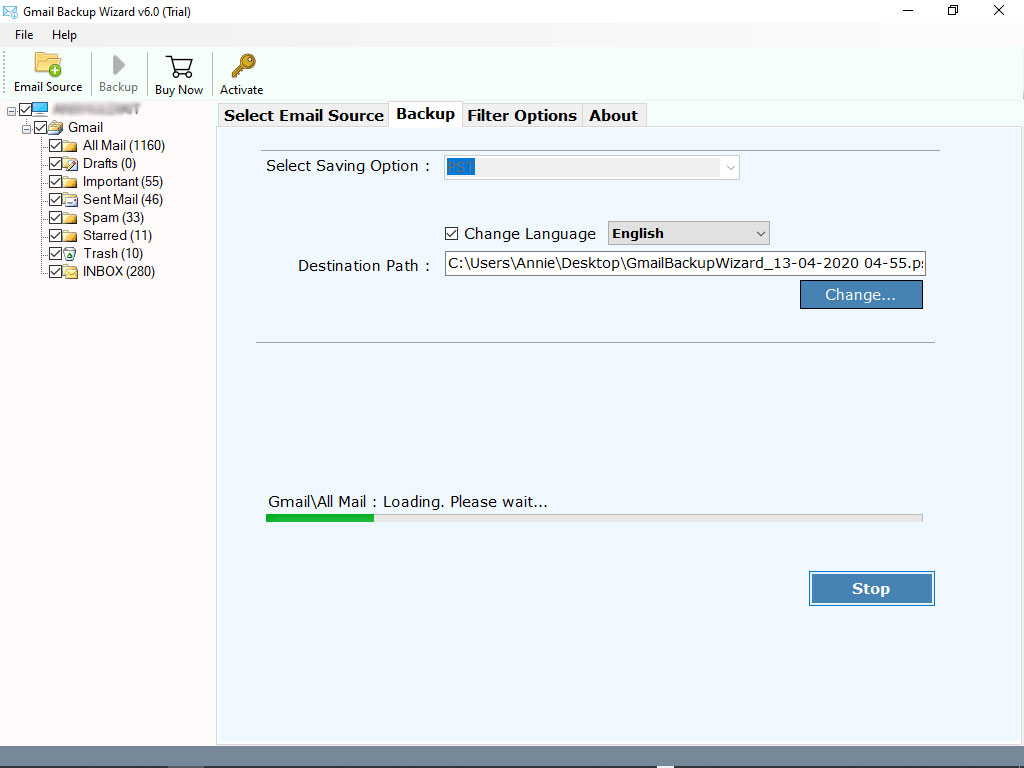 4 – After completion of the task, get resultant data, and use it accordingly. In this way, anyone can easily save Gmail emails locally in several formats.
Ending
Users can choose manual and automatic techniques according to their choice to save Gmail emails locally on computer. The manual technique allows to save Google Mail emails into MBOX file format. While, the professional technique gives permission to save Gmail emails locally into several file extensions, email services, and email servers together with all email items and components.