How to Move Thunderbird Calendar to New Computer with third-party Tool?
Karen Chard
~ Modified: 10-05-2022 ~ How To ~ 4 Minutes Reading
Calendar is a way to accomplish daily tasks in a proper way on any email client. However, many times, users need to move their Thunderbird calendar to new computer. Not only this, even they have other queries as well as stated below:
How to export Thunderbird calendar to Outlook 2016?
How to migrate Thunderbird calendar to Google calendar?
How to copy Mozilla Thunderbird calendar to new PCs?
After knowing the issues faced by the users, we have come up with a solution to transfer Thunderbird calendar to new computer. Read on to know in details the stepwise process to pm calendar migration.
How to Export Thunderbird Calendar to New Computer or PCs?
RecoveryTools Thunderbird Migrator is a complete solution to perform Thunderbird database migration. The software is programmed in such a way that it easily moves all the Thunderbird data to ICS format. The application is simple, easy, and trouble-free solution to move Thunderbird calendar to new computer. Tool gives an option to save the migrated data at desired location. Software is easily operable on all Windows machines. Just follow the given steps to perform data migration process from Thunderbird Calendar to ICS format.
Step 1: Download and install Thunderbird Calendars Converter software in your Windows machine.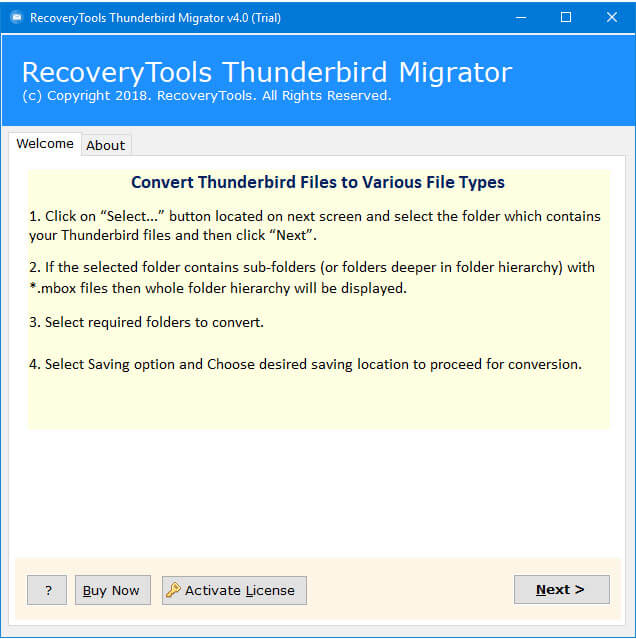 Step 2: Tool provides dual option to upload the Thunderbird calendar files on tool's panel, i.e. Select Files or Select Folders.
Even the tool also gives an option to directly load the data files from configured Thunderbird.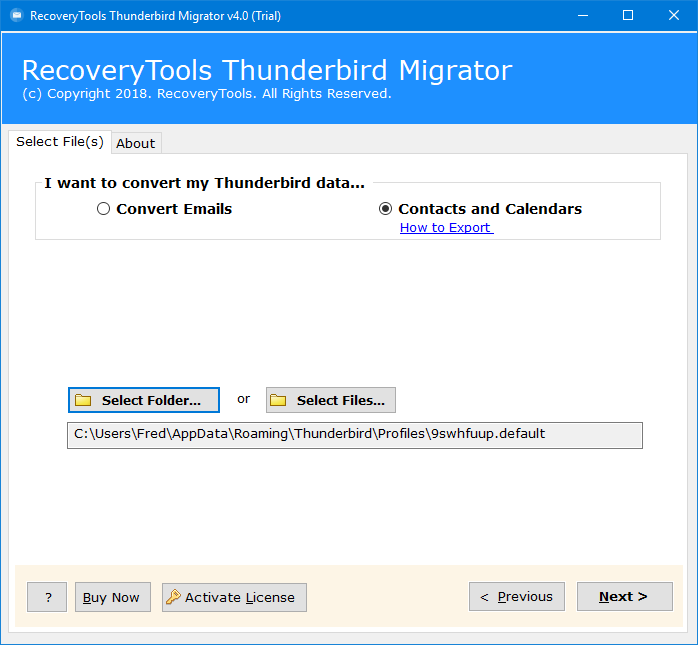 Step 3: After choosing the desired option, Browse the files from the stored location.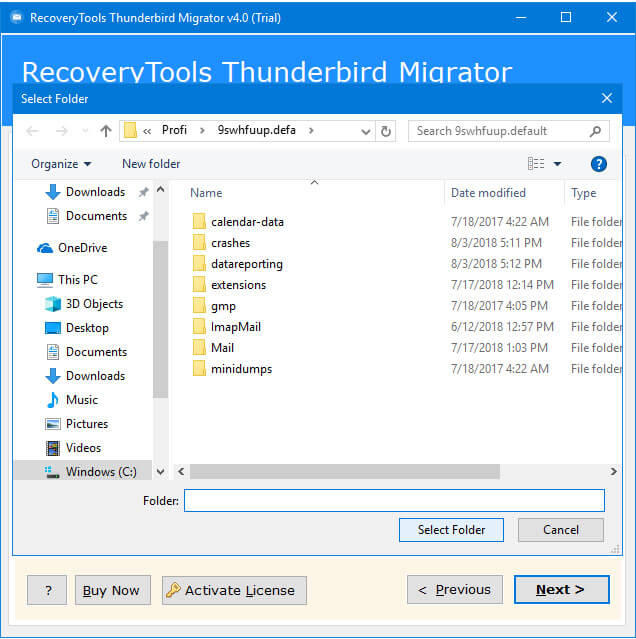 Step 4: The tool also gives an option to choose destination path to save migrated data at desired location.
Step 5: Click on Convert option to execute the process.
Step 6: Once the process is completed, tool will give you a pop-up message. Click on OK button and then access the resultant ICS files.
Fundamentals of Thunderbird Calendars to ICS Converter:

After a brief description of the technological installations in software, it's time to summarize some of the properties of this extraordinarily working tool.
Supported Switch-over: This software solution offers a supportive conversion of Thunderbird calendar to Outlook, Lotus Notes, Windows Live Mail calendar, etc. as the tool is engineered to work with all email clients.
Eased Yet Technical: Working of this outstandingly performing tool is eased for universal set of users' convenience. Whereas technical installation has also not been compromised.
Secure plus Retentive: The program offers you with a smooth yet secure and retentive switch over of data. All the data and its Meta data will be kept safe and as it is throughout the conversion.
Demonstrative Utility: You can convert 25 items from of Thunderbird database for free with trial version of software. Meanwhile, purchasing the software will help you break free from all limitations at a fairish price range.
But what's the actual need of Thunderbird calendar migration. Read further as we have tried to resolve this query also.
Why Thunderbird Calendar Conversion Is Usually Performed?
Usually there are sturdy aim behind the condition where users export Thunderbird calendar data to new PCs or email client and some have even been discussed below:
Change of Organization: Supposedly, you are working with a company where you utilize Thunderbird mail client for emails and other purposes. As, you have been working on it from long time so you have lot of data stuffed in your mailbox. Due to organizational switchover you need to shift all your whole data into other file format. As the new office that you are being shifted to works on some other email client only it is necessary for you to do data conversion.
Change of Email Application Required: If you were using Mozilla Thunderbird at home for your personal purpose. But never understood the most functionalities and frontend interface of email client. Then, migration is the most needed for you to maintain work balance.
Summing Up
You are now aware with the process that how to move Thunderbird calendar to new computer in a way to manage Thunderbird calendar data files. It's a direct process to export Thunderbird calendar to ICS format easily.