How to Import Skype Contacts to Outlook in 2022?
Karen Chard
~ Published: 10-08-2022 ~ How To ~ 6 Minutes Reading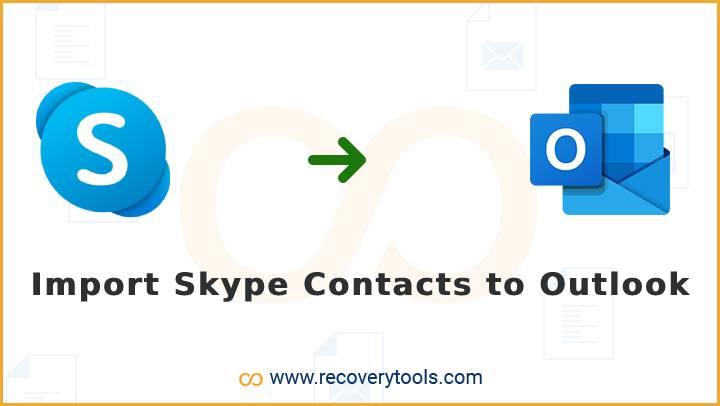 Are you wondering how to import Skype contacts into Outlook? Or want to learn the process of syncing Skype contacts with Outlook? If all your problems are the same as above, then read this post in its entirety. In this article, we have explained the complete method to transfer Skype Contacts to Mac Outlook & Windows Outlook. So, keep reading the post to know more.
Skype is online Video conferencing software that was first launched in 2007. It works as a voice-over-IP application, which allows people to communicate over the internet using a standard computer. People use Skype for business and personal purposes. Therefore today, it has been used by more than 300 million users worldwide.
Another side, Outlook is an email program that was developed by Microsoft. It is used to receive and send emails using an email address or email service which is configured in Outlook. Microsoft Outlook is available for both Windows and Mac and Android and iPhone editions. It is an application of the Microsoft Office package.
Reasons to Import Skype Contacts to Outlook
Skype and Outlook both are now handled by Microsoft corp. Both applications are different from each other. One of them is used for online calling and the other is used for email. But both applications support contacts. That's why people want to exchange contacts from Skype to Outlook due to uncertain reasons.
Let's understand the requirement by a user query:
"I'm working in a big company where we are doing the production of garments. Therefore, I have been using Skype for meetings and sharing information through video and voice chat. Therefore, my contacts list grew to more than 1000+ contacts. Now, I also need to inform some policies to the employee through emails. Therefore, I need to import Skype contacts to Outlook. But how can I do this?"

More Helpful Articles:
How to Export Contacts from Skype to Computer?
Skype supports storing a large number of contacts without any limitation. But you can only export contacts from Skype to vCard or VCF files. Microsoft Outlook only supports the CSV option to make contacts. However, to export contacts from Skype and Skype for Business, you need to follow the below procedure:
In the first step, you need to launch Microsoft Skype on your machine.
Choose the contacts menu from the top taskbar and click on the advanced option.

In the Advanced option, you need to choose the "Backup Contacts to File" option.

Choose the resultant location path where you want to save the resultant Skype Contacts VCF file.

Now, access your Skype Contacts file from your selected location path.
Solution: Import Skype Contacts to Outlook Tool
After getting VCF files from Skype, people are searching for solutions to import vCard into Outlook. But there is no direct way to import them because Outlook doesn't support vCard contact files. Therefore, we need a solution to change Skype Contacts for Outlook. RecoveryTools vCard Converter Tool allows you to export Skype contacts to PST and CSV format for Outlook. You can easily download this application on all your Windows machines.
Download the Solution Now:
How to Sync Skype Contacts with Microsoft Outlook?
First of all, you need to download this application and install it on any Windows machine.

It offers two options for contacts file selection – select files or select folders.

After selecting Skype contact files, the software will generate a free preview of contacts.

Press the convert button and choose the Outlook PST option in the list.

Choose the resultant location path to save resultant data in an easier location.

Press the next button to start the procedure and press ok to end the process.

Access your resultant data at user selected location path.

Now, open Microsoft Outlook and click on the menu or choose the Open Outlook Data File option.

Skype to Outlook Tool – Features and Its Benefits
Two options for File Selection: If you have multiple Skype accounts and you want to import all of their contacts to Outlook, then don't worry. The solution offers a batch option called – Choose Folders. This option allows you to load multiple Skype contacts VCF files at once. Normally, you can use Choose files option for a single selection.
Free Preview of Contacts: The software generates a free preview of selected Skype contacts files in the user interface panel. Now, you can easily recheck the selected files before starting the conversion process.
Select Location Path before the Process: The solution allows you to change and choose the required location path before the process. Yes, you can easily change the selected Desktop location path or save resultant data at an external or internal location without any issues.
Keep your Contact Information Preserved: If you don't have contacts, you will never meet people who might help you. That's why contacts are one of the important things that you don't want to lose them. But this process is completely secure and there is no need to worry about any loss. The process preserved all contacts while importing contacts from Skype to Outlook.
Multiple Options with Simple Interface: The solution offers a simple and easy to use graphical user interface panel. Therefore, every user who doesn't have technical knowledge can work with this application without any guidance. It also offers several saving options including documents, email clients, email files, and more.
Windows Supportable Tool: You can use this application on all editions of Microsoft Windows operating systems. The solution works on all latest including Windows 11 and older editions like Windows 7 versions.
Final Words
Outlook allows you to import contacts from various sources including Microsoft Exchange Server, Windows Live, Gmail, and more. If you prefer to import from Skype, you need to use RecoveryTools solution. Because Outlook doesn't allow you to import VCF files. It allows you to import contacts through PST or CSV files. So, you need to convert them first to use Skype contacts in Outlook. For more details, read this article and contact the technical team.