How to Import Skype Contacts to Microsoft Teams Account directly?
Karen Chard
~ Published: 09-08-2022 ~ How To ~ 6 Minutes Reading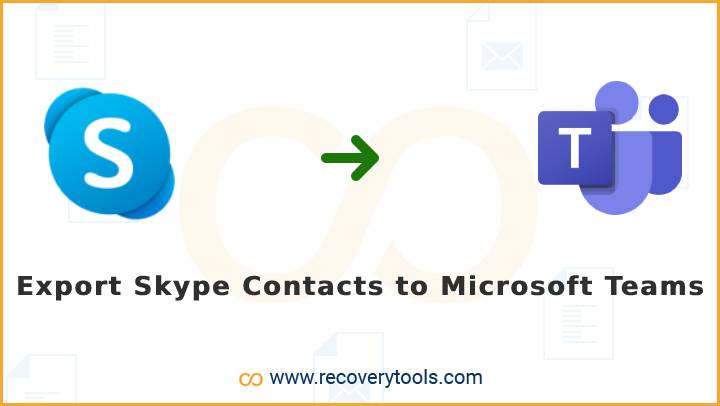 Are you one of them who are looking for a solution to export Skype contacts to Teams? Or want to transfer contacts from Skype for Business to Microsoft Teams? If so, then read this article completely. In this post, we will explain a complete guided pathway for all types of users. You can easily get a simple method to import Skype Contacts to Teams. So, keep reading this article to know more.
Contact is the best thing to use in our everyday lives. It is a convenient way to communicate with others, but it can be dangerous if you don't secure it well. There are many different viruses and spyware programs out there that can steal your private information. Therefore, lots of user wants to preserve their important contact data on different platforms.
Skype is a communication tool that allows people to make video calls with other people around the world. You can do this even if you live in different parts of the world. You can use Skype to talk to your friends and family members. There are many benefits of using this program including storing contacts. Skype is also available in Office 365 package known as Skype for Business.
Microsoft Teams is an application that enables users to collaborate, communicate, and share information on a single platform. It is used by Microsoft Office 365 customers and also by other companies. It was first announced in 2014. Microsoft Teams allows users to talk and exchange messages using a Video conference.
Reasons to Import Skype Contacts to Microsoft Teams
Skype is one of the popular telecommunication applications developed by six developers in Aug 2003. But Sept 2005, Skype was acquired by eBay. And finally, in 2011, Microsoft bought Skype from eBay. Nowadays, both products are handled by the same company. But both are different platforms.
Microsoft Teams is developed for proprietary business communication as a part of Microsoft 365. Teams are an upgraded version of Microsoft Skype for Business. In 2022, Teams has about 270 million monthly users. That's why people want to move from Skype to Teams. We can also understand that by user query:
"Hi, I'm using Skype for my organizational purposes for last year. The main problem is that Skype only supports a low number of users' conferences. But Teams has a more complex pricing structure and offers several options including the large size of the organization represents. That's why I want to move from Skype to Teams. Does anyone know how can I transfer Skype Contacts to Teams?"
More Helpful Articles:
How to Export Contacts from Skype to Local Machine?
Launch the configured Skype App on your current machine.
Press the contacts button and here, you need to go on the advanced option.

Now, click on the "Backup Contacts to File" option in the advanced menu list.

Choose the resultant location path to store the resultant data at the user location.

Now, the Skype applications export all its contacts to vCard format at the selected location path.
Solution: Export Skype Contacts to Teams Tool
After the above steps, now, you have VCF or vCard files exported from Skype. But Teams supports only CSV format to export or import Contacts from other sources. Therefore, a huge number of users looking for a solution to export Skype contacts to Teams. RecoveryTools vCard Converter Tool is the best solution to change Skype contacts to Teams CSV files. The solution allows you to easily export Skype contacts to CSV file with all contact information easily. You can use the product on all Microsoft Windows editions.
Download the Product Now:
How to Transfer Skype Contacts to Microsoft Teams?
Download the solution on your Windows computer. Launch it and read all information.

Choose your vCard or VCF files with dual selection options. It offers dual options including Add Files, and Add Folders.

The product provides a free preview of selected VCF or vCard file contacts in the user panel.

Now, you need to press the convert button and choose the required CSV option in the list.

Pick the additional options and destination location path.

Press the next button to start the procedure on your computer.

Access your resultant contacts CSV file on your selected location.

Log in with your Teams Admin account credentials on your computer machine.
Now, click on the settings options and click on the "Add Member" options.

In the export wizard, choose the required import option in the list.

Press the next button and start the process and get all Skype contacts into Teams.

Features and Benefits of Skype Contacts to Teams Tool
Dual Selection Options: If you want to convert multiple contacts files into a single file, then you can also use the solution. Because this application allows you to choose the multiple numbers of VCF and vCard files using the dual selection options.
Preview of Contacts: There are lots of people who by mistake selected the wrong contact files. To overcome these issues, we developed the solution to provide a free preview of selected contact files in the user interface panel. You can easily preview every contact information inside the panel.
All-in-One Windows Application: There are lots of applications that required .net framework installation before starting the program. But this application has an inbuilt option to install the application on all the latest Windows workstations and Server computers.
Freedom of Location Selection: The solution offers to choose any resultant location path to store your data easily. You can easily choose and change the resultant location path according to requirements.
Lots of Output Options with Easy UI: The solution offers a simple and easy-to-use graphical user interface panel. Now, you can easily change or convert VCF or vCard file contacts to several options. The solution offers several saving options including documents, email file formats, contacts, etc.
Final Words
It's important to keep your contact list clean and organized to keep all your important people, businesses, and teams in one place. This post will show you how to import contacts from Skype to Microsoft Teams. It is one of the best applications in the market which offers a direct solution. You can also download the solution on your computer to learn the process. For more information, contact our technical team.