How to Export Android Contacts to Microsoft Outlook?
Karen Chard
~ Modified: 10-08-2022 ~ How To ~ 6 Minutes Reading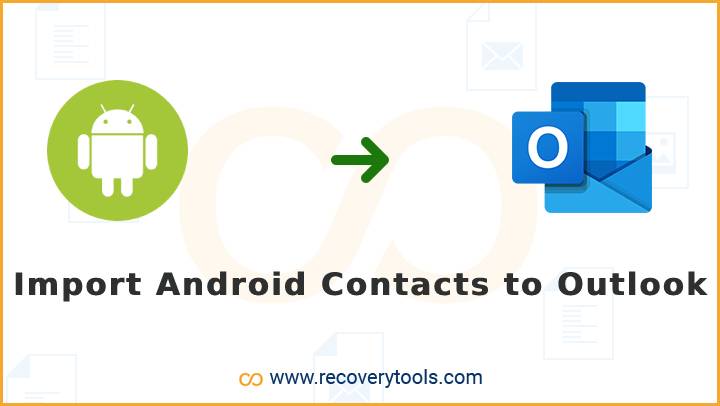 Are you looking for a solution to export Android Contacts to Outlook? Or want to import Android Contacts to Mac Outlook? If so, then you're finding end here. Because after reading this article, you will get a simple and easier way to transfer contacts from Android Phone to Outlook. So, if you want to know the complete step-by-step process, then read this article to know more.
Android is an operating system that powers devices like cell phones, tablets, and laptops. It was developed by Google in 2003. Google has used Android to power more than 1 billion smartphones. It also offers many default apps including Contacts.
The Android Contacts app will let you create contacts for your business, friends, family, and other groups. It allows you to organize your contacts into different groups. You can also sort them out in alphabetical order. It will keep track of your address book and your recent calls.
Microsoft Outlook is an email program that is used by people around the world. It is designed to send and receive email messages, organize your day-to-day life with calendars, and store people's information in contacts. Outlook is available on computers and mobile devices. It helps users organize Contacts into different categories. That's why people want to import their contacts from Android to Outlook.
Reasons to Export Android Contacts to Outlook
Android is the name of the software that runs on smartphones. The smartphone stores lots of contacts in its contact app. But there are lots of reasons when a user wants to export these contacts from Android phones to other platforms like Outlook. We can understand the reasons by a user question:
"Hi, I am using a Xiaomi Android phone for the last few years. I have stored many contacts and email addresses in this phone contacts app. Recently I have found that there are many contacts doesn't have in my Outlook 2019 program which are stored in this phone. That's why I'm looking for a solution to import Android contacts to Outlook. Do you have any solution for that!!!!"
Android is one of the biggest smartphone operating systems and a large number of devices use Android. But Microsoft Outlook is not far behind, it is one of the best and most used email client applications. It allows you to easily manage your contacts, calendars, and much more. That's why the client wants to move contacts from Android to Outlook.
Read More Helpful Article:
How to Export Android Contacts to VCF File?
Almost every Android phone has by default the option to export contacts into a VCF file. You can refer to the below process to understand how to export contacts from Android devices:
First of all, you need to launch the contact app on your android phone.
Now, click on the right upper corner setting options and choose the Import/Export option.

After that, you need to choose the "Export to .VCF File" option on the windows.

Here, you can choose the required contacts or you can also mark on the all contacts option.

Now, give the name of your VCF file and you can continue to by default contacts.vcf option. Save it to your phone.

Connect your phone via USB cable and move this file to the computer desktop.
Solution: Copy Android Contacts to Outlook Tool
Now, we have an Android exported VCF file, but the problem is Outlook doesn't support VCF files. Therefore, we need to convert them into Outlook data file format. For that, we need to use a professional solution called – RecoveryTools vCard Converter Tool. This application allows you to change Android VCF contact files to Outlook PST format. After that, you can easily import contacts to Outlook from any Android phone.
Download the Solution Now:
How to Import Android Contacts to Microsoft Outlook?
Download the solution on your Windows computer.

Choose Android exported VCF files with dual selection options.

Preview of selected VCF file contacts in the user panel.

Press the convert button and choose the PST option in the list.

Set the destination location path to save converted Outlook data files.

Now, press the convert button to start the procedure.

When completed, click on the ok button.

Access, your resultant file at the user-selected location.

Now, open your Microsoft Outlook email client and click on the menu option.
Here, you need to choose the Open Outlook Data file option and upload all the contacts into the Outlook client.

Features of Transfer Android Contacts to Outlook Tool
Dual Selection Modes: The application offers dual selection options which are useful to choose bulk Android VCF files at once. The "select folders" option allows you to pick multiple VCF files from a folder to the software panel in a single click.
Android Contacts Preview: After the selection of the Android VCF file, the solution offers contact preview facilities. For that, you can easily understand which file you have selected for Outlook. This option is very useful for those users who want to view Android contacts in Windows.
Easy to Choose Location Path: You can easily choose the required destination path according to your requirements. The solution allows you to choose any external or internal location without any issues. But by default, the solution selected desktop location.
Support All Windows Machines: Now, if you are working with Microsoft Windows 7 and want to export Android contacts to Outlook 2016, then don't worry. This application supports all editions of Microsoft Windows including lower and latest versions like Windows 11.
Simple UI with Multiple Options: There are many client's doesn't have a technical understanding of how to use this application. Therefore, we create a simple and easy-to-use application for all types of users. The best part of this application provides a lot of saving options which are very useful for several platforms.
Import Android Contacts to All Outlook: The solution allows you to easily import Android Contacts to all Microsoft Outlook versions including Outlook 2021, 2019, 2016, 2013, 2010, 2007, 2003, etc.
Final Words
This article aims to explain how to import Android contacts to Outlook editions. There are many different ways to import Android contacts to Outlook. You can use one of them which you suites better. In this article, we have explained the complete procedure. So, you can read it and download the solution on your computer. For more help, you can ask our technical experts.