How to Import Salesforce Contacts to Android Mobile?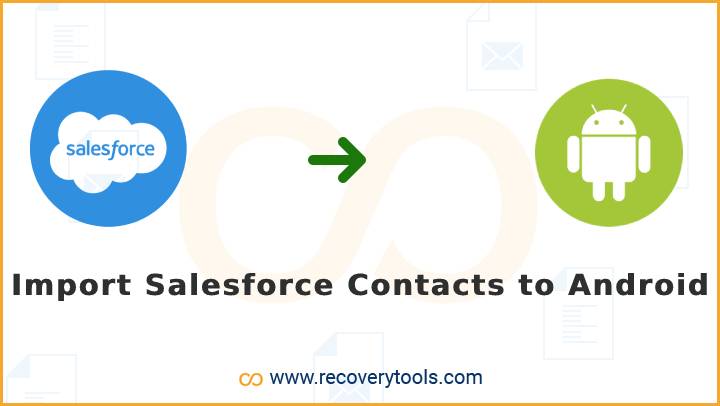 Are you wondering about a method to import Salesforce Contacts to Android Phone? Or want to import Salesforce to Samsung, Xiaomi, Realme, and other phones? If so, then you landed on the right article. Here, you will get a method to easily export Salesforce contacts into the desktop. Thereafter, you can easily upload these contacts to your Android phones. Read the complete article to learn more.
Contacts mean the number of people that you can count on. When you are promoting yourself and your business, you should get to know as many people as you can. So that you can spread your message to them. The contacts will help you a lot in promoting your product and services. That's why contacts are important.
Salesforce is a web-based software company that focuses on CRM software. It provides cloud applications that help you to make and manage sales. It is a great platform that helps you to generate leads and close more sales. Salesforce will allow you to do marketing and lead generation.
Android is one of the most popular smartphones in the world. It has been gaining popularity ever since the first Android phone was released. There are many reasons why Android is so popular like it is simple and easy to use, affordable, customizable, has lots of memory and storage, fast and efficient, etc.
Reasons to Import Salesforce Contacts to Android
Now that we have discussed the basic things to consider before importing contacts to your Android Phone, we will now proceed to discuss the different ways to import Salesforce contacts into phones.
Salesforce is powerful CRM software that can help you manage all aspects of your sales, marketing, and business. This app has a variety of features to keep your data organized and allows you to do it more quickly.
Android is a mobile operating system that is used by almost 90% of mobile devices today. Both are different platforms but support contact. That's why users want to know how to transfer Salesforce contacts to Android Phones.
"Hi, I've been using Salesforce for a while now to manage my work and sales. I have stored many client contacts on this platform. But sometimes I need to contact these customers. Not possible using Salesforce. So I want to import Salesforce contacts to Android phone. Does anyone know how can I transfer these contacts to my Samsung phone?"
– Mark Christopher, Canada
More Helpful Post:
How to Export Salesforce Contacts to Computer?
Open Salesforce and click on the reports tab and choose New Report option.

Now, click on the Account & Contacts option in the list.

Press the Create button to generate the list of contacts in the panel.

Here, you will see the entire list of your Salesforce contacts in the interface.

Click on the next report button from the top menu.

Now, click on the export report button tab.

Choose the required CSV option and set location path to export contacts from Salesforce.

Solution: Salesforce Contacts to Android Exporter
The Salesforce Contacts to Android app is really a useful tool if you are looking for an app that will allow you to import Salesforce contacts into your android device. Then you can download the RecoveryTools CSV to vCard Converter Tool on your Windows or Mac machines. This is the best software that allows you to export contacts from Salesforce to vCard for Android.
Get The Solution Now:
Download for Windows Download for Mac
How to Import Salesforce Contacts to Android Mobile?
First of all, you need to download the solution on your computer.

Now, the solution offers browse button to choose your Salesforce files.

You can manage your Salesforce contacts in the panel using mapping options.

The program supports file encoding options for your vCard contacts.

You can easily choose the destination path according to your needs.

Start the procedure to export Salesforce contacts to vCard format.

Now, access the resultant vCard or VCF files and move into your Android phone via USB cable or email.
Open your Android phone contact app setting like below image.

Click on the Import/Export Contacts option.

Press the Import button and select the Salesforce converted file.

Advantages of Salesforce to Android Contact Converter
Single Panel Graphical User Interface: A program interface allows its users to interact with the application using buttons and icons or visual indicators. That's why we developed a single-panel graphical user interface panel. Now, any client can easily understand the working process of this application.
Multiple Mapping Field Options: If you want to manage your Salesforce Contacts before starting the process. Then the solution provides a large number of contact mapping options. These options allow you to easily change the contact metadata fields according to the user requirements.
Encode your vCard or VCF Files: If you want differently encoded output vCard or VCF files, then the solution offers several encoding such as UFT-8, 32, 7, ASCII, and Unicode.
Generate Multiple VCF Files: It has a built-in option to generate multiple VCF files of multiple CSV contacts. You can easily enable or disable the function according to your needs.
Windows and Mac Supportable: You can easily install this application on any Windows and Mac computer. It supports all types of Mac OS X machines and Windows. You can install this application on the latest and older editions of Microsoft Windows including the 11 version.
Support Any Contact CSV File: This RecoveryTools Salesforce Contacts to Android Phone transfer utility supports all contacts CSV files created by any platform. Using this application, you can easily arrange your contacts and upload to several Android devices.
Final Words
We have created a new application that helps to import contacts from Salesforce into android mobile. Using this app we can import contacts from Salesforce to several platforms. If you want to import Salesforce contacts to your Samsung, Xiaomi, Realme, Sony, and Android phone, then read this post and download the solution. For more details, you can also contact us via email or chat.