How to Import Salesforce Contacts to iPhone / iCloud Account?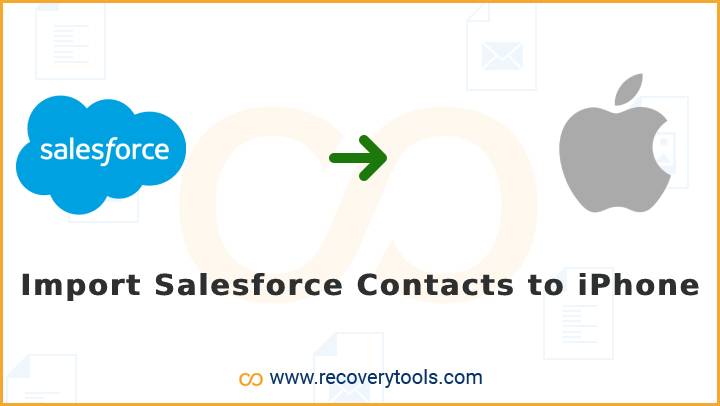 Looking for a solution to import Salesforce contacts to iPhone 14, 13, 12, 11, and lower variants? Or want to know how to transfer Salesforce contacts to iCloud account? If so, then read this article. With this guide, I'll walk you through the basics of importing Salesforce contacts to iPhone process. So you can keep everything organized and in the palm of your hand.
A contact book or address book is an important device that you must carry with you all the time. Without it, you will find it hard to remember people's names and addresses. You can also add notes and important information about your business and your clients. It should contain your personal information such as writing down your name, telephone number, e-mail address, etc.
Salesforce is a leading cloud-based customer relationship management (CRM) software platform. Salesforce contacts are one of the most powerful features that Salesforce brings to its CRM platform. But sometimes, especially for large organizations, it can be a pain to manage them and keep things organized. That's why people want a platform where they can easily view and manage their contacts.
In today's world, people are always looking for ways to keep themselves entertained. Apple has become the number one company in the world due to its IoT products. Apple iPhone is one of the most popular phones on earth. iPhones are easy to use, and their design is pleasing to the eye. These phones are used for business purposes and personal uses.
Reasons to Import Salesforce Contacts to iPhone
Salesforce and iPhone both are different platforms. Salesforce is a cloud-based CRM solution that provides enterprise solutions. Another side, iPhone is a very good smartphone for today. It is easy to use, very user-friendly and has many cool features. But why do we need to transfer Salesforce contacts to iPhone? Well, some common reasons explain below:
For Business Use: iPhones are easy to use, and their design is pleasing to the eye. This makes them ideal for business purposes. And most professional users use iPhones for their daily needs. That's why people want their contacts and addresses on their Business iPhones.
Access Salesforce Contacts Easily: Salesforce is one of the most complex platforms for novice users. Most users cannot easily access their contact information on the Salesforce platform. That's why they want to copy and keep their business contacts on their phones.
Use iPhone as Backup Copy of Salesforce Contacts: There are lots of clients who want to backup their Salesforce contacts to another safe place. And iPhone is one of the most secure phones in the world. That's why people want to move Salesforce contacts to iPhone as a backup.
More Helpful Articles:
How to Export Contacts from Salesforce to CSV File?
Firstly, you need to open your Salesforce Home panel and click on the Reports tab. Here, you need to click on the New Report option.
Now, a new wizard is opened. Here, you need to choose the "Account & Contacts" option.

In Account & Contacts option, you need to press the Create button.

Now, the list of your Salesforce account appears.

Once you have seen your contacts list in the panel. Click on the Run Report option.

After that, click on the export report button.

Choose the required CSV option in the list and set the destination path.

Solution: Salesforce Contacts to iCloud Transfer Tool
You can find many apps that you can use on your phones. But there is no phone app that allows you to import Salesforce contacts to your iPhone. For that, we need a professional tool called – RecoveryTools CSV to vCard Converter. This application allows you to easily change Salesforce contacts for iPhone. The solution allows you to easily manage your Salesforce contact field while the procedure. You can also use this application on your Windows and Mac computers.
Get the Solution Now:
Download for Windows Download for Mac
How to Import Salesforce Contacts to iPhone?
Download and install the product on your machine.

Browse Salesforce downloaded CSV file on your computer.

Choose an additional field management option if required.

You can easily encode your resultant files with several options.

Choose and change the destination path according to requirements.

Start the process to change Salesforce Contacts for an iCloud account.

Log in to your iCloud account using your account credentials.

Choose the Contacts app from all products.

Here, click on the settings option and choose the import vCard option. Upload converted files to your iCloud account.

Now, you need to sync this iCloud account with your iPhone.

Salesforce Contacts to iPhone Tool – Features and Its Benefits
Browse any Contacts CSV Files: The Salesforce to iPhone Contact transfer tool support all types of CSV files that contain contacts. It supports a huge platform's contact list without getting any issues. You can easily upload any Contacts CSV files into your iPhone editions.
Single Panel Function: The solution provides a single panel user graphical interface where you can easily do your work without any problem. All the functions and features of this application are displayed in a single panel. So, you can easily understand and use it without any problem.
Multiple Field Management Options: The solution offers several additional options which allow you to do your task easily. You can also use the additional field management option which allows you to change your contacts fields according to your requirements.
Multiple Encoding Options: If you want to generate unique encoding output files. Then it has an option to change your resultant file in different encoding options such as ASCII, UFT, Unicode, etc.
Windows and Mac Solution: If you are a Mac user and want a solution to import Salesforce contacts to iPhone. Then don't worry! We provide a solution that supports both Windows and Mac computers. You can download the right version of the application on your computer.
Final Words
This article covers a very useful task that we all try to complete in our daily lives. So, the next time you need to import Salesforce Contacts to your iPhone, make sure you do it using a reliable service. This will ensure that you do not lose your contacts, as well as, help you to save money. I hope you understand my point and you will get the solution. If you have any issues, then contact the technical team.