How to Import Outlook Contacts to Zimbra Desktop – Solved!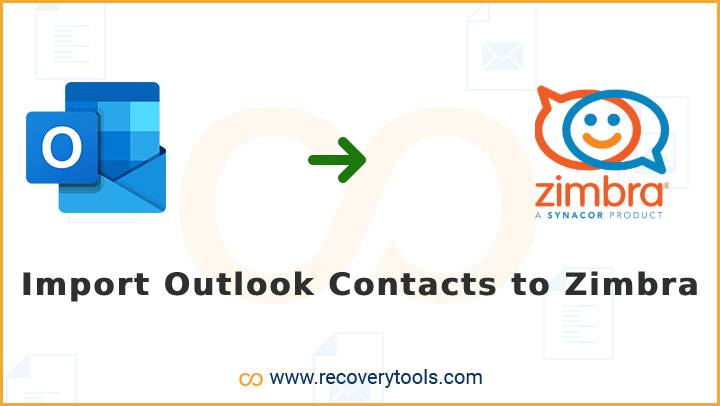 Are you using Microsoft Outlook and want to share your contacts with Zimbra Desktop? Or looking for a method to import Outlook contacts into Zimbra? If yes, then you find the end here. Because here you will find a flawless way to import your contacts into Zimbra clients. For that, we explain the manual and tool process. For more details, keep reading this post.
Microsoft Outlook is one of the most popular email client applications in the world. Most people are heard and used Outlook and its features. Its contacts feature is one of the world's best contact management platforms. This allows you to keep track of all your friends, relatives, business associates, and your contacts. This feature is very useful for you, but it doesn't work with some email clients.
Zimbra Desktop is a free desktop-based email client application that is available for Linux and Windows. It is open-source software that is available for all major operating systems. Zimbra Desktop is the second iteration of the software that was originally created by Sun Microsystems. However, Zimbra allows you to manage your emails, contacts, calendars, and much more in an easier way. That's why people want to move their Outlook Contacts to Zimbra.
Reasons to Transfer Outlook Contacts to Zimbra
Many of us use different email accounts to communicate with our friends and families. These accounts are very useful because they allow you to store your messages and contacts for later viewing. But many times we configured and use these email accounts on different platforms. Therefore, many circumstances arise when a user needs their contacts on different platforms like importing Outlook contacts to Zimbra. Some of them explain:
Different Email Client Applications: An email client is a program that you use to send and receive email messages. In today's world, people use multiple email client applications for different benefits. And Microsoft Outlook and Zimbra Desktop are different email client applications. That's why users want to move their Contacts to Zimbra.
Zimbra is a Free and Open Source Client: One of Zimbra's biggest features is its freebies. And you can use this application without investing your money. Microsoft Outlook is a paid application and you need a subscription to use them. Therefore, people want to import Outlook contacts into Zimbra.
Backup of Important Contacts: There are many users who use various email client applications only for backup copies. A lot of users want to transfer their contacts to Zimbra because of the backup copy of the database. There are many other reasons which are not fully explained here. So we move on to explain the process.
More Helpful Post:
Solution: Outlook Contacts to Zimbra Tool
This problem occurs when you are using a different email client. However, this problem is easy to solve. To import Microsoft Outlook Contacts to Zimbra desktop client, we need to use a professional solution – RecoveryTools Outlook PST Migrator. This program allows you to automatically track your Outlook data from the default location. You can also pick Outlook Data files (*.PST or *.OST) with dual manual options. The solution supports all popular contact-saving options. You can easily install this application on Mac or Windows machines.
Download the Solution Now:
Download for Windows Download for Mac
How to Import Outlook Contacts to Zimbra Desktop?
For that, you need to download or install this application on your system.

It offers an auto trace option to find your Outlook data from default locations.

You can also use the default dual options to choose Outlook Data files.

Now, choose the required contact folders from the list.

Select the CSV option in the list of file-saving options.

Set location path to save resultant data at user desired location.

Start the process by clicking on the next button.

Get your resultant CSV files from the selected location path.

Open Zimbra Desktop Application on your computer.
Select the Contact Tab and choose the Import/Export option.

Here, you need to select the import Contact option and select the resultant CSV file in the panel.
Features and Benefits of Outlook Contacts to Zimbra Tool
Automatically Detect Outlook Data: The solution has an inbuilt option to load your Outlook data automatically. If you have already installed any version of Microsoft Outlook on your machine. Then the solution detects Outlook data easily. Because it detects data from default Outlook locations.
Dual Manual Ways of Outlook Data Selection: It also offers another option for the Outlook data selection process. You can use these options if you don't have Microsoft Outlook installation or you want to use another system Outlook data files. The dual options allow you to migrate multiple Outlook profile contacts to Zimbra at once.
Simple and Independent Solution: RecoveryTools understand the user's needs and requirements. Therefore, they developed a solution that supports a large number of saving options and provides a simple solution. In fact, the solution doesn't require any connectivity with Outlook. It is a completely standalone user interface panel.
Windows and Mac Versions: You can also use this application on your Mac computers for Outlook for Mac products. So, you can easily import Outlook for Mac Contacts to Zimbra without any problem. You can also use the Windows version of all your Windows Servers and Workstations. You can also use this application on your Windows 11 computer.
Preserve Contacts and Save at User Location: The solution saves Outlook contacts integrity after completing the process. There are no changes in the original format and fields while the procedure. Also, you can easily choose any location path where you want to save your resultant contact files.
Manual Solution: Import Outlook Contacts to Zimbra
Microsoft Outlook by default allows you to export contacts in the default format. For that, you need to follow the step-by-step process.
First of all, you need a Microsoft Outlook Edition.
Now, open your Microsoft Outlook and go to the menu section.
Here, you need to select the required export option from the list.
After that, select the required export to a file option.
Choose the required Comma Separated Value (Windows) option.
Choose only contacts folders and destination path.
After that, you need to follow the process to import contacts to the Zimbra desktop.
Limitation: This is the biggest obstacle during the manual process is not providing support. If your data is lost due to a manual process, the company isn't able to resolve your issues. That's why people don't use a manual process. In this case, I will also suggest you to use RecoveryTools professional method. Because it provides easy to use the platform and you can easily access Outlook data without any issues. The solution also provides options to import PST Contacts to Zimbra. Also, you don't require any extra technical knowledge to perform the task.
Final Words
In this write-up, we have explained the complete process to import Outlook Contacts to Zimbra. Zimbra provides excellent tools for users to import contacts from different sources. So, you can easily use this solution to import Outlook Address Book to Zimbra. The solution allows you to automatically locate and transfer contacts from Outlook data files. For more, download the solution and test yourself. For more, you can contact us via email or char process.