How to Export Emails from Mailbird to Windows Live Mail Client ?
Karen Chard
~ Modified: 03-06-2022 ~ How To ~ 5 Minutes Reading
Overview: Are you looking for a solution to import Mailbird to Windows Live Mail Client ? Or want to know how to move Mailbird mailboxes to Live Mail program ? If so, then read this article completely. Here, you will get a flawless solution to migrate emails into Windows Live Mail directly. So, read this article to know more.
Mailbird is one of the significant email clients accessible at present time. The primary reason behind its popularity is accessibility and feature. But it's only available for Windows users. You can install it on all Microsoft Windows and Server machines.
On the contrary, Windows Mail or Windows Live Mail is a Microsoft email client application. It is a completely free-of-cost email client for Windows Users. One can set up their email account such as Gmail, Yahoo Mail, Yandex Mail, Outlook.com, Zoho Mail, Comcast Mail, etc.
A large number of users are looking for a way to export Mailbird emails to Windows Live Mail clients. One of the popular reasons is Windows Live Mail is available free of cost. A query explained.
"Hi, I was using Mailbird email application for the past few months. Earlier, I used to use Windows Live Mail email client. Recently, I faced many problems with this application. That's why, I want to migrate emails from Mailbird to Windows Live Mail client. Please help me to solve this issue."
A Direct Method – Mailbird to Windows Live Mail Converter
As from above, we can without much of a stretch investigate those numerous clients need to know how to export Mailbird messages to Live Mail client. To solve this issue, we really wanted an expert method called – RecoveryTools Mailbird Migrator. This is a powerful solution in the market at the present time. The solution works on all Windows and Windows Server machines.
Get the Solution:
Note: This is a trial version of this application to understand the process of this application. It only allows you to export certain emails. For more, you have to buy this application.
Steps to Move from Mailbird to Windows Live Mail
Get the product on your Windows PC.
Select Mailbird mailbox with dual-mode.
Choose required email folders from the list.
Select the Windows Live Mail saving option in the list.
Start the migrating Mailbird to Windows Live Mail Process.
How to Export Mailbird Mailbox to Windows Live Mail 2012 Client ?
Launch the solution on your computer and read the instructions.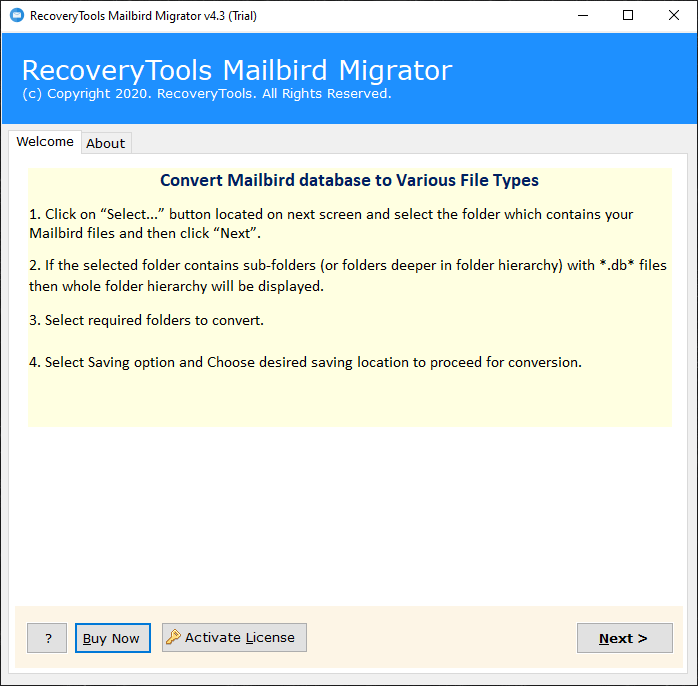 Choose Mailbird mailbox with auto and manual options.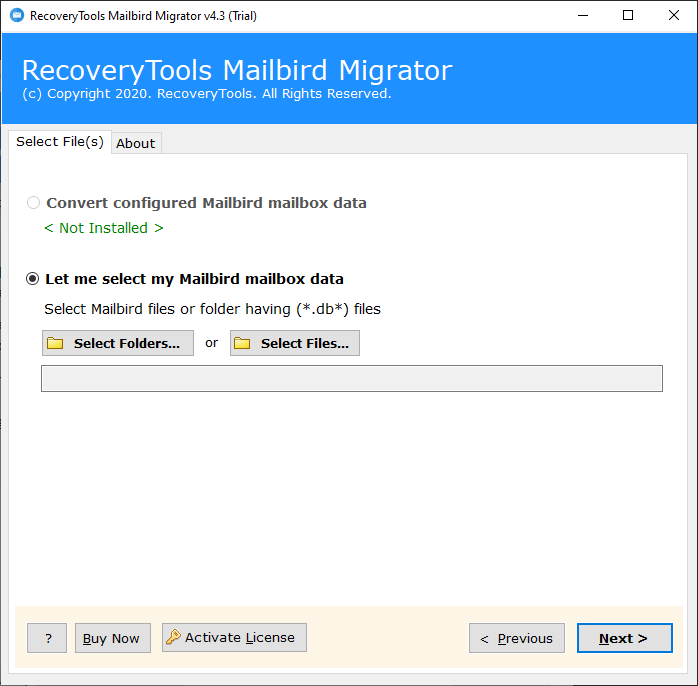 Select the desired folders from the list of Mailbox items.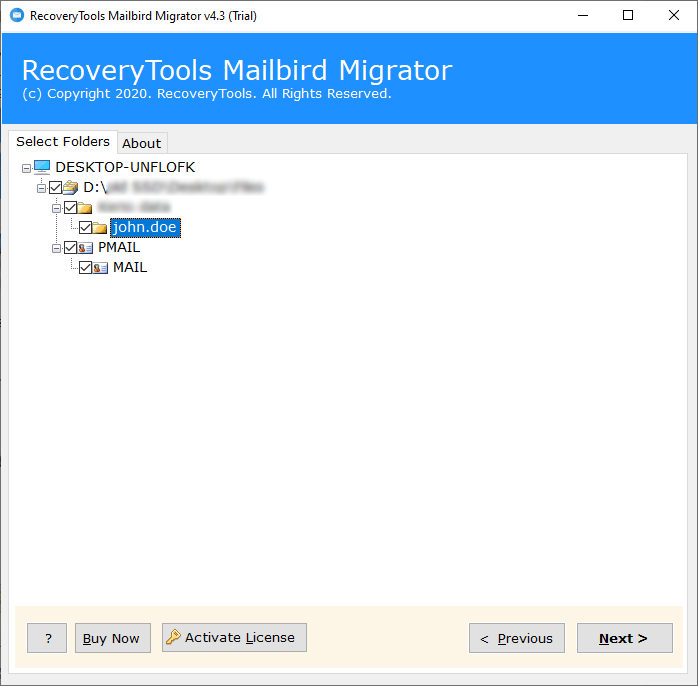 Choose the Windows Live Mail option in the list of file saving options.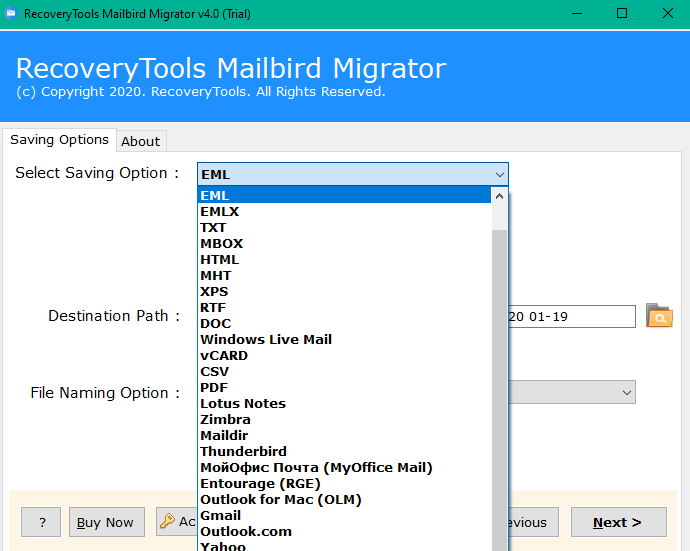 The solution automatically locates your Windows Live Mail location.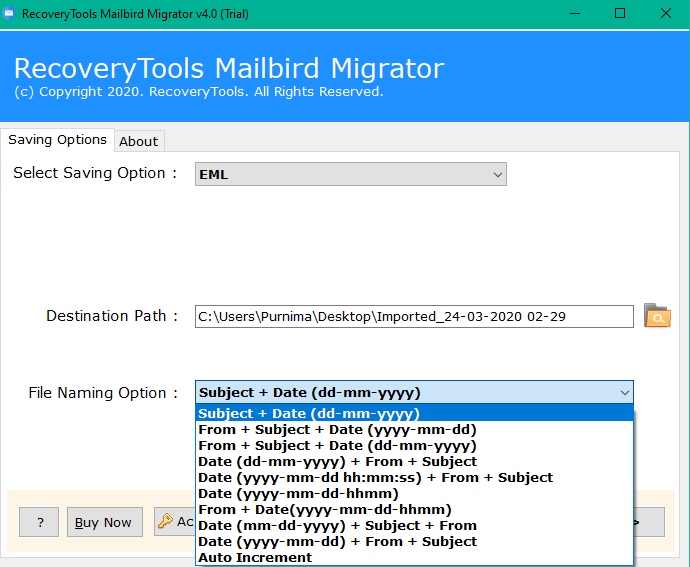 Press the next button to start the process to export Mailbird to Windows Live Mail.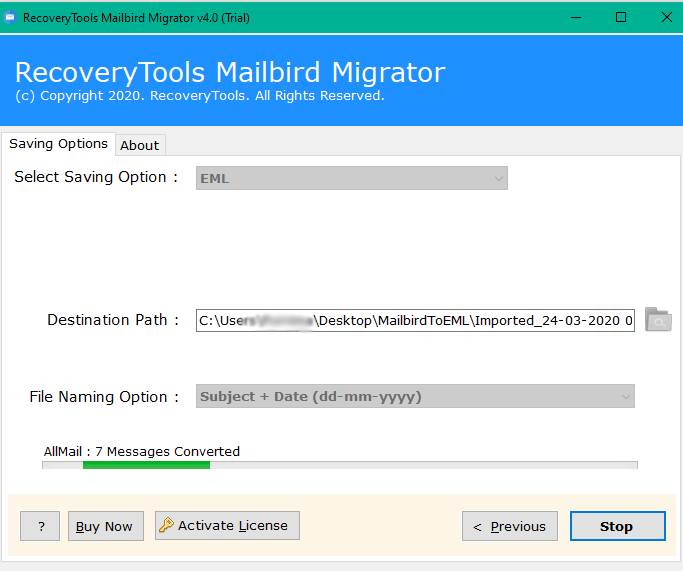 Top Advantages of This Solution
Automatically Selection Option:
The program evolved with all the requirements that a novice and technical user needs. One of the best and advanced functions of this application can automatically locate the data from default locations. There is no need to find and search Mailbird data. If you have already installed the solution, then it automatically locates your Mailbird data without any issues.
Unlimited Email Conversion with Dual Options:
The solution provides dual manual selection options to choose multiple Mailbird mailbox files at once. In order to do this, one can easily choose numerous configured profiles data at once. Also, you can choose another computer Mailbird mailbox file with these options.
Maintain Email Properties & Elements:
During the process of email migration, one of the major problems faced by any user is the email properties. But now, the issue is gone. Because this application provides a simple and easy-to-use panel that preserves all email elements such as attachments, addresses, internet header, and many more.
Multiple File Naming Options:
Another best function of this solution is the "File Naming Options". These options are helpful when you don't have Windows Live Mail client installation and you want to arrange your email data ​in the required format
Independent Solution with Simple Interface:
Mailbird to Windows Live Mail converter developed with a standalone interface where you don't require to install any other application. Yes, now, there is no need to install any other plugins to export Mailbird to the Live Mail client.
Compatible with All Windows and Server OS:
The product supports all editions of Microsoft Windows operating systems including Windows 11, Windows 10, Windows 8.1, Windows 8, Windows 7, Windows Server 2019, Windows Server 2016, Windows Server 2012, etc.
Conclusion
In the above post, you will get a method that allows you to export Mailbird emails to Windows Live Mail client. If you have the same issues and you also want to move emails, then download the recommended solution. This is the best solution in the market at the present time. While the process, the solution keeps all email properties with attachments. You will get all the original message information after completing the process. For more details, you can also contact us via chat or email process.