How to Import Thunderbird Emails to Apple Mail? Solution!
Do you have any idea how to import Thunderbird to Apple Mail? Are you one of those users who are searching for a solution to migrate their data? If yes then you are in the right place. Here we will tell you the steps that can manage the complete task and will provide the best and desired results.
As we know, Thunderbird is one of the world's popular free email client applications. While some may enjoy the extra work, others may find it difficult and complicated to set up. In addition, the Thunderbird interface may not be as user-friendly as other email clients, including those that have many (if not more) advanced features.
"I can't import Thunderbird to Apple Mail – and I tried both ways: export MBOX files and then import them – and as well directly import Thunderbird profiles by Mail. In the end, there were many emails missing. In one folder, there have been 2500 Mails – 480 of them made it, does anybody have a working solution for importing all emails from Thunderbird to Apple Mail?"

"Hello there, I've been using Thunderbird for three years, all of my vital data is stored in my Thunderbird profile. However, I recently purchased a MacBook, and I now wish to import all of my data to the new Apple Mail system. but I'm stumped as to how. I'm seeking a way to import Thunderbird to Mac Mail, so please help. Could you please advise on the appropriate solution?"
If you are also one of them who are looking for the same questions. Then don't worry here we will be going to focus on how to migrate Thunderbird emails to Apple Mail.
Reasons to Import The Data
Apple Mail's toolbar can be customized in a straightforward manner with no effort.
It has a fast option that allows you to view the uploaded photographs in a full-screen slideshow format without needing to wait.
Using the Flag feature, you may identify and categorize your most critical emails.
Allowing parental control helps to monitor other people's responses to emails and other electronic communications.
Data detectors assist you in identifying the email address that can be customized.
These are the few reasons that make the users migrate all their Thunderbird emails directly to the Mac Mail account.
Consistent Solution to Migrate Thunderbird Emails to Mac Mail
A highly rated and famous tool is RecoveryTools Thunderbird Migrator Software to import emails to Apple Mail. This software has been developed with an advanced technological algorithm that allows users to migrate their unlimited data.
Just continue to know about the utility and get the best possible features from here that are difficult to find among other solutions present. With a better technological algorithm, the tool comes with a descriptive interface that makes every user operate this software. Apart from that, it also supports multiple other formats to migrate the data such as importing Thunderbird to Gmail, Thunderbird to Outlook.com, Thunderbird to Office 365 migration, Thunderbird to Yahoo Mail, and multiple others.
Hence, this migration tool is not limited to these features but multiple other features are mentioned below.
Thunderbird to Apple Mail Migration Tool Free Download:
Download for Windows Download for Mac
Step By Step Guide to Import Thunderbird Mail to Apple Mail
Install & Run the mentioned Migration tool and read all the instructions mentioned there.
Load Thunderbird Mailbox items manually from Folders / Files or automatically detected from configured Thunderbird Profile Path.
The software will provide users with a preview of Thunderbird folders. Select all or only the desired email folders for the conversion.
And then, choose the MBOX option from the list of 25+ select saving options list.
Now browse the location to save the converted file.
Lastly, click on the "Convert" icon to start the Thunderbird to Apple Mail conversion.
How to Import Resultant Files to Mac Mail?
Open Apple Mail on your device.
And then click on the file tab >> and then choose the option "Import Mailboxes".

Now enable the "Files in MBOX format" option.

And then select the converted MBOX file from your device and click on the Continue icon.
As we can easily analyze from above that the working of the software is very comfortable for the users.
Manually Import Thunderbird to Apple Mail
Step 1: Export Mailbox From Thunderbird 
Firstly, open Thunderbird Email Client. 
Add ImportExportTools NG Add-on there.
Select the folder that you want to import >> Right-click.
Then, tap on ImportExportTools NG >> Export Folder. 
Enter the location and rename the exported file with .mbox.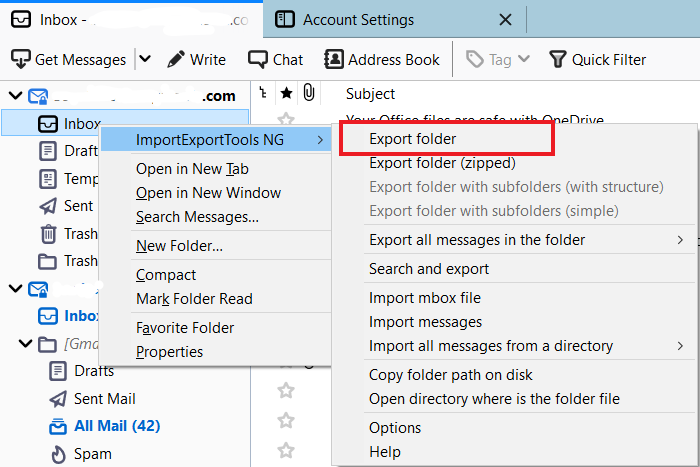 Step 2: Import Mailbox to Apple Mail 
Go to the Mac Mail account.
After that, click on File Menu >> Import mailboxes. 
From the screen, choose the Other option.
Select the .mbox file from the system and Choose.
Choose a file/folder directly from the system and import it. 
Thunderbird to Mac Mail Migration Tool – Major Features & Benefits:
Dual Method to Load Thunderbird Mailbox Files
The tool is capable to load the data directly from the Thunderbird account, also users can upload the Thunderbird profile data manually by "select files" and "select folder" options to import emails to Apple Mail.
Batch Migrate Thunderbird Folders & Emails
Also, it allows users to migrate the entire thunderbird profile data including files, folders, and mailboxes. The data when migrated will not lead to any kind of loss of data and manages the entire data.
Preserve Email Metadata & Properties:
It successfully imports emails to Apple Mail exactly with original email metadata Properties and attachments. The details and other remaining properties of the emails such as To, Cc, Bcc, Message body, Date, Hyperlinks, Attachments, etc. into the original format.
Windows & Mac Compatible Solution:
Moreover, the software is fully compatible with all the latest Windows OS laptops and other devices. And also, there is no requirement for Mac OS necessary to import the files to Apple Mail. This migration tool can easily run on Windows 11 and older versions. You can also use it on all Mac OS X editions.
The Verge
In Conclusion, we have described all of the procedures required to import Thunderbird to Apple Mail utilizing the most well-known and dependable way. Both the free as well as the professional are better to use but it all depends on you. Just continue with the solution that meets the needs and requirements of the users. In fact, we recommend you to use the mentioned Migration tool and complete the task as soon as possible.
Also Read