How to Export Contacts from Salesforce to Zoom App?
Karen Chard
~ Published: 09-08-2022 ~ How To ~ 6 Minutes Reading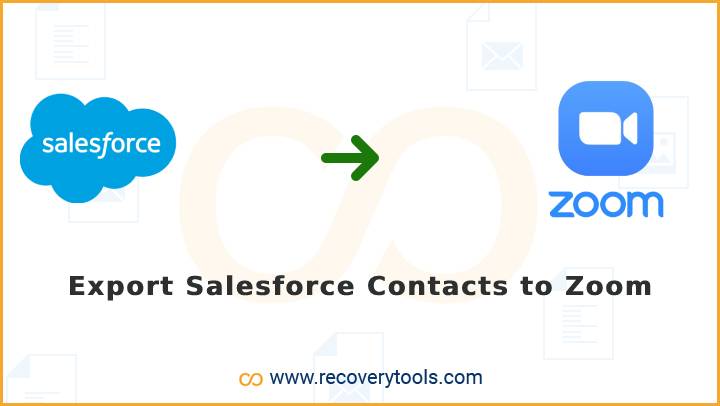 Are you finding a method to export Salesforce Contacts to Zoom app? Or want to transfer contacts from Salesforce to Zoom marketplace? If so, then your searches end here. In this article, we are going to explain the complete method to transfer Salesforce Contacts to Zoom marketplace. So, if you want to know the complete process, then read this article.
If you want to be successful, you need to have contacts or address books. This will allow you to meet new people and make new friends. Also, store all the information inside your mobile and other devices. This will help you to get new jobs, meet new people, and improve your networking skills.
Salesforce contacts are important for many reasons. We use contacts for many purposes such as business, friends, and family. The contacts list in Salesforce is a directory of names. It contains all the names of our customers, vendors, partners, and friends. Because Salesforce is a CRM software which mostly used by distributors, and organizations.
Zoom is one of the popular Video Conference and chatting apps. It is a free app that allows you to communicate with your family, friends, and relatives over the internet. With Zoom App, you can easily send text messages, start group video calls, and share voice and video messages, and documents also. It is the best application and very easy-to-use application.
Reasons to Import Salesforce Contacts to Zoom
"Hi, I am the account manager in a big marketing company in New York. Here, we are using Salesforce to manage our sales and production. So a huge range of contact lists are stored in our Salesforce account. Recently I needed to set up a vendor video conference. But the problem is that all my contacts are stored in Salesforce. Does anyone know how to export Salesforce contacts to the Zoom app?"
Salesforce is a cloud-based software company that offers several business productivity solutions such as customer relationship management (CRM). That's the reason people store most things inside these platforms like customers, vendors, partners, and friend contacts.
Another Side, Zoom App is a video meet application for Windows, Apple, iPhones, Linux, Android, etc. The best part of this application has no limit to the number of people that you can invite. With the Zoom App, you can easily make video calls with friends and family. That's why people want to switch from Salesforce contacts to Zoom App.
More Helpful Post:
How to Export Contacts from Salesforce to Excel File?
Open Salesforce with your Admin credentials via any web browser application.
Now, you need to click on the Reports tab and click on the New Reports option.

Choose the Account and Contacts option and get details of users in the panel.

Here, choose the Users and click on the Create option.

After that, Salesforce starts analyzing your account contacts in the panel.

Now, you need to press the New Report option and start the wizard.

After the Report analysis is completed, click on the Export Details button.

Salesforce by default export all these details into Excel (*.xls) format.
Solution: Export Salesforce Contacts to Zoom Tool
There are a lot of applications available that allow you to integrate Salesforce and Zoom apps. But there is no way to copy contacts from the Salesforce account in your Zoom app. That's the reason people looking for a solution to easily move Salesforce contacts to Zoom app. RecoveryTools Excel to CSV Converter is the best utility for that. It allows you to change Salesforce Contacts to Zoom App format. You can use this application on your Windows computers easily.
Get the Solution Now:
How to Import Salesforce Contacts to Zoom App?
First of all, you need to launch the solution on your computer.

It offers dual options for the file selection process. If you have multiple Excel files, then you can choose the "Add Folder having Excel Files" option.

Now, the solution shows all the selected files in the user interface panel.

You can also choose and change the resultant location path according to requirements.

Now, press the convert button to start the process to convert Excel Files to CSV format.
Press the Ok button to end the process.

The resultant location path opens automatically.

Now, you need to open your Zoom App on your computer.

Click on the "Personal Contacts" option in the list.

Now, you need to click on the "Upload from CSV File" option.

Choose the required CSV file and click on the upload button.

Now, all your Salesforce contacts will copy into Zoom App account.
Features and Benefits of Export Salesforce Contacts to Zoom Tool
Batch Options for Multiple Selections: If you have multiple users in your Salesforce account and you want to import contacts of all these users into the Zoom app. Then this application provides an advance selection option called – Add folder containing Excel files. Now, you can easily select the entire range of XLS files from a folder to the user interface.
Change Salesforce Contacts to CSV without Excel: The solution doesn't need any connectivity with Excel while the conversion process. It is a completely free and independent solution for those users who want to import Salesforce contacts to Zoom App.
Set and Change Destination Location Path: There are lots of clients who want to store their resultant data to another location. Therefore, this application has an inbuilt option to change and choose any destination path where you want to save the resultant CSV files. You can also choose the external location path without any issues.
Microsoft Windows Application: This is a completely Windows-based application. You can easily install this application on all editions of Microsoft Windows including the latest edition of Microsoft 11 version without any issues.
Clear File Option: If you by mistake select the wrong item and files, then you can use this button to remove them. You can also use them to clear all selected files list easily.
Simple and Graphical Interface: If your background is non-technical, then don't worry. This application was developed with all the latest technologies and created a simple visual basic interface that can easily recognize by any user.
Final Words
Zoom is one of the popular applications for connecting people, sharing videos, and keeping in touch with others. But there are a few shortcomings to the app like only supporting to import of contacts into CSV. The biggest issue for many users is the lack of a robust contact importing feature. Therefore, we developed a solution for that. Now, you can easily import Salesforce contacts to Zoom App using the RecoveryTools solution. For more details, read the article and contact the technical team.