How to Export Lotus Notes Contacts to iPhone & iCloud – Solved!
Karen Chard
~ Published: 21-07-2022 ~ Lotus Notes ~ 7 Minutes Reading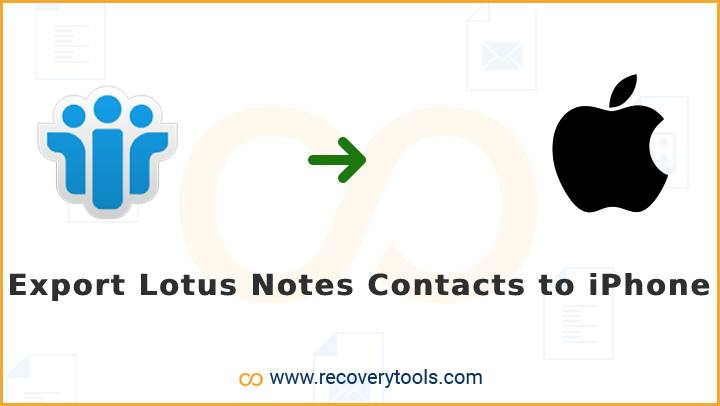 Are you searching for a stepwise method to export Lotus Notes Contacts to iPhone? If yes, then let me tell you that you are not alone in this question. Many people frequently search the internet to get how to import their Notes contacts to iPhone. So, I decided to explain and develop a solution for those users who want to share IBM Notes Contacts to iPhone. Read this post and get the solution.
Lotus Notes is a very powerful software developed by IBM. It is computer software that allows you to store, sort, and organize your communication information. This software is used to store notes, calendars, contacts, tasks, documents, emails, and other information. It is especially useful for an organization or enterprise where multiple users work on a single platform.
However, you are probably using a lot of iPhone apps nowadays. It's not a surprise to see how people love to use mobile applications in their day-to-day life. But Lotus Notes doesn't have any dedicated iPhone App. That's why a huge number of users want to save their Lotus Notes Contacts to iPhone.
Reasons to Export Lotus Notes Contacts to iPhone
In this business world, you may be wondering, "how do I export contacts from Lotus Notes to iPhone?" There are several reasons why you are exporting contacts from Lotus Notes to iPhone. Here, we discuss some common reasons why people want to export Lotus Notes Contacts to iCloud account.
Online Access of Lotus Notes Contacts: Many people are using Lotus Notes for their business purposes. Because of desktop-based access to Lotus Notes contacts, people want to share their contacts with Apple Contacts through iPhone. Using this process, you will be able to access your Lotus Notes contacts from anywhere on the planet.
Different Platforms: Lotus Notes and iPhone both are very different platforms. You will be able to sync contacts from Lotus Notes to iCloud email account. So that you will never miss any important calls and people.
Transfer Lotus Notes Contacts for Multiple Apple Platforms: Lotus Notes is an email server that is used in a company and enterprise environment. But iPhone is an Apple device that is used for personal use mostly. But using iPhone you can sync contacts with multiple Apple devices at once.
More Helpful Articles:
How to Export Contacts from Lotus Notes to Computer?
First of all, you need to launch Lotus Notes on your computer.
Now, you need to open the Contacts option by clicking on the Contacts Tab.
Now, open the menu option and click on the file button.
Here, you need to choose the export button.
In the Export Contacts Wizard, you need to select the all contacts option.
After that, you need to select the "All Fields" option in the list.

Now, you need to select the Save as Type option. Lotus Notes only allows you to export contacts in CSV or XLS format. Here, you need to choose CSV option.
Solution: Import Lotus Notes Contacts to iPhone Tool
RecoveryTools CSV to vCard Converter tool is multi-functional solution. However, not only for iPhone users, but all those users who required VCF contact file. The solution allows us to export Lotus Notes contacts to a universal vCard format that is supported by many platforms. This Lotus Notes to iPhone Contacts transfer tool provides lot of benefits including contact mapping and encoding options. You can use the solution on your Windows and Mac machines.
Get the Program on your PC:
Download for Windows Download for Mac
How to Export Contacts from Lotus Notes to iPhone?
Download or launch the solution on your computer.

Select Lotus Notes Exported contacts CSV file with the "Select" option.

You can manage your contact fields with mapping options.

Generate different encoded vCard files if required.

Press the Save As an option if you want to change to choose a different location.

Press the convert button to start the process to change file into VCF file.

After that, you need to login with your iCloud account.

Now, click on the Contacts app on the list.

Open Import vCard option from the setting option.

Start the process to import Lotus Notes Contacts to iCloud. Thereafter, you need to sync this account with your iPhone and other Apple Devices.
Top Benefits of Using this Lotus Notes to iPhone Tool
Multiple Encoding Options: The product offers several contact encoding options. You can easily create Unicode, UTF-32, UTF-7, UTF-8, etc. VCF files easily. These encoding options only work when you enable them.
Option to Create Single/Multiple VCF Files: The solution for exporting Lotus Notes Contacts to iPhone lets you extract single or separate VCF resultant files. Or you can uncheck the option to generate multiple resultant VCF files at once.
Map Your Contact Fields: This program for importing contacts from Lotus Notes to iPhone offers a benefit called Mapping Contacts. This option allows you to easily change and manage your resultant contact fields including name, address, number, email address, gender, etc.
Windows and Mac Compatibility: The program is fully compatible with all the editions of the Windows and Mac computers. You can easily install this application on all editions including lower and newer versions like Windows 11 and Windows XP, etc.
Location Selection Freedom: The product offers you to select the resultant path for saving the newly exported files. By default, the product selected a computer desktop location. You can choose and change the location as per your needs.
Manual Way to Import Lotus Notes Contacts to iCloud
For that, you required a Windows Computer. If you have, then follow steps:
Open Windows default File Explorer on your machine.
Now, open your Windows Contacts folders.
Click on the import button from the top.
Now, select Lotus Notes Contacts CSV file and import contacts on Windows PC.
Select the Export option from the top tap and choose VCF option.
Then, follow the same steps to import contacts on iCloud account for iPhone.
Limitations of Manual Solution
In the world of technology today, everything is connected to the Internet. So, it is very easy to find solutions to any problems. But there are many manual ways that affect your data too. There are thousands of apps and software solutions on the Internet for us to use. They can help us to get rid of any type of problem that we might have. It is really helpful to have the right app to solve our problems.
That's why I suggest you to use RecoveryTools Lotus Notes Contacts to iPhone Tool. Because this application offers several advance options like Contact Mapping options and File Encoding modes. The software is also a simple utility that doesn't require extra technical knowledge. Also, you can use this product on your Mac machines.
Final Words
In final words, I would like to say that you can use the professional solution for exporting Lotus Notes Contacts to iPhone. Because it is one of the best methods to solve issues like above. It also provides some additional benefits which are not present in Manual way. The software also provides you with data insurance and conversion rate success facilities. I hope you understand my point. For more details, you can also contact the technical team.