How to Convert IncrediMail to PST Format? Get Expert Suggested Solutions
Karen Chard
~ Modified: 25-03-2023 ~ How To ~ 6 Minutes Reading
Abstract: This post will describe how to convert IncrediMail to PST format. After reading this article, you will be able to get IncrediMail messages to the required format. The PST file is compatible with all platforms of Microsoft, and it stores all of your mail data. If you are interested to convert IMM to PST format, read this write-up completely.
Most of you are aware of the reality regarding the IncrediMail email client by now. Also, brighten up those who don't know that the email program was shut down on March 20th, 2020.
But now a lot of user data is stuck in the IncrediMail client. This is a problem faced by many users and now they want to export IncrediMail emails to PST format. Because PST file is compatible with almost every client.
However, we don't know how to export IncrediMail to PST  manually. And now, this email client has stopped working due to some unwanted bugs and errors such as Flash Player error in IncrediMail. That's why people looking for a method to convert *.cab, *.imm, *.iml, etc. files to PST format.
Why We Choose PST Option

Well, this question arises in the mind of many people. "Why do we need to choose the PST option?" Because PST is the only format that supports all Microsoft platforms. A single file can contain all email mailbox items such as emails, attachments, contacts, calendars, tasks, notes, reminders, journals, and more.
"With the last update to my Windows 10 computer, my dad lost the access of IncrediMail client with some error codes. Presently, the program has failed to run.
Is it conceivable to export IncrediMail emails and contacts to PST format ?"
– Cathrine
How to Export IncrediMail Emails to PST Format?
To solve the conversion issues, I would say that you need to download RecoveryTools IncrediMail Migrator. Because at this time this is the only application that gives a large number of saving options, and allows users to convert IncrediMail to PST format with all data attributes.
The utility will empower the clients to automatically discover mailbox data from the default path to the interface. Furthermore, assist you with recovering the lost messages on the IncrediMail application in PST format. Also, you can download the solution on your Windows and Windows Server machines.
Download the Solution:
Steps to Convert IncrediMail to PST File
Get the product on your machine.
Discover IncrediMail mailboxes with dual-mode.
Choose the desired folders from the given list.
Mark on PST option and set all other features.
Start IncrediMail to PST Conversion process.
Detailed Working Of Automated Solution
Before we start the process, we inform you that this application requires mailbox files. If you already have the IncrediMail client installed on your computer, you can select the Auto-discover option. Otherwise, you will need to find your data location and files manually.
For more information watch the video and read: Where does IncrediMail store email?
After all the procedures, get the solution on your machine or workstation to export IncrediMail emails to PST format.
Now, the program gives your auto-discover facilities. You can use this option to find your IncrediMail data in auto mode.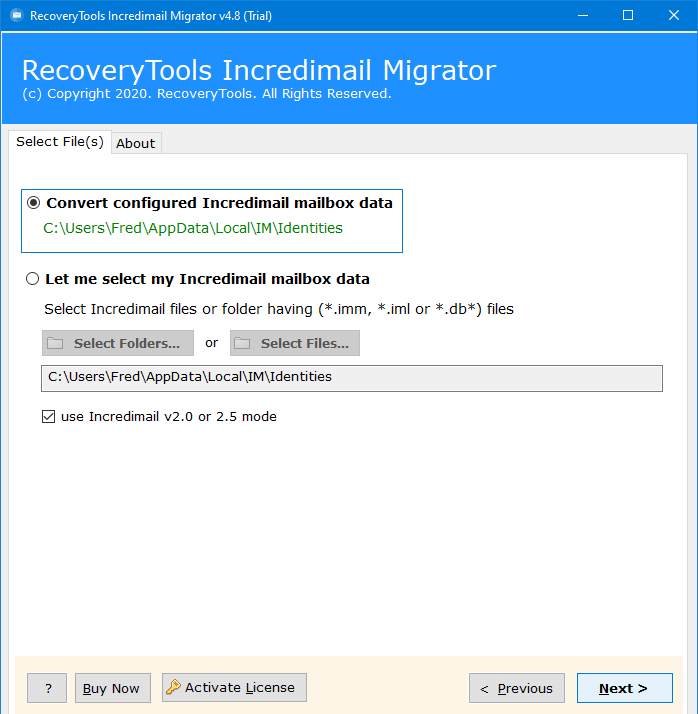 Also, you can select the manual selection options, if you need to convert DB, IML, IMM files to PST format.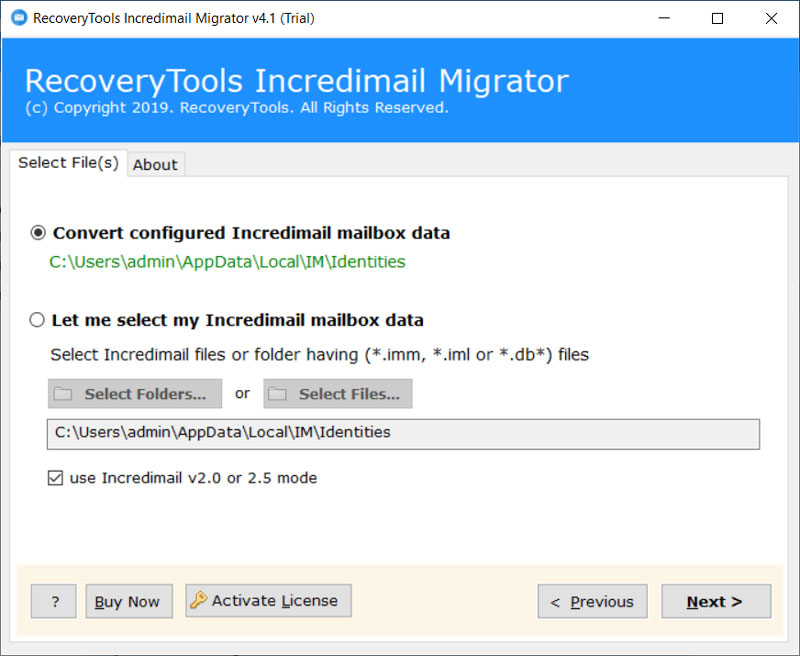 The solution shows all the folders in the user interface panel. Here, choose the required folders from the list.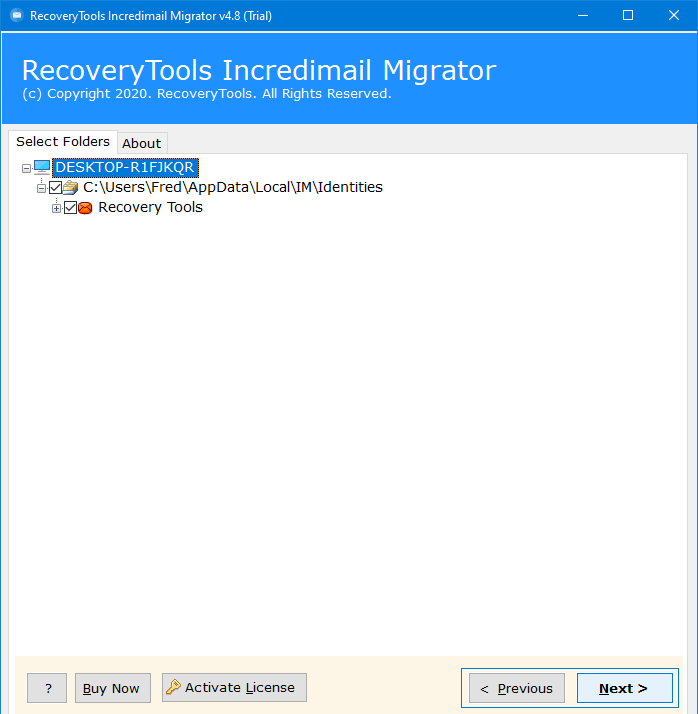 Choose the PST option in the file saving options list to export emails into PST format.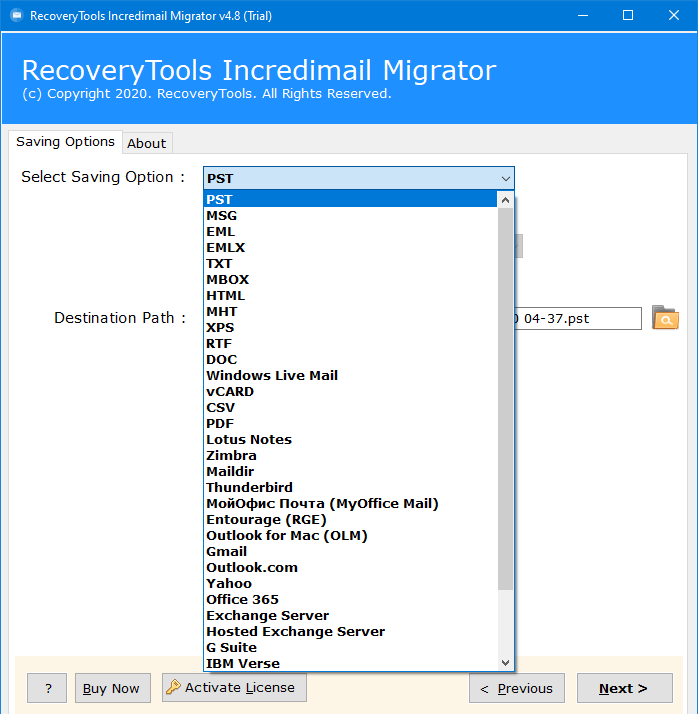 The product offers an email language change option. Here, you can also set a location path.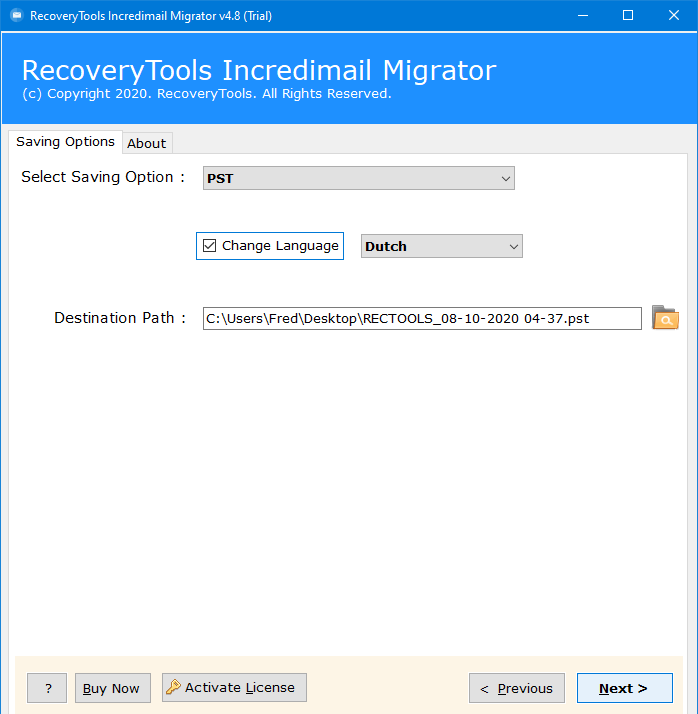 Press the ok button to start IncrediMail to PST Export process.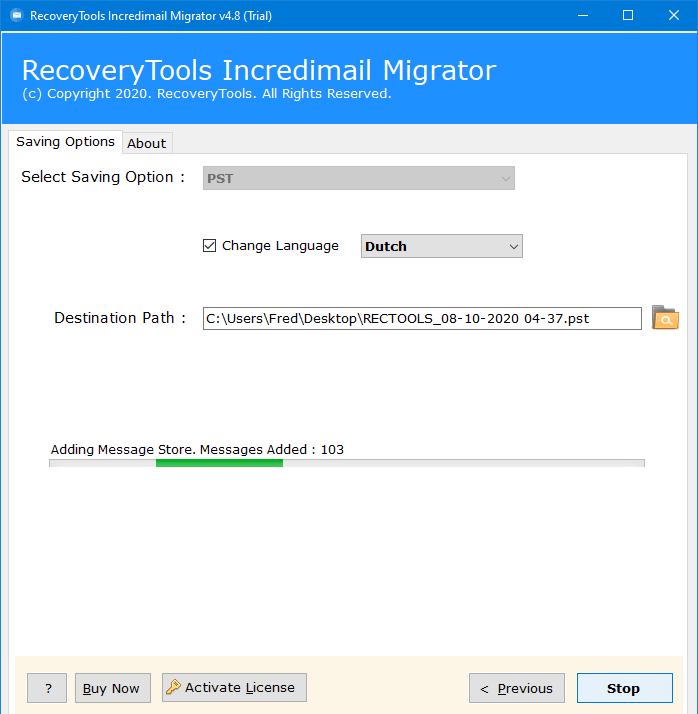 Top Convenience Benefits of Automated Solution
The solution gives an option to auto-discover the location of the IncrediMail application and loads complete mailboxes data.
The product accompanies double choices for picking IMM, IML, DB files, or directories files easily in the panel.
Likewise, the solution is competent to keep all email messages comprehensive of Attachments, Date, From, To, Subject, and so on before transformation.
Subsequent to choosing the profile information, the IMM to PST Converter shows all email folders in the product UI. This way, customers can choose to clear email folders for change.
While saving IMM to files to PST format, it creates a single PST file of every IMM or IML or DB file.
It is the only application in the market which supports address book DB files also.
This program gives a simple UI for all technical or novice users to easily understand.
IML to Outlook Software offers the opportunity to make new resultant PST files. It permits clients to refresh default PST files too by adding more information.
The program upholds all releases of IncrediMail email applications, for example, 2.0, 2.5 without showing any blunder.
One of the best parts is to work on every version of Microsoft Windows and Server machines including Windows 11 also.
Questions Asked by Users
I need to save IncrediMail emails to PST format. Can you please explain the process in short?
Sure, follow the process in the below steps to convert IncrediMail to PST format:
Download or install the utility on a computer.
Choose data or files (IMM, IML, DB, CAB).
Pick PST option in the list of file saving options.
Set additional options like location & change language.
Start IncrediMail to PST Export process.
Does it support IncrediMail 2.5 version mailboxes?
The solution supports all versions including the 2.5 edition of the application and its all files.
While saving IncrediMail to PST, does it export contacts too?
Yes, the software exports all items including contacts into PST format for Outlook.
Does it work on Windows 10 x64 edition computer?
It supports all versions of Microsoft Windows including x64 bit of versions.
Final Words
If you want to convert IncrediMail to PST format then, this write-up explains all the procedures in deep. RecoveryTools solution gives you 30 days money-back guarantee in case of program failure. You can also use this application on your Windows and Windows server machines. Also, you can test this program before investing in it. The company offers a demo edition of this application free of cost. For other details, contact the support team.
Similar Read: