How to Solve IncrediMail Flash Player Error?
Karen Chard
~ Modified: 25-03-2023 ~ How To ~ 5 Minutes Reading
This article will describe the cause of the IncrediMail Flash Player problem and its solution.
After reading this post, you will be able to retrieve the lost emails on IncrediMail app without flash player error in 2021.
The majority of you are already aware of the truth regarding the IncrediMail email client. In addition, inform individuals who are not aware that the IncrediMail email client was discontinued on March 20, 2020.
However, we do not know why the IncrediMail team closed its doors in 2020. But one of the reasons for this may also be the problem of flash player.
Because Adobe decided to discontinue Adobe Flash Player on December 31, 2020 and it stopped playing Flash content in Flash Player after January 12, 2021.
But both IncrediMail and Flash Player are different, so the question arises:
Why Flash Player is Required to Run IncrediMail ?
Understand By User Problems:
"Hi, I live in Norway, and until last week I used IncrediMail. Last week I couldn't open my emails, I've got a message that says that I am not able to open IncrediMail unless I install Flash. and that I need to complete installing it in order to open my mails…
So, what do I do now? it's not possible to install flash anymore. Does your program help me to convert what I have in my IncrediMail without having flash?
I shall be thankful for any help from you! It's like a nightmare for me now,
Thanks in advance"
"Hi, with the last update of Windows 10, my father lost the possibility to use IncrediMail (no more flash). Now, the IncrediMail email client has failed to start.
Is it possible to backup IM mails and contacts without IM ? Or migrate to another mailbox, probably MS Mail or Outlook.
Regards"
Most users are not opening IncrediMail email client and want to retrieve lost emails on IncrediMail app without flash player. For this, we suggest you to download and install RecoveryTools IncrediMail Migrator.
How to Fix IncrediMail Flash Player Problem ?
To solve the IncrediMail Flash Player problem, I would say that you have two options.
First, migrate all IncrediMail data to another webmail, email client, or file format, etc.
Second, contact IncrediMail and Adobe support team to fix this problem.
Important:
"If you are unable to decide where to transfer your IncrediMail data, Read IncrediMail Alternative blog."
In this article, we will explain the process to retrieve lost emails on IncrediMail app without flash player. The RecoveryTools solution provides a technology-driven software designed specifically for users who want to recover IncrediMail emails on another platform without flash player issues.
The program will enable the users to automatically locate IncrediMail data from the default location to the interface. And help you to retrieve the lost emails on IncrediMail app in readable formats.
Where is the IncrediMail Store Email Database ?
Well, IncrediMail stores all its data in IMM, IML, DB files that are stored in C:\Users\admin\AppData\Local\IM location.
Read More: – Where does IncrediMail Store Emails ?
Steps to Solve IncrediMail Flash Player Error
We recommend you download this RecoveryTools IncrediMail solution on your computer. The program has auto-detect benefits that load all your data from IncrediMail locations. In addition, you can select IncrediMail data with dual manual selection. First, download it to your Windows computer.
In the first step, install this application and launch it on your computer.
Then, choose the right option to load IncrediMail data in the interface.
If you don't know where IncrediMail store their data, choose the first option – "Convert Configured IncrediMail Mailbox Data".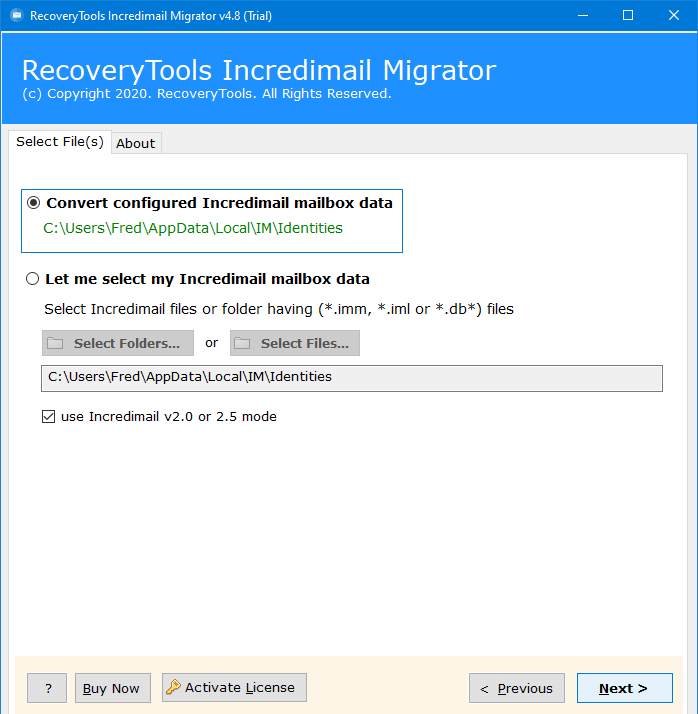 You can also select the manual selection option to load IncrediMail data manually.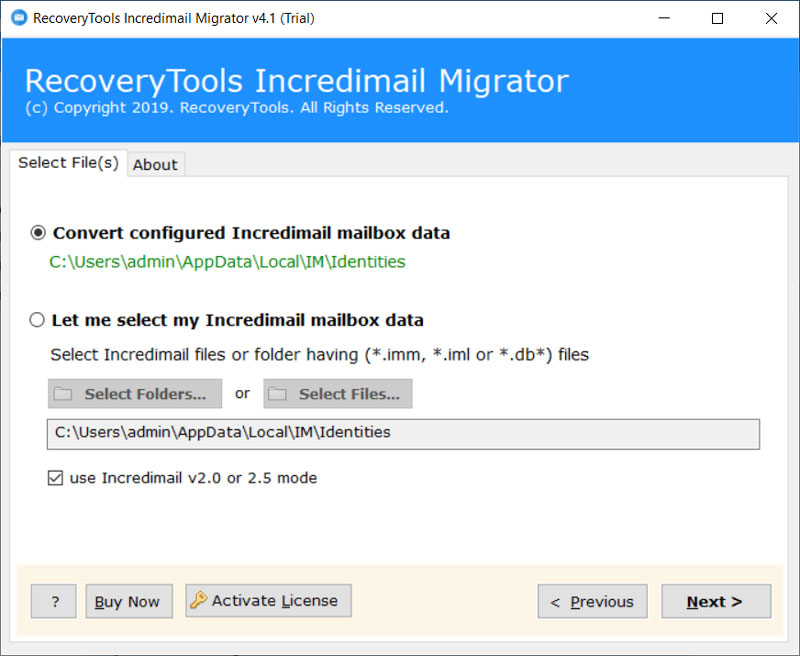 In this step, you need to choose the required IncrediMail folders.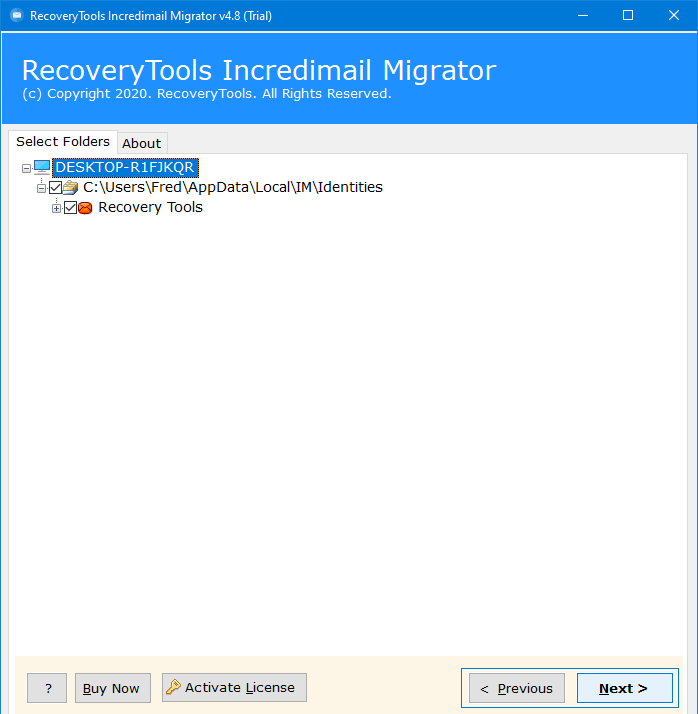 After that, choose the file saving format such as file formats, webmail, online server, document formats, email clients, etc.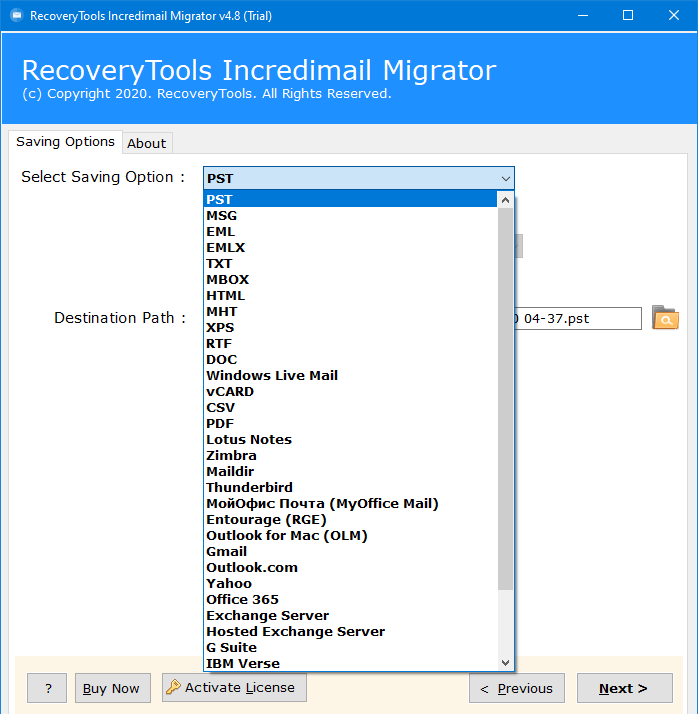 Next, select the location path if you have selected the file format option. And if you select the webmail or email account option, enter their credentials.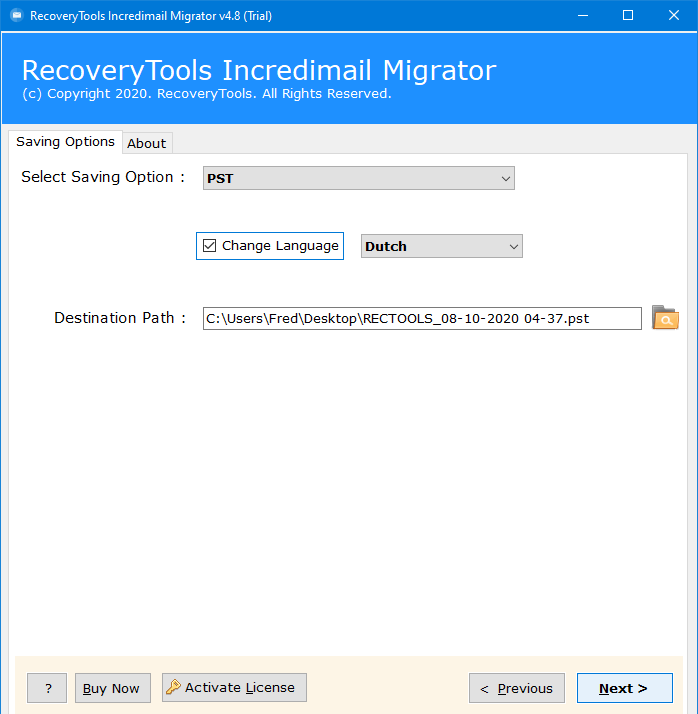 In the final step, click on the next button to convert IncrediMail emails without having Flash Player.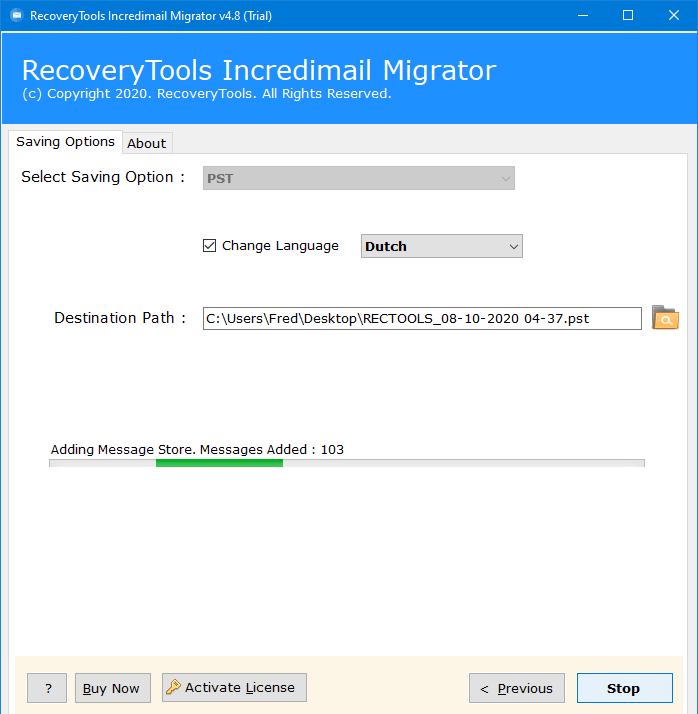 After our personal discoveries, we found that users could not access their IncrediMail email messages due to lost support for Flash Player. That's why they keep looking for a solution to recover IncrediMail emails without having Flash Player.
In this article, we have explained the solution to access IncrediMail emails after the Flash Player problem. You can use RecoveryTools solution to transfer your IncrediMail emails, contacts, and other items to another place easily.
For more information, you can contact us via live chat support or email. Also, you can read the related blog post to understand the solution and fix IncrediMail Flash Player Problem.