How to Export Emails from IncrediMail to Mailbird Client ?
Karen Chard
~ Modified: 25-03-2023 ~ How To ~ 5 Minutes Reading
Summary: Do you interesting to transfer emails from IncrediMail to Mailbird ? But don't know the method ? If Yes, you heard it right. Now you can import IncrediMail to Mailbird easily. In this article we will discuss more things like how you can export IncrediMail to Mailbird client ? But why do we need to do this ? I will disclose to you the explanation later in this article.
IncrediMail is a smart and easy-to-use flagship email application that has helped users exchange important files and documents over email. But now the biggest disappointment is that this email client is now discontinued. That's why now people want to transfer IncrediMail to Mailbird or other clients.
What would it be advisable for you to be searching for as another option or Mailbird ? The reality is, email programs should be worried about expanding efficiency, and powerful productivity features. It has offered a simple platform where we can easily access our messages without any errors.
If you were a fan of IncrediMail customization options like emoji, backgrounds, effects, and more. Then Mailbird is the best for you. It has provided all the features that help you to organize your mailbox easily. Here is the full summary to import IncrediMail to Mailbird process.
Recommended Solution: IncrediMail to Mailbird Transfer Tool
The suggested solution is RecoveryTools IncrediMail Migrator Utility. It licenses you to easily manipulate your IncrediMail emails for your Mailbird client. The solution gives a wide choice of webmail saving options. You can easily move your IncrediMail emails to an email account. Thereafter, configure it on your Mailbird to enjoy the uninterrupted service.
Download the Solution:
Steps to Understand Import IncrediMail to Mailbird Process
First of all, get the solution on your machine.
Now, select the IncrediMail mailbox files.
Choose the desired directories from list.
Pick the email account option and give details.
Start the process and configure the account in Mailbird.
How to Export IncrediMail to Mailbird with All Messages ?
To understand the process, we need some requirements:
First, RecoveryTools Solution.
Second, an existing email account or create a new email account.
Thereafter, get the product from the official web page on your computer.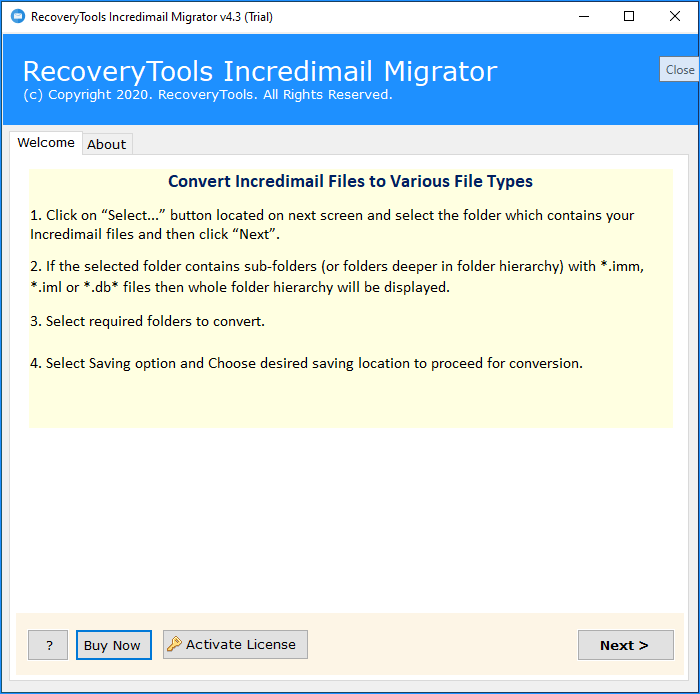 Now the time to choose IncrediMail mailbox files from the IncrediMail location.
"If you have any issues while finding IncrediMail location, then watch the video tutorial"
After all, you need to select the require directories from the entire list of IncrediMail folders.
Choose your email service provider in the list. Here, we select the Gmail option to understand better.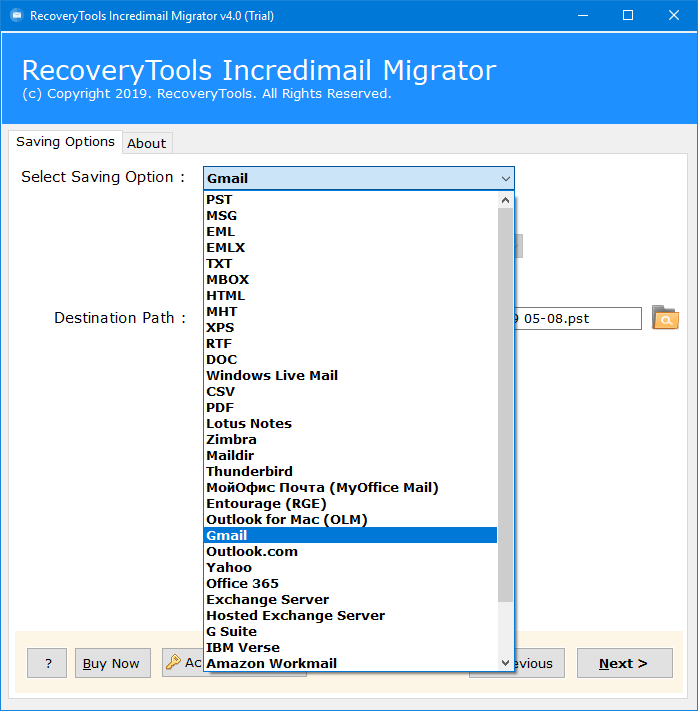 Put all the require details of your Email account in the IncrediMail to Mailbird transfer tool interface.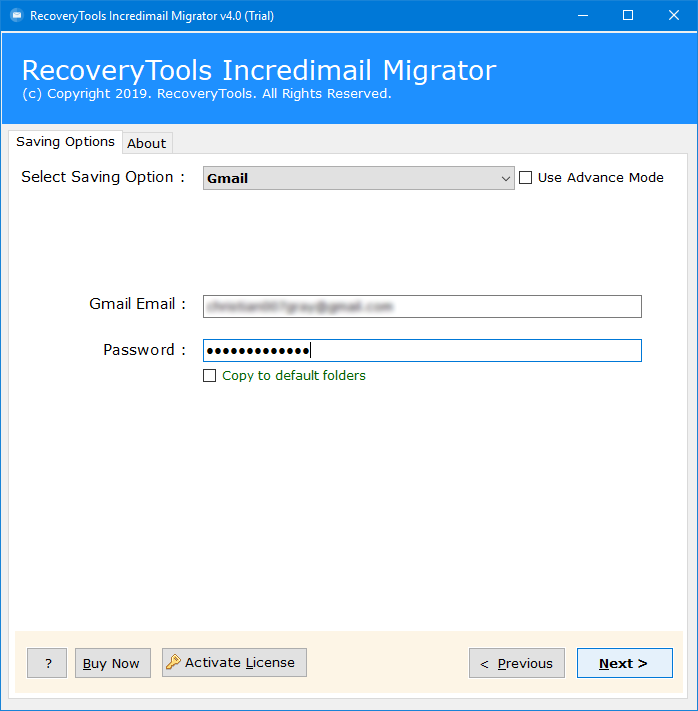 Press the migration button to start importing IncrediMail emails to Mailbird client.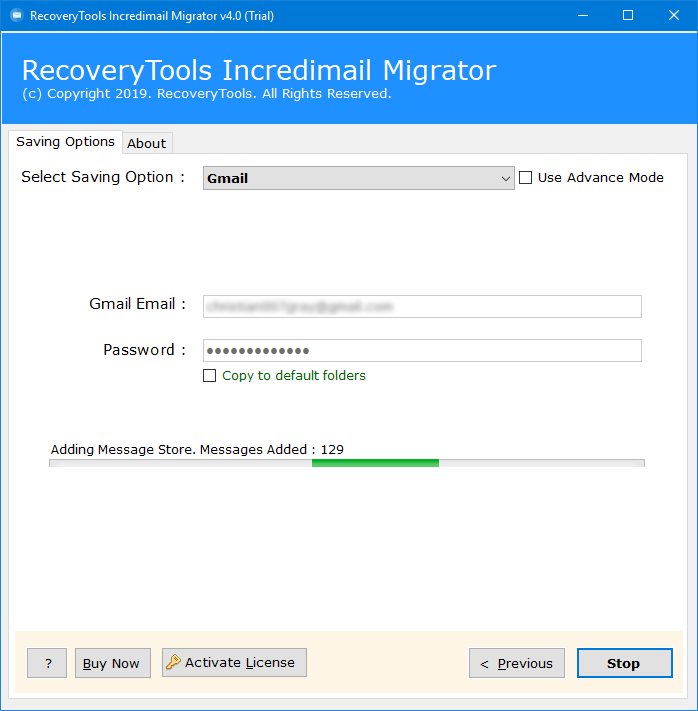 When the procedure of exporting IncrediMail to Mailbird ended, press the ok button.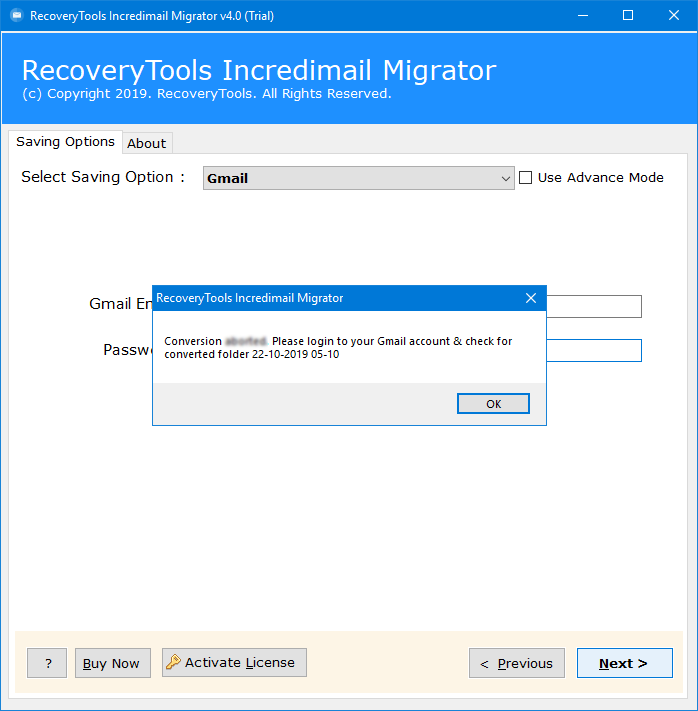 Now, you require to configure this account on your Mailbird email client:
Get and launch Mailbird client on your computer first. Then choose the menu button and open the Account Section.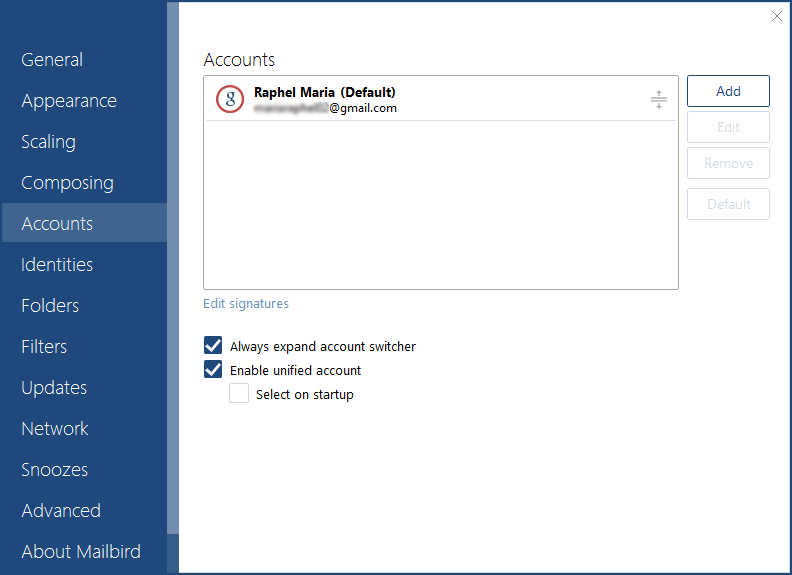 In this window (add account), enter your required or data migrated email account.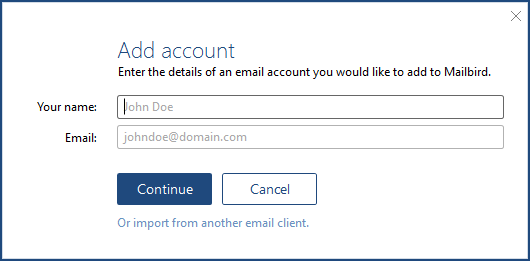 When all is done, press the continue button and get all your IncrediMail emails in Mailbird.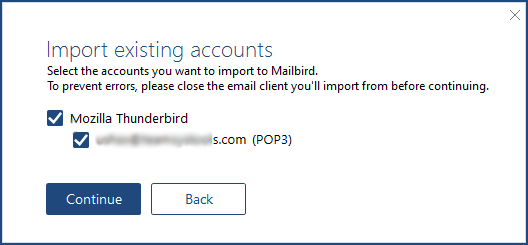 Top Advance Features Provided by IncrediMail to Mailbird Transfer Solution
Performs the fastest transformation of IncrediMail messages to Mailbird clients flawlessly.
Maintain all Metadata Properties and Internal System Folder Hierarchy of mailboxes during the transfer process.
It has a separate option to detect or discover your IncrediMail location automatically.
Also, one can get the mailbox files with dual mode of manual selection procedure.
It offers double alternative modes to pick IncrediMail .imm, .iml, .cab files easily.
There are no mailboxes limitations to the product while you importing IncrediMail messages to Mailbird.
For importing messages from IncrediMail to Mailbird, you can utilize any IncrediMail version data such as IncrediMail 2.0, IncrediMail 2.5.
You can transfer IncrediMail to Mailbird on any windows platform including Windows 10, and so on.
Some User Issues
Would I be able to utilize this utility to import IncrediMail 2.0 emails to Mailbird ?
Why not! The product of the IncrediMail to Mailbird Transfer tool is fit for importing IncrediMail emails to Mailbird.
I don't find the IncrediMail location on my computer. Please help me ?
For this, our application has an inbuilt option to access your IncrediMail database from the default location. Don't worry. Or if you want to know the location path watch the above video.
Does the solution keep my IncrediMail messages properties ?
Yes, this keeps the email in Mailbird just as it was in IncrediMail. So don't worry.
I have a Windows XP machine. So do I need to buy a new computer or does this application support Windows XP machines ?
No, this application supports all Windows versions. But in Windows XP, you need the latest version of the .Net Framework installation.
Final Words
So, this was my take on having IncrediMail emails in Mailbird and how you can get mailboxes. You can use the recommended solution by the above link. I hope you get a complete guided method to import IncrediMail to Mailbird. For more details, you can visit the product page of this solution. Or contact the RecoveryTools team to know more about this product.