How to Migrate Emails from iMail (Invisible Mail) to Gmail or G Suite Account ?
Karen Chard
~ Modified: 02-06-2022 ~ How To ~ 6 Minutes Reading
Sum-Up: Are you looking for a solution to migrate iMail Emails to Gmail ? And searching for a way to transfer emails from iMail to Gmail account ? If you are shaking your head on these questions, then this is definitely the right writing you are looking for. In this article, we are going to explain the complete way to export emails from iMail to Gmail. So, let's begin the process.
When we place desktop-oriented and web-based email clients head-to-head, it is clear that Gmail wins the race. Because It provides an environment that can be accessed from any place at any time. But there are also some limitations such as an internet connection.
Well, Ipswitch iMail is also known as Invisible Mail aka Bote Mail. It is an open-source software implementation with Java. IMail Server is an exceptionally incredible email and informing software accessible for little to huge measured Businesses and associations. One of the best is to work with all Windows Server machines. It supports all protocols like POP3, SMTP, IMAP, LDAP, and several lists of servers.
However, However, iMail doesn't allow you to migrate emails from iMail to Gmail. Recently our client from New York sent an issue to our technical expert.
"Hi, I opened up a new Gmail account and follow all the manual processes to transfer emails from iMail to Gmail account. But every time I was failed to transfer emails from iMail to Gmail account. That's the reason, I am here. Please help me to learn the process of migrating emails from iMail to Gmail account."
Straightforward Solution – iMail to Gmail Migration
Well, I am here to help you in this matter. Here's we used RecoveryTools iMail Migration Tool to transfer all emails from iMail account to Gmail. One of the great parts of this utility can work on all Mac and Windows workstations. Not only this, it has the ability to migrate multiple mailboxes from the iMail account.
Download the Toolkit:
Note: It's a demo version of this product to export only a few emails. If you want to move all items from iMail Server to Gmail or G Suite, purchase the software key.
Track to Migrate Emails from iMail to Gmail
Run iMail to Gmail Migration Tool on Windows.
Choose iMail Server data with dual selection options.
Select iMail email folders that you want to migrate.
Choose Gmail and fill account Credentials in the interface.
Tap on the button to transfer iMail emails to Gmail.
Transfer Emails from iMail to Gmail – Complete Process with Screenshots
This application supports all Windows Server machines as well as Windows OS. So, get it first.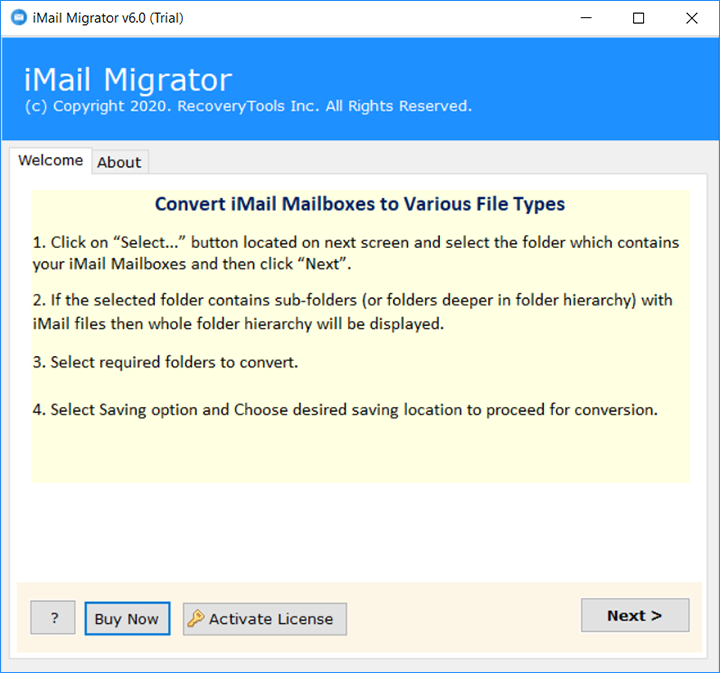 It offering 2 options to pick iMail server data with this application.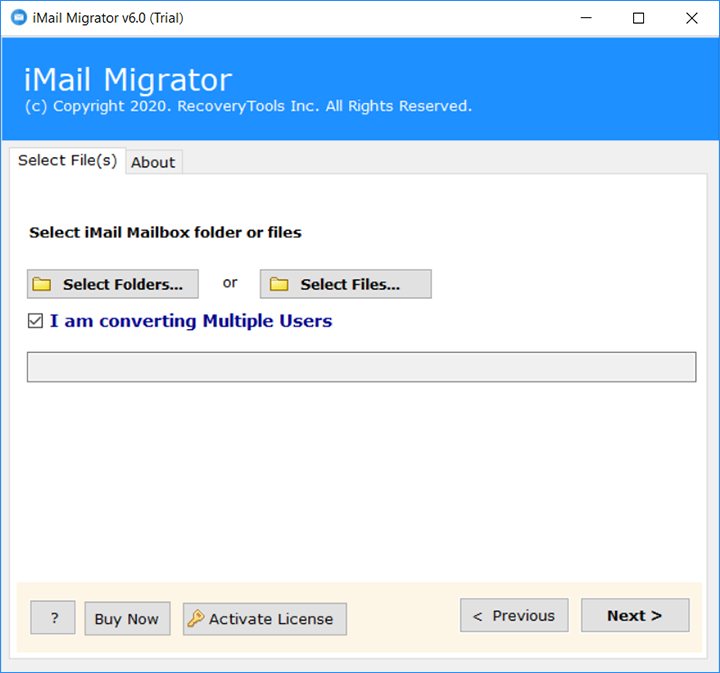 Load complete iMail server mailbox in the panel. Select only desired folders.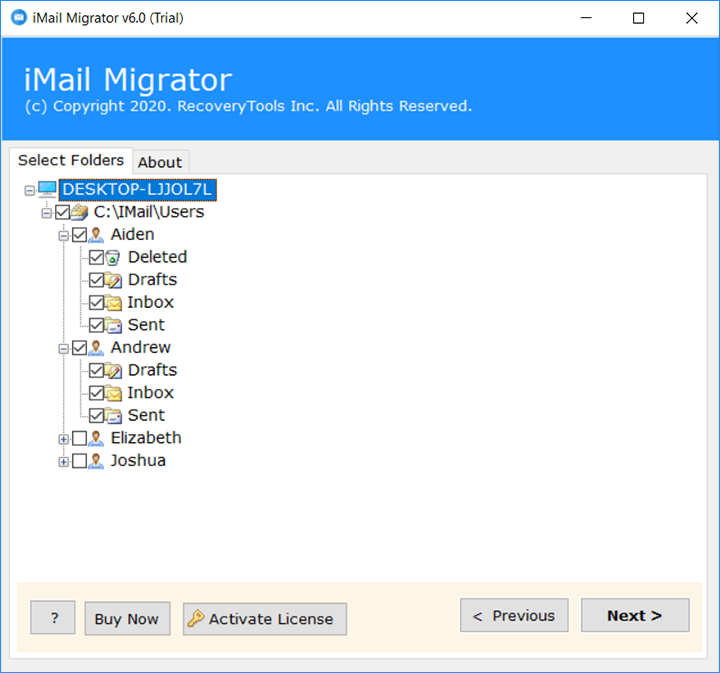 Many options are available for different migration procedures. But, we need the Gmail option.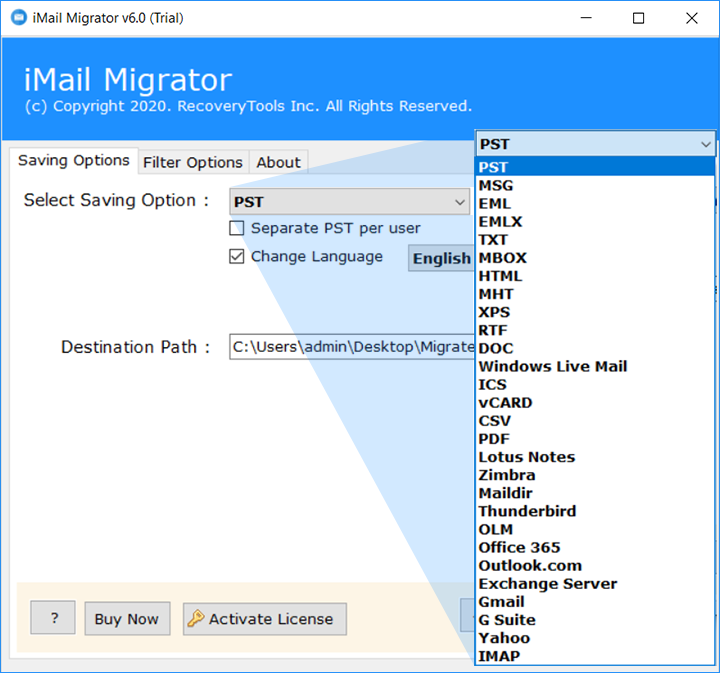 Put all the details of your Gmail account in the software to quickly migrate data.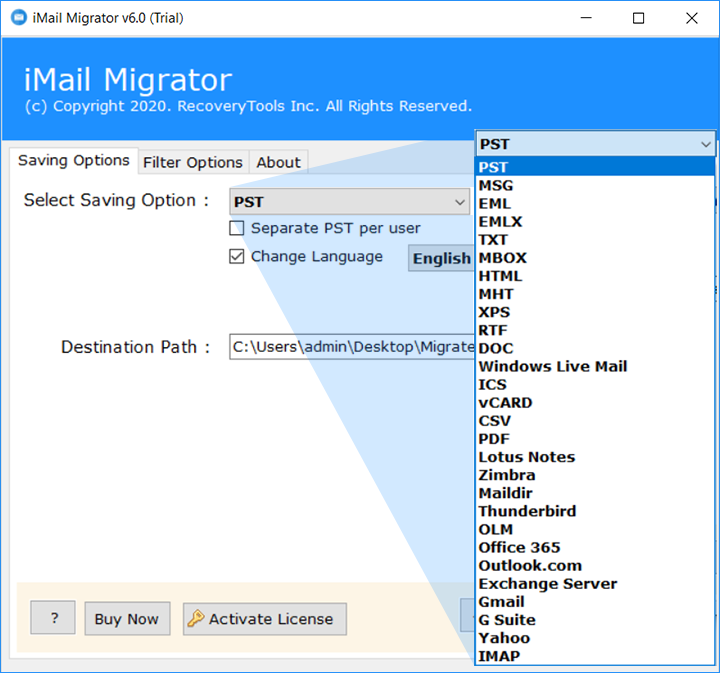 Start the conversion procedure by clicking on the next button to start iMail to Gmail Migration process.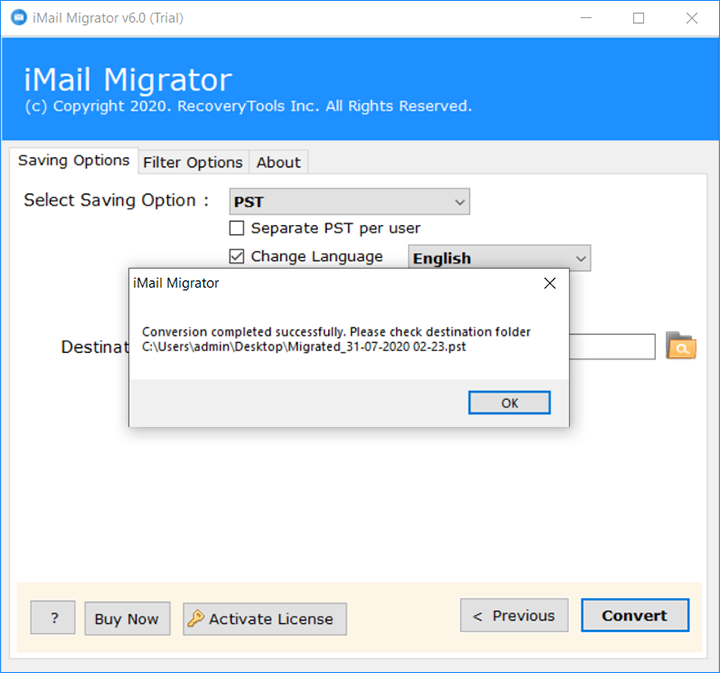 Top Features of the iMail to Gmail Migration Tool
Simple and Consistent Interface:
iMail to Gmail Migration Tool developed with a user-friendly application where we have done the process easily. Skilled and non-skilled persons can easily use this product without requiring technical people.
100% Secure Interface Panel:
iMail to Gmail Data Transfer tool provides a completely secure interface that never stores user credentials in the interface caches. It never stocks users' private data inside the software database. The software is well-tried by many occupational groups & users and it is a lab-tested product.
The software comes with advance filter options to export only required emails from iMail to Gmail account. Using the advance filter options, you can transfer iMail emails to Gmail by subject, by date, by email addresses, by number, etc. These options are available on the trial edition of this application also.
If you want to migrate one and more numbers of iMail profile to Gmail account, then the software provides dual selection options. It gives a folder selection option that offers you to convert a large number of user data.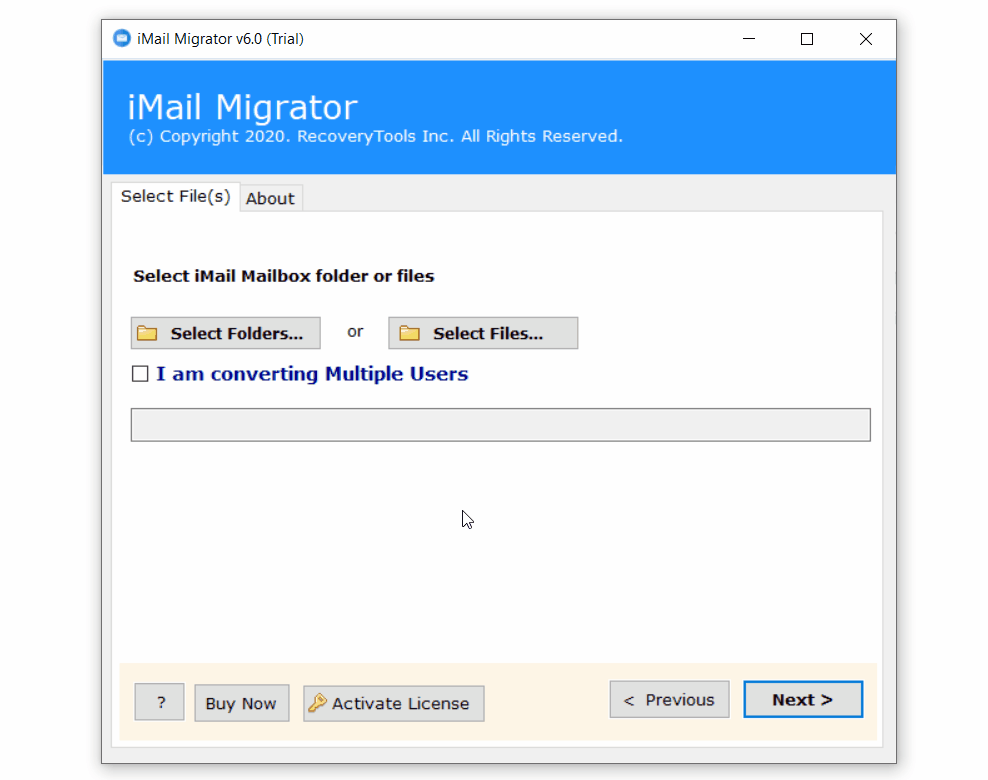 Maintain Email Folder Hierarchy:
During the migration process, the iMail to Gmail Migration will hold the email folder series structure. Now, you will get an accurate copy of the email folder hierarchy from iMail Server to Gmail account.
Maintain Emails Properties:
Through the procedure of iMail to Gmail transfer, it retains the original elements of emails. While the conversion procedure, has kept attachments, Header (to, cc, bcc, from), inline images, and many more.
Support All Microsoft Windows:
Complete Windows supportable solution. Yes, now you can enjoy the benefits of this application on your all Windows machines including Server OS also. It supports all latest and all instructions including x64 bit and Windows 11.
Common FAQs – iMail to Gmail Migrator
Since iMail is a windows server software, I want to know whether it supports application server machines ?
Of course, this utility supports all Microsoft Server OS like 2019, 2016, 2012, 2008, etc.
I have email data on my mac laptop. Does it work on Mac machines as well ?
No, this is a Windows-based product that supports all Windows OS only.
I don't have time to migrate all data from the iMail mailbox. Does it allow me to export only selected data?
Sure, it can migrate selected emails by using advanced filter options. So, use it when you need it.
Can I migrate multiple iMail profiles to Gmail account at a single process ?
Yes, just select the add folder option and choose multiple iMail profiles at once.
Conclusion
Hope this product will solve all your issues. It has the only product in the market which gives a direct path. So, without wasting your time get the free edition and understand the procedure. The free version act like a pro version with few email migration limitations. For any other queries or require help, the team is always avaliable. Thank you for reading.