How to Recover Emails After a Thunderbird Crash – Restore Emails from Thunderbird
Karen Chard
~ Modified: 25-03-2023 ~ How To ~ 4 Minutes Reading
A few days back, while updating Windows, my Operating System corrupted suddenly and did not boot further. Due to this, my Thunderbird email application crashed. I had some very important emails stored in it. Does anybody know how to recover emails after a Thunderbird crash? Or, is there some tool to do this?
These days, emails have become a necessity for personal as well as professional data sharing or to communicate within a business environment. No one can afford to lose their emails containing important information. Recently, we got a query on 'How to recover emails after a Thunderbird crash?'. Sometimes, due to some technical reasons, Thunderbird might crash down. This can result in losing your emails and saved data. But, do not worry at all! We have an appropriate solution for this.
The RecoveryTools Thunderbird Migrator is the best solution to handle the above query. It has a special feature. It supports automatically recovering Thunderbird email files and profiles. With this tool, Thunderbird crash recovery is no more a challenge.
Download the software to restore lost emails.
Steps to Recover Emails from Thunderbird

1. Once, you download the software, install and run it on your Windows-based system. The utility has a simple interface.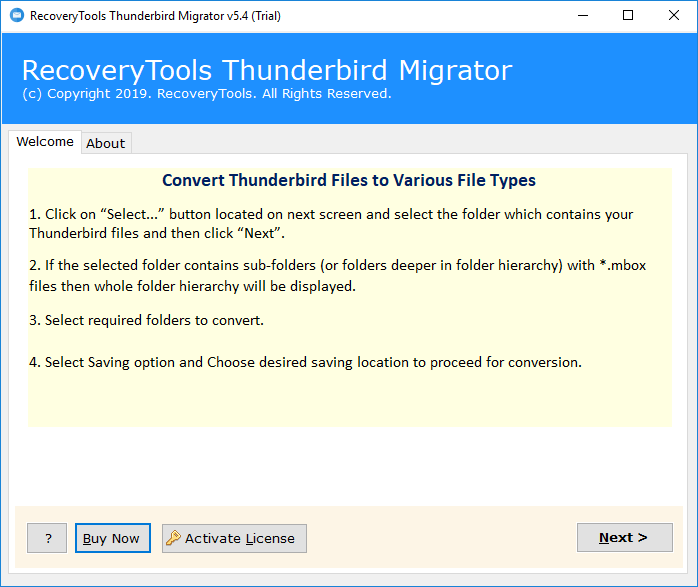 2. Now, you will get two options. The first one is to Convert Emails and the other option is Contacts and Calenders. Select the option as per your requirement.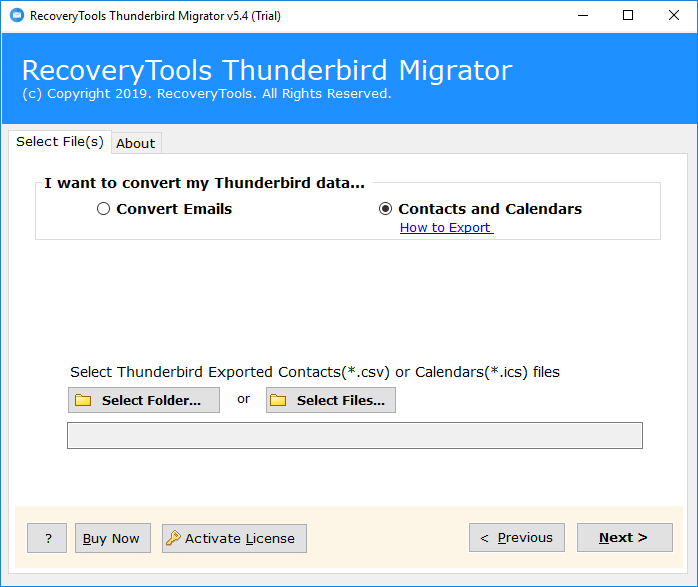 3. For Convert Emails, further two options will be displayed. The first option Convert configured Thunderbird mailboxes data will automatically select the files from your existing configured Thunderbird account. If you choose the second option Let me select my Thunderbird mailboxes data, you will get a provision to choose the files you need to recover emails from Thunderbird. After selecting the folders, click on Next.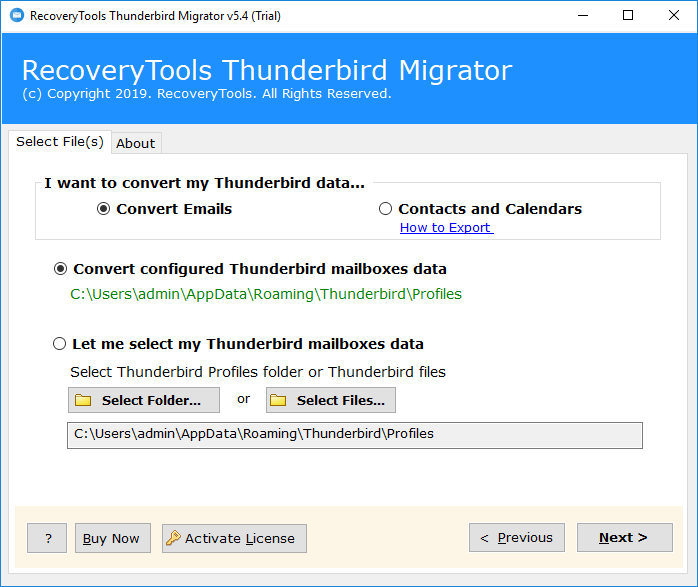 4. Now the Thunderbird crash recovery software will show complete details of the selected files. Choose the files to convert and click on Next.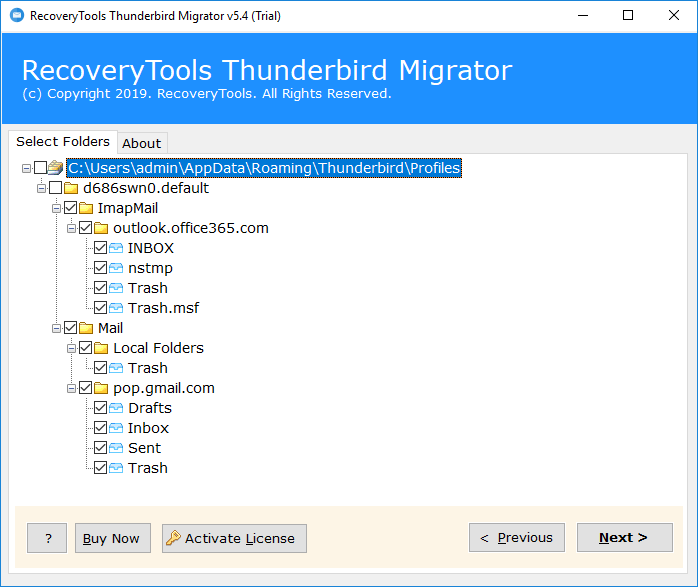 5. The utility to recover emails after a Thunderbird crash will give many file saving options. Choose the desired format to recover emails from Thunderbird. Select the destination path and then click on Next.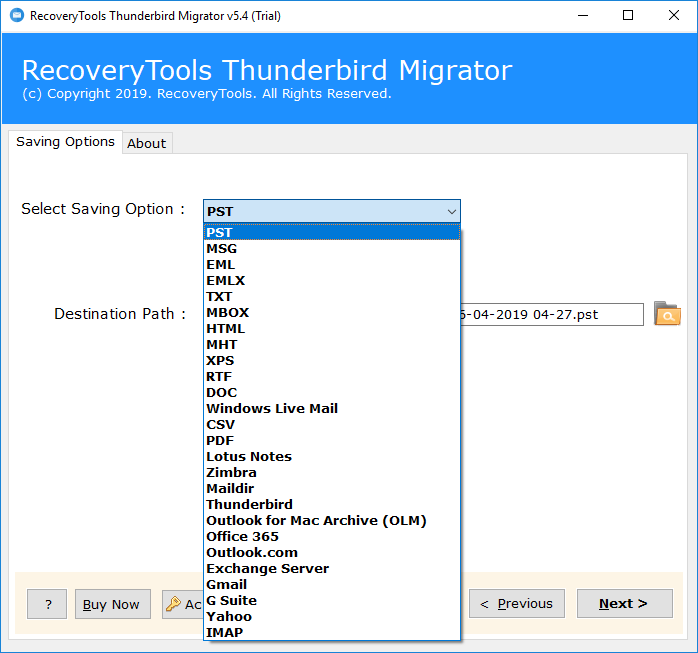 6. The tool will convert all the files one by one and save the converted files to the selected location. Also, it will locate the lost Thunderbird profiles if any. In this way, you can easily restore emails from Thunderbird.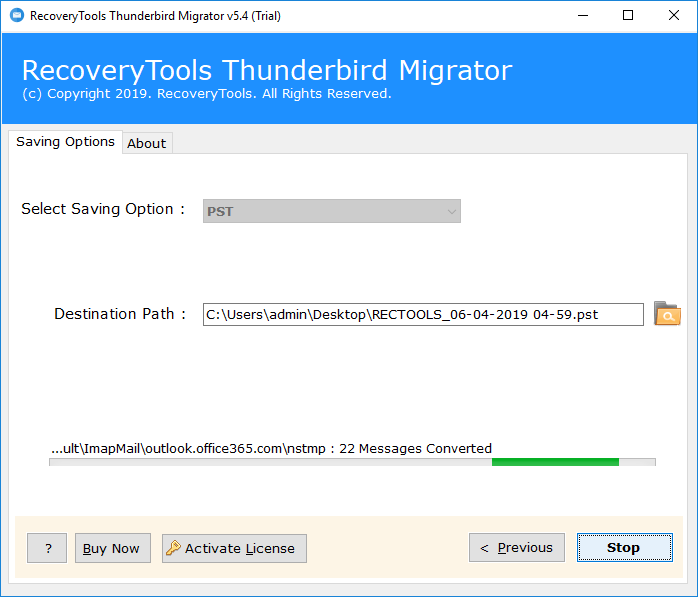 Reasons for Thunderbird Crash and Data Loss
1. Not using the updated version: Regularly, many Thunderbird updates are launched. Make sure that you are using the latest edition. These updates generally contain some fixes related to crash.
2. Crash due to add-ons: Sometimes add-ons are the reason for Thunderbird crash as they may contain some bug. Also, a bug may not have been updated and made compatible with the latest updated version of Thunderbird.
3. Virus attack: A virus-attack can cause system failure resulting in data loss. Due to the failure, many email files can be lost.
4. Hardware problem: Hardware malfunctions can also lead to Thunderbird crash. The improper functioning of the system is not good as it may result in data loss.
Significant Features of Thunderbird Email Crash Recovery Tool
1. Batch Export Thunderbird Mailbox: The utility has an ability to batch convert Thunderbird files to any format.
2. Maintains Folder Structure: During migration, the tool properly maintains all the properties and the folder structure of the files that are converted.
3. Separately Export Contacts and Address Book: The tool gives an option to separately export Contacts as well as Address Book.
4. Limitless Folder Migration: The tool to recover Thunderbird mail files allows unlimited migration of files and folders.
5. Export Emails to 20+ Formats: It supports migrations from Thunderbird to Office 365, EML, PST, MSG, Windows Live Mail, Yahoo, PDF, etc.
6. Dual Ways to Convert Files: The tool allows you to import Thunderbird Mailboxes in two different ways. One is to directly import files from the configured Thunderbird account. Other option lets you select folders from local storage.
7. Standalone Utility: The software does not require any external support to recover emails after a Thunderbird crash.
Closing Words
The utility to recover emails after a Thunderbird crash is one of the simplest and efficient solutions. Also, it has a special ability to automatically locate lost profiles which is a bonus for the software. You can try the DEMO version of the tool which is available for free. It can convert up to 25 items from every folder.