Convert OST File to MBOX Format: Best Solution Explained Here
Karen Chard
~ Modified: 03-06-2022 ~ Outlook ~ 5 Minutes Reading
Summary: In this article, we get to know about how to convert OST files to MBOX file format. Use the best automatic tool that provides users a direct option to export OST emails and save into the MBOX file.
What is Mailbox Files (MBOX)?
MBOX files are by default format for storage or import/export mailbox items. Hence, it is a great choice for the users to convert mailboxes from OST  to MBOX files.
On the contrary, MBOX files are supported by a large number of applications on Windows, Mac, and Linux OS. Some programs supporting MBOX files are Thunderbird, Mac Mail, SeaMonkey, Spicebird, The Bat, and so on.
Know What is Offline Outlook Storage Table (OST)
When a user has connectivity with Exchange Server or account is configured with IMAP then OST files are created. OST files enable any user to work in Offline mode and all the data is back synced with Exchange Server when the internet connection gets resumed.
There is no direct solution to open OST files in Outlook. Hence if a user wants to import OST files into multiple email clients. Then it becomes necessary to first convert OST to MBOX format.
Outlook is used by many business organizations and users to manage their emails and other personal information management. Outlook allows the users to store their mailbox data items into a hard drive then there are two file formats i.e. PST & OST files.
Convert OST File to MBOX Format Using Expert Tool
To do so, one needs to export the Outlook OST file to MBOX file format and it can be done with the help of RecoveryTools OST Converter Software. The utility enables batch conversion of multiple OST files to MBOX format. This tool is self-capable to automatically detect OST files from the default configuration location.
A user can free download its setup from the below button.
Download for Windows Download for Mac
Simple Steps to Export OST Files to MBOX Format:
Run OST to MBOX Converter & load OST files.
Choose all desired OST mailbox folder items.
Select MBOX format from the list of 30+ options.
Setup OST file to MBOX Conversion options.
Click Convert to start & analyze live proxes.
Demo Limitation: A user can also check the working of this software using its free demo. During the trial, one can only convert the first 25 emails from each folder of the OST file to MBOX format. However, if you want to export more than 25 emails from the OST to MBOX file, then you need to first activate the software.
Understand Working of Converter Tool for OST to MBOX
The working of the utility is designed with advanced algorithms and is very easy to use. Follow these simple steps to perform OST file to MBOX Conversion:
1. Install & Run OST to MBOX Converter software on your Windows PC.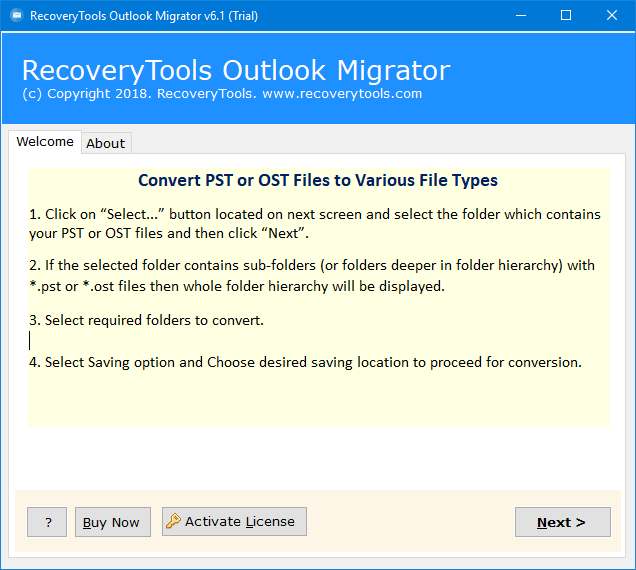 2. Load OST files from Configured Outlook or by clicking on Select Files or Select Folders.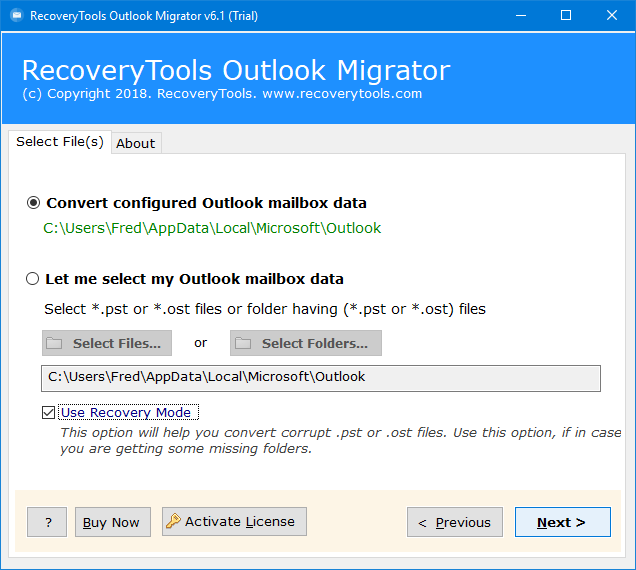 3. Choose only selective folders to convert including Inbox, Sent Items, Deleted Items, etc.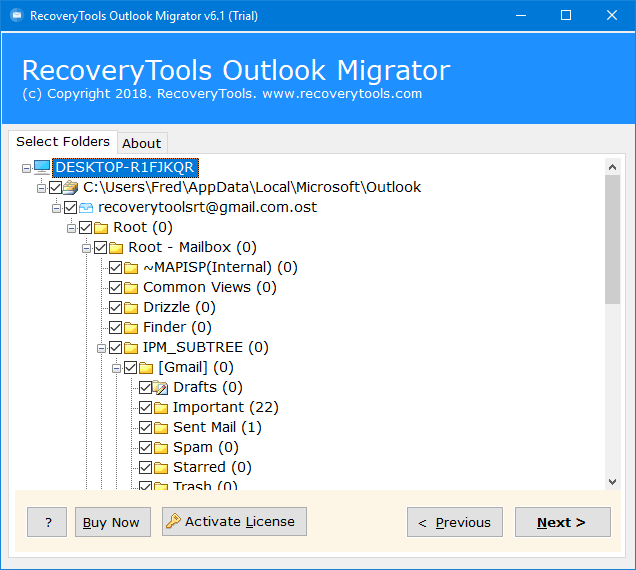 4. Choose MBOX & Setup OST to MBOX conversion options like ignoring System Folder Hierarchy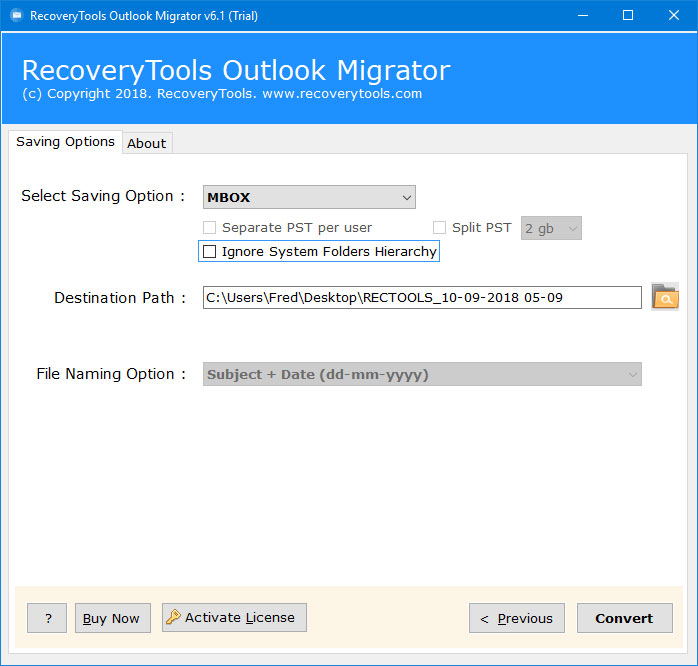 5. Users can also alter the destination location from by default Desktop to the required path.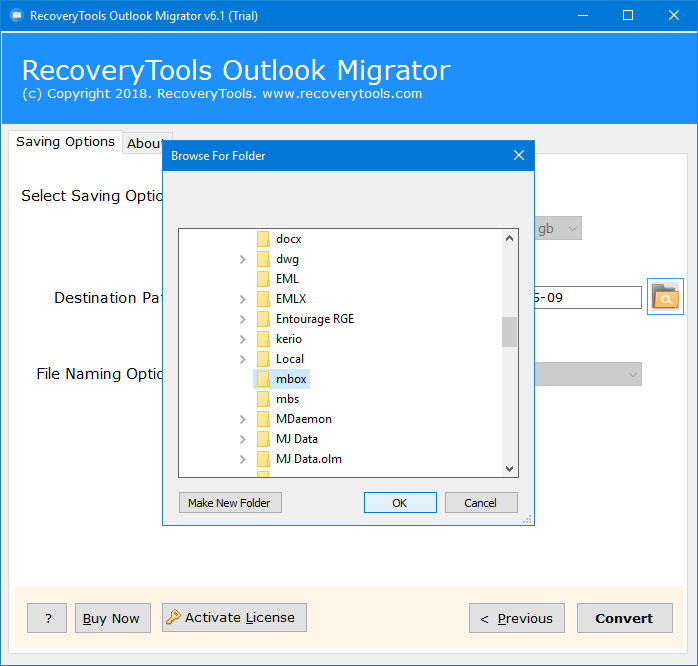 6. Click on the Convert button & analyze the live conversion process in the toolkit panel.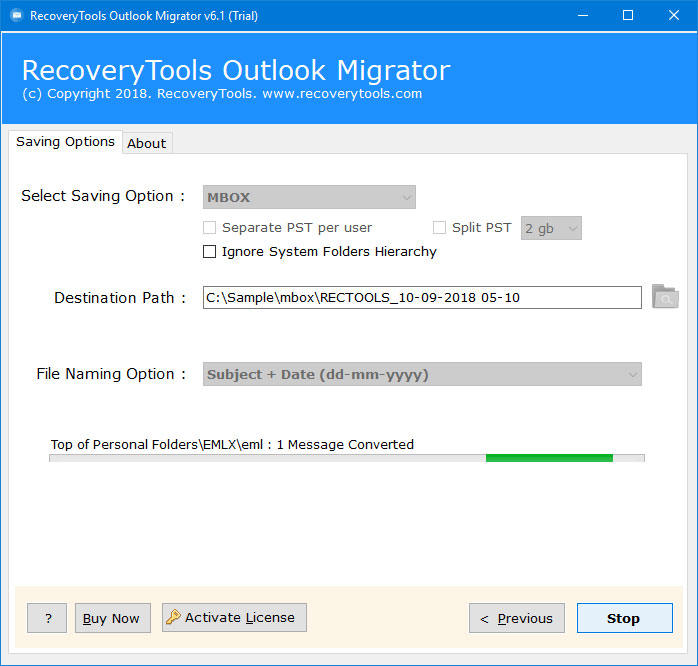 7. Access the resultant MBOX files from the destination location directly. Now import the MBOX file into any of the desired email clients over the various platforms.
As we can see the process of converting OST to MBOX files can be done so easily without facing any issues.
Major Advantages of OST to MBOX Converter Tool
The OST to MBOX Converter software offers a large number of advantages to the users. The software is completely standalone to perform its work. Ffollowing amazing features:
OST Email to MBOX Converter tool provides a 100% safe & secure platform to its users. Users have no fear of attack of Malware or Virus on its OST file.
This tool will not make any data loss while performing conversion of OST to MBOX format.
Users can manually select the folders by checking/unchecking items from the list like Inbox, Sent Items, Drafts, Deleted Items, etc. It also enables to choice of OST files automatically from configured Outlook profile location.
The software retains all the Metadata properties of emails and other items completely preserved.
This software provides an option to ignore the system folder hierarchy.
The OST File to MBOX Converter software is completely standalone to perform its work.
The software allows the users to convert corrupted or damaged OST files to MBOX format. This tool also has a Recovery Mode option. This option will repair the damaged portion of the OST file.
By using this OST to MBOX Converter any user can batch convert multiple OST files instantly and properly in your PC.
End Conclusion
This article is a complete guide of how can a user export OST files to MBOX format. So use the best OST to MBOX Converter tool, which will provide users a direct option to do so. This tool is a very user-friendly program. Hence, a user does not need any advanced technical knowledge to use it on their system.
Want to Know More OST to Other Solutions: