How to Import Outlook PST Files to Gmail (Google Mail) Account ?
Karen Chard
~ Modified: 19-12-2020 ~ How To , Outlook ~ 5 Minutes Reading
I just bought the extra Google storage space so I could store my old emails that are currently in Outlook. But, I'm finding it hard to transfer them. How can I import Outlook .PST file into Gmail to keep old emails ?

I found a "G Suite Migration tool" but it appears that is only for business users and, though this is business, I don't have that type of Gmail account.

I've read some people make their Gmail IMAP enabled then make the account in Outlook, drag email/folder by email/folder into their Gmail account. But with, 20GB of emails that could take me… 100 years. LOL
How can I import the Outlook PST file into Gmail ?
Source: https://productforums.google.com/forum/#!topic/gmail/oMCcbvQoyA0
In this world, everyone wants to prioritize email platforms that are easy to use and always or anywhere available. Therefore, many users want to use an Online email platform such as Gmail. Gmail is a well-known email service provided by Google Inc. Google Mail gives its users everything they need to manage their mailboxes. With just simply a Google account, you can consider that you've got a full IT team behind you to manage your all business needs.
Besides, Outlook is one of the major desktop-based email client application. It supports PST format to store user personal mailbox storage data. It is a simple email client application for receiving and sending emails. However, many Outlook users turn to Google Search Engine to find a way to import Outlook PST to Gmail account. If you are one of them, you don't need to see any more.
In this article, we are going to explain how to import PST to Gmail account without Outlook installation. Here, we will discuss the working of Outlook PST to Gmail Migration software which enables the users to batch upload PST files to Gmail account. With the Free trial version, one can successfully export the first 25 emails from Outlook to G Suite free of cost. Free Download & Purchase the suitable license to enjoy the limitless Outlook to Gmail Migration without facing any trouble.
How to Import PST to Gmail Without Outlook ?

Follow the step by step process to access PST emails in Gmail: –

First, download the software on Windows.
Select PST files with dual selection options.
Choose only required PST emails or folders.
Select Gmail option and enter Gmail credentinals.
Click on the next to import Outlook PST to Gmail account.
Steps to Migrate Outlook PST to Gmail Directly
It proves to be very easier and beneficial for the users to choose RecoveryTools Outlook Migrator software as a preferred choice to upload Outlook emails, contacts, calendars to Gmail account. Just follow these simple steps to migrate Outlook to Gmail account.
First of all, free Download Outlook to Gmail Migration software from below:
After that, Install & Run the software on Windows PC & then read instructions.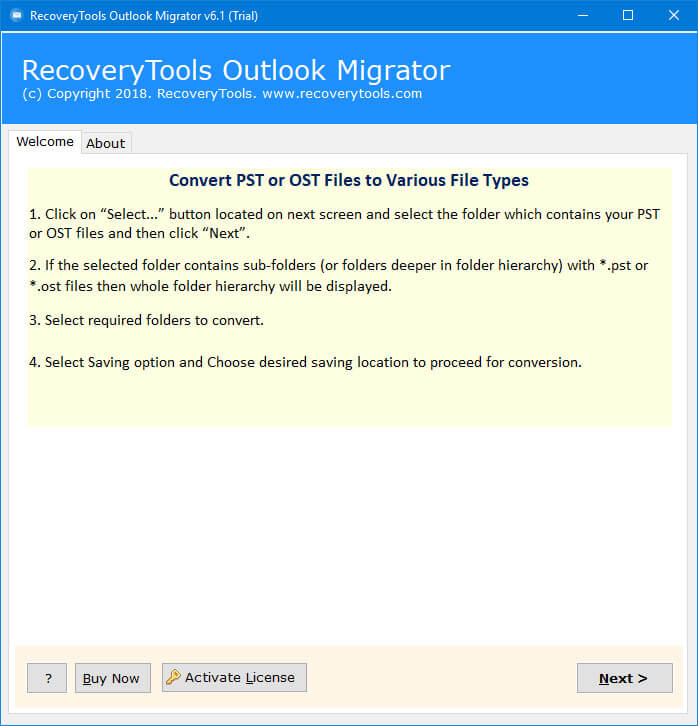 Thereafter, the software provides various options to load PST files, Users can upload data from the configured Outlook account, or can manually select PST files by Files or by Folders.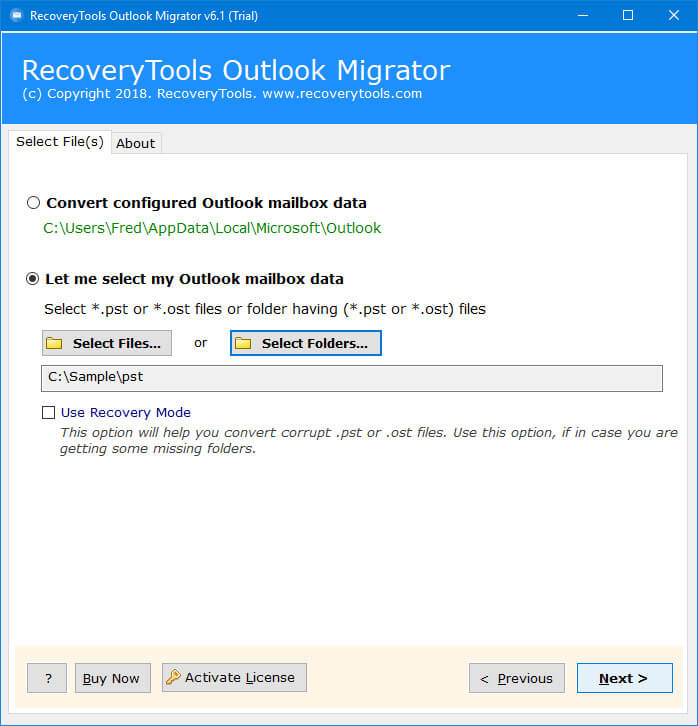 After that, select the PST Folders as displayed in the application panel.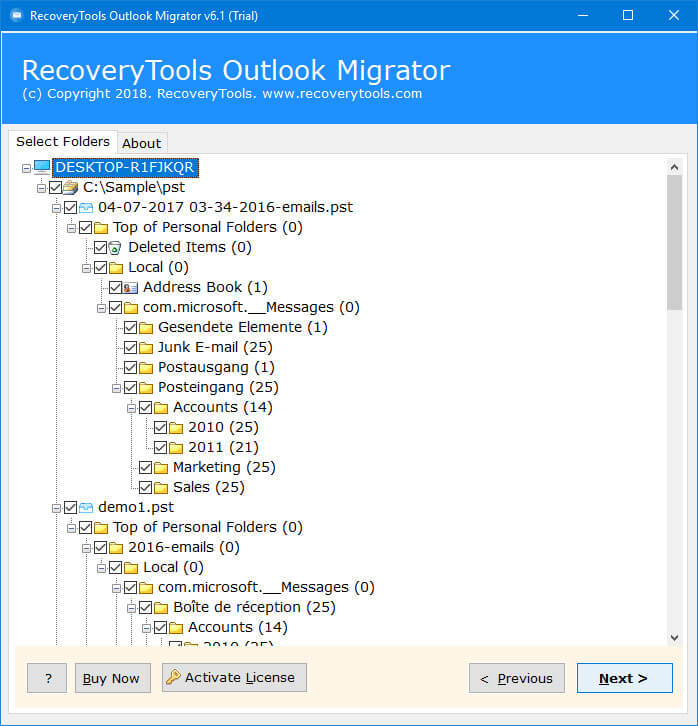 Thereafter, choose Gmail or G Suite from the Select Saving option lists.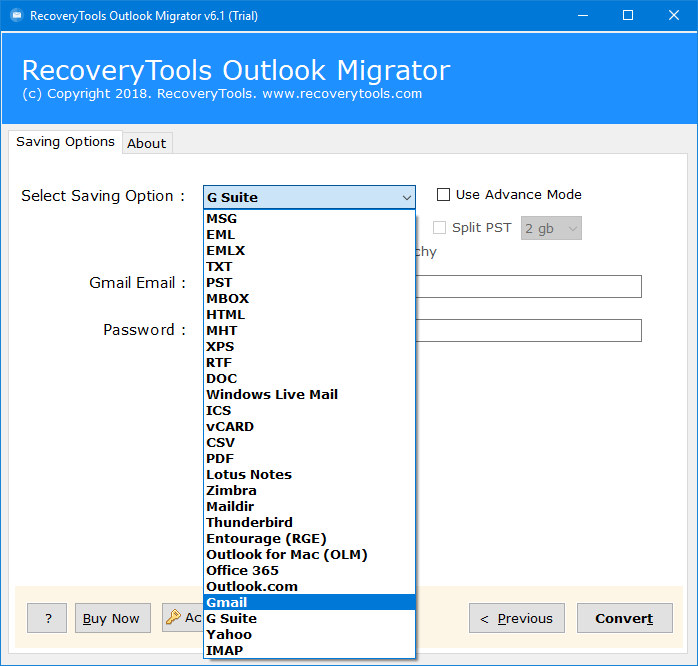 After that, enter Gmail account login credentials to start data migration.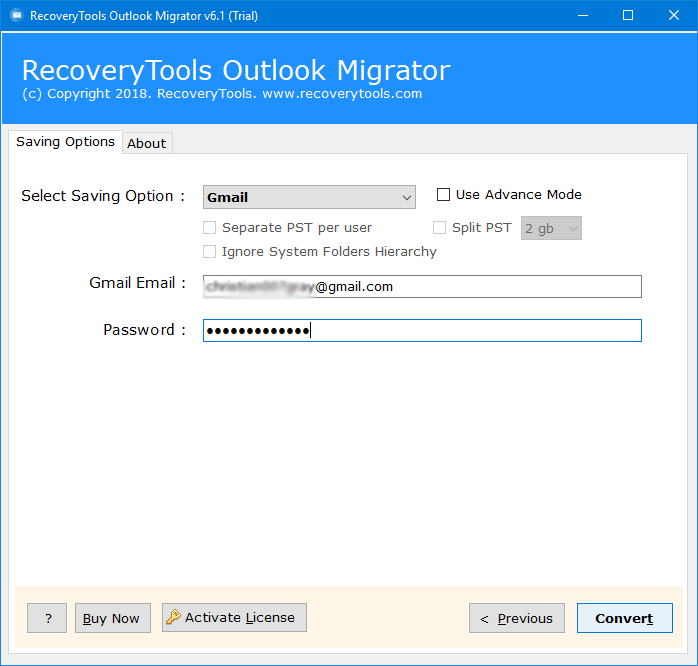 Thereafter, click on the Convert button and analyze the live PST to Gmail upload process.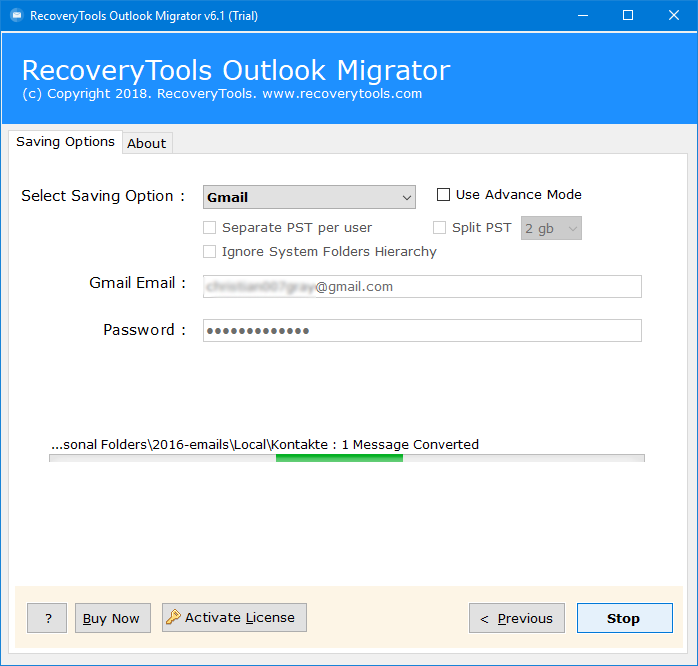 After the conversion process finished successfully click on OK to exit from it.
As we can see that it is a very easy solution for the users to know how to Export PST to Gmail account.
PST to Gmail Converter Wizard – Benefits & Advantages:
This software offers a large number of advantages to the users including batch upload of multiple PST files to Gmail Account without Outlook installation. Some of the benefits of PST to Gmail Converter Wizard are listed below:
One of the simplest software to load & analyze all Outlook PST files to import into Gmail account.
The software is a perfect choice for the users to perform selective migration of PST file components into Gmail.
The Outlook to G Suite Migration tool is designed with advanced AI techniques making it self-capable to load Outlook profile data from configured account.
The software provides the dual option to load PST files manually. Click on Add Files or Add Folders option to choose PST files and folders having PST files respectively.
The Outlook to Gmail Migration tool manages to maintain the on-disk System Folder Hierarchy.
The PST to G Suite Converter software preserves all the email properties and Metadata information original after upload of data completed.
In case if any user faces any problem then 24 Hrs. Live Chat & Support Assistance is available. Contact the Team at any time.
The software provides a 100% safe & secure environment for the users to import PST to Gmail free account.
No data loss or detaining of formatting is noticed while Outlook to Gmail migration.
Conclusion
In this article, we discuss various requirements of users regarding the upload of PST file to Gmail account. Professional software is also introduced which enables the users to directly import Outlook PST file to Gmail and G Suite account. The company provides a trial edition to test this application before launch. You can easily export 25 emails from PST file to Gmail account with this demo edition. The software supports all editions of Microsoft Windows and Windows Server. For the unlimited migration process, you need to purchase this application. If you are facing any issues with the software and its process, then contact us on live support chat.