Tips to Batch Export Gmail Emails to MBOX – Complete Solutions
Karen Chard
~ Published: 22-06-2022 ~ How To ~ 6 Minutes Reading
Nowadays, almost every mobile user has a Gmail account, where they store email and access the mobile app. Not only for personal use but in a professional environment everyone uses Gmail to communicate with customers, clients, and for business purposes.
Well, Gmail is one of the widely used free email service providers by Google. It offered an initial storage capacity of 15 gigabytes per user, a much higher amount than competitors at the time. But there are lots of reasons when a user needs to export Gmail to MBOX format. Recently our technical expert solves a query from New York.
Users usually export emails to MBOX, all because it supports multiple email applications such as Thunderbird, Apple Mail, SeaMonkey, and multiple others. Moreover, MBOX contains all the mailbox items in a proper manner and in a maintained format.
"I want to import Gmail emails to the Mozilla Thunderbird. I was trying to export Gmail to MBOX, but it fails to process 12GB is mailbox data. So, how can I accomplish this process? Please help me!!!!"
Solution: – In the above query, the person wants to know how to export Gmail to MBOX format. However, MBOX is an offline storage format. Also, it offers multiple benefits users can easily open MBOX files in Thunderbird and other popular platforms. One of the reasons to export Gmail emails to MBOX format is that you can easily access your all data without internet connectivity. In this article, we are going to explain manual as well as professional ways to export the data. There are basically 2 solutions for the same that we will discuss today:
Table of Content

1) Export Gmail to MBOX Using RecoveryTools Solution.
Now, let's see both solutions one by one.
How to Export Gmail Emails to MBOX?
Is your Gmail mailbox full and do you want to clear the unwanted clutter? Do you want to export some emails from there? Are you thinking to move to another email platform supported by MBOX? No worries.
Here, we are using RecoveryTools Gmail Backup Wizard to accomplish the process in a few clicks. This mentioned tool allows users to export Gmail emails to MBOX in batch mode without imposing any kind of size limitations and with no loss of data. Users can also export a selective number of emails according to user preferences.
First, free download the software to export Gmail to MBOX with the below button. Thereafter, follow the given step-by-step process. You can use the tool on both the Windows as well as Mac OS systems.
Download for Windows  Download for Mac
Note: – The trial edition of this application allows you to export first 25 emails from each folder to MBOX format. For complete mailbox backup, you need to purchase the licensed edition of this tool.
Steps to Export Gmail to MBOX Instantly:
Firstly, launch the software on your existing system.
Then, provide your Gmail details to connect with your accounts. Choose the required options.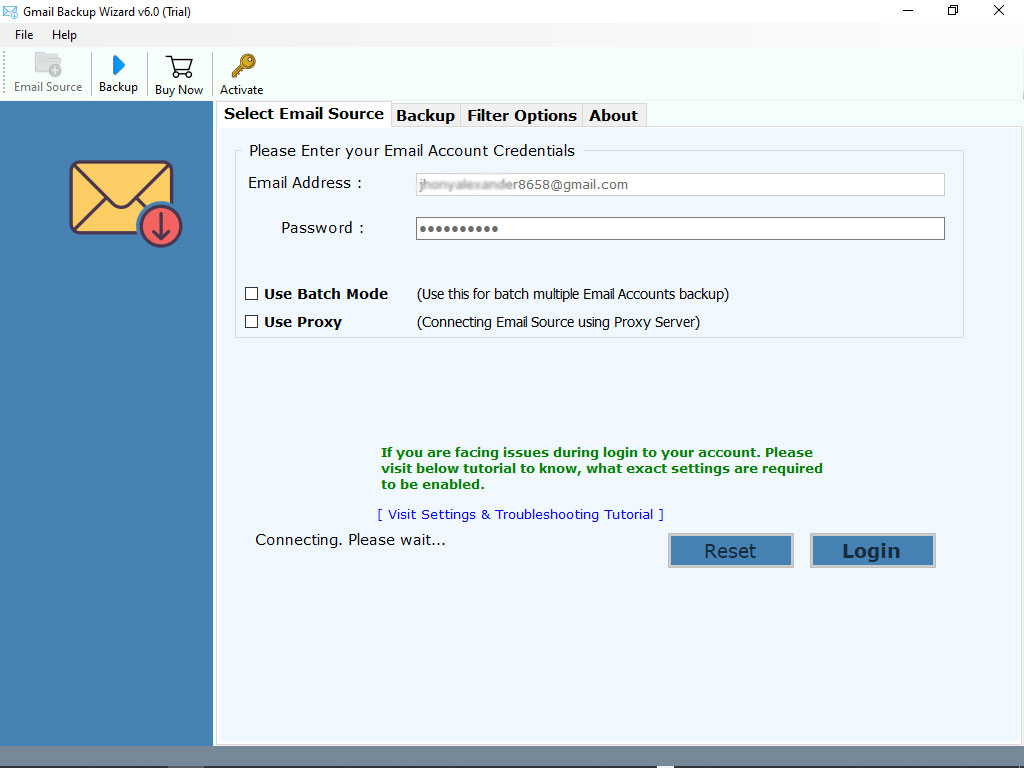 After that, choose the required email folders which you want to extract as MBOX format.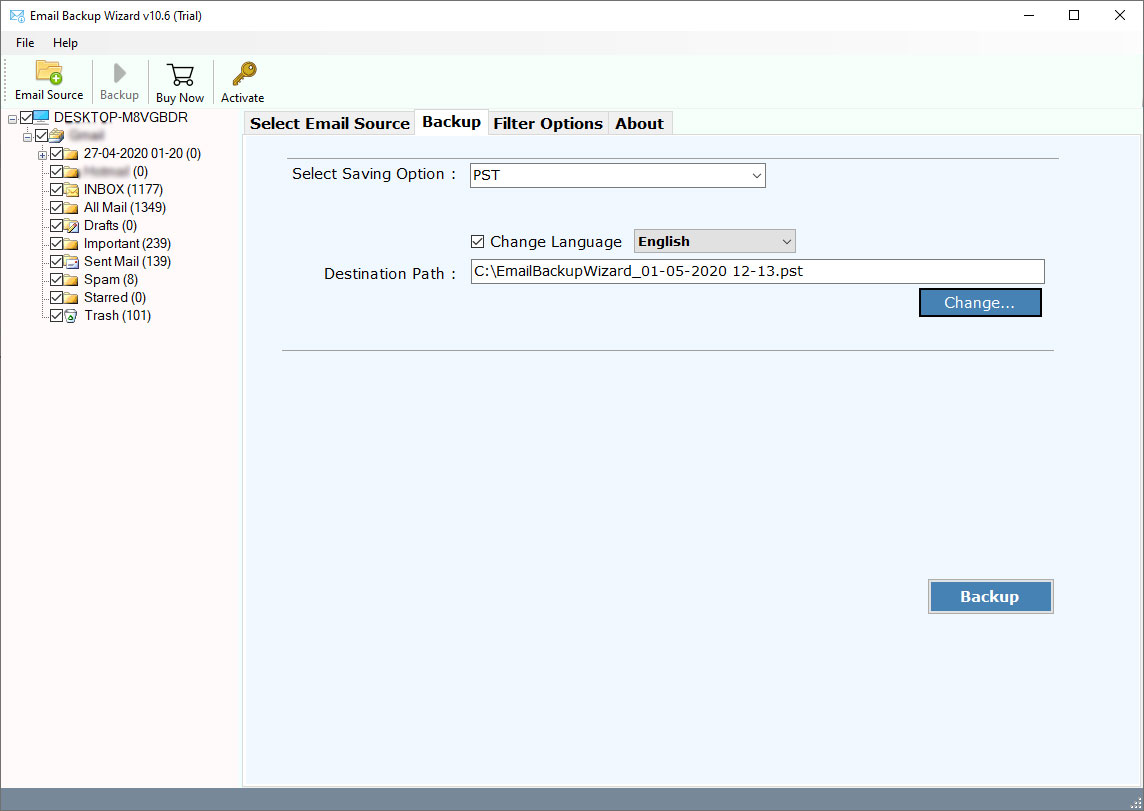 Thereafter, choose the MBOX option from the list of file-saving options in the list.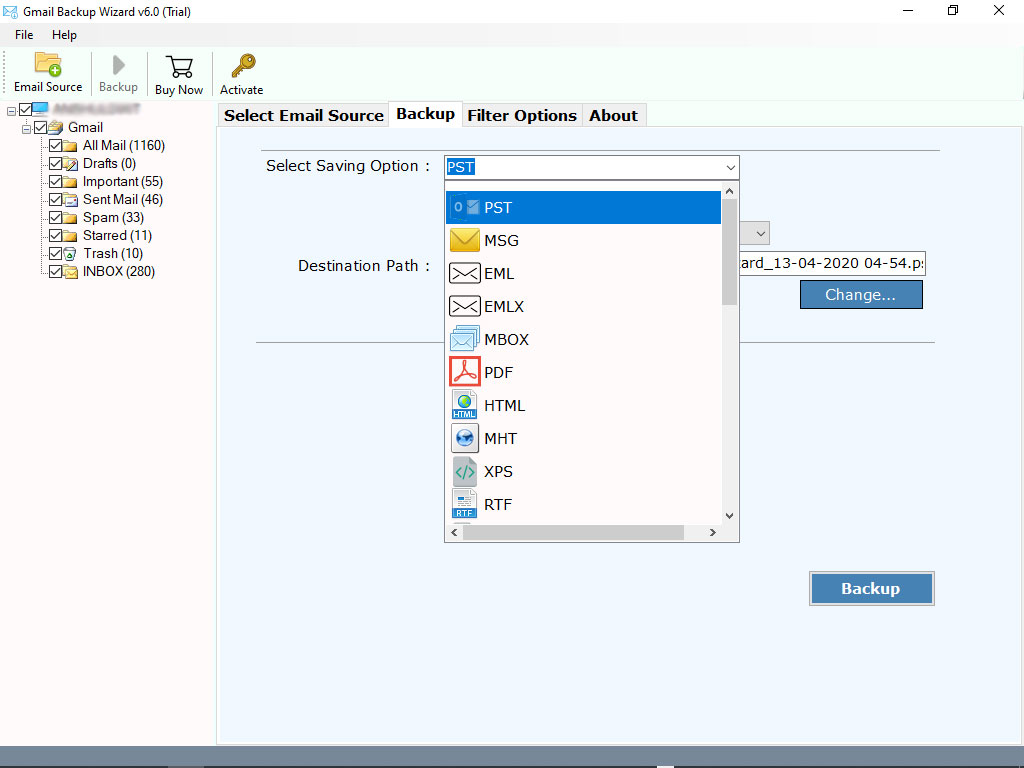 After that, set the destination location path by clicking on the browse button.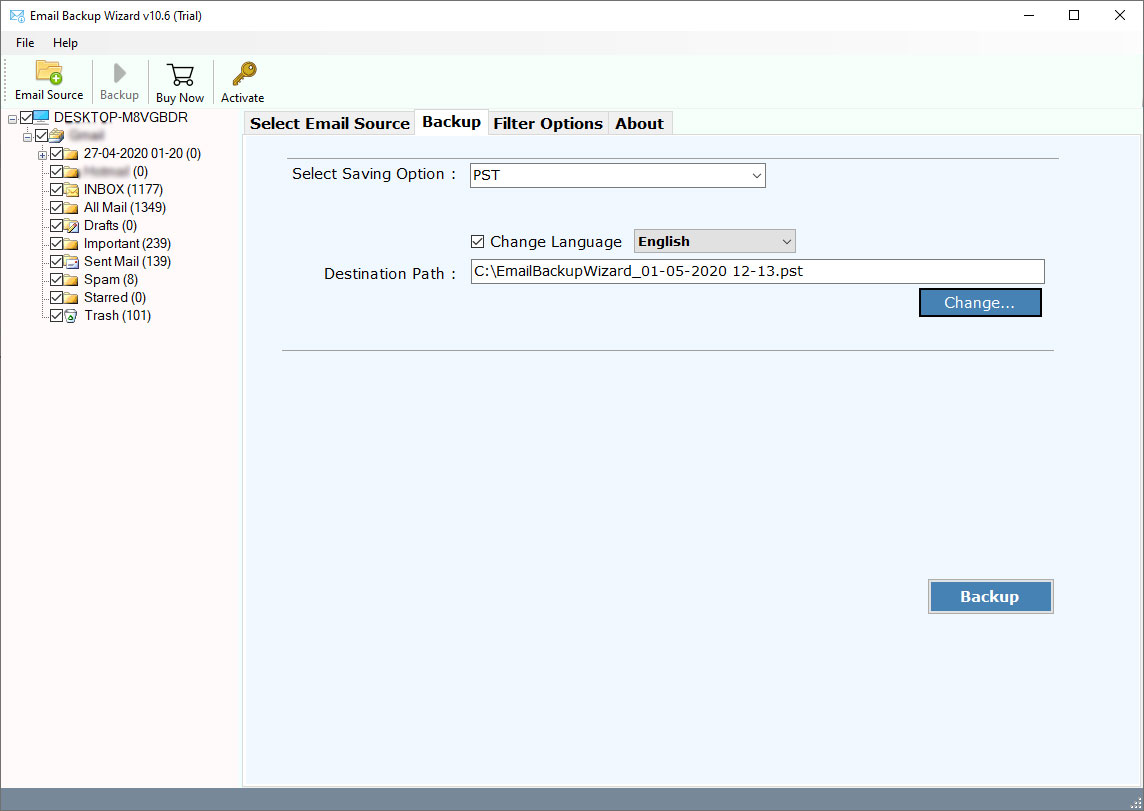 Thereafter, click on the next button to export the selected data to MBOX format.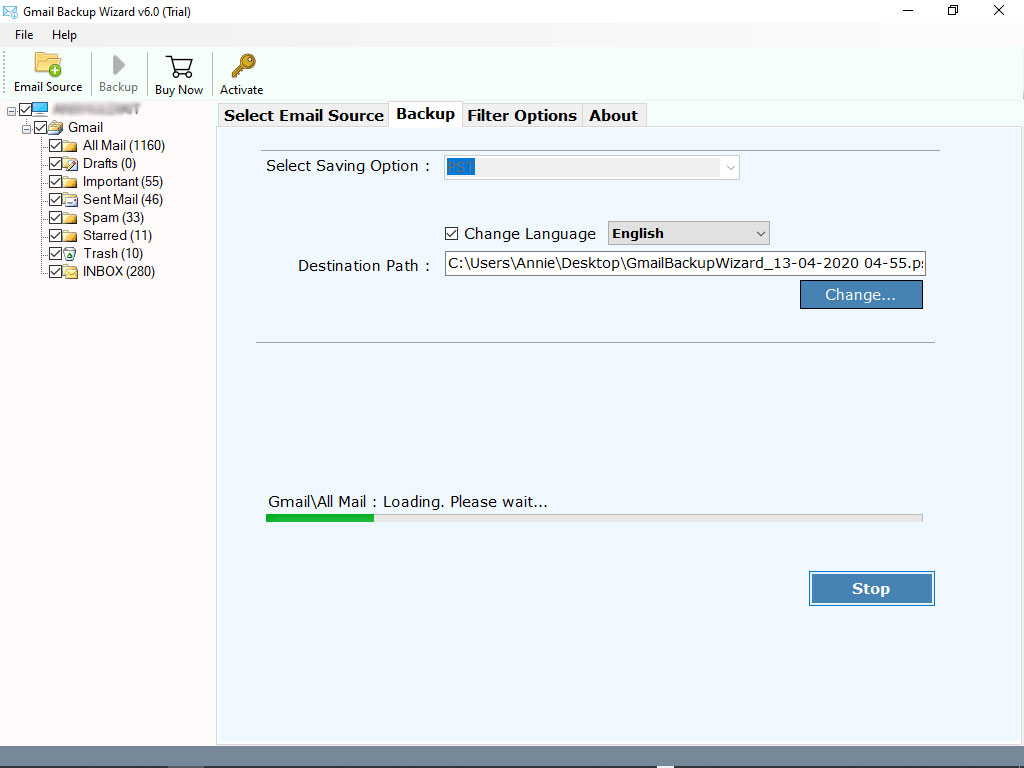 Video Tutorial to Generate App Password:
Features and Benefits Of Gmail to MBOX Tool
Support Multiple File Saving Options: – The software provides multiple saving options to export Gmail emails. It allows you to Gmail emails to PST, Gmail to PDF, Gmail emails to CSV, and in multiple other formats.
Easy to Use Interface: – This Gmail to MBOX Tool comes with a flexible GUI. Both types of users can easily understand the process to export the data without any technical assistance.
Selective Data Export Process: – One of the best and most reliable features of this application provides selective data migration. One can easily select and export Gmail to MBOX format as per requirement. Additionally, users have the option to sort data on basis of subject, date, common email address, etc.
Download Multiple Gmail Account Data At Once: – The software allows its users to export multiple Gmail account data at once. Just upload a CSV file containing all Gmail account details in the interface and get all account's MBOX files in a single process.
Maintain Email Properties: -While exporting a large amount of data, the software maintains the email properties such as emails with attachments, email addresses (to, cc, bcc, from), images, subject, hyperlinks, formatting, etc. Also, it maintains the hierarchy of all the files and folders and there will not be any kind of interchanging or swapping of the data.
How to Export Gmail to MBOX using Google Takeout?
There is a free solution available on the Internet that allows users to export the data using the advanced feature i.e., Google Takeout. Follow the steps mentioned below:
Login to your Google Takeout Account.
Select emails or other needed data from the list and deselect others.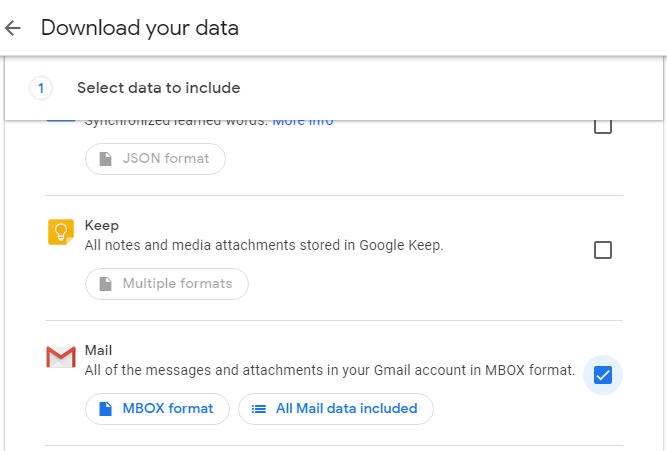 Choose file, frequency, and delivery method.

Click on Create Export, and get the results.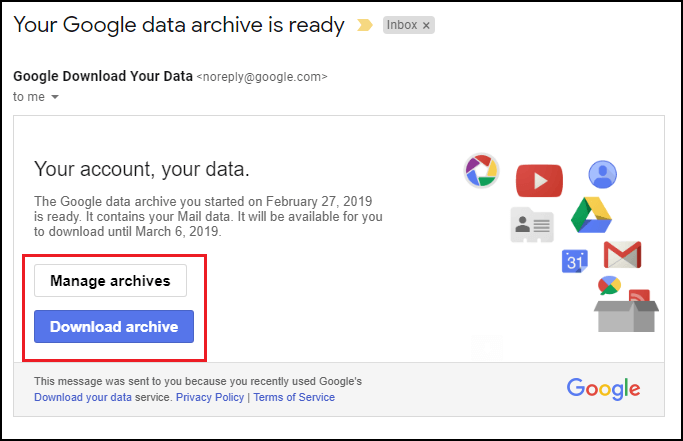 Hence, just by performing these simple steps, you can easily get the resultant MBOX file from the Google Mail Account. But the main thing is that you will get the complete data in a single folder only and the hierarchy will not be maintained properly.
General Asked Queries
How to export Gmail emails to MBOX ?

Run Gmail to MBOX Tool on system.
Enter the Gmail account credentials in the interface.
Choose required email folders from the list.
Set destination location path to export into MBOX
Click on the next to start the export process.

Does the software capable to run on Mac OS system?

Yes, now the software is available for both Windows and Mac OS. So, users download it as per requirement also it supports all editions of Mac and Windows OS.
Conclusion
In the above article, we have explained both processes to export Gmail to MBOX format. Here, we discussed both the manual as well as the professional solutions to export the data into MBOX. If you are finding a complete solution that provides you faster results, then it is recommended to use the professional solution. This mentioned utility also maintains the complete email properties to provide desired results.