How to Migrate MDaemon to Mail Server (Kerio, SmarterMail, hMailServer, iRedMail) ?
Karen Chard
~ Modified: 13-03-2023 ~ MDaemon ~ 5 Minutes Reading
Overview: Learn How to import MDaemon to various Mail Server programs. Quickly migrate MDaemon to Kerio, export MDaemon to SmarterMail, or Move emails of MDaemon to hMailServer. Use MDaemon to IMAP Migration toolkit which will help the users to transfer MDaemon Mail Server to iRedMail Server accounts.
Requirement for MDaemon to IMAP Mail Server Migration:
There are millions of users who want to know about how can a user import MDaemon Mail Server emails & other data to Mail Server account.
Hello everybody,
We have a new SmarterMail server request. We need to migrate a domain (250 e-mail addresses) from MDaemon Mail Server to the new SmarterMail server. Someone may recommend the recommended step or recommended solution to complete the migration services. Which directory should we copy from MDaemon to the SmarterMail server? Does SmarterMail offer conversion tools to convert MDaemon users to SmarterMail servers?
I need to schedule a mass migration of email accounts from an MDaemon server to a MailEnable server. But what I really want to hear is if the user forums have experience or have suggestions and instructions. I have been in production MDaemon 13 & I want to migrate from MDaemon to MailEnable for the latest version.
I need to migrate MDaemon emails to the iRedMail Server (Centos OS) without losing email, all the assistance will be granted as best.
– So, do you manage email accounts with iRedAdmin-Pro?
– [IMPORTANT] If there is a problem, an original registration or a corresponding error message is required.
Free Download MDaemon to Mail Server Migration Software:
Download the free trial version of MDaemon to IMAP migration software which will enable the users to import MDaemon emails to various Online Email Server programs. There is a large number of queries that had been asked by the users to perform migration from MDaemon to Kerio, MDaemon to SmarterMail, MDaemon to hMailServer, MDaemon to iRedMail, etc. Mail Server programs.
IMAP Details of Kerio Mail Server:
Now, follow these simple steps to learn more about connecting Outlook to the Kerio Connect mail server:

Enter your Kerio email account with the full email address, for example ([email protected]).
Provide the Password for the mail account on this server.
Enter the Hostname of your Kerio mail server as (webmail01.myworldclient.com).
It will also automatically populate the Port Number of the incoming mail server to 993.
IMAP Details of SmarterMail Server:
You can connect Outlook to the SmarterMail account in the software panel by simply following these steps:

Enter your SmarterMail email ID with a full username, for example. ([email protected]). For the username, make sure you enter your full SmarterMail address.
Put the Password for your SmarterMail account. The password is the same as the one used to access SmarterMail webmail.
Enter the SmarterMail host name, which is generally the same for incoming and outgoing mail servers. It can usually be identified as mail.domainname.com.
The port number of the incoming mail server will automatically be entered as 993.
How to Import MDaemon to IMAP Mail Server ?
This can be done with the help of a powerful MDaemon to IMAP migration software which will enable the users to import MDaemon emails to various Mail Server programs. One such amazing solution is RecoveryTools MDaemon Migrator software which provides users a direct option to do so. Also, the overall working of the utility is very easy & simplified & one can understand it just by following these simple steps:
Firstly, run MDaemon to IMAP Converter software which includes all important instructions in its Home.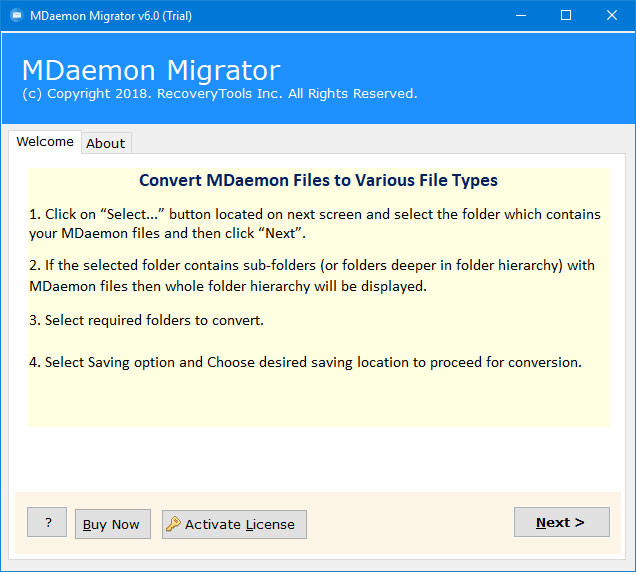 Load MDaemon Users information in its panel for both single MDaemon files or multiple MDaemon users' mailboxes.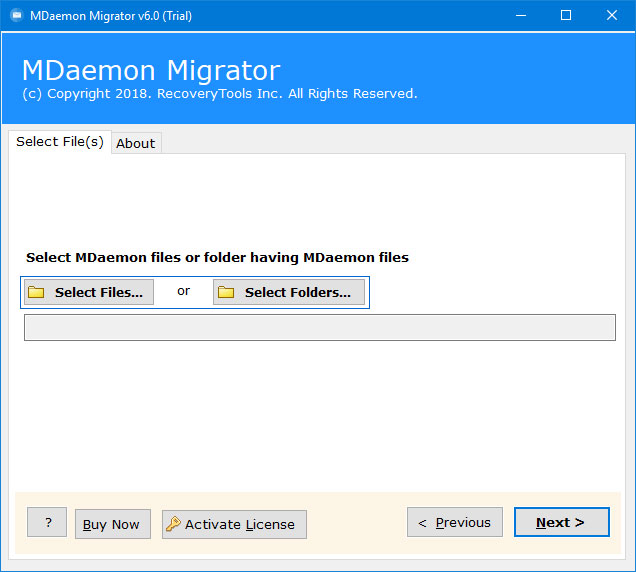 Now, the software will list all MDaemon mailbox user's information in its panel. Choose specific MDaemon mailbox items in the application.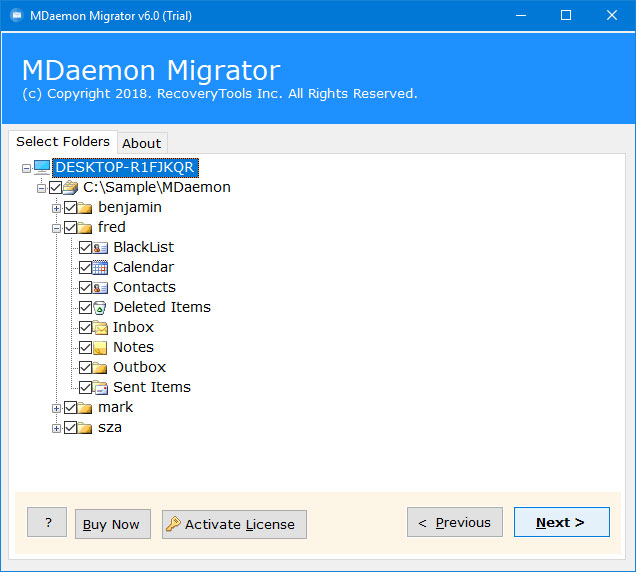 Choose IMAP option from the list of 20+ Saving options & Enter IMAP credentials of your resultant Mail Server account like Kerio Mail Server, SmarterMail Mail Server, iRedMail Server, or hMailServer Username, Password & Server Address.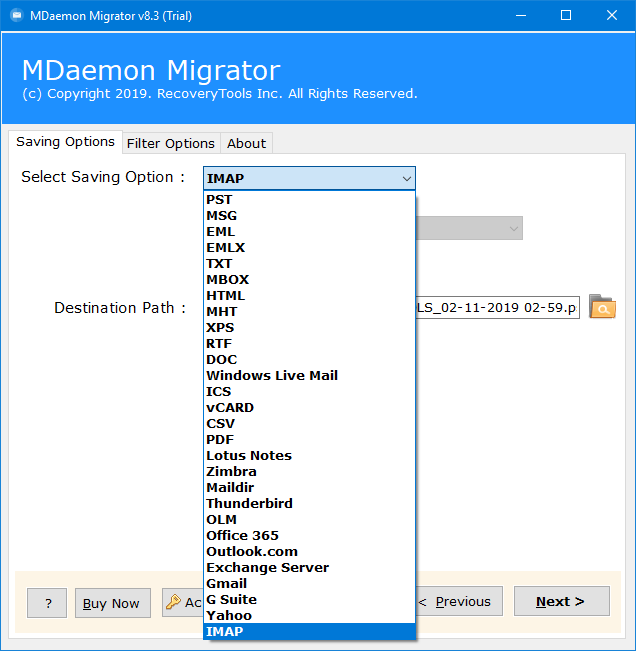 Now, click on Next button to start the process also the software will provide the users live conversion process directly in its panel.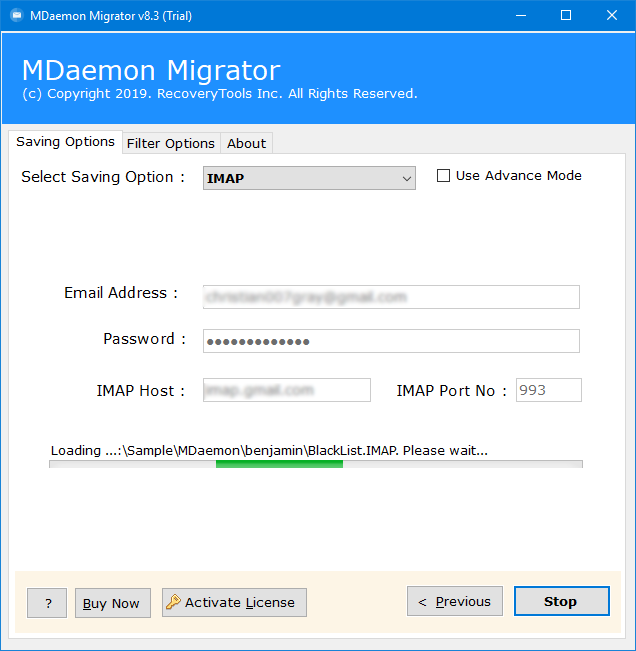 Once the utility completed the conversion process, click on OK button to confirm & exit from here.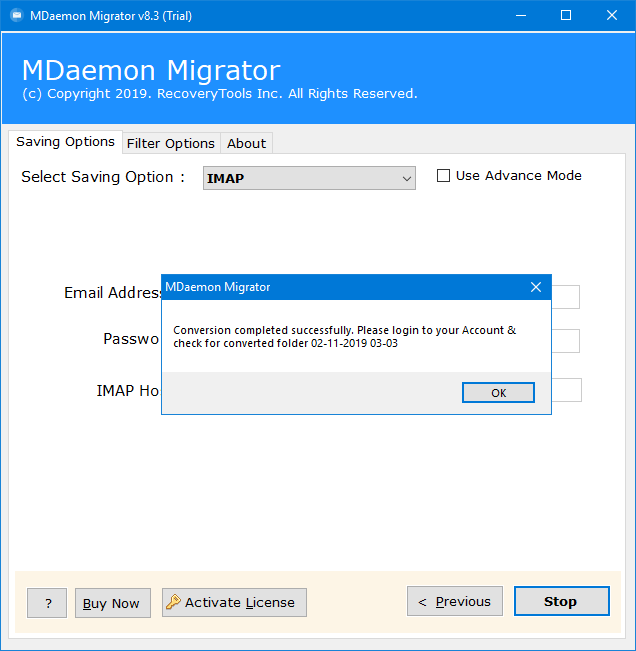 Some Highlighted Features of MDaemon to Kerio Converter:
The software enables the users to export MDaemon mailbox items to Kerio Mail Server program as some of them are listed below:
Supports to batch convert multiple MDaemon Mail Server emails & mailboxes to Kerio Mail Server account.
Also, it will only require MDaemon mailbox items in the software panel i.e. Username, Password & IMAP Mail Server details.
It enables the users to move MDaemon emails into multiple Mail Server programs such as Kerio Mail Server, SmarterMail Mail Server, hMailServer, iRedMail Server, etc.
Also, enables the users to convert MDaemon emails & attachments to IMAP accounts.
The overall working of the software is very easy as the utility comes up with a very interactive & user-friendly GUI.
Also, it is a completely standalone application available at present time to export migrate MDaemon to SmarterMail account.
Run MDaemon to Mail Server Migration software on all latest versions of Microsoft Windows i.e. Windows 10, Win 8.1, Win 8, Win 7, Win XP, Win Vista, etc. for both 32-bit & 64-bit OS editions.
Conclusion
In this article, we have explained the complete method to migrate emails from MDaemon to IMAP Server. Also, we use third-party to migrate MDaemon to Mail Server directly. This solution allows you to import MDaemon mailboxes to various mail servers such as Kerio, SmarterMail, hMailServer, iRedMail, etc. Also, you can test the solution by using a demo version of this tool. For more information, you can contact us via a chat or email.