How to Export Emails from MDaemon to EML Format?
Karen Chard
~ Modified: 08-06-2022 ~ How To ~ 4 Minutes Reading
Overview: Are you intend to export MDaemon emails to EML format ? Or want to learn the procedure to accomplish it? If your answer is YES, then stay here. In this article, we get to know about how to export emails from MDaemon to EML format using a proper method. So, keep reading this post to learn the complete process.
MDaemon Server is a mail server application with groupware capacities for Microsoft Windows, previously delivered by Alt-N Technologies in 1996. Nowadays, it is one of the popular email servers after Microsoft Exchange Server. It provides all facilities including management, filters, arrangements, securities, spam filters, etc.
However, in the daily routine, there are many people who want to export MDaemon emails in different formats. Below is a query from a user:
"Hi, I'm from California and run a small clothing business. For email communication, we are using the MDaemon server for the last few years. But recently, I need to share some email information with my Thunderbird application. So, I'm looking for a solution that allows me to export MDaemon emails to EML format. Does anyone know and help me in this matter?"
EML files are supported in a large number of email clients as it is a simple text file format. All the message information is stored in EML files as raw information. It is a single mail format for a large number of email clients to by default store emails and all included information such as Meta properties, Subject, Receiver/sender email address, Date, time, body content, formatting, hyperlinks, and all inserted attachments.
A Professional Way to Convert MDaemon to EML Format
In case if you are looking for a way to export emails from MDaemon to EML files then you must try a professional toolkit. Free Download RecoveryTools MDaemon Migrator software which enables the users to export MDaemon to EML file instantly. The software supports batch conversion of multiple MDaemon mailbox items and saves all of them as EML files. Also, it has the ability to convert MDaemon data files to over 20+ platforms, and other savings. You can easily get the product on your Windows and Server computers.
Get the Solution Here:
Steps to Export MDaemon Emails to EML File
Launch the solution on your machine.
Choose MDaemon mailbox with dual mode.
Select the essential email folders from the list.
Tick on the EML option and set destination path.
Click on the next to convert MDaemon to EML format.
How to Convert MDaemon Emails to EML Format – Complete Procedure
The working of the MDaemon to EML converter is very easy and simplified. Just follow these simple steps to accomplish this task:
Install & run automated toolkit & read all steps at Home.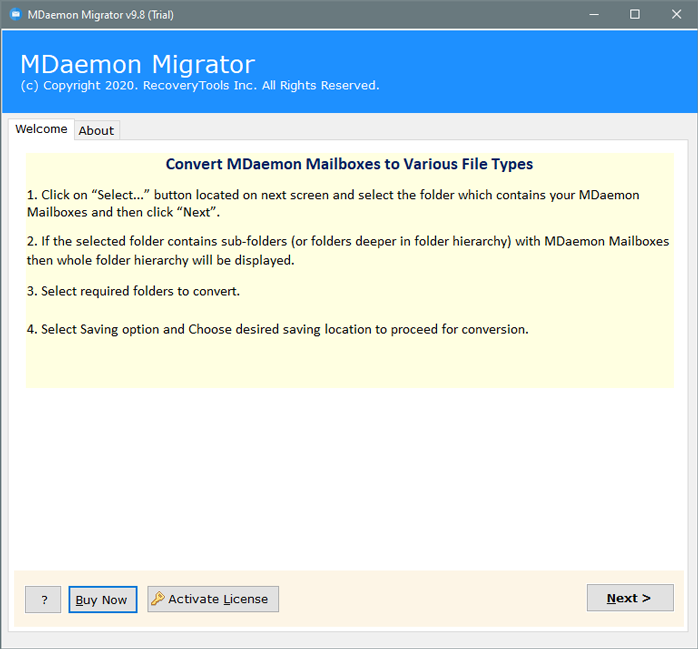 Load MDaemon mailbox items either by Files or by Folders.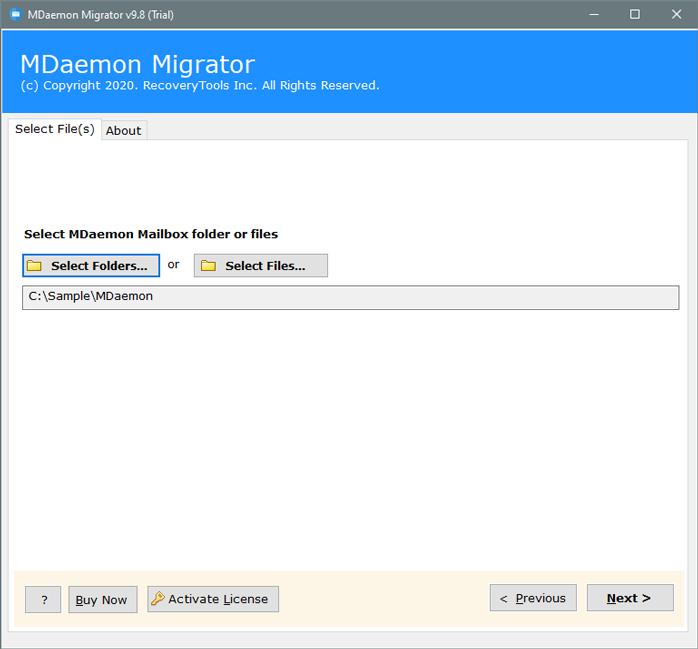 Select only the required folders to perform the selective conversion.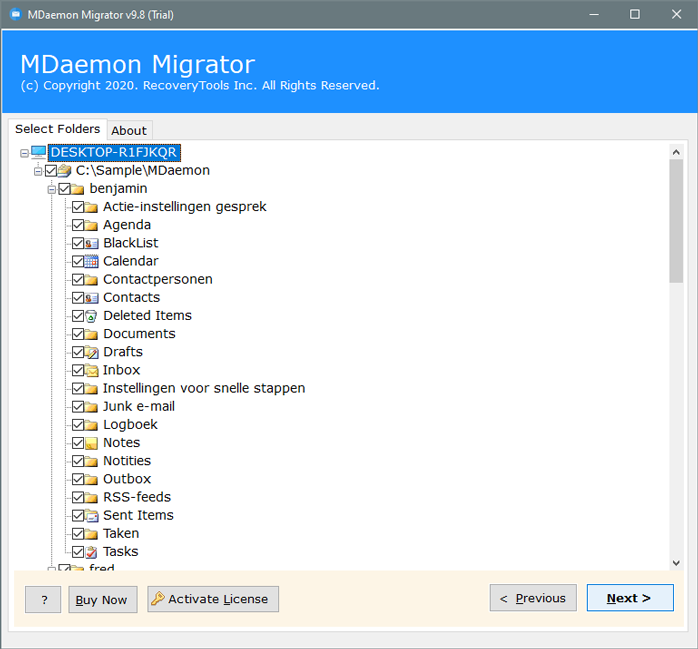 Choose EML format from the list of 20+ Saving options list.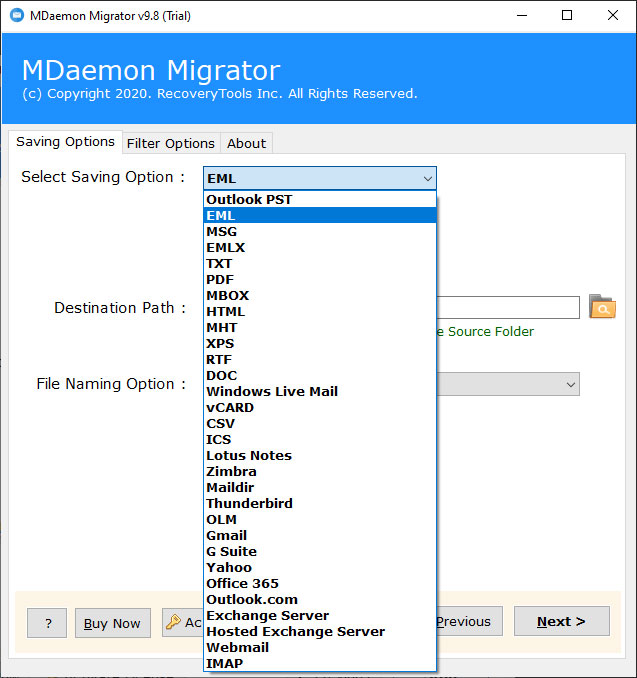 Setup saving options including destination path, file naming conventions, etc.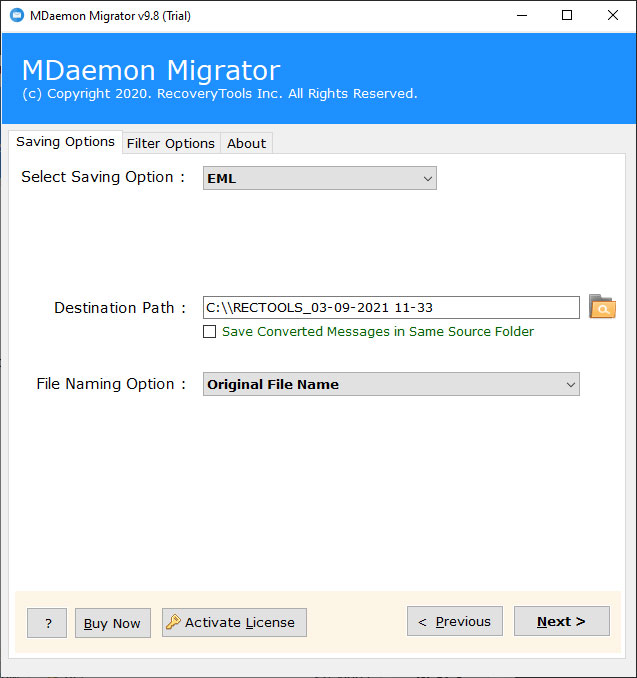 Click on the Convert button & analyze the live conversion process in the application panel.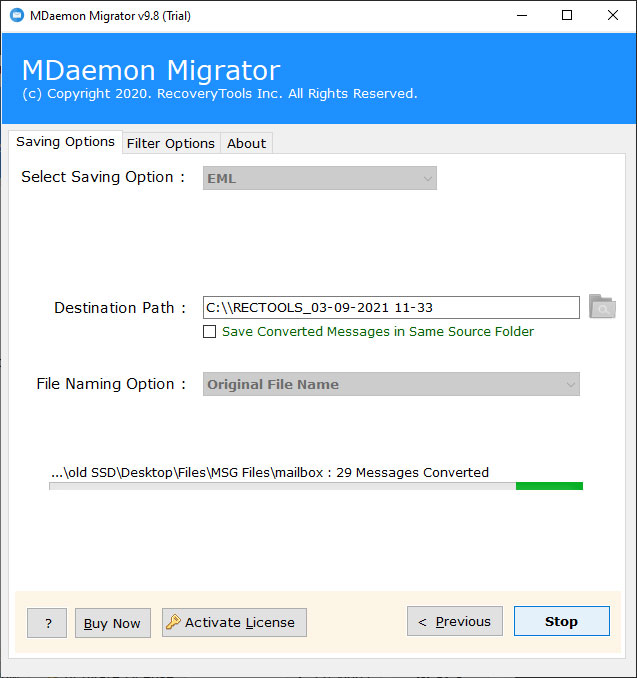 Access the resultant EML files directly from the destination folder.
Prime Functionality of Automated Solution:
This application is capable to do a lot of things by providing various advantages to its users. The working layout of the application is very simple and any user can export MDaemon emails to EML format with any technical assistance. Some major features of this tool are listed below:
The utility provides dual methods to load Mdaemon mailbox items either by Files or by folders.
The software preserves all the properties of Mdaemon emails including To, Cc, Bcc, Subject Meta properties as well attachments, hyperlinks, formatting, etc.
The utility provides 10+ File naming formats combination of Subject, Date, From to easily manage the resultant files.
Users can save the resultant EML files to the Desktop by default or at their own desired path.
The software is completely standalone to perform its working hence never requires Mdaemon installed on your PC.
Users can batch convert multiple user's MDaemon mailbox items to save time.
The software is capable to convert an unlimited number of emails of any size.
The utility is compatible with all latest Windows editions i.e. Windows 11, 10, 8.1, 8, 7, XP, Vista, etc.
Conclusion
In this article, we get to know about how to export emails from MDaemon mail server to EML files. Users can easily import the resultant EML files to a wide a wide number of  email programs. Free Download the utility and enjoy the limitless migration. For other information, contact the technical support team.
Similar Read: