How to Migrate Emails from MDaemon to Gmail / Google Mail Account ?
Overview: Are you looking for a solution to transfer MDaemon Email to Gmail account ? Or want to know the complete process to migrate MDaemon to Gmail account ? If so, then read this article completely. In this post, you will get a flawless solution to move emails from MDaemon to Google Mail account. If you want to know more, then keep reading the write-up.
MDaemon is one of the most widely used Email Server in the world due to its very user-friendly and cost-effective services. It is reliable by the users over 90+ countries to meet their needs like email server, email security, email encryption, email archiving, mobile device management, remote administration, webmail, instant messenger, in single lithe email management, security and collaboration for on-premises, virtual or hosted server deployment for their small and medium-sized businesses.
On other hand, Gmail is everything that a user needs to manage his mailbox. With just simply a Google account, you can consider that you've got a full IT team behind you to manage your all business needs. Gmail is a free Webmail service by Google while G Suite comes up with monthly subscriptions. There are various advantages that come up with Gmail. But MDaemon doesn't allow us to migrate emails from MDaemon to Gmail account.
Reasons to Migrate MDaemon Emails to Google Mail Account
Space, Space, and More Space:
Gmail becomes popular by providing huge storage space. Currently, Gmail offers 15 Gigs of space free of cost while Gmail for Business has extended it to 25 GB. Users can also increase their space according to their requirements. This space is shared across various Google products and services like Google Drive.
Gmail is a free Webmail service by Google, hence allowing users to access the mailbox items anytime from anywhere online. One only needs to have proper account configuration and login details to access the mailbox items. On a server-based email client program like Gmail, one can easily access an online version of their messages to work on them easily from their regular device or system.
Flexible, Cheaper and Requires Less Manpower for Maintenance:
Gmail is a low-cost, zero maintenance requiring, and data storage in the cloud. All your emails, contacts, calendars, etc. are always available anywhere. There is never be a requirement for a system administrator to create or manage your email account as working with Gmail is very easy and it is self-explanatory. It also provides free IMAP and POP3 services hence any third-party email client like Outlook, Thunderbird, Mac Mail, etc.
Spam Filtering, Integration with Google Hangout, Free POP and IMAP, Search, Gmail Labs, Offline Access, Nifty Gmail Address Hack, check your Gmail through Mobile or get notification of new messages on your Desktop, RSS Feeds, flag messages, managing labels, etc.
A Professional Method – MDaemon to Gmail Migration
Gmail is no doubt one of the best, if not the best free email service out there but it is good enough so that users can easily rely on it. Gmail offers an amazing amount of options & features and hence a large community is looking for an incredible MDaemon to Gmail Migration. RecoveryTools MDaemon Migrator Utility provides a direct way to migrate emails from MDaemon to Gmail account. In the following section, we will explain the complete procedure.
"Download the free trial version of the MDaemon to Gmail Migration tool from here."
Steps to Migrate MDaemon Emails to Gmail Account
Follow the given steps to export MDaemon to Gmail account: –
Launch MDaemon to Gmail Migration tool.
Select MDaemon mailboxes with dual options.
Choose the required email folders from the list.
Select Gmail option in the list of file saving options.
Click on the next button to Migrate MDaemon to Gmail Process.
How to Transfer Emails from MDaemon to Gmail – Complete Review
Once you download and install the solution on your computer, run it into your system instantly.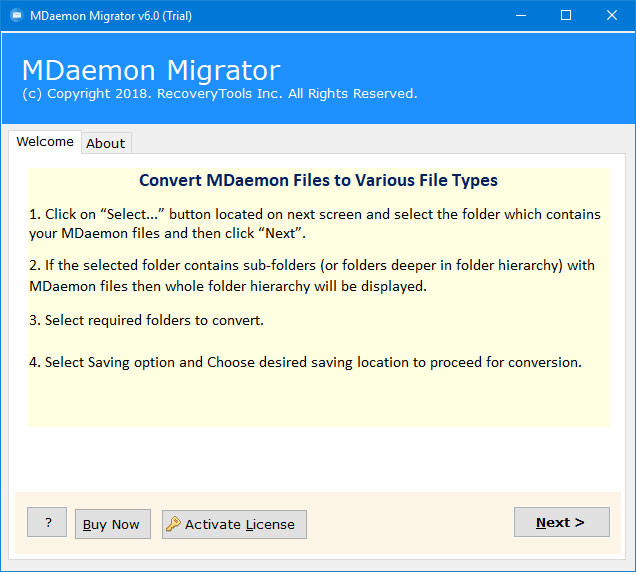 Load MDaemon files/folders by browsing the source location and then choose only the required files.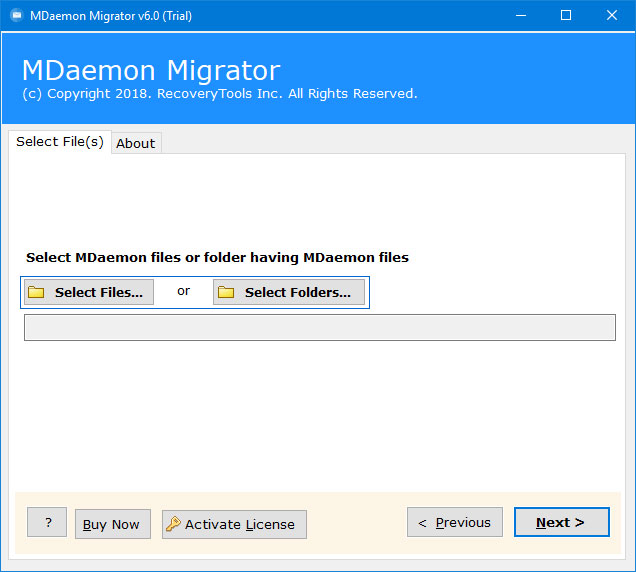 Here, you can choose the required email folders from the list.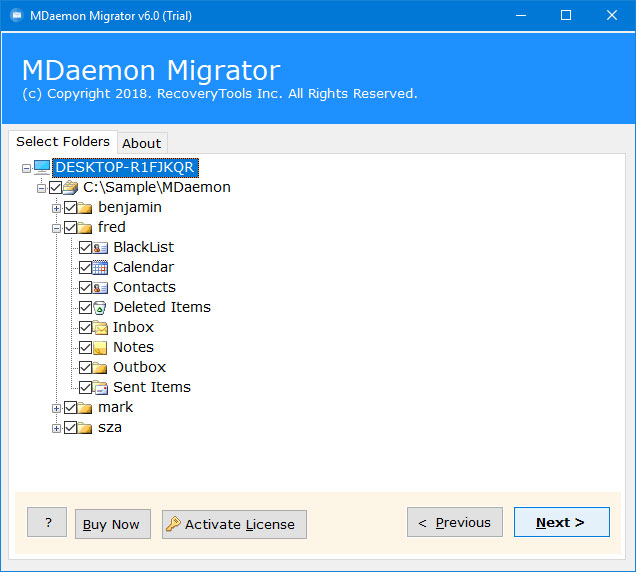 Select Gmail / G Suite option from the list of select-saving options.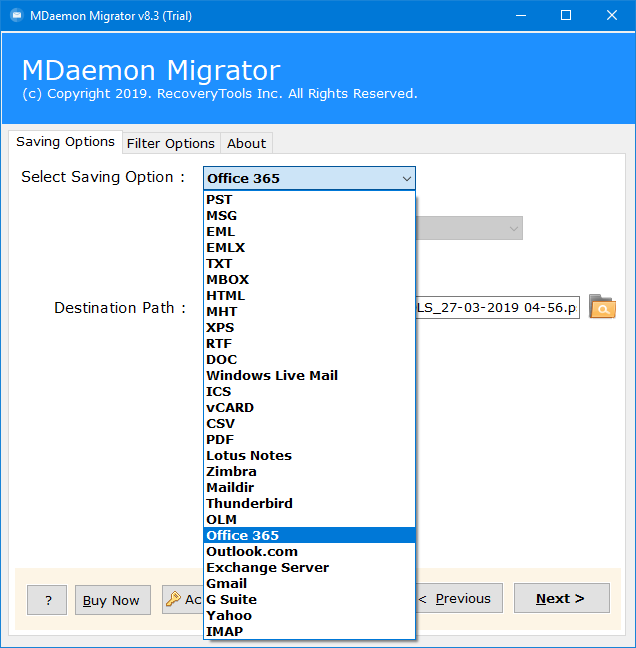 Enter Gmail login credentials in the user interface panel.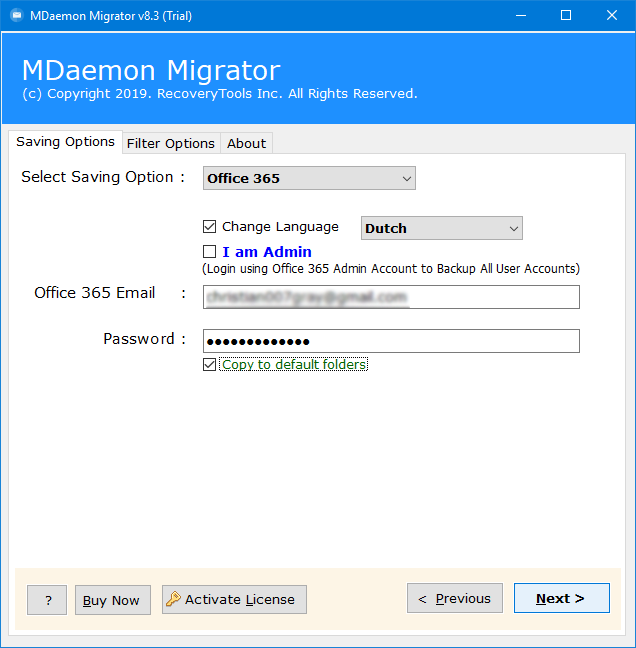 Click on the next button to start MDaemon to Gmail Migration process.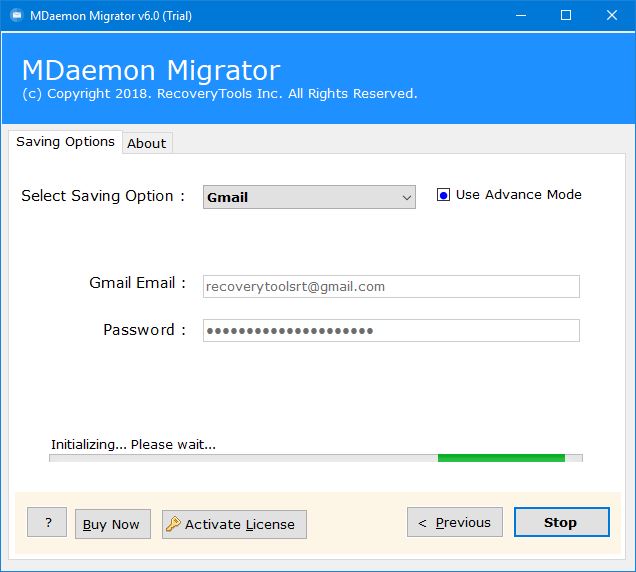 After that, Open your Gmail account and access all MDaemon emails in Google Mail or G Suite panel.
MDaemon to Gmail Migration Tool – Features and Benefits
Two Options for Batch Selection:
The product accompanies double choices that permit you to pick numerous MDaemon mailboxes. The Select Folders choice permits you to stack numerous client information without a moment's delay. In this way, you can utilize these choices to move various MDaemon clients to Gmail.
Alternative Options to Migrate Selective Emails:
The product gives an enormous number of email filters. These filters are utilized to relocate particular MDaemon messages to Gmail. One can undoubtedly utilize these channels to relocate MDaemon messages by date range, to, cc, bcc, subject, and so on.
Hold Email Meta Properties:
While the movement cycle, the program holds email metadata. Thus, after complete the cycle, you will get all properties like email with connections, email addresses, email subject, email hyperlink, email pictures or content, and so forth.
Secure MDaemon to Gmail Migration Process:
In the event that your anxiety is security. Then, at that point, relax. The product accompanies a 100% secure interface UI panel. Also, it won't save the credentials of your Gmail account in the user interface panel.
Windows Compatible Application:
This utility supports all Windows editions such as Windows 10, Windows 8.1, Windows 8, Windows 7, Windows Server 2019, Windows Server 2016, Windows Server 2012, etc.
Conclusion
There is a large number of users who are looking for a way to migrate from MDaemon account to Gmail. In that scenario, here is an incredible Google Mail to G Suite Migration software that helps the users to instantly import all the emails and other mailbox items from the MDaemon database to Gmail database just by providing Gmail login credentials. All the components of the source MDaemon file are kept secured and original while transferring from MDaemon to Gmail database. For more information, contact the technical support team.
Similarly Read: Migrate MDaemon to Yahoo