How to Migrate Email from MDaemon to Exchange Server ?
Karen Chard
~ Modified: 02-06-2022 ~ How To ~ 5 Minutes Reading
Analysis: Are you looking for a method to migrate emails from MDaemon to Exchange Server ? Or want to know the process of transferring MDaemon emails to Exchange Server ? If yes, then read this article to know more. Here, you will get the world's best solutions to migrate emails from MDaemon Server to Exchange 2019, 2016, 2013, 2010, and lower editions.
MDaemon or MDaemon Mail Server is multiple accounts or GroupWise suite that runs on Windows OS. A user can manage emails, contacts, calendars, documents, all on a single network interface. MDaemon email server like Server, Encryption, Archiving, Security, Remote Location Administration, Webmail, etc.
Let's Analyze a Few Queries:
I want to migrate email from MDaemon to Exchange Server. Is there any easy approach to do so?
How to convert all items from MDaemon items like emails, contacts, calendars to Exchange Server or Exchange Online.
I will probably be moving from MDaemon to Exchange Online shortly – MDaemon's interface to Outlook is just too slow for remote users. Does anyone have any experiences with the migration that they would care to share? I have 100 users on MDaemon, some with > 4Gb mailboxes, most of them are using IMAP. Any experiences migrating from MDaemon to MS Exchange Online?
– Source:  Serverfault.com
In this article, we get to know about how to convert MDaemon to Exchange 2016 or 2013 Server of Microsoft. A large number of users are looking for a way to migrate MDaemon to Exchange Online or MDaemon to New Server.
A Professional Method – MDaemon to Exchange Migration Tool
Migration from MDaemon to Exchange can become very easier with the help of RecoveryTools MDaemon Migrator software. The software provides various advantages to the users including migration of emails from multiple MDaemon accounts to Exchange Server. The user only needs to provide Account login credentials to perform the migration process. Some of the advantages are described below. You can easily download the solution on your Windows and Server machines.
Get the Product:
Steps to Use MDaemon to Exchange Migration Tool
Launch the solution on your computer.
Select the MDaemon mailbox with dual-mode.
Choose the required folders from the list.
Select the Exchange option & fill in credentials.
Start the MDaemon to Exchange Migration process.
How to Migrate MDaemon Emails to Exchange Server ?
The working of the utility is very easy and simplified. Just follow these simple steps to do so:
Install & Run MDaemon to Exchange Migration Tool in Windows PC.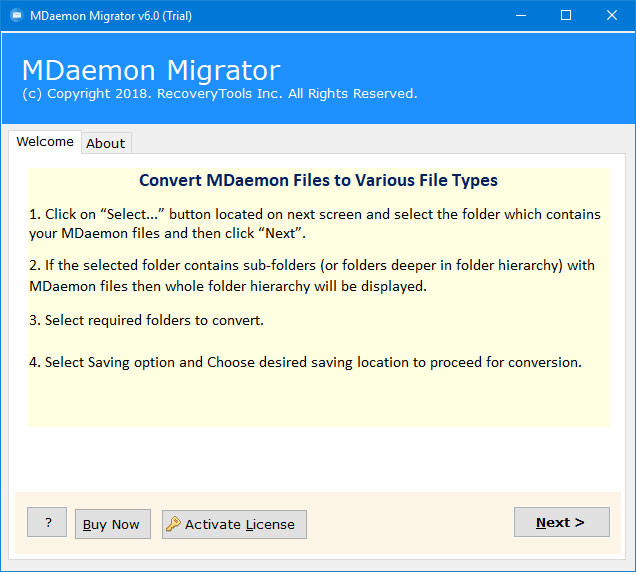 Click on Select Files or Select Folders to browse from source files.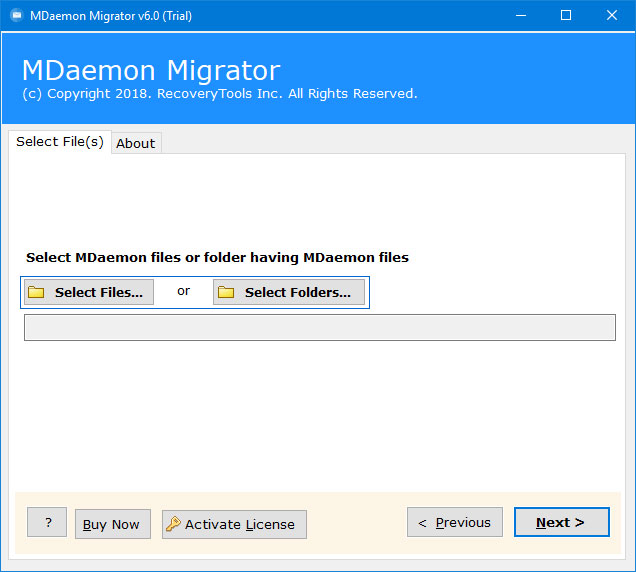 Select the User mailbox folder from the list.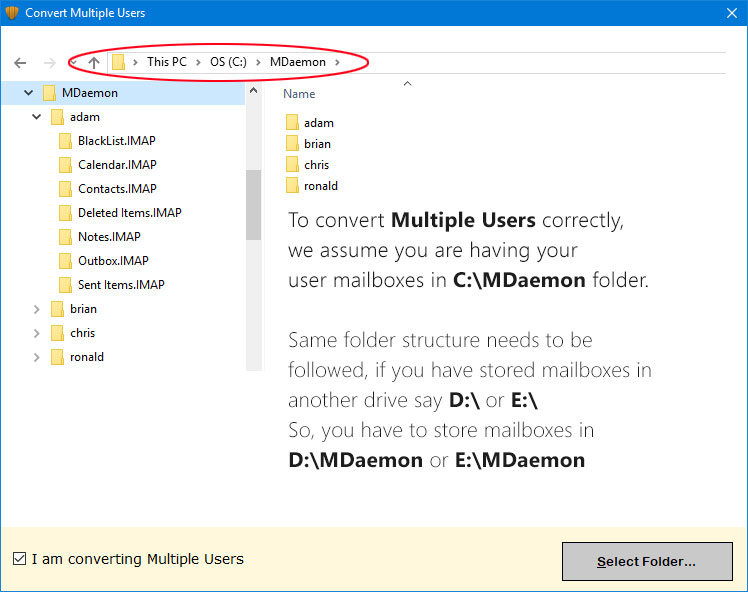 The utility will display all folders in MDaemon files and user's data.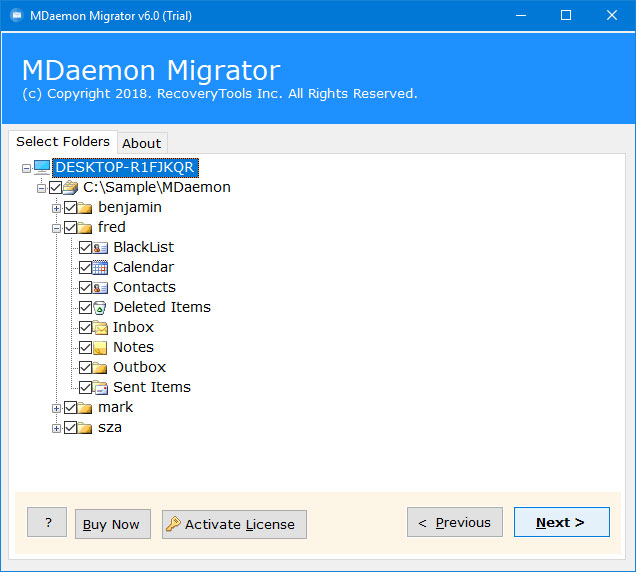 From the File Saving options list choose the Exchange Server option.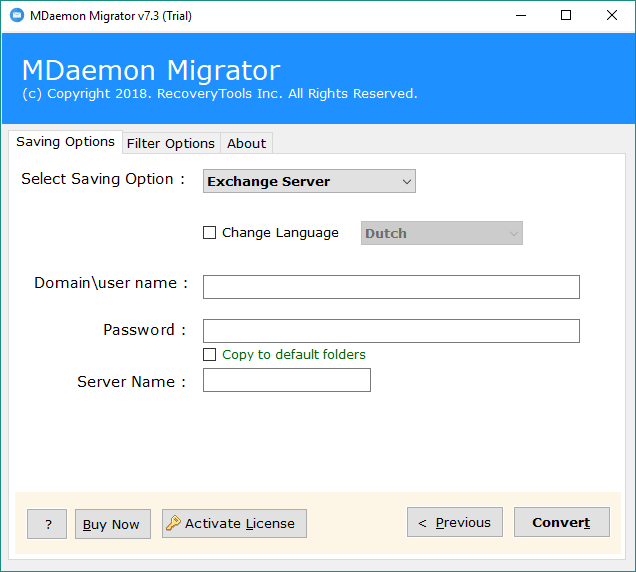 Setup MDaemon to Exchange Migration options such as Domain name, Password, Server Name, or various languages like Dutch, French, German, Spanish, Swedish, etc.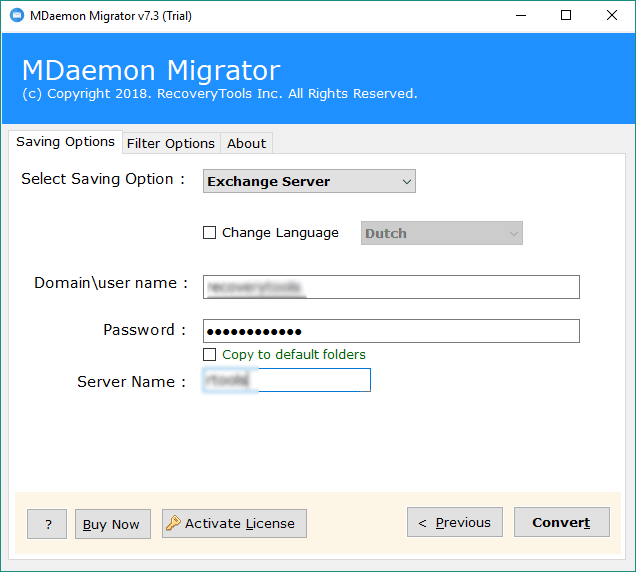 The utility also provides the Advanced Filters option on basis of Date Range, From, To, Subject. Users can also exclude Folders for selective folders.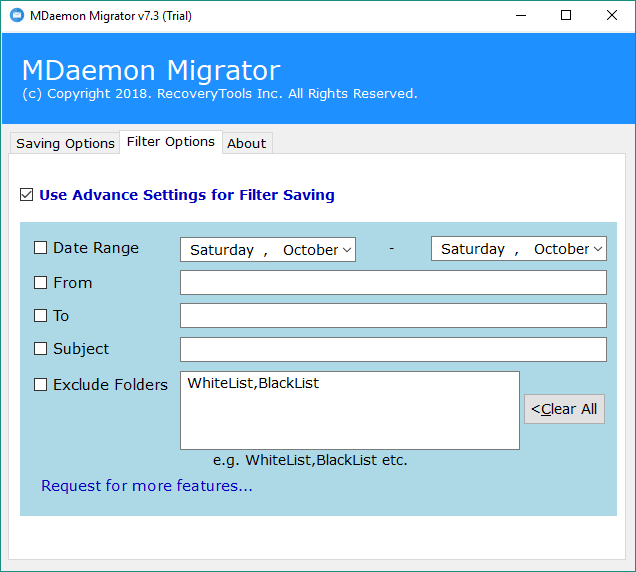 Once your set up MDaemon to Exchange Migration option click on the Convert button.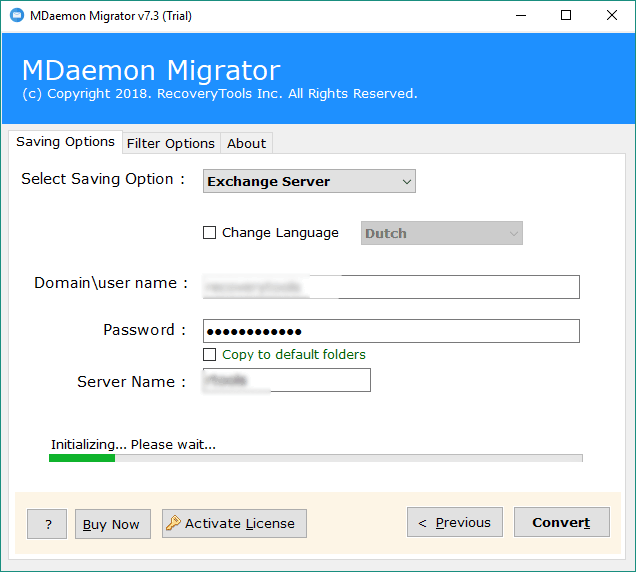 As we can see that the working of the utility is very easy and simplified. There is no need of having the high technical knowledge to do so. The user only needed to input Exchange Server Domain name, Server Name & Password, etc.
MDaemon to Exchange Migration Tool – Major Benefits & Advantages
Migrate all MDaemon Items to Exchange 2016:
The software allows the users to migrate all items of MDaemon account like emails, contacts, calendars, tasks, notes, journals, etc. User will not face any problem while doing MDaemon to Exchange Server.
Convert MDaemon Folders & Subfolders:
The folders and subfolders included in the MDaemon mailbox items are migrated to Exchange Server account. It allows us to support all Exchange Server such as Exchange Server 2016, Exchange Server 2013, Exchange Server 2010, Exchange Server 2007, etc.
Unlimited Migration of MDaemon Mailbox to Exchange:
The utility offers limitless migration of MDaemon mailbox items to Exchange Server. Any user can select unlimited files or folders having multiple MDaemon user data files in the application panel by clicking on the Select Folders option.
Advanced Filters for Selective Conversion:
The application offers advanced filtering options that are useful for converting emails from MDaemon to an online Exchange account. Some of the key areas such as Data Range, From, To, Content, etc. Additionally, users can export specific folders to save time by deleting spam emails.
100% Safe & Secured System:
This application is designed for working upon Windows OS. Free Download utility from here and install it on your Windows PC. The software can be run on all latest Windows OS including Windows 10, Windows 8.1, Windows 8, Windows 7, Windows XP, Windows Vista, etc. Also, the solution supports all latest editions including Windows 11.
How to Migrate MDaemon to Exchange Server 2016?
Conclusion
In this article, we discussed some user requirements related to email migration from MDaemon to Exchange Server. We use third-party MDaemon to migrate to Exchange, making it easy for users to migrate email to users. This software is free to download and allows you to transfer the first 25 items of your MDaemon mailbox folders. Also, purchase the correct license for your needs and upload an unlimited number of items from your MDaemon mailbox to your Exchange server. If you have any issues, then you can also contact us via email or chat process.