How to Import Outlook Contacts to Zoom Account?
Karen Chard
~ Published: 05-08-2022 ~ Outlook ~ 6 Minutes Reading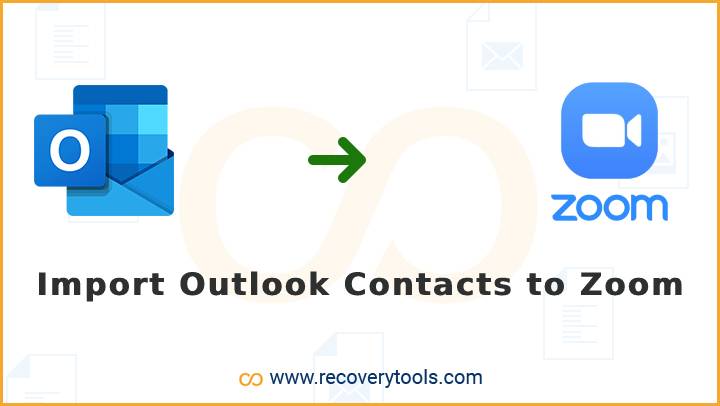 Looking for a way to import Outlook Contacts to Zoom Account? Or want to meet with Outlook Contact persons? If so, then your searches end now. This post explains the way to import Outlook contacts to Zoom app using a professional way. So, read and learn the process with RecoveryTools.
In this techno world, everyone has different needs. There is no such thing as a requirement of contacts. But contact is one of the best ways to communicate with the right person. It allows us to manage our marketing records and convert them into sales. That's why a huge number of users want to preserve their contacts on different platforms.
Microsoft Outlook is an email program used by desktop computer users. It lets users create appointments, send emails, and organize their contacts and calendars better. Outlook is used by many companies to keep track of appointments, schedule meetings, and do other tasks. It is a paid application and you can download it from the Microsoft website.
Zoom is a video conferencing application used for business meetings and conferences. It works like Skype. You can use it to meet with your team or colleagues. With this app, you can talk to one person at a time and if you want, you can also use it for group meetings. It is very easy to use, and it is compatible with all the major browsers and phones.
Reasons to Import Outlook Contacts to Zoom
Microsoft Outlook and Zoom are different platforms. One lets us easily communicate with others by email and manage things like Contacts, Documents, Calendars, Notes, etc. But Zoom is a video conference website and application. Zoom allows you to import and export contacts as videoconference is done by email address only. Hence, most of the customers want to communicate with others and transfer their Outlook contacts using the Zoom app.
"Hi, I have been using Outlook email client for some time which was provided by my company. Recently due to the pandemic, all the work was done by video communication. But all my business and personal contacts are stuck in Microsoft Outlook. Does anyone know how to import Outlook contacts to Zoom?"
– Eric Yuan, New York
More Helpful Post:
Solution: Outlook Contacts to Zoom Converter
RecoveryTools Outlook PST Migrator allows you to change Outlook contacts to CSV format. Once you convert the contacts, you can either use them in Zoom or save them to your PC. Using this solution, you can easily export contacts from Outlook data files like PST or OST formats to Zoom contacts easily. While the process, it also keeps your contact information. You can easily download this solution on your Windows and Mac computers.
Get the Solution Now:
Download for Windows Download for Mac
How to Import Contacts from Outlook to Zoom?
First, you need to download the RecoveryTools solution on your computer.

The program provides advanced one-click solutions. If you have Outlook installation, then check the auto-detect option.

You can also choose Outlook data files using the dual selection options.

Now, you need to select the Contact folders from the profile analyzed list.

Choose the CSV option in the list of file-saving options.

Set destination path or additional option and click on the next.

Start the process to import Outlook Contacts to Zoom.

Access your resultant file at the user's desired location path.
Now, open your Zoom App through a web browser.

Click on the Personal Contacts option from the left side menu.

Now, click on the upload from CSV file option and choose your Outlook CSV file.

Click on the Upload button and all your contact will upload into Zoom App.

Benefits of Import PST Contacts to Zoom Tool
Automatically Find Outlook Data: The solution has an inbuilt option to automatically find your Outlook profile data in the user panel. You just need to choose the right option "Convert Configured Outlook Mailbox Data" to load Outlook data automatically.
Export Contacts from PST Files: Microsoft Outlook offers you to export contacts. But what if you only have Outlook data files? Will this application allow you to select Outlook PST or OST files and extract contacts without Outlook installation? You can select multiple Outlook profile data at once.
Extract Contacts from Crashed and Corrupted Outlook: The RecoveryTools solution provides another advanced option to access data from Corrupted or crashed Outlook files. In starting phase it offers an option "Use Recovery Mode" to get back contacts from crashed Outlook.
Wide Range of Saving Options: This application not only exports Outlook contacts. But you can use this application to convert Outlook calendars, contacts, emails, notes, tasks, and much more items. Also, it provides a folder selection process to choose only the required Outlook folder according to user requirements.
Windows and Mac Solution: This application supports almost every computer which having Windows and Mac operating systems. You can easily install this application on all the latest Windows and Mac OS including Windows 11 and macOS X editions.
Manual Method: Export Outlook Contacts to Zoom
The main reason why people use Microsoft Outlook to manage their contacts is because it gives them the ability to store, view and edit contacts in the most organized manner. But Microsoft Outlook also, allows you to export their all data into Outlook Data files – PST. You can also export only contacts from Outlook to CSV by default. Follow the given step-by-step process:
First of all, you need to launch your Microsoft Outlook version.
Then, you need to choose the menu and import/export option.
Here, choose the option export to a file from the list.
Choose contact folders from the list of the entire list.
It takes a while to export contacts from Outlook.
Limitation: We can communicate easily and quickly. We can use different tools to make our life easier. But sometimes these options do not work for us. In that case, first of all, you must have technical capabilities. Because exporting contacts from Outlook is not a novice user task. One mistake can erase your data forever. Also, the solution doesn't allow you to export contacts from PST or OST files. So, that's why I suggest you to use RecoveryTools professional solutions.
Final Words
Zoom Video Communications Inc. is the world's leading provider of video conferencing. But it does not have a direct option to import contacts from different platforms. You cannot directly import Outlook contacts into Zoom using this application. Therefore, we are here to help you. In this post we have explained the complete process. So, read it and download the solution. You can also contact the technical team if you have any problems.