Two Ways – How to Export Multiple Outlook Contacts to vCard?
Karen Chard
~ Modified: 06-06-2022 ~ How To ~ 6 Minutes Reading
Are you looking for a solution to export Outlook contacts to vCard? If yes, then this article describes the complete method to export all the contacts. Trust me, you are at the correct destination place. Here, you will get the complete step-by-step guide to carry out the desired results.
We all know that contacts are the most significant for all of us. People save their contact data in different places, for example, some might be on cell phones, and others might be on various email accounts like Yahoo, Gmail, and so forth. Nowadays, many users are switching from one platform to another. Because there are many reasons when a user needs to change their platform such as lack of features, management features, support or chat system, etc.
User Query
"Hi, I was using the Outlook email client application for the last few years. That is why I have several contact stores in the address book. Recently, I buy another Android phone for business purposes. Therefore, I want to know how to export all those contacts to the vCard file for my Android phone. Does RecoveryTools help me in this matter?"
Our main aim is to provide our users with better and more effective solutions to satisfy their needs and requirements. We are going to discuss both the manual as well as the professional solution to export all contacts from Outlook to vCard.
Manually Export Outlook Contacts to vCard
There have been a few limitations occurring while using the manual method. Also, it is time-consuming and does not have the ability to deal with multiple contact files. You need to perform two major steps here.
Step 1: Export Outlook Contacts to CSV 
Run Microsoft Outlook >> File Menu. 
Open & Export >> Import / Export >> Export to a File and Next.
Select CSV file and Next. Choose the contacts folder.
Enter a location to save the file and Next.
Choose custom fields and finish the task.
Step 2: Convert CSV Contacts to vCard
Search the Contacts folder in your system.
(C:\ Users\Admin\Contacts)
Import >> Choose CSV file >> Import. 
Browse the file and choose the required fields. Click on Export.
Choose vCard file >> Export.
Enter the location to save the file >> Done.
Instant Solution: Export All Outlook Contacts to vCard
To clarify in a better way, we suggest you use our Outlook PST Migrator to export all contacts to vCard format. The software is one of the effective utilities that have the ability to export multiple or even unlimited numbers of contacts. Apart from that, the tool is simple to use and can be easily operated by all the users whether they are technical or novice users. While exporting an unlimited number of contacts, there will not be any kind of loss of data and the entire contact list maintains properly.
Free Download the software on Your Computers:
Download for Windows Download for Mac
How to Export All Contacts from Outlook in vCard?

Launch the software on your computer.
The tool will automatically locate your Outlook contacts.
Choose only the Contact folders from the list.
Select the vCard option and set the resultant path.
Click on the next to export Outlook contacts to vCard.
Complete Steps to Export Outlook Contacts to vCard?
First of all, you need to download or install this application on your computer.
Then, it will automatically locate your configured Outlook profile data. You can also manually choose the Outlook data file with dual options.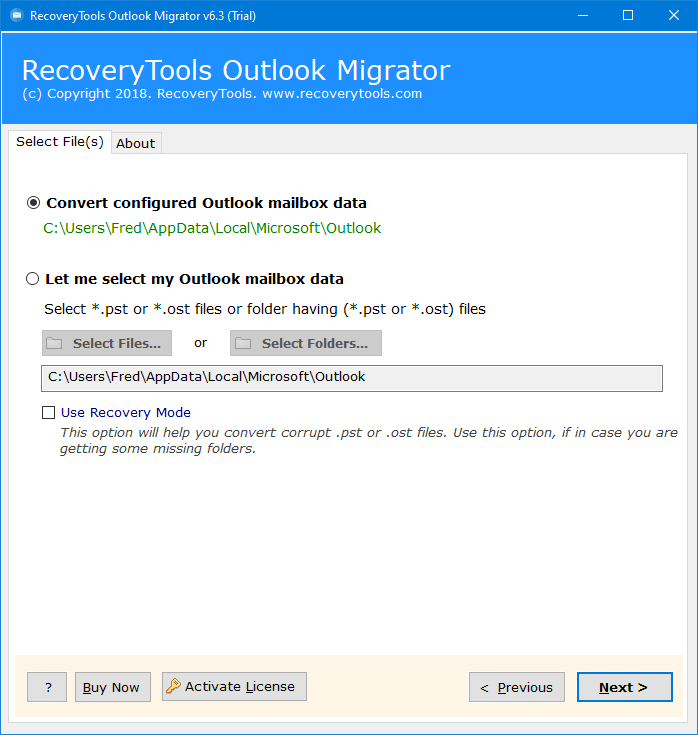 Now, choose the required contact folders from the list.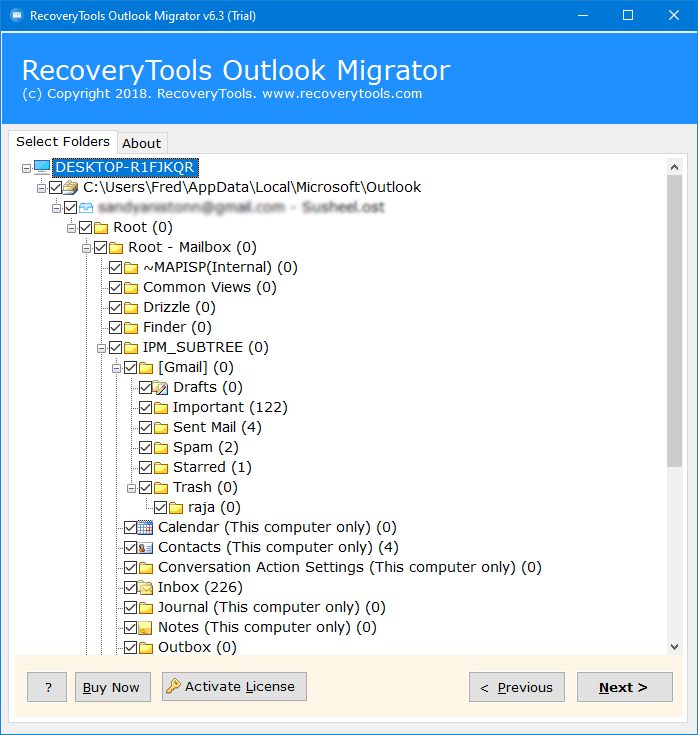 Select the vCard file saving option from the list.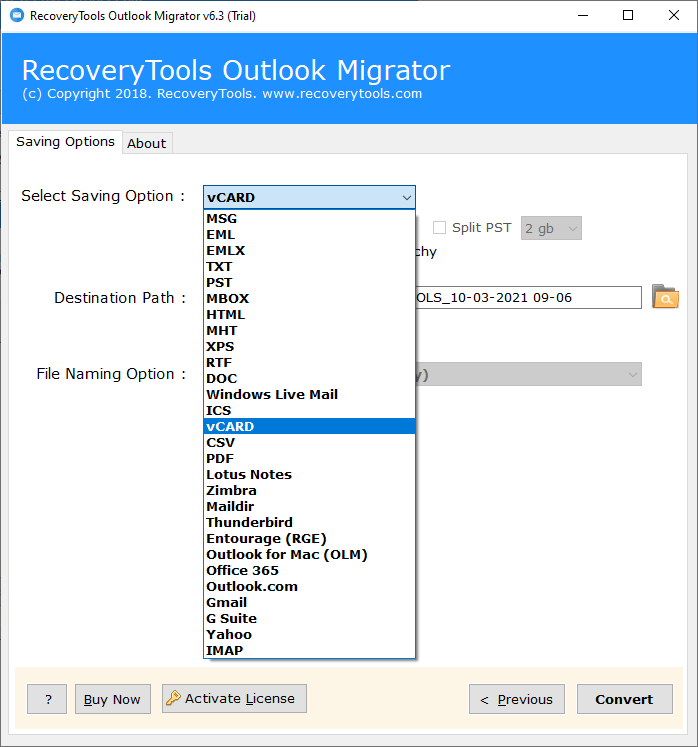 Now, select the resultant location path according to the user requirements.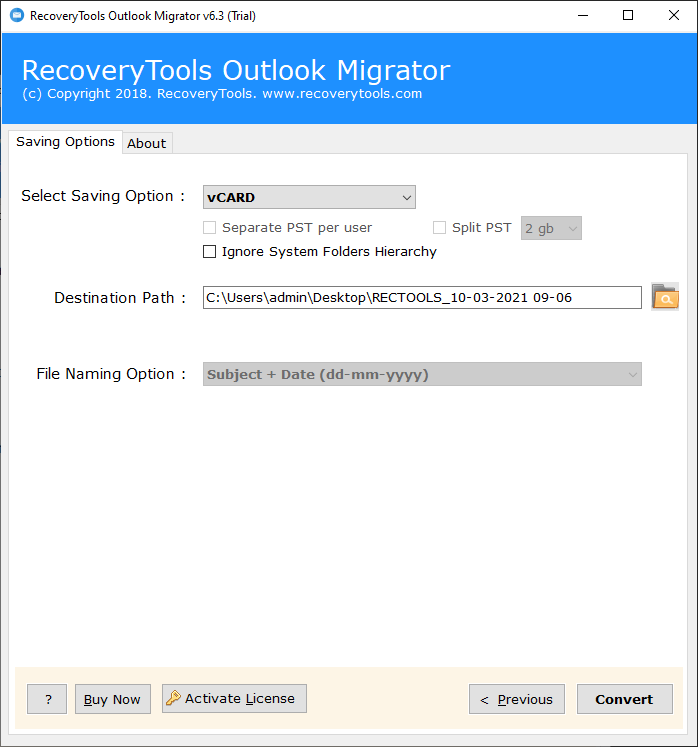 Click on the next button to start contacts export to the vCard process.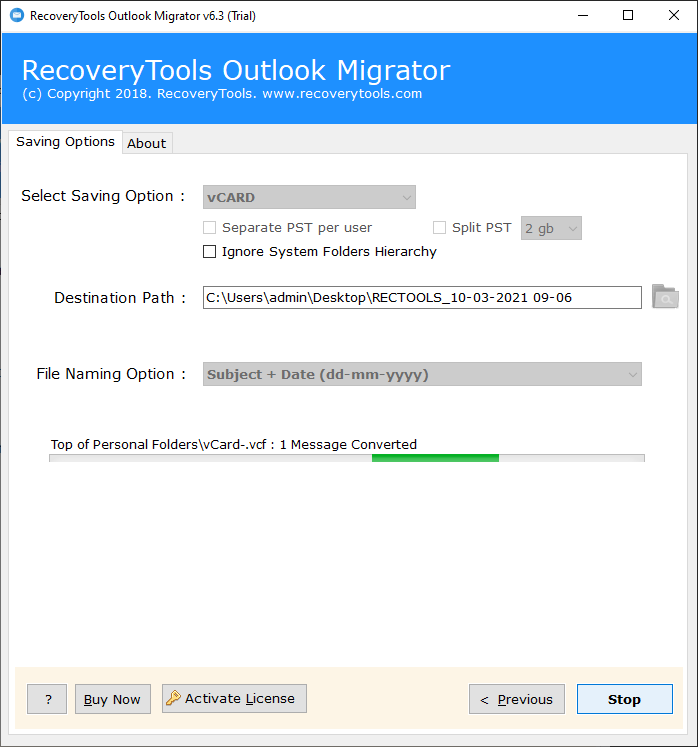 When the process is completed, the Tool will pop up in a completion box.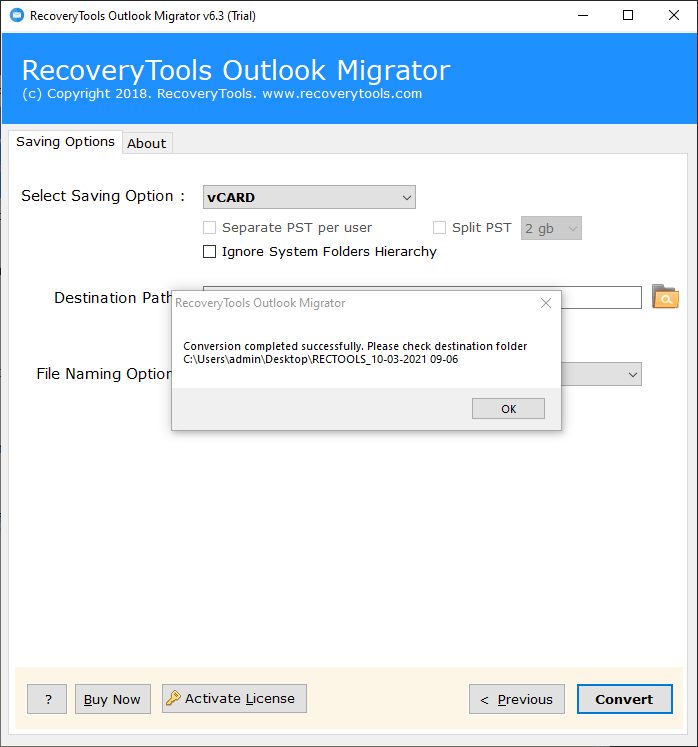 Top Advantages of Outlook Contacts to vCard Export Tool
Flexible User Interface 
The software provides a user-friendly interface that can be easily operated by all users. By viewing the software panel, it is possible for users to understand all types of configurations and inherited features.
Ability to Export Multiple Contacts
Users can easily export multiple or even unlimited numbers of contacts to vCard format. While exporting contacts, there will not be any kind of loss of data and the entire hierarchy of all the files and folders maintain throughout the process.
Preserves Original Information
During the process to export contacts, the application ensures to keep intact the original piece of information. It maintains the Outlook contact details like First Name, Last Name, Postal Address, Email Address, Phone No, Fax, Notes, Birthdays, and all contact fields.
No Outlook Installation
One significant benefit of using this software is that you won't require MS Outlook installation. It is an independent tool so a user can export Outlook contacts to a VCF file without any hassle and without Outlook configuration.
Easily Load Configured Outlook Items
It is programmed with an advanced algorithm that's why after launching the software on your machine, you are just free to start the process automatically. It gives you the option to load configured Outlook contact items if you are not interested in manual file selection.
Windows & Mac Compatibility
You don't need to worry about the Windows Support for this software as it runs on all platforms. It supports Windows 10, 8.1, 8, 7, XP, Vista, Windows Server 2019, 2016, as well as all Mac OS X editions, etc.
Common Asked User Queries
Q: I am working on Outlook 2019 for a long time and have maintained a proper address book also which carries my client's information. Since VCF files are easily accessible and shareable with others so for professional purposes I need to export Outlook contacts to vCard format. How can I achieve this conversion?
A: You can try the RecoveryTools software in order to export contacts to vCard format. It is a professionally suited application that will suit all your requirements regarding the export process.
Q: Do I need to install Outlook 2016 on my Windows 10 laptop in order to export multiple contacts to vCard format?
A: No, this is standalone software so there is no need for Outlook installation.
Similarly Read
Conclusion
In this article, we have explained the best ways to export Outlook contacts to vCard file format. The software is also well suited to move your source Outlook files in various other formats too. To export contacts, you can also continue with any of the mentioned solutions that suit your requirements. For better and faster results, we suggest you use a professional approach to carry out the contacts faster.