Two Solutions – Import Outlook OST to Office 365 Account
Karen Chard
~ Modified: 06-07-2022 ~ Outlook ~ 8 Minutes Reading
Microsoft does not provide a direct method to import OST to Office 365 account. If you are facing the same issue, then no need to worry, in this post we will explain a tried and true method for importing the emails along with entire data items. We will discuss step-by-step guide, just connect with this blog till the end.
Microsoft Office 365 is a cloud-based personal information manager center. It helps user's to quickly access their emails & other mailbox items anytime from anywhere. Nowadays, Cloud is the need of the hour. Many business users are pushing hard to put their resources on the cloud.
A lot of users want to import their system OST files into Office 365 so that they can be able to access the data instantly. Also, data will safe and secure if it will be present in the account. There is an indirect manual solution mentioned on the Internet but still, users didn't be able to get better results.
Table of Contents 
User Query
I have a Microsoft Outlook email client installed on my PC. It stores the mailbox data in .ost file format. Now, I am planning to import my data to my Office 365 account. Outlook is a desktop-based email client that can manage any user's personal information including emails, contacts & calendars. I had tried many applications & searched for it on the web, but didn't find any trustworthy application.
Kindly suggest to me an effective way, if you have in your mind to successfully import OST to Office 365 account.
Manual Method to Import OST File to Office 365
In this solution, we are going to tell the solution with the help of 2 steps: Firstly, convert files to PST, and then import those files to Microsoft 365 Account. Follow the steps:
Step 1: Convert OST Files to PST 
Start Microsoft Outlook in your system. Go to File Menu >> Open & Export. 
Click on Import / Export option.
Choose "Export to a File" and Next.
Select Outlook Data File (.pst) and Next.
Then, choose the OST file and Next.
After that, enter the desired location and save the resultant PST files.
Step 2: Import Resultant Files to Office 365 
Here, you just need to import the files, and for that, there are multiple solutions present such as the Azure method, drive mapping, and others but we recommend you to use the tool to import PST files to Office 365 by performing simple steps.
Expert's Recommended Solution For OST to Office 365 Migration
RecoveryTools OST Converter Software is one such amazing solution that provides users a direct option to export files into an O365 account. A user only needs to enter the login credentials of their Office 365 account to perform the migration. This toolkit also has an advanced I am Admin option, that will enable the users to migrate the data along with the needs and requirements of the users. The tool provides a simple and user-friendly interface that can be used by all users from different backgrounds.
Moreover, this mentioned OST to Office 365 Migration Tool also supports other formats such as OST to PDF, OST to MBOX, OST to Exchange Server, OST to Yahoo Mail, OST to CSV, OST to EML, and import OST files to Gmail, import OST to Thunderbird, and multiple others.
Download for Windows Download for Mac
Trial Limitation: The free demo of the OST to Office 365 Migration tool will enable the users to import only the first 25 emails from every folder. If a user wants to export more than 25 emails, then he needs to first activate the software by purchasing the license key.
Steps to Import OST to Office 365 Account

Firstly, Download the mentioned Migration Tool.
Select only the desired mailbox folder items from the list.
Choose Office 365 option from the list of saving formats.
Setup migration options including login credentials.
Click on the Convert button to initialize the process.
What Data Will This Tool Migrate?
This tool is designed to import all data from a .ost file to an Office 365 account. It helps users move important user information without restriction.
Emails: This tool supports importing files with various details.
Email Headers – You can import files to O365 with complete email header information, including Cc, Bcc, Size, Time, Sent Time, Received Time, etc.
Body Components – The OST to Office 365 Migration Tool supports the conversion of all e-mail bodies and keeps them safe i.e., Inline objects, images, hyperlinks, signatures, or email formatting.
Email Attachment Files – This tool supports the import files to Microsoft Office 365 as well as all types of embedded attachments, including DOCX, GIF, PNG, PDF, RTF, XLS, or ZIP files.
Outlook User Profiles Data – With this utility, users can export all Outlook user profile information stored in an OST file.
Archived Folders – This toolkit also allows users to move old file folders from OST files to Office 365 without any size restrictions. Easily supports archive folder including annual archive folder or monthly archive folder.
Contacts: The user can successfully import contacts directly to Office 365 using Active Directory. Supports converting contacts and contact groups with complete field information, such as:
First Name, Middle Name, Last Name, Nick Name, etc.
Date of Birth
Business Address, Personal Address, Home Address, etc.
Phone number, Personal Number, Mobile, Business Number, Fax, etc.
Personal Email Id, Business Email Id, etc.
Calendars: With this Migration tool, you can easily export calendars and appointments. Supports all calendar item features, including:
Meetings
Calls
Appointments
Events
Attachments or
Any Special Occasion
Key Features of OST to Office 365 Migration Tool:
This migration tool is designed with advanced algorithms to help the users in dealing with the complete email migration process. It will provide users with many benefits due to its amazing features. Here are a few prime features of the mentioned tool.
The tool can easily batch import files to Office 365 with no data loss and without facing any size limitations.
It is a completely standalone tool that can easily work without any other installation.
Also, it is user-friendly that can be used by all users whether they are novice or non-tech users.
A user can also migrate files into Office 365 Administrator account. This tool has a separate I am Admin option to help the users to do so.
This tool maintains data consistency throughout the process and the hierarchy of all mailbox folders is managed properly.
Moreover, a user can load OST file data in the software panel in dual ways i.e., Automatically from the default configured profile location or manually from any specific user folder location.
The tool will list all the OST mailbox folder items in its panel. Users have the choice to choose only the required mailbox folder items according to their needs.
This software is fully compatible with all the latest versions & editions of both Mac & Windows OS devices.
How do I import an OST file into Office 365? – Complete Steps
This toolkit is designed to import files in a quick & simplified manner. You can easily understand the complete working of this software just by following these simple steps:
Firstly, Install & Run the mentioned migration tool on the Computer.
Load OST files in the utility panel in dual ways i.e., Automatically from the default configured Profile location or manually from a File or a Folder.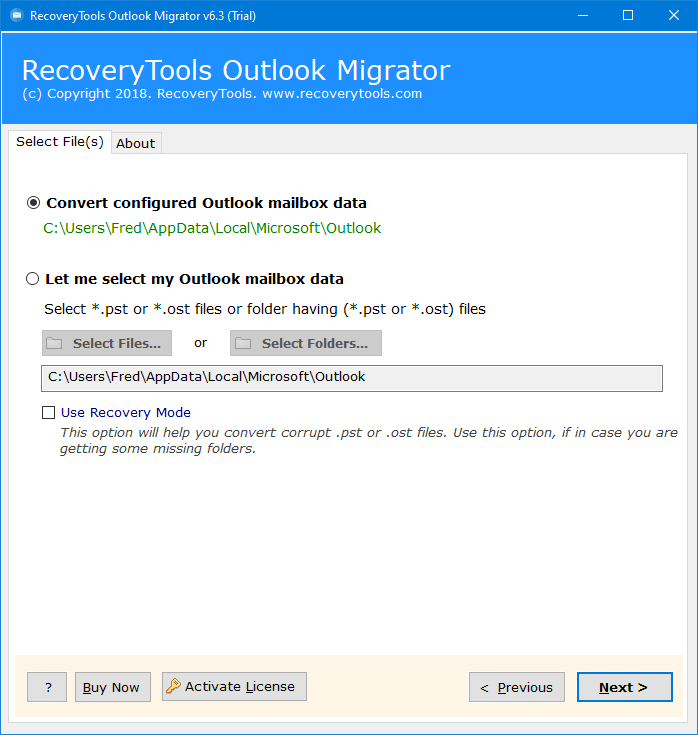 Then, the utility will instantly start loading all the mailbox folders in its panel. A user can choose any of the desired mailbox folders according to the requirement.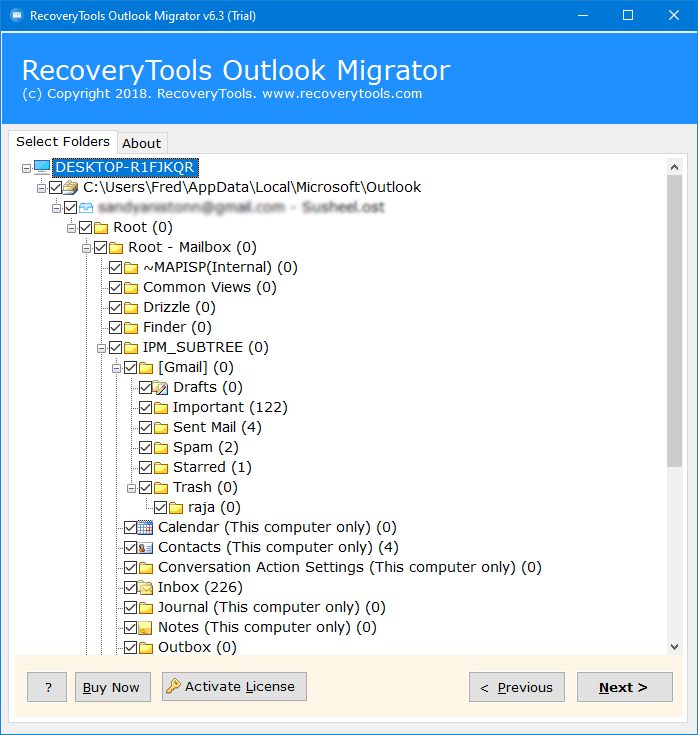 Now, select the Office 365 option from the list of 30+ saving formats.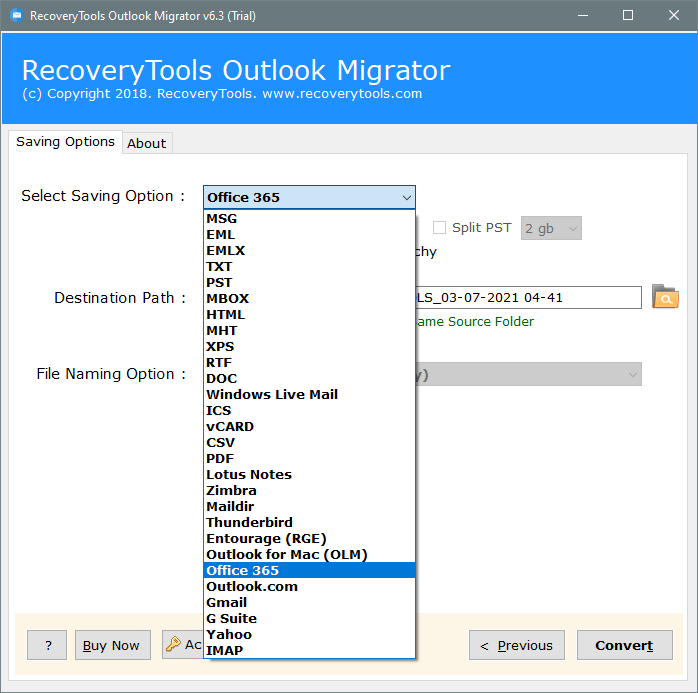 Setup the migration options in the application panel. Enter the login credentials of your Office 365 account here.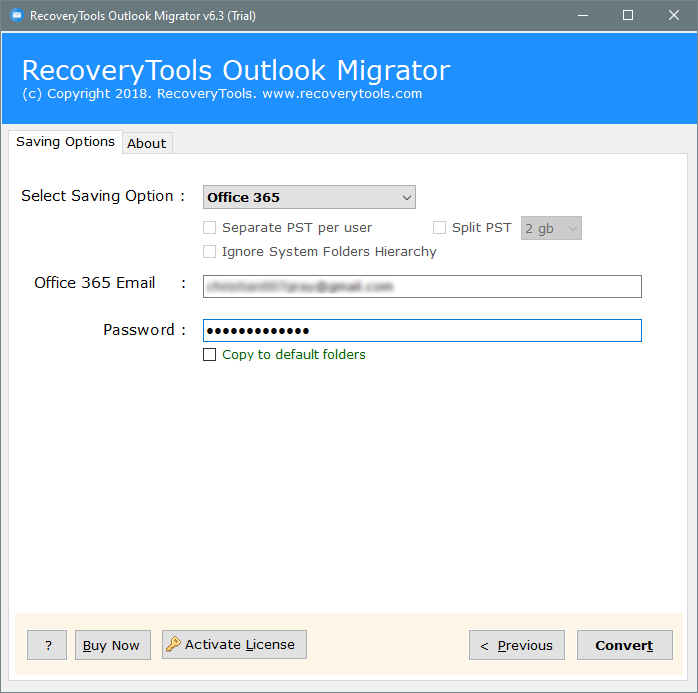 After that, users can also choose the Copy to Default Folders option to save into a specific folder path.
Finally, click on the Convert button to start the migration process. Analyze the whole migration process directly in the application panel.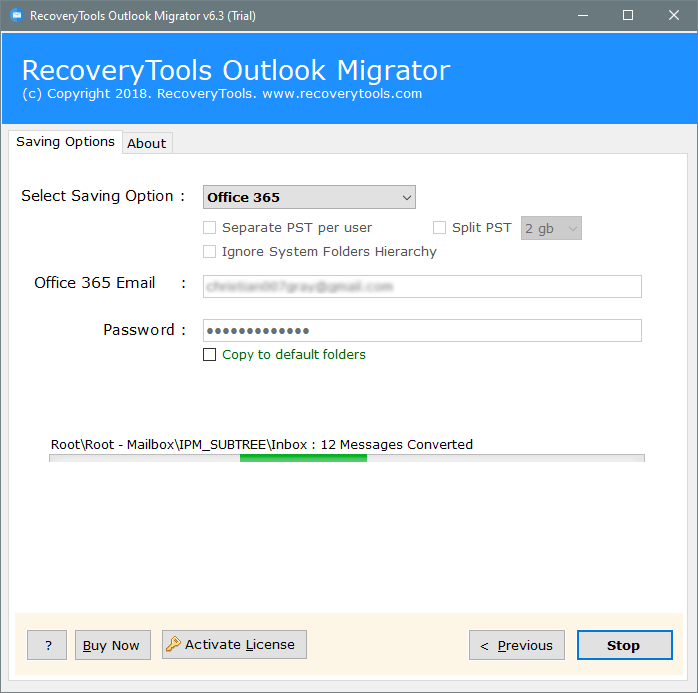 Once the conversion process is finished successfully, the tool will pop up a confirmation message box. Click on the OK button to continue.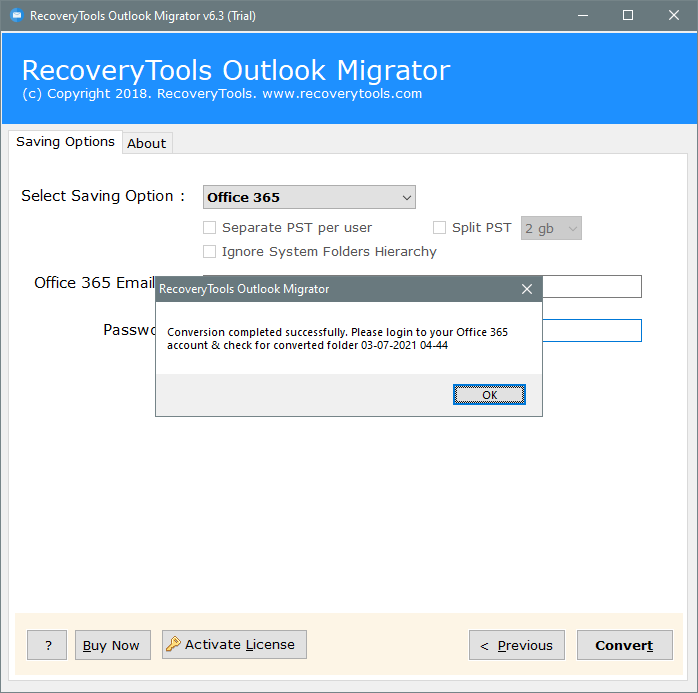 In Conclusion:
Learn in this article, how to import OST to Office 365 using two different solutions. Both the solutions mentioned above will acquire the results. Now it's your choice to continue with which solution according to your needs. Therefore, we recommend you continue with the second solution so that you can migrate the files to Microsoft 365 instantly within a single attempt without facing any issues. For further information, you can anytime connect with our technical team.