How to Import OST to Exchange Mailbox? – Complete Solution
Karen Chard
~ Published: 17-06-2022 ~ Outlook ~ 6 Minutes Reading
Get the direct method to import OST to Exchange Mailbox. Users can easily import Outlook Offline Data File i.e., OST with all details. here you will get the complete step-by-step guide to importing the data directly without facing any kind of limitations.
A user obtains the OST file when you have an Exchange account & wants to work in Offline mode or using the default Cached Exchange Mode. You can easily migrate the OST emails, contacts, & calendars to Exchange versions without any issue.
OST files are encrypted Offline Outlook Data files that store emails, contacts, or calendars. But you cannot directly import or open the OST file in Exchange Server. Hence many users choose a different path to import data. One of the manual solutions allows users to first, convert OST to PST file & then import PST file into Exchange Server. You need two different applications to perform this task.
However, we here are providing a better solution to perform the task and will import OST to the Exchange mailbox as soon as possible with no limitations.
Automated Approach to Import OST files to Exchange Mailbox
A user can easily import OST to the Exchange mailbox easily using the RecoveryTools OST Migrator tool. This utility automatically handles the whole migration process. There is no need to have any advanced technical knowledge to use this software. A user can migrate all data from the OST file to Exchange Server including emails, contacts, & calendar items without any issue.
This utility will provide users a direct option to import files to the Exchange mailbox. A user only needs to enter the account login credentials of their Exchange Server account. Along with that, this mentioned utility also supports importing into multiple formats such as OST files to PDF, importing OST to Thunderbird, importing OST to Zimbra, importing OST to Gmail, and multiple others instantly.
Download for Windows Download for Mac
Trial Limitation: OST to Exchange Converter is available for both Mac and Windows OS. It has also been released as a trial version to help users check its functionality. However, during the trial period, users can only export the first 25 emails from each folder. So, if you want to import more than 25 emails from OST file to Exchange Server, you need to activate the software first.
Simple Steps to Import OST Files To Exchange Mailbox
Install, Run & load Outlook OST files in the software.
Choose only the required OST mailbox folders.
Select Exchange Server / Hosted Exchange Server options.
Setup OST to Exchange Conversion options i.e. Enters credentials.
Click the Convert button to start the actual data process.
What Data Does the Tool will Import?
Emails: The utility supports the conversion of OST emails to Exchange Server with various details.
Email Headers – One can export OST emails to Exchange Server with complete email header details including Cc, Bcc, Size, Time, Sent Time, Received Time, or From.
Body Components – The tool supports importing all the email body components keeping them safe i.e., Inline objects, images, hyperlinks, signature, or email formatting.
Email Attachment Files – The tool supports exporting OST files to Exchange Server along with all types of inserted attachment files including DOCX, GIF, PNG, PDF, RTF, XLS, or ZIP files.
Outlook User Profiles Data – The OST to Exchange Converter will enable the users to export all Outlook user's profile data stored in the OST file into Microsoft Exchange Server.
Archived Folders – This toolkit will also enable the users to move the old archive folders from OST to Exchange Server without any size limitation. It supports A single Archive Folder, Yearly Archived Folder, or Monthly Archived Folder easily.
Contacts: A user can successfully import OST Contacts to Exchange Server with the help of Active Directory. It supports the conversion of OST Contacts, group of contacts, to Exchange Server with complete field details like:
First Name, Middle Name, Last Name, Nick Name, etc.
Date of Birth
Business Address, Personal Address, Home Address, etc.
Phone number, Personal Number, Mobile, Business Number, Fax, etc.
Personal Email Id, Business Email Id, etc.
Calendars: The OST to Exchange Tool will allow exporting of Calendars & appointments without any issue. It supports all the attributes of Calendaring items including:
Meetings
Calls
Appointments
Events
Attachments or
Any Special Occasion
Complete Steps to Import OST to Exchange Mailbox
Download and Run the mentioned tool in your existing system. Read all the Instructions.
Then, add OST files by choosing the appropriate option either by selecting files or folders from the system or by configuring the Outlook mailbox data.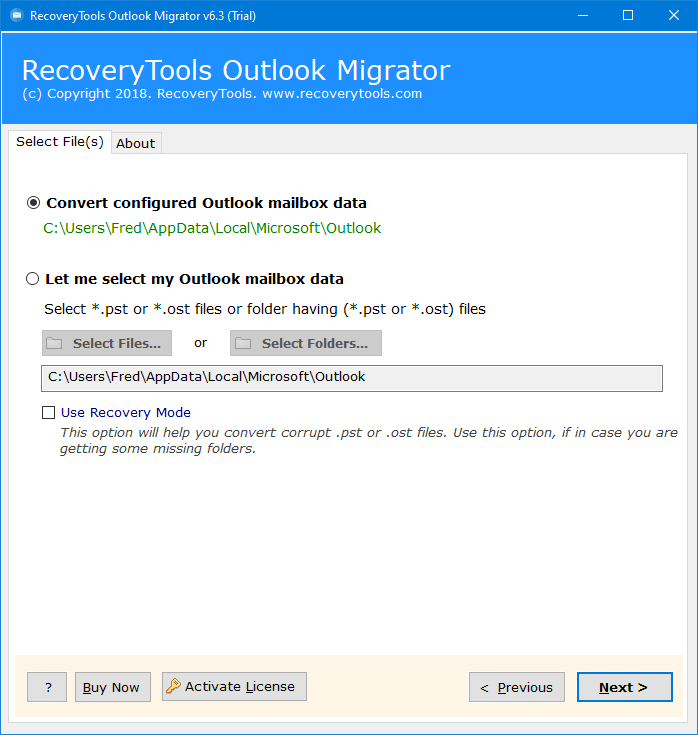 View all the OST files or folders mentioned. Select the required number of files from them.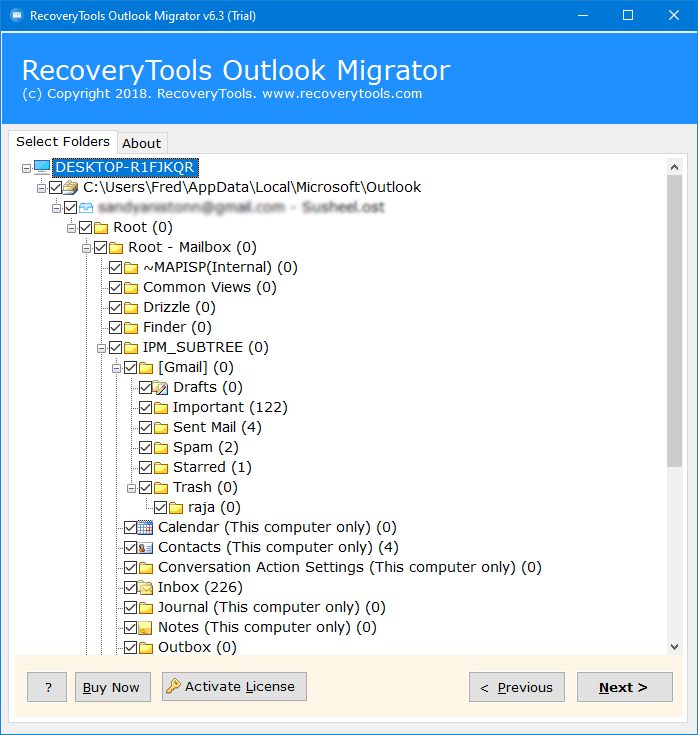 Select the Saving option as Exchange Server from the complete list of formats.
Enter the login credentials of your Exchange account and select the required options.
Click on Convert to start the process. And, in just a few minutes, you can see the data imported successfully.
The software will then generate a Saving Log Report that will give the proper details.
Key Features of OST to Exchange Migration Tool:
The utility supports the bulk importing of OST files directly into the Exchange account.
A user can also do the selective importing of the data according to their needs and requirements.
No Outlook email client installation is needed to perform the migration.
Easy to use with a simplified user-friendly interface that can be easily used by all the users whether they are from technical or from a non-technical background.
This application also has an advanced I am Admin It supports importing data from the OST file to Exchange Server Admin privileged account.
It allows the users to load files in dual ways i.e., Automatically from Configured Outlook Profile or Manually from any Specific Folder or File.
Advanced Filter Settings to carry out the needed data using different intents such as Email headers, file names, and other data.
The utility will allow the users to preview the live conversion process directly in the application panel with all the details.
You can run this toolkit on any of the Operating systems including Windows OS or Mac OS devices.
These are only a few benefits of using this OST to Exchange Import Tool. There are also multiple other features available inherited in this feature.
Conclusion:
This article will give you a complete guide to importing OST to the Exchange mailbox instantly. Moreover, there is also one other solution present in the market but that will not provide you with accurate and desired results. And hence moving forward with this approach will save a lot of your time and efforts and works more properly in a better way.