How to Import OST File to Outlook 2019, 2016, 2013, 2010, 2007?
Karen Chard
~ Modified: 25-03-2023 ~ How To ~ 6 Minutes Reading
Overview: Are you finding a method to import OST file to Outlook in Windows? Or want to open OST file in multiple versions of Outlook such as 2019, 2016, 2013, 2010, 2007, etc. If so, you are viewing the right article. In this article, we discuss a case study for how can you import multiple number of files. To get the solution in detail, just read out the complete solution till the end.
OST file stores the crucial data for saving Exchange Server but is not so easy to import files in Outlook as there is no direct manual way. These files can be opened with configured profile (Exchange/IMAP) only. Once a user disconnected the server or update the profile that time OST files get orphaned and cannot be imported into Outlook.
To import the disconnected file, we need to import them into Outlook readable format called – PST File. Manually we can't import OST files into Outlook readable format. That's why we need a proper solution.
A large number of users are having the query – how can I import OST files into Outlook 2019, 2016, 2013, 2010, etc. Some of the reasons are explained below.
User Query
I have several former employees outlook files, and need to view them, when they were copied from the former-employees computer the format of the Outlook file was .ost which I can't import into Outlook (as I don't know how to). Is there a way to import .ost files into Outlook? And finally, how would I convert them, as I believe you can do this through the Archive option within Outlook.
More Frequently Searched Queries
How to import an ost file into outlook 2016?
How to open the OST file in Outlook?
We recommend you use the second-mentioned solution to import the data directly into Outlook.
Import OST Files to Outlook Windows Manually
Here, in the manual solution, it is necessary for users to import the data using two mentioned steps:
Step 1: Convert OST Files to PST 
Open Outlook >> File Menu >> Open & Export.
Click on Import / Export >> Export to a File.
Select Outlook Data File (.pst).
Choose a specific folder or the complete account.
Check on the Include subfolder.
Enter the destination and get the file.
Step 2: Import Resultant Files into Outlook
From File Menu in Outlook, click on Open & Export.
Click on Open Outlook Data File.
And, view the OST files in Outlook.
Preferred Solution to Import OST File to Outlook
As we have discussed earlier OST files or Offline Outlook Data Files cannot be directly open in Outlook Windows. A huge number of queries are posted on the internet to find a solution. That's why we developed a solution called – RecoveryTools OST File Converter Tool. Using this application, you can easily convert all those OST files directly to PST format. Thereafter, you can import the resultant files directly into the Outlook account.
This mentioned software is also capable to convert/importing/exporting OST files such as converting OST to PDF, converting OST to EML, converting OST to MSG, importing OST to Windows Live Mail, and importing OST to Office 365, and multiple others.
OST to Outlook Import Tool Free Download:
Download for Windows Download for Mac
Note: In the trial edition of this application you can easily import 25 emails to Outlook. This process will help you to understand the working process of this tool. For more, you need to buy this product for lifetime use.
Also Read: Tool to Repair OST Files

Steps to Import OST Files into Outlook

First, run the mentioned utility in your existing system.
Select OST files with two select options.
Now, mark only the required data from the list.
Select PST option in the list of saving options.
Start the process to import the data.
How to Open OST File in Outlook 2019, 2016, 2013, 2010?
Install & Run the mentioned import tool on your existing Windows OS system.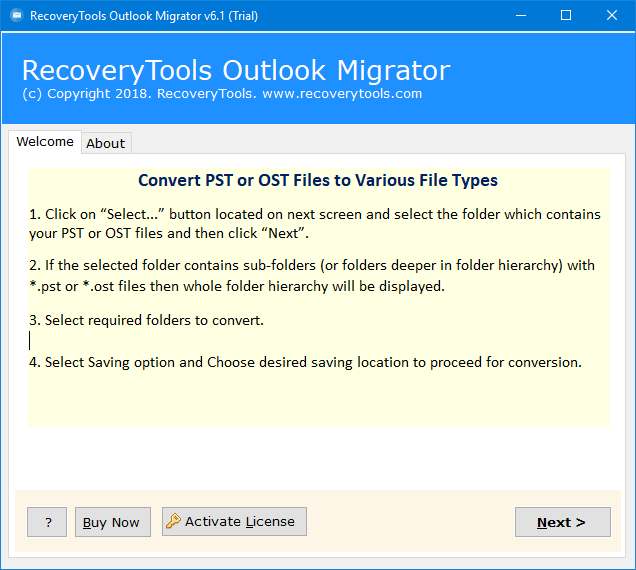 Load OST Files from the Manual path or from the default configured Outlook path. You can select them with the help of dual manual selection options – Select Files or Select Folders.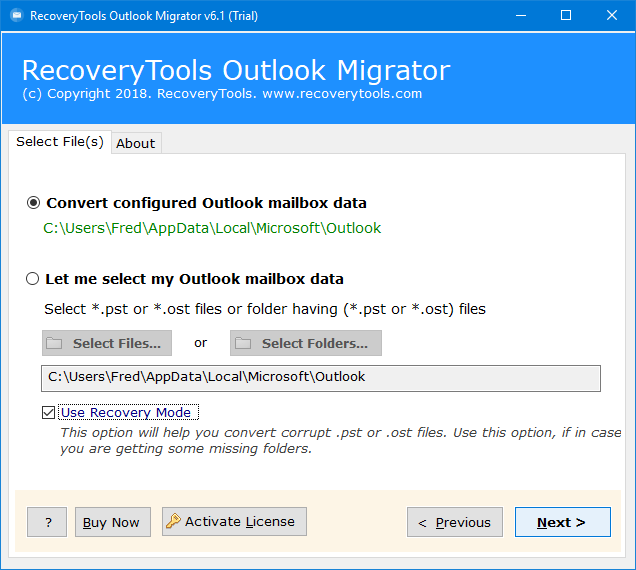 Choose only the required folders to perform the selective conversion.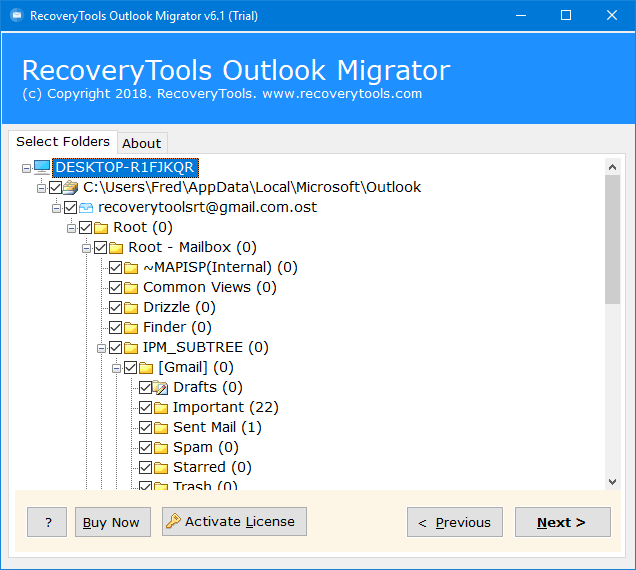 After that, choose the PST option from the list of 20+ File formats and email clients.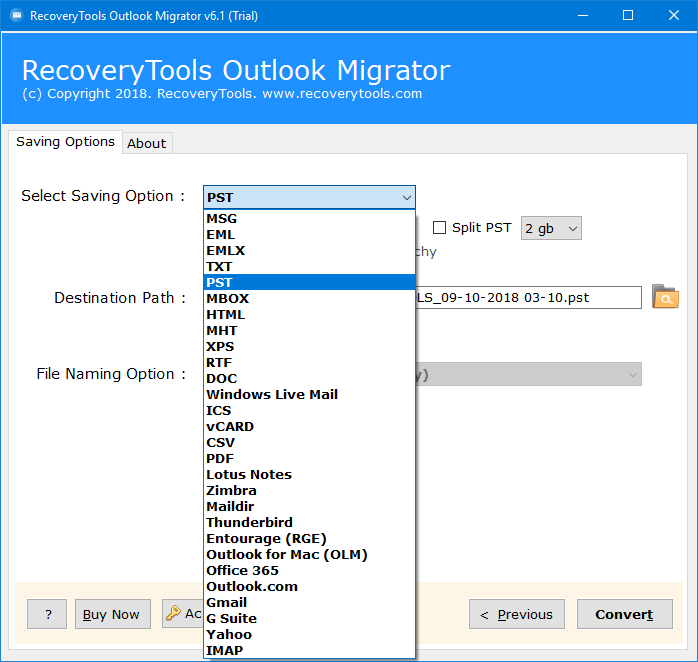 Setup file conversion options in the application panel. Enter the destination location where you want to store the data.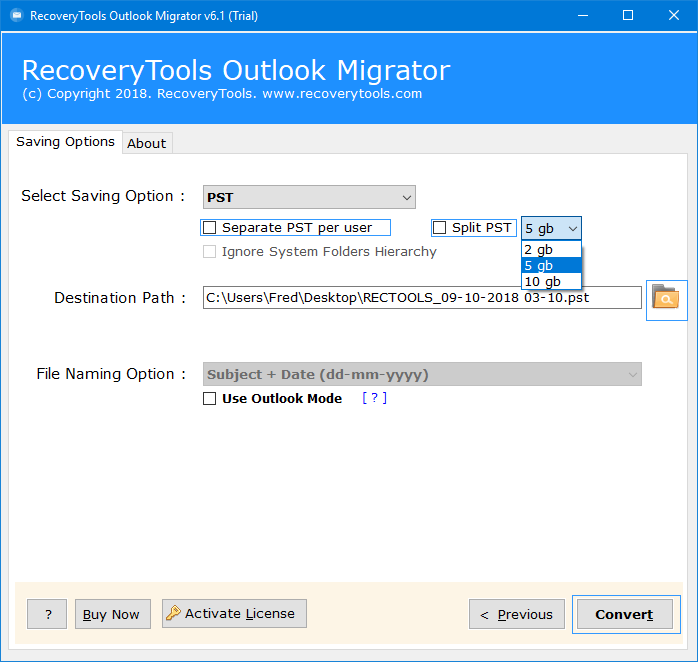 Once your setup properly clicks on the Convert button & analyzes the process.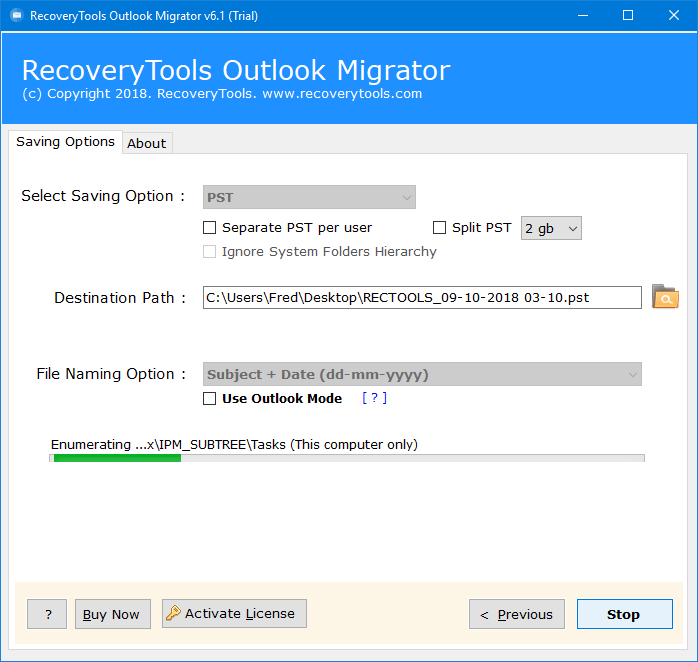 Access resultant files and then import them into Outlook Application.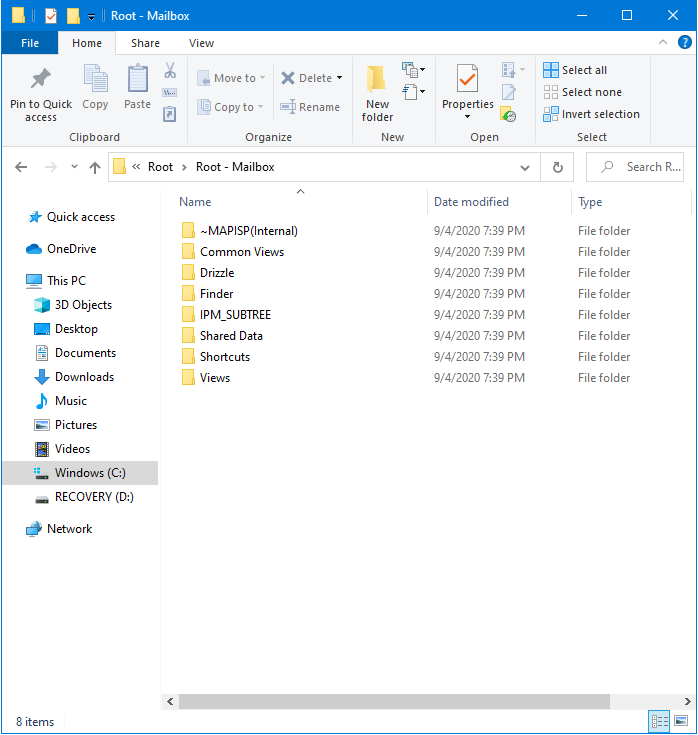 Now, you just need to import the resultant files into Outlook manually. Hence, from the above, we can easily understand that it is very easy for users to import OST files into Outlook for Windows. The software is one of the best solutions available at the present time as it provides an option to Export Emails, Contacts, and Calendars separately into Outlook.
Benefits While Using OST to Outlook Import Tool:
Preserve OST Files Metadata & Properties:
The software is designed with advanced algorithms to maintain metadata and all other properties during the import process of OST files to Outlook. The attributes like To, Cc, Bcc, Subject, Date, and Folder Hierarchy all will be kept preserved and completely secured while using this software.
The utility is no doubt one of the simplest ways to import complete data. No Outlook installation is required to perform the conversion as the software is completely standalone to perform its working.
Dual Options to Load the Data
The software is capable of its perfect AI by providing the option of loading OST files on the panel. It provides various strategies to load OST files including the manual selection of files either by Files or by Folders. Apart from it, the software also provides to load of data from the default configured Outlook profile location.
Compatible with Windows OS all Editions:
The software easily runs on all Microsoft Windows OS including Windows 10, Windows 8.1, Windows 8, Windows 7, Windows XP, Windows Vista, etc. for both 32, and 64-bit OS editions.
The Verge
In the above-discussed article, we take a brief description of all the details regarding how to import OST file to Outlook on Windows. We had discussed both the manual as well as the professional way to carry out better results. Although we recommend you to use the expert's recommended solution that is easy to use and can easily import an unlimited number of OST data without imposing any size limitation. For more information, you can anytime connect with us. And, you can also use the Demo version of this utility.