How to Import OLM to Outlook Windows 2019, 2016, 2013, 2010, 2007 ?
Karen Chard
~ Modified: 01-12-2021 ~ How To , Outlook ~ 5 Minutes Reading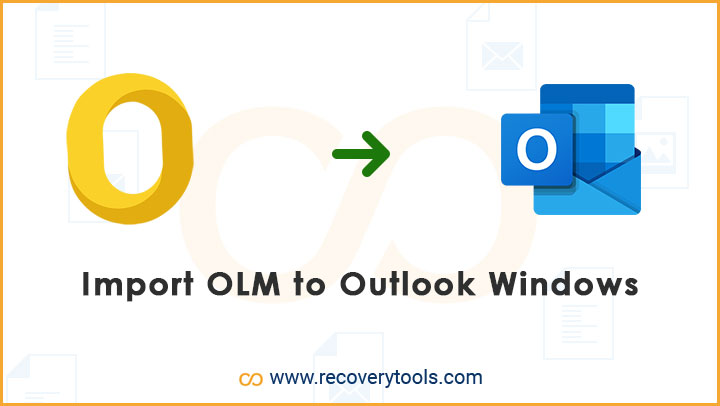 Overview: This information helps the users to find out solutions for how to import OLM files into Outlook 2016 for Windows. When a user tries to transfer Data from MS Outlook 2016 for Mac or Outlook for Mac 2011, to Outlook for Windows by importing an OLM file into Windows Outlook. It results in an error and hence restricts users to migrate OLM emails, contacts, and calendars to Outlook 2019, 2016, 2013, 2010, 2007, 2003, etc.
As Outlook for Mac exports all its mailbox items including emails, contacts, calendars, tasks, notes, journals into an .OLM archive. Unfortunately, Microsoft Outlook for Windows does not support .olm data files. A user can only import/export mailbox items into Outlook Windows using the default Outlook Data File (*.pst) file.
There are various methods that allow users to transfer emails and other mailbox items from Outlook for Mac to a Windows-based Outlook email client. One such method is by uploading OLM to an IMAP folder of the Exchange Server & then exporting Exchange data to PST file.
The file <File Path> .olm is not an Outlook data file (.pst).
Outlook for Windows allows to access the data which is available or located in Exchange Server. Windows Outlook can connect to the Exchange Server by either using Cached Exchange Mode or Online Mode. Users can also use Export-mailbox shell cmdlet from Server PowerShell to export Exchange mailbox data to an Outlook PST file.
However, the above-discussed free method is not suitable for non-technical users as it is very complex and time-consuming. Hence it is recommended to choose a professional way to Export the Mac OLM file to Outlook 2016. One such method is the use of third-party OLM to PST Converter Software.
Recommended Solution: Import OLM to Outlook Windows
To easily export contacts, calendars, and emails from Mac Outlook to Windows Outlook, a third-party application is designed specifically which manages and controls everything regarding Outlook for Mac to PST file conversion. One such application is RecoveryTools OLM Migrator which provides a separate option to create a single or separate PST file for each OLM archive file. The utility is able to batch convert multiple OLM files in Outlook Default Data File format. In order to perform safe & secure conversion, the working procedure is explained below:
Get the Solution Now:
Steps to Import OLM to Windows Outlook
Launch the solution on your computer.
Select the OLM files with dual selection options.
Choose the required folders from the list.
Select the PST option and set the location path.
Start the process to import OLM to Outlook Windows.
How to Import OLM file into Outlook Windows?
Download the software and Install & Launch on Windows PC.
Read all important instructions carefully from the application panel.
The software will provide dual methods to load Mac OLM files.
Choose the File or Folder Containing file & click on Open
Reverify the source Folder path and click Next.
The utility will extract and display all OLM mailbox items including email folders, contacts, calendars, etc. with proper folder hierarchy. Select only the required items to convert and then click on Next.
A list of 20+ File Formats and email clients will be displayed which asks the users to export OLM files into the desired format.
Choose the PST option from this list and then set up File Conversion options. Users can set Destination path, PST file language, Option to create separate PST for Each OLM, etc. Take desired actions according to the users' requirements.
Once you did it properly, click on the Convert button to initialize this process.
A live conversion process can be analyzed directly into the application panel.
After the conversion process is finished successfully, a confirmation message box will be displayed. Click on the OK button to finish the conversion process.
As the message box closes, the software will instantly open the destination folder path. Access the resultant PST file from here and import it into Outlook 2016.
Exclusive Features of OLM to Outlook Windows Converter:
This application provides numerous advantages and functionality to its users:
The utility allows us to move all items of OLM files into PST files including emails, contacts, calendars, tasks, notes, journals etc.
The software properly maintains the integrity of data and make sure to perform 100% accurate
This application is completely secured from all Virus & Malware infections and is 100% safe to use.
The Outlook for Mac to PST Converter software provides separate option to export OLM contacts to Outlook Contacts
The software is completely standalone to do its working and hence ensures no Outlook mail client installation necessary.
The utility offers conversion of selective OLM items to PST file format without offering any file size limitation.
One can export an unlimited number of OLM files into Outlook exported from both Mac Outlook 2016, and 2011 clients.
This application offers batch conversion of multiple OLM files to single or separate PST files.
Asks the users to save resultant PST files at the required storage location.
Allows us to export all embedded attachments from OLM file to PST file.
Allow selective conversion of Files or Folders without creating new hurdles.
The software securely preserves the internal system folder hierarchy and structure.
The Verge
A large number of users are requesting a way to import OLM files to Outlook Windows. There are various solutions available to export OLM files to PST files including free and advanced solutions. Free & manual methods are a great way to reduce the operational cost of the company. But manual methods are very time-consuming as well users require in-depth technical knowledge to accomplish this task successfully. Users may also face data loss as well it also does not allow the users to convert corrupted OLM files to PST files.