How to Import OLM File to Outlook Windows?
Overview: This informative guide will help users import OLM to Outlook for PC. Whenever you try to transfer MAC OLM data to Windows Outlook, you might come across some unwanted errors. It causes an error and restricts users' ability to migrate OLM emails, contacts, and calendars to Outlook 2021, 2019, 2016, 2013, 2010, 2007, 2003, etc.
As Outlook for Mac exports all its mailbox items including emails, contacts, calendars, tasks, notes, and journals into an OLM archive. Unfortunately, Microsoft Outlook for Windows does not support .olm data files. A user can only import/export mailbox items into Outlook Windows using the default Outlook Data File.
The file <File Path> .olm is not an Outlook data file.
There are various methods that allow users to import OLM file to Outlook for Windows. One such method is by uploading OLM to an IMAP folder of the Exchange Server & then exporting Exchange data to PST file.
Outlook for Windows allows to access the data which is available or located in Exchange Server. Windows Outlook can connect to the Exchange Server by either using Cached Exchange Mode or Online Mode. Users can also use the Export-mailbox shell cmdlet from Server PowerShell to export Exchange mailbox data to Outlook.
However, above we have discussed the free method which is not suitable for non-technical users as it is very complex and time-consuming. Hence it is recommended to choose a professional way to Export the Mac OLM file to Outlook 2016. One such method is the use of the professional OLM to PST Converter Software.
Professional Solution to Import OLM to Outlook Windows
To easily export contacts, calendars, and emails from Mac Outlook to Windows Outlook, an automated application is designed specifically which manages and control everything regarding OLM to Outlook file conversion.
The magical recommendation is RecoveryTools OLM Migrator. This application is capable of batch exporting OLM files to Outlook for PC. In addition, it has a separate option to create a single or separate PST file for each OLM archive file. With this app, you can also convert into other savings like OLM to EML, etc.
In order to perform a safe & secure conversion, download the software and follow the procedure mentioned below:
Get the Solution Now:
Download for Windows Download for Mac
Quick Steps to Import OLM to Windows Outlook

Use "Select Files" to add the OLM files.
Choose required OLM folders to import.
Select "PST" option and set the location path.
Click "Convert" to export OLM files.
Import OLM to Outlook Windows.
How to Import OLM file to Outlook Windows – Detailed Guide
Download the software and Install & Launch it on Windows PC.
Read all important instructions carefully from the application panel.
The software will provide dual methods to load Mac OLM files.
Choose the File or Folder Containing the file & click on Open
Reverify the source Folder path and click Next.
The utility will extract and display all OLM mailbox items including email folders, contacts, calendars, etc. with a proper folder hierarchy. Select only the required items to convert and then click on Next.
Afterward, a list of 20+ File Formats and email clients will be displayed which ask the users to export OLM files into the desired format.
Choose the PST option from this list and then set up File Conversion options. Users can set the Destination path, language, the Option to create separate PST for Each OLM, etc. Take desired actions according to the users' requirements.
Once you did it properly, click on the Convert button to initialize this process.
A live conversion process can be analyzed directly into the application panel.
After the conversion process is finished successfully, a confirmation message box will be displayed. Click on the OK button to finish the conversion process.
As the message box closes, the software will instantly open the destination folder path. Access the resultant PST file from here and import it into Outlook.
Also Read: How to Import OLM file to Office 365 Account.
Got the PST File? Now, Import it Into Outlook
The aforementioned tool makes it easy to get PST files. This file contains all the OLM data. The steps are as follows:

Select Open & Export, then click on Import/Export (Import or Export files and settings).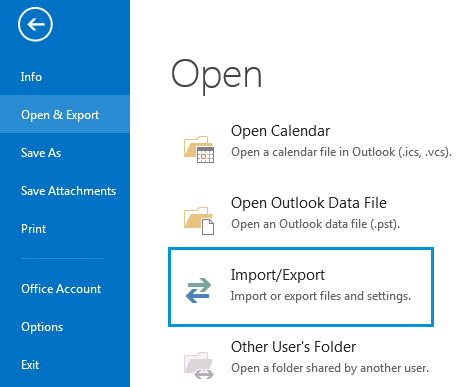 An Import & Export Wizard will open. Select Import from another program or file and click on Next button.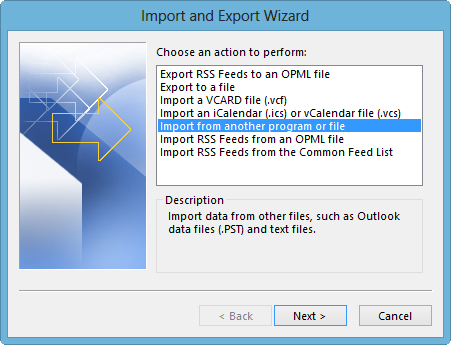 Import a File window will appear. Select Outlook Data File (.pst) and click on Next button.
In the Import Outlook data file window, add the PST file containing all the OLM data and click Next.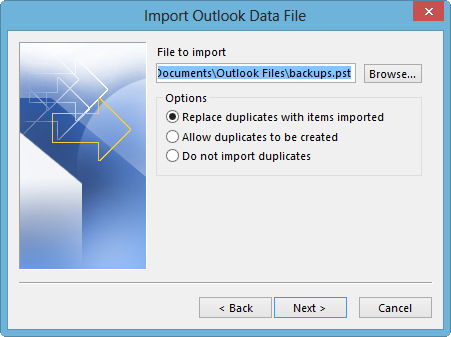 Choose where you want to import this file and click on the Finish button.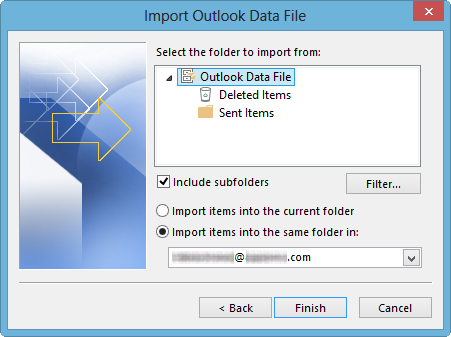 Finally, the user has successfully imported OLM file to Windows Outlook.
Why Automated Solution is a Prime Choice for Users?
This application provides numerous advantages and functionality to its users:
The utility allows us to move all items of OLM files into Windows Outlook files including emails, contacts, calendars, tasks, notes, journals, etc.
Import OLM to Outlook by maintaining complete data structure and integrity.
This application is completely secured from all Virus & Malware infections and is 100% safe to use.
The OLM to Outlook Windows Converter software provides a separate option to export OLM contacts to Outlook Contacts
The software is completely standalone to do its work and hence ensures no Outlook mail client installation necessary.
The utility offers the conversion of selective OLM items without offering any file size limitation.
One can export an unlimited number of OLM files into Outlook regardless of its origins.
This application offers batch conversion of multiple OLM files to single or separate PST files.
Asks the users to save resultant PST files at the required storage location.
Allows us to export all embedded attachments from the OLM file.
Allow selective conversion of Files or Folders without creating new hurdles.
The software securely preserves the internal system folder hierarchy and structure.
The Verge
A large number of users are requesting a way to import OLM file to Outlook Windows. There are numerous ways available to accomplish the task. Free & manual methods are a great way to reduce the operational cost of the company but it requires patience and time. For instant and accurate results users can go with an automated solution to import OLM to Outlook for Windows all editions.