How to Migrate iPhone Contacts to Office 365 Account – Solved!
Karen Chard
~ Modified: 20-07-2022 ~ How To ~ 6 Minutes Reading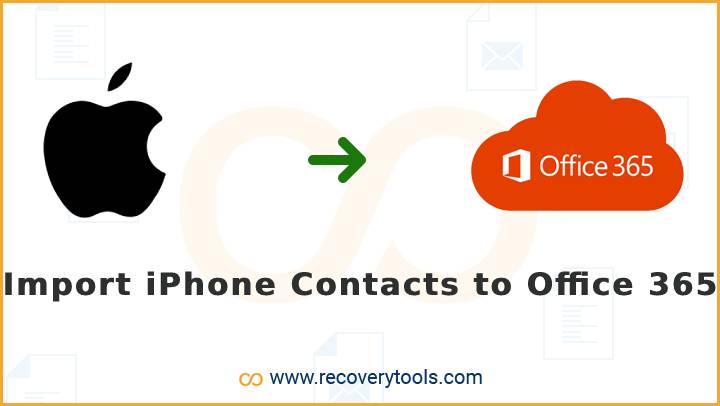 Are you one of those who are finding a method to import iPhone Contacts to Office 365 account? If so, then your finding end's here. Because in this post, we will explain the ways to migrate iPhone contacts to Microsoft 365 accounts. So, if you want to know how to sync iCloud contacts with Office 365 account, then read this post completely.
We live in an advanced era, where are millions of people using smartphones and they have downloaded thousands of applications that help them to accomplish their daily tasks. Most people prefer to keep mobile contacts with them so that they can communicate with others wherever they are. But there are lots of times, we need to share and move some contact information with different platforms.
We are always on the move and we all use our phones to stay in touch. To stay connected, we call text, email, or chat online. Mobile phones have changed the way we communicate. But all this work happened because of our contact list. That's why people save their contact lists on different platforms.
Office 365 is a Microsoft subscription service that lets you access the latest version of Office for a low price. A cloud-based solution means that it is available anywhere and anytime. Using Microsoft 365 platform, you can also access Outlook, OneDrive, SharePoint, Skype for Business, Yammer, and more.
Reasons to Import iPhone Contacts to Office 365
There are so many reasons why people want to import iPhone contacts into Office 365 account. In the first place, you will get a huge number of contacts in a single place. Then, you can also organize them by name and date which we can't do with the help of the iPhone. Another reason is we can easily create a backup copy of entire iPhone contacts in Microsoft 365. A user query explains another reason.
"Hi, I have been using a Microsoft 365 family account for the past few years. Recently I got a new Android phone for my birthday. But currently, I have an iPhone which I am using since 2019. My Android phone is synced with my Office 365 account. But I want to share some contacts from my iPhone. So I need to transfer iPhone contacts to Office 365 account. But there is no way to import iPhone contacts into Office 365. Do you know any method!"
In order to manage, backup, and business purposes most iPhone users want to move their contacts into Microsoft 365 platform. That's why we developed the best solution to export iPhone contacts for Office 365 accounts. But before we explain the process, let's learn the way to export contacts from Office 365 accounts.
Read More Articles:
How to Export Contacts from iPhone to Computer?
In order to export iPhone contacts to a computer, you need to connect your phone with an iCloud account. After that, open your phone setting and sync your iPhone contacts with iCloud.
Login with your iCloud account with your credentials.
Open the Contacts app in the control panel.
Choose settings options and select export vCard file.
Choose the path where you want to save vCard files.
Close your account and download the RecoveryTools solution.
Solution: Import iPhone Contacts to Microsoft 365 Tool
RecoveryTools vCard Converter is one of the advance and handy solutions. Using this application users can convert iPhone contacts for Office 365 account. While the process, the solution maintains contact properties and its fields. Also, you can arrange or manage your contact fields using Mapping options. The solution offers several file encoding options to easily manage your contact's data. You can download the solution on your Windows Computer easily.
Download the Solution Now:
How to Migrate iPhone Contacts to Office 365 Account?
First of all, you need to launch the solution on your computer.

It offers dual selection options to choose several iPhone contact files.

You will also get free view of selected iPhone contact file in the panel.

Press convert button and choose CSV option in the list.

Choose location to save resultant data by default is desktop location.

Start the process to migrate iPhone Contacts for Microsoft 365 account.

Access your resultant file from selected destination location path.

Open your Microsoft 365 account on your computer.
Go to the People option in the menu option.

Now, you need to select the manage contacts option and select the "Import Contacts" option.

Then, you need to browse the iPhone converted CSV file and press the import button.

After a few minutes the process is completed.

Features & Advantages of iCloud to Microsoft 365 Tool
Two Options for File Selection: There are two types of selection options we can provide on our solution: Choose Files and Folders. These options are helpful when you need to choose multiple iPhone contacts files at once.
Free Preview of Contacts: It offers another best option that is unable in most of the applications. It allows you to view contacts in all selected files in the user interface panel.
Maintain Contacts Fields: If you want to export iPhone contacts to a different format, then this application supports a large number of saving options. Also, while the conversion procedure, it keeps all original details.
Windows Supportable Product: The product supports all Windows machines. You can easily install this product on all older and newer versions of Microsoft Windows. In fact, you can also use this application on your Windows 11 computers.
Resultant Location Selection: The product provides another best solution to their clients – Destination Path. Now, you can easily select the resultant location path without getting any issues.
Simple and Easy to Use Place: There are lots of applications available on the internet which are unable to provide a simple user interface panel. That's why we developed a tool that comes with an easy-to-use GUI.
Final Words
There are many reasons why importing contacts from iPhone to Office 365 can be beneficial. A large number of people searched for its solution again and again on the internet. That's why we developed a solution for those users who learn the process to import iPhone contacts to Office 365 accounts. You can download the program on your Windows computer for free. If you want more help, then contact the technical team.