Guide to Export & Transfer Emails from Gmail to Outlook
Karen Chard
~ Modified: 14-10-2022 ~ Google ~ 7 Minutes Reading
In this article, you will learn how to transfer emails from Gmail to Outlook without any issues. Although, the mentioned query is difficult to solved but still, it is 100% guaranteed that the end of blog users can easily export all emails to Outlook  2019.
Gmail is a common well-known Webmail Service that is easy to use and provides better-advanced features to all users. But a number of users are moving to Outlook when it comes to managing the entire business data. However, if you continue with the manual solution then it will take much time and effort. So, we have finally come up with one of the professional solutions that can easily export Gmail emails to Outlook.
There are many users who want to know how to transfer Gmail emails to Outlook 2019 but obtaining the best solution is still a matter of high demand. You'll be prompted to choose a professional set of tools for exporting the data.
Hi, I have a lot of emails with important files in my Gmail account, so I want to instantly export them to Outlook. Is there an easy solution? Please help me…
I am thinking to move to a better Cloud Email Services such as Outlook. Right now, I am using Gmail account and wants to export my entire data along with email elements. Is there any solution present that can helps me to export Gmail to Outlook?
Manual Transfer Gmail Emails to Outlook
There are multiple solutions present on the Internet but still, users are facing a lot of issues. Here, we will discuss the complete manual solution in-depth. We will take the help of Gmail and Outlook to export the data instantly. Follow the steps to start the process:
Step 1: Enable IMAP in Gmail 
Login to your Google Mail account >> go to "Settings".
Click on Forwarding POP/IMAP >> Enable IMAP.
Save the changes.
Step 2: Export Gmail to Outlook
Go to Outlook. Select File >> Add Account.
Log in with your Gmail credentials there and click on Connect.
Click on Next >> Finish. 
After performing both steps users can easily transfer emails from Gmail to Outlook 2019. Also, there is an automated solution available that lets users export the data in a fraction of seconds.
Best Tool to Export Gmail to Outlook
RecoveryTools Gmail Backup Tool is one of the perfect tools that allows users to transfer emails to Outlook instantly. The tool provides an easy-to-use graphical user interface that can be easily used by all the existing users. It is possible to load the entire Gmail data on the panel just by entering the login credentials and configuring the account.
The software also provides a unique filter option to carry out some needed data present on the panel using different intents. In the end, users can also Apply the Filters option to export the required number of data. It also supports 20+ formats such as saving Gmail as a PDF, exporting Gmail emails to PST, Gmail to Office 365, migrating Gmail to Outlook.com, Gmail to Google Drive, and others.
Free Download Gmail to Outlook Transfer Tool setup from here:
Download for Windows  Download for Mac
Trial Limitation: The free trial version of the given tool will enable the users to export only the first 25 emails from each folder. Users need to first activate the software by purchasing its license. There is no file size limitation imposed while completing the procedure.
Steps to Transfer Emails from Gmail to Outlook:

Run the mentioned Transfer Tool.
Configure your Gmail account.
Select the needed mailbox items.
Choose PST as the file saving option.
Get the resultant files.
Import the files into Outlook. 
Professional Tool to Export Gmail to Outlook
Firstly, install and run the mentioned software.
Enter account login credentials of Gmail account to load data.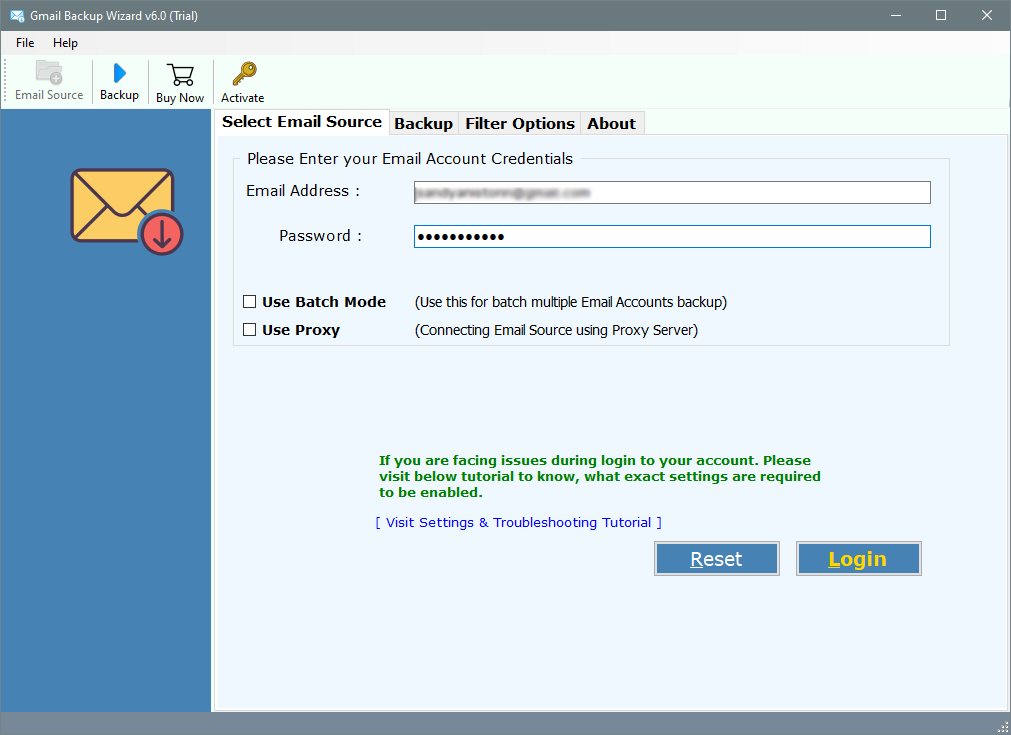 Select the needed Gmail files or folders from the entire data to transfer emails from Gmail to Outlook .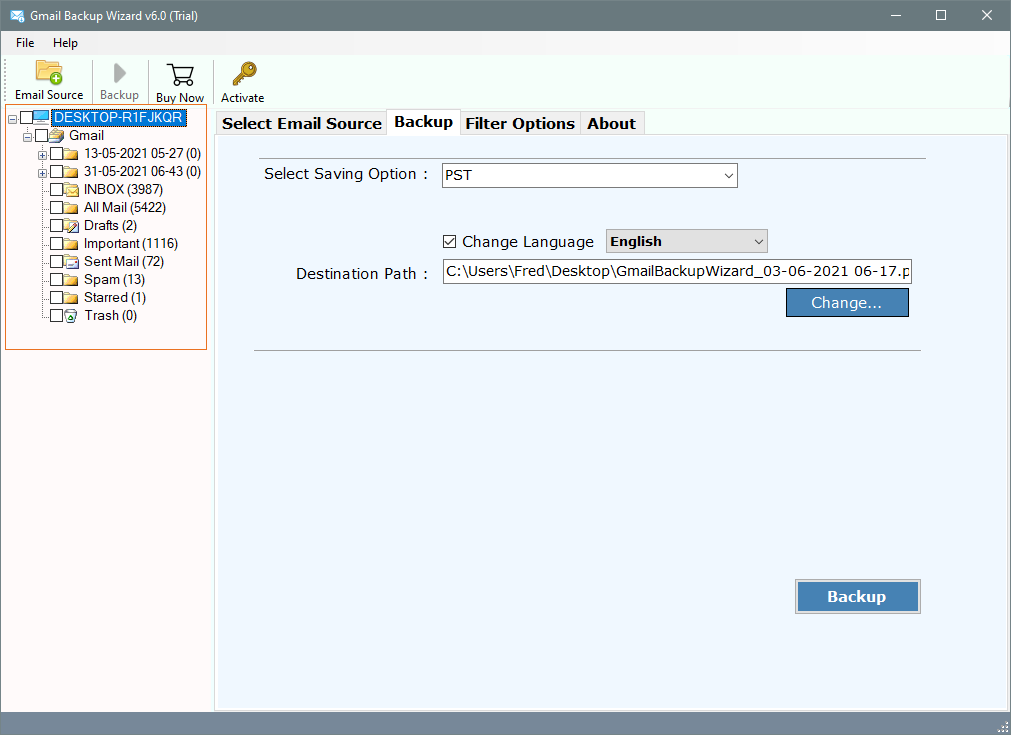 Select PST as the file saving option from the list of formats.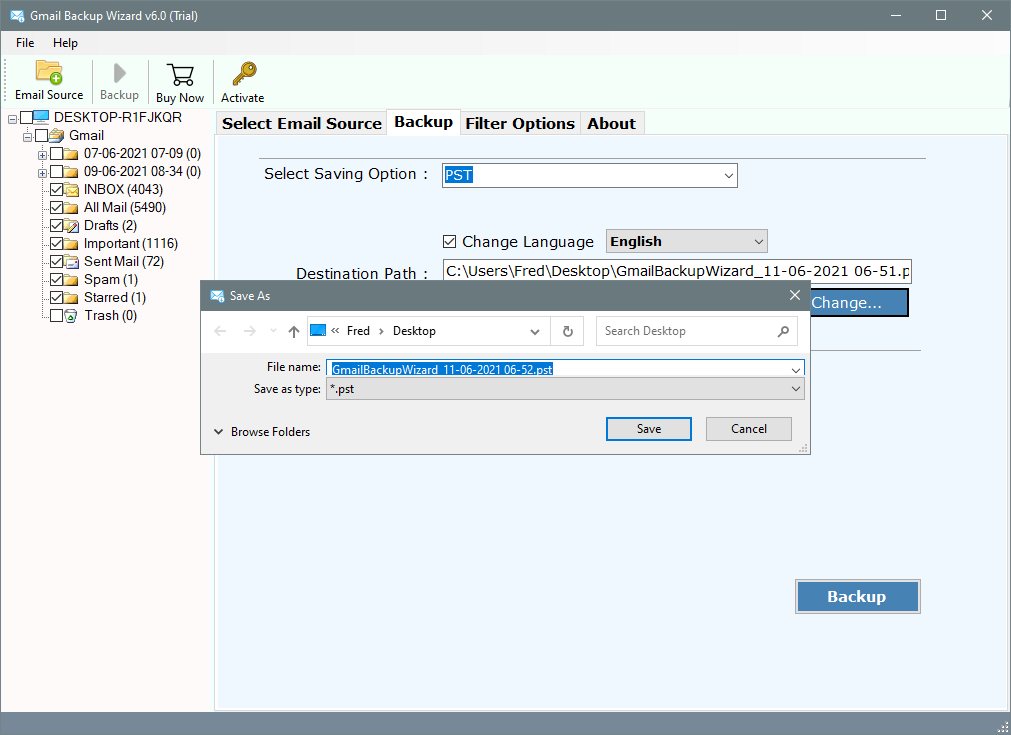 Enter the destination location where you want to store your exported data and click on Backup to start the process.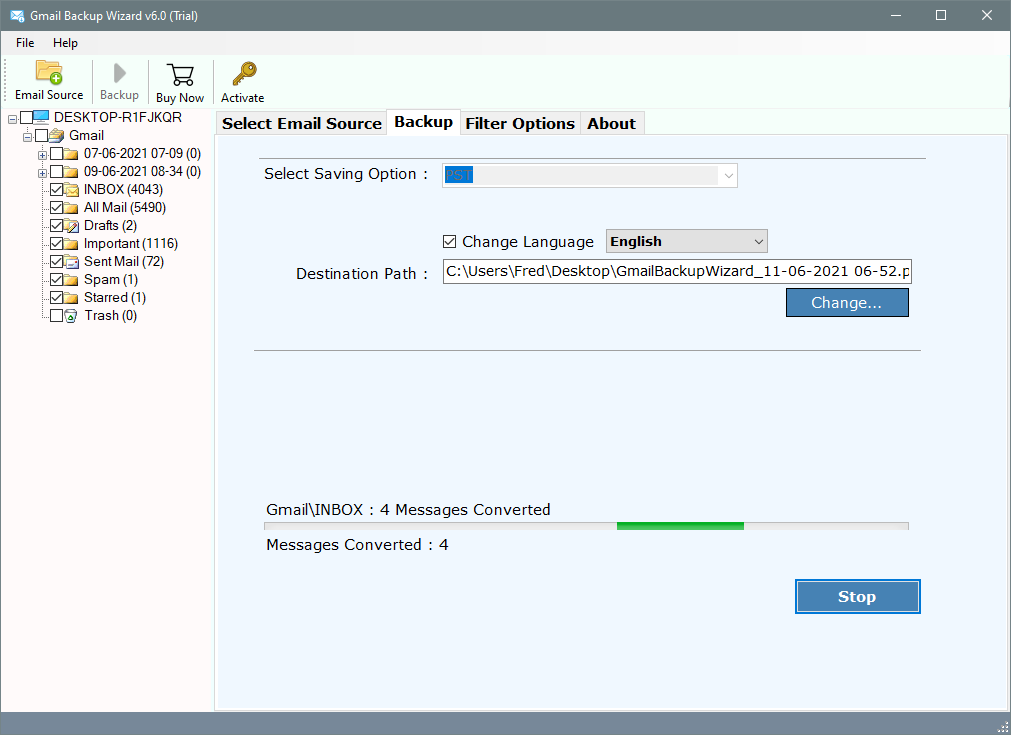 After that, click on the OK button once you will see the finally exported message on the screen.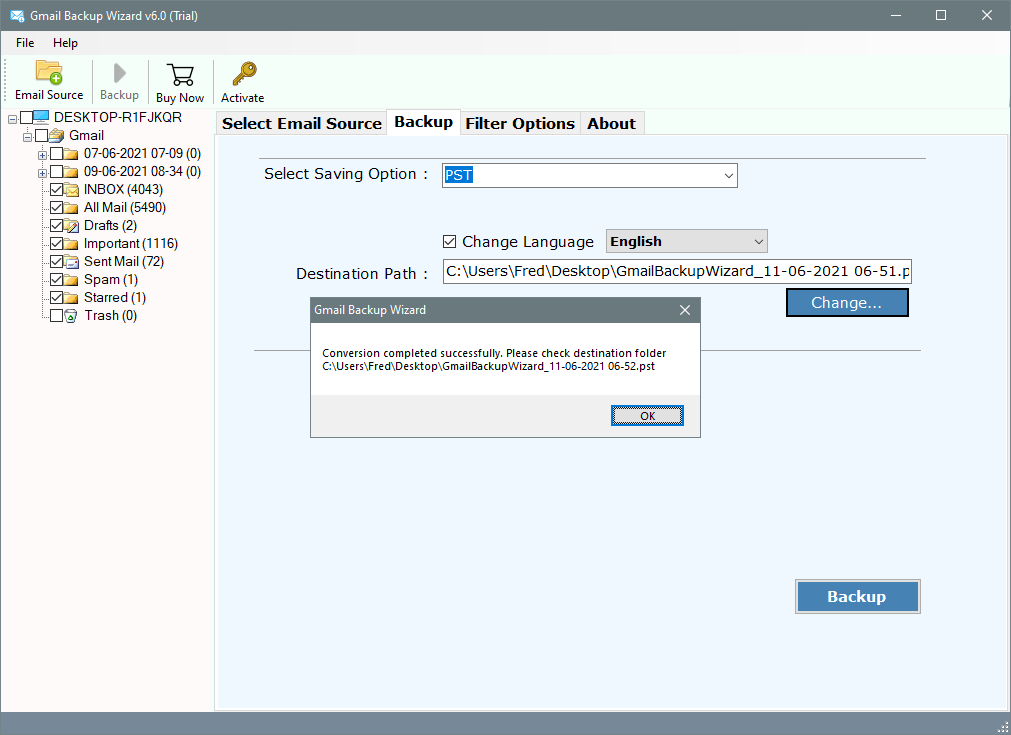 Access the resultant Outlook Data file from the destination location and then import this data into the latest Outlook edition.
In the end, the software will generate a SavingLog report.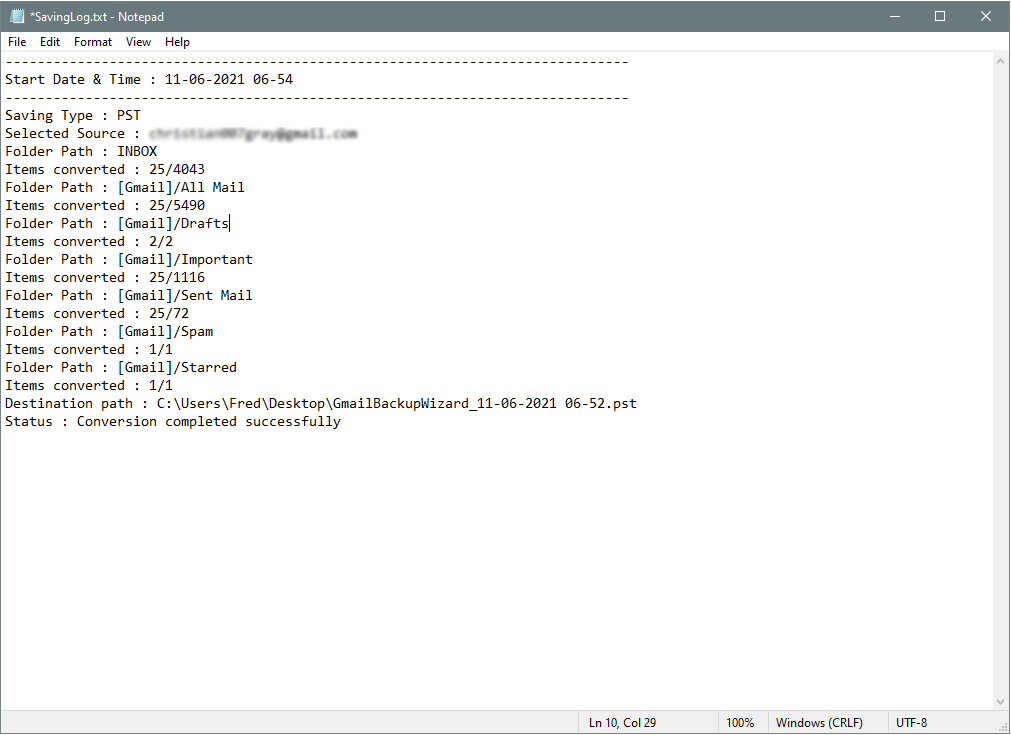 Video Tutorial to Generate App Password:
As the whole process is completely free from all the limitations of technical knowledge. It is very easy to use and transfer emails from Gmail to Outlook 2019 in a few moments. Furthermore, it also proves to be very beneficial to the users, especially in terms of speed and accuracy.
Hence, first, you need to export Gmail to PST and then import the resultant file to Outlook and start the process.
Import Resultant Files to Outlook

Open Outlook in your system.
Go to File Menu >> Open & Export. 
Click on Import / Export >> Import from Another Program. 
Choose Outlook Data File (.pst) and Next.
Select folder where your resultant files has been stored and Next.
That's it for the automated solution to download all Emails from Gmail to Outlook 2013. Now, let's check out some of the key benefits offered by the toolkit.
Quick Glance at Prime Functionality of Gmail to Outlook Transfer Tool
The software is easy-to-use and provides a simplified GUI that can be easily used by all users.
Possible to load the entire mailbox items on the panel just by configuring the Gmail account.
Perform selective conversion of Gmail Account mailbox items to Outlook with the help of multiple filter settings. You can apply these settings on the basis of To, From, Date Range or Subject, etc.
Retains the email attributes and meta properties of all the Gmail mailbox items with 100% accuracy.
The entire data consistency will be maintained throughout the process. While transferring an unlimited number of emails, there will not be any loss of data.
View the entire Gmail mailbox data in different modes such as content view, hex view, raw message, message headers, and other data.
Creates a UNICODE PST file that can be easily imported by all the versions of Outlook whether it is of Outlook 2019, 2016, 2013, 2009, and other versions.
Runs on all the latest as well as the previous versions of Windows OS and Mac OS.
Also, it does not require any extra installation and hence, it is self-sustainable.
Conclusion:
This article is helpful for the users in finding the solutions for how can a user transfer emails from Gmail to Outlook. The process is difficult to perform but the mentioned solution makes it easy for us to carry out the desired results. Also, it is one of the effortless and best tools while comparing to other solutions present in the market. Access the utility and feel free to export Gmail to Outlook 2019. In addition, you can also continue with the trial version to export the first 25 items from each folder at once, and then anytime, you can continue with the premium version.
Also Read: