How to Export Outlook Contacts to PDF Documents?
Karen Chard
~ Published: 02-08-2022 ~ How To ~ 6 Minutes Reading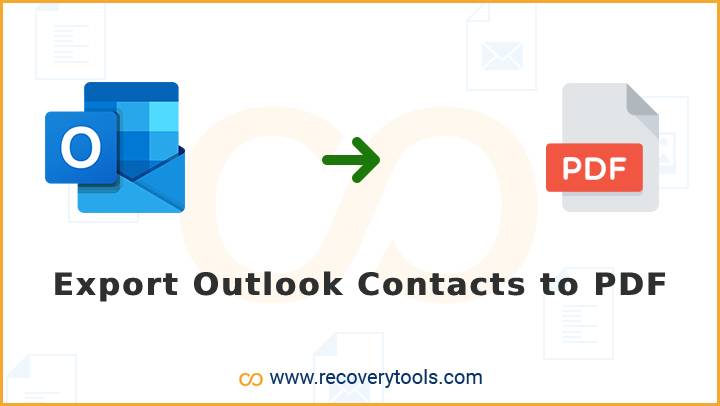 Looking for a method to export Outlook Contacts to PDF document files? Or want to print Outlook contacts to soft copy format? If yes, then your searches end here. In this tutorial, we'll be discussing how to export Microsoft Outlook contacts to PDF document. So, continue reading this post to know more.
Microsoft Outlook is an email program that you can use on your computer to manage all your emails, contacts, calendars, etc. This is one of the most popular and widely used e-mailing tools. It is easy to use and provides great features that allow you to do a lot more than send out email messages.
In today's world, we often use email and documents to communicate. One of the most popular ways of sending documents is to use PDF format. PDF files are very convenient. With them, you can read documents, save pictures, and store data to share with someone, and can easily print with printers. That's why people looking for a solution to export Outlook contacts to PDF file.
Reasons to Export Outlook Contacts to PDF File
Printing the contacts on a PDF file is a convenient way to carry your contacts with you. You can put your contact information on a PDF file to share your contacts and print your contacts easily. That's why a huge number of client's want to save Outlook Contacts to PDF file. Some common reasons explain below:
Portable Format: One of the main reasons to use PDF files is that they are very portable. Because they are portable, you can carry them with you wherever you go.
Print Outlook Contacts without Printer: With PDF files, you don't need a printer. If you take your computer with you, you don't need any paper to print out your documents.
Copy Outlook Contacts in Non-Changeable Format: It is important to have PDF files for your Outlook contacts so you can restore them when needed. It will allow them to store your Outlook contacts for a while. Also, a PDF is not an easily changeable format. That's why your contact prefers a long.
There are many benefits of using PDF files. These include security, efficiency, and ease of use. That's why people want to export Outlook contacts to PDF files.
More Helpful Posts:
Solution: Print Outlook Contacts to PDF Document
In today's world, it is really a challenge to find a perfect solution for saving Outlook contacts to PDF files. We have many tasks to perform to accomplish our goals. That's why we need a proper solution for that. RecoveryTools Outlook PST Migrator Utility is the perfect solution for that. It offers several advance features which allow you to easily access Outlook data and save them into different formats.
Download the Solution Now:
Download for Windows Download for Mac
How to Save Outlook Contacts to PDF Files?
Download the Solution on your computer.

It offers an advance option called auto-detect. This option used to trace Outlook data files from default location.

If you don't have Outlook, then you can use the manual options to choose Outlook files.

Now, browse only required contact folders from the list.

Choose the required PDF option in the list of file-saving options.

Set the additional options or resultant path where you want to save PDF files.

Start the process to export Outlook contacts to PDF file easily.

Features and Benefits of Outlook Contacts to PDF Tool
Auto-Locate Outlook Files: We all have lots of files and documents saved on our computers. And lots of applications store their data on our computer default locations. But we often forget where we stored them. That's why RecoveryTools developed a solution that automatically locates your Outlook data files.
Dual Manual Ways: You probably have too many folders and files on your computer. You can also have more than one hard drive. In that, we don't easily find the right Outlook data files. That's why RecoveryTools lab developed a method to easily detect and use your offline Outlook data files.
Windows and Mac Supportable Tool: The program is available for Windows and Mac computers. You can easily install it on your Mac as well as Windows latest editions. Including the Windows 11 computer easily.
Simple and Easy to Use GUI: A graphical user interface is a way to provide easy-to-use controls and menus in a computer program. RecoveryTools use an easy-to-use controls interface for all types of users who can easily use this application without any issue.
Print All Contact Details without any changes: The solution print all Outlook contacts into PDF document without any changes. Because it preserves all contact properties while the process. And there will be no changes in the original contact list.
Manual Solution: Print Outlook Contacts to PDF Document
You can also use Microsoft Outlook to print Address Book details. For that, you need to follow the below steps:
Launch your Microsoft Outlook edition.
Now, open your People List and Outlook contacts on your machine.
Here, you will find contacts. Select which you want to print as PDF.
Now, press CTRL + P or go to the menu and click on the print button.
Choose the Print as PDF option and save them as PDF documents.
Limitation: Before you start working with the manual method, you need to be aware of some limitations. One limitation is that you cannot contact from Outlook data files directly. If you have been doing the manual method, you might be wondering what is wrong with your progress. Well, a manual process requires more technical knowledge. And you can only print contacts one by one. If you want to get all Outlook data in document format, then use the professional method.
Final Words
The manual method has its limitations. That's why we have explained a solution to export Outlook contacts to PDF easily. If you are one of those who don't want to use the manual way and need a professional method. Then download the above solution on your machine now. This application is one of the great methods to save Outlook contacts to PDF files. For more details, you can also contact us without any problem.