How to Export Office 365 Contacts to vCard/VCF File – Solved!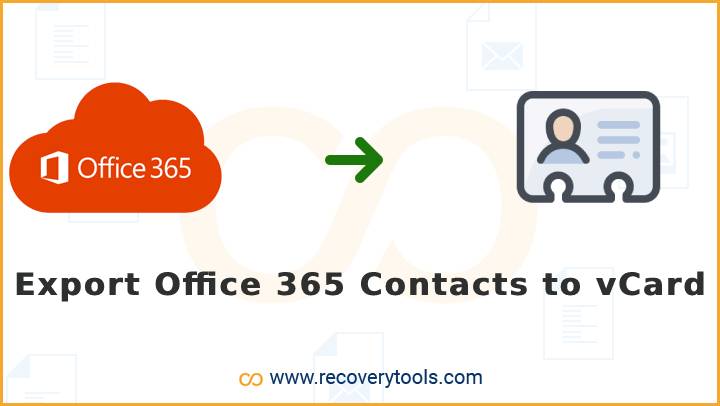 Are you wanted to know how to export Office 365 Contacts to vCard file? That's why you are looking on the internet to find the methods. Don't Worry! In this article, we will explain a simple procedure of steps to export Outlook 365 contacts to VCF file. So, keep reading this post.
Microsoft Office 365 is a suite of online applications that allow users to create, edit, share, and manage documents, spreadsheets, presentations, drawings, images, and videos from a web browser on the Internet. Office 365 includes different versions of Word, Excel, PowerPoint, OneNote, and Outlook. It allows you to access files using a desktop version of Word, Excel, PowerPoint, and OneNote.
This platform is specially developed for an organization and enterprises. That's why I have many features which make work easier for any enterprise user. This software also provides you with a Contact Management service. The contacts that you saved using the system will be stored on an online storage server.
Another side, vCard is one of the standard contact file storing formats for single user details and organization details. A vCard is basically a mobile version of a business card. They look like business cards, but instead of having contact information. It typically includes a name, address, phone number, email address, etc.
Reasons to Export Office 365 Contacts to VCF File
In today's world, there are a lot of people who have a lot of stuff. They think that they have more than they actually do. However, the reason you're reading this is that you're interested in exporting Office 365 contacts to vCard. Below we have explained a user query:
"Hi, I'm using Microsoft 365 family version for the last 5 years. And we have stored many important things in this account. Recently my sister wants to export some contact information on their Android phone. Therefore, they want to export Office 365 Contacts to vCard format. But the problem is – Office 365 only allows us to export contacts in CSV files. So, what shall we do now?"
There are lots of users who want to keep their contacts in a safe place. You may be interested in having a single backup that contains all your contacts in one convenient file. In that case, you've come to the right place. This article will provide a quick overview of how to export your Office 365 contacts to vCard in bulk.
Learn More:
How to Export Contacts from Outlook 365 App?
To export contacts and people list from Microsoft 365 account to a local file, follow the given steps:
First of all, you need to launch & open your Microsoft 365 account on your computer.
Now, you need to open the menu option and select the People option.

After that, you need to click on all contacts and press the Manage Option.
In the manage option, you need to click on the Export Contacts button.

After this, you can choose the entire list of contact or you can choose the selected contacts.
Press the Export button to extract contacts from Office 365 to computer. It only allows you to export contacts in CSV file.

After this, you need to change this file to VCF format. For that, you need to download the advanced solution.
Solution: Office 365 Contacts to VCF Converter
RecoveryTools CSV to vCard Converter is the trending solution in the market, which allows you to convert Office 365 Contacts to vCard format. The solution is a powerful utility that is used by many professional users. It also provides a large number of filter options which helps you to manage contact fields. Also, you can change the vCard file encoding using this solution. Get the solution on your PC now.
Download the Solution:
Download for Windows Download for Mac
How to Export Microsoft 365 Contacts to vCard File?
Download and launch the program on your machine.

Choose Contacts files with the file selection option.

Select the additional Contact Mapping options if you needed.

If you want to export different encoding VCF files, then you can choose the right version.

Also, you can select the location path where you want to save the resultant data.

Press the next button to start the process to export Office 365 contacts to VCF file.

Features and Its Benefits – Office 365 Contacts to vCard Tool
Simple and Single Panel UI: In order to help you to use this application as easily as possible, we have created an easy-to-use interface that only contains the buttons you will need to use. You don't need to go through all the menus. You can simply press the right button in the app to open up the menu. One of the best parts of this application is developed with a single-panel UI.
Easy File Browse Option: In order to select any file, you can use the browse option in the panel. This option allows you to easily select Office 365 exported Contacts file.
Manage Contact Fields: In order to change or manage contacts, the tool offers multiple mapping options. These options are useful for those users who want to change their existing contact fields to another.
Destination Selection Option: If you want to deliver resultant vCard files after completing the conversion process at your location, choose the saving path by clicking on the save option. By default, it saves the data at the computer desktop path.
Windows & Mac Supportable Method: In order to install this application on any Mac or Windows PC, just download the right version of this application on your PC. It provides different applications for different operating systems. So, before downloading check the version and edition of this application.
Manual Method to Export Outlook 365 Contacts to vCard
In order to change Office 365 contacts files to VCF format, you need a Windows Computer. Because only a Windows computer has an option to change Outlook 365 contacts to vCard files. For more details, follow the below steps:
In the first step, you need to open your Windows Explorer (Windows 10).
Then, you need to open the location of the contact – C: /Users/ (UN)/Contacts.
After that, press and import button from the top menu. And select your Office 365 Contacts file.
Now, import all your contacts in a file, and then press on the export button.
Here, choose the vCard or VCF option in the file type.
After a few minutes, it changes you're O365 contacts file to vCard format.
Limitation: The manual way is quite long and challenging according to the scale. They anticipate that people should do the very same thing, over and over. Moreover, the manual ways can't allow you to manage your contacts. Similarly, to regulate contact fields according to your necessities, then, at that point, it can't with the help of this manual technique. But using the RecoveryTools solution, you can do all this work without any complications.
Final Words
In this article, we have explained the process to export Office 365 contacts to vCard file. If you want to save your Outlook 365 contacts in VCF, then read this blog and get download the professional tool. However, you can also try this application before you want to purchase them. The process of this application is quite simple and easy to use. Get download the solution on your computer now. For more details, contact the technical team.