How to Import Office 365 Contacts to iPhone – Solved!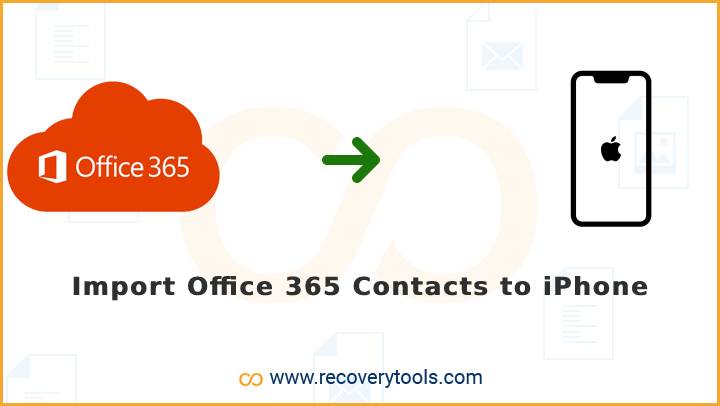 Are you one of them who are using Microsoft 365 services and want to share Outlook 365 contacts to iPhone? Then you are viewing the right article. This article walks you through step-by-step how to import contacts from Office 365 to iPhone. So, if you want to learn the process, then read this post.
A lot of people work in an enterprise or a business where they use Microsoft 365 service to get messages, calendars, and contacts. Office 365 service allows you to access your data from anywhere with a running internet connection or a subscription plan to access it.
Microsoft 365 is an amazing suite of cloud-based apps including Outlook, Word, Excel, PowerPoint, OneNote and so much more. It is one of the perfect assistants that will keep you organized, connected, and informed about the market updates.
Although Office 365 is highly praised, it still has some shortcomings. That's why a huge number of clients want to transfer their contacts from Outlook 365 to iPhone. Here, we will explain some reasons why the client is required to transfer Microsoft 365 contacts to iPhone.
Reasons to Import Office 365 Contacts to iPhone
The best way to increase your sales and profits is by using your time and resources efficiently. One of the most time-consuming tasks is getting the right contact details. That's why a huge number of users want to collect their important contact details on their phones. In this article, we will explain some reasons why people want to import Outlook 365 contacts to iPhone.
Internet Connectivity: There are numerous circumstances where you can't get to your Office 365 contacts. One of them is the absence of network access. We can get to Office 365 contacts from any place or whenever, however, consider the possibility that we don't have internet availability.
Subscription Based: Microsoft 365 is a paid platform where you can easily subscribe to the right version. But there are many people who do not continue with their plan and want to remove their Office 365 data. Then at that time, they need to export their contacts from Microsoft Outlook 365 platform to iPhone or locally.
A Huge Contact Database: Microsoft 365 is certainly not a little stage where not just one client can access store information. Be that as it may, it is one of the huge platforms on the planet, where a lot of people cooperate easily. That's the reason finding a single contact recode is a very difficult task.
How to Export Contacts from Office 365 Account?
If you have Microsoft 365 account, then open it using your credentials.
After that, in the main menu click on the people option.

Now, you need to click on the manage option and select the Export option.

Choose the option all contacts and press the export button.

After a few minutes, the process is completed and you will get the resultant CSV contact file at your selected location.
Reliable Solution: Office 365 Contacts to iPhone Transfer
RecoveryTools CSV to vCard Converter allows you to import Outlook 365 Contacts to iPhone. It is a powerful tool that is used for converting the data from the Microsoft 365 contacts to Apple devices. The solution is completely secure and lab-tested. You can easily import Outlook 365 contacts on any iPhone edition without any issues. Also, it offers several file encoding and contacts mapping options.
Download the Solution on your Machine:
Download for Windows Download for Mac
How to Import Outlook 365 Contacts to iPhone – Step-by-Step Process
In the first step, you need to download the solution on your computer.

After that, launch it or choose the required CSV contact file.

Here, you can also choose the filter options for mapping your contacts easily.

You can also choose the file encoding options.

Also, you can select the resultant path where you can easily save resultant data.

Next, start the process to transfer Office 365 contacts to iPhone.

Now, you need to open your iCloud account through your email address.

Open the contacts app and click on the gear icon.

Select the import option and choose the resultant contact file.

Then, open your iPhone and sync contacts with your iCloud account.
Advantages of Microsoft 365 Contacts to iPhone Tool
Contact Mapping Options: If you are required to change the contact fields before the process, then you can use this solution for that. It offers several mapping options for contacts. For more details, you can also contact us via chat.
Encoding Options: There are several file encoding options available with this application. You can use them to generate different encoded vCard files such as ASCII, UTF-7, UTF-32, etc.
Single User Interface: It provides a single panel user interface where you can easily understand the conversion process. Now, all types of users including non-technical can easily use this application without technical guidance.
Windows and Mac Supportable Tool: The solution supports Mac and Windows environments. Therefore, you can easily install this application on every Windows and Mac computer. The solution also works on all the latest versions of MS Windows OS.
Freedom of Resultant Location Selection: The program gives you an option to select of saving location path. Just click on the option "Save As" and browse the location path where you want to save the resultant data.
Manual Method to Change Office 365 Contacts for iPhone
If you want to change the contact file format, then you need a Windows PC.
First of all, run the Windows File Explorer app.
Open the location on your Windows PC – C:/Users/(Name)/Contacts/
After that, you need to choose the required exported File and then select the Import button.
After a few seconds, the Windows Contacts syncs all the contacts in Windows.
Now, you can easily export these contacts to vCard format without any issues.
Limitation: Manual methods are challenging to scale. They expect individuals to do exactly the same thing, again and again. Furthermore, the manual ways can't adjust to change. Likewise, to oversee contact fields as per your necessities, then it can't with the assistance of this manual method. An expert solution will give 100 percent assurance. In this way, I will prescribe you to get a professional solution on your computer.
Final Words
In this article, we have discussed the way to transfer Office 365 contacts to iPhone using manual and professional methods. You can choose one of them as per your requirements. But the professional solution provides lots of features that are not present in the manual method. One of them is contact mapping and encoding benefits. That's why I suggest you, use the RecoveryTools solution. For more inquiries and issues, contact the technical team.