How to Export IMAP to PST – Quick & Easy Solution
Karen Chard
~ Modified: 16-03-2023 ~ IMAP ~ 6 Minutes Reading
Looking for a reliable solution to export IMAP to PST? Our easy-to-use tool and expert guidance make the process seamless and hassle-free. Migrate your mailboxes without data loss and get full control of your emails in no time! The subsequent file generated from IMAP to PST migration is compatible with all Outlook versions like Outlook 2021, 2019, 2016, 2013, 2010, 2007, 2003, etc.
Do you know?

95% of online users use email services with IMAP support in the USA? It is one of the best ways to access your email data on your local email applications. This is the reason most email services & servers available in the world make email simpler than the world without IMAP.
Internet Message Access Protocol (IMAP) is used by various email services to get, access, store, and send messages from email servers. It licenses you to get your email any place you are, from any gadget. Exactly when you read an email message using IMAP, you're not actually downloading or taking care of it on your PC. It is the latest form of a standard convention in the Internet world.
Unlike an IMAP account, PST is a file format for storing email, contacts, calendars, notes, tasks, and more. It is designed by Microsoft Corporation to store Outlook email client data. Nowadays, PST file is one of the popular Microsoft formats that supports all Microsoft services such as Microsoft Exchange Client, Windows Messaging, Outlook.com, and Microsoft Outlook.
User Queries – Export IMAP to PST File
"I don't know about you, but I have lots of emails that I send and receive daily. These emails are in my Inbox and are the ones that I usually answer. The problem is that my email program doesn't allow me to store them anymore, so I can't preserve them unless I export them to another computer. At the moment, I want to export emails to PST file from my email account. It supports IMAP server access. But I don't know how can I export IMAP emails to PST file. Does anyone help me!!"
"I am working as an accountant in a small company. Recently I need to manage my work database in Microsoft Outlook. Therefore, I am looking for a solution to export IMAP to PST format. Does anyone know how to backup IMAP to PST format ? Please Help Me!!!"
Expert Solution: IMAP to PST Migration Tool
You can use RecoveryTools IMAP Backup Tool to export IMAP server emails to PST format. It is one of the best applications in the online market that provides options to export IMAP Server emails to 25+ file formats. The software supports all editions of Microsoft Windows and Server editions as well as you can also download the Mac edition of this utility.
Download the free demo version of the tool from below:
How to Backup IMAP to PST Format?
Launch the software on your computer and follow the given instructions.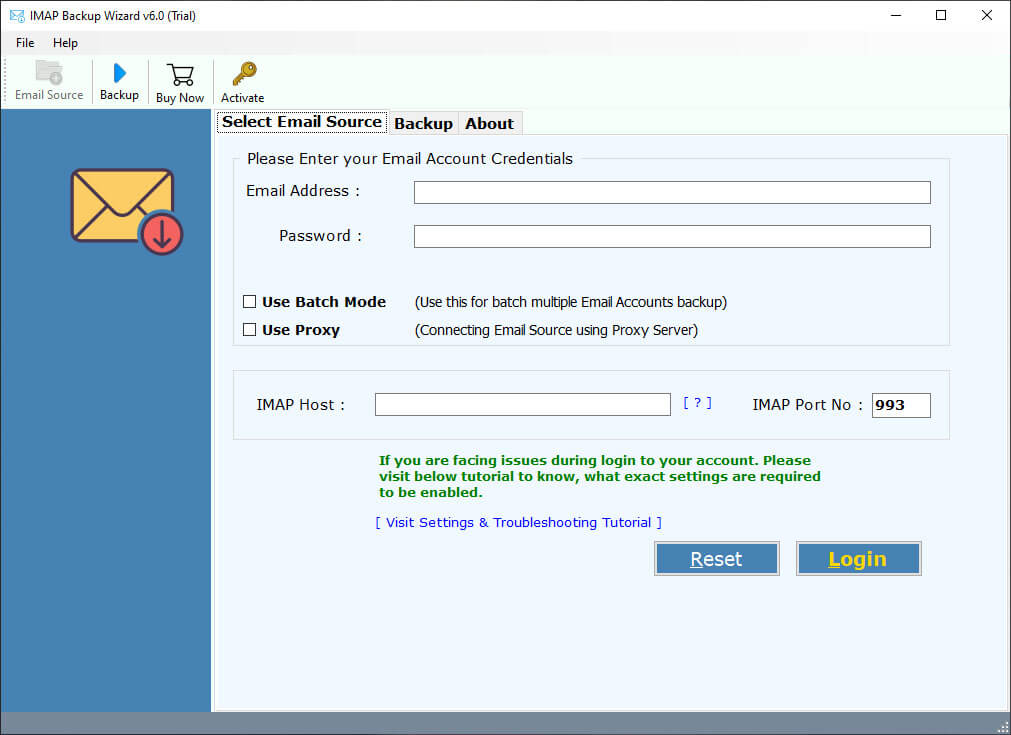 The software allows you to download multiple IMAP accounts to PST format at once.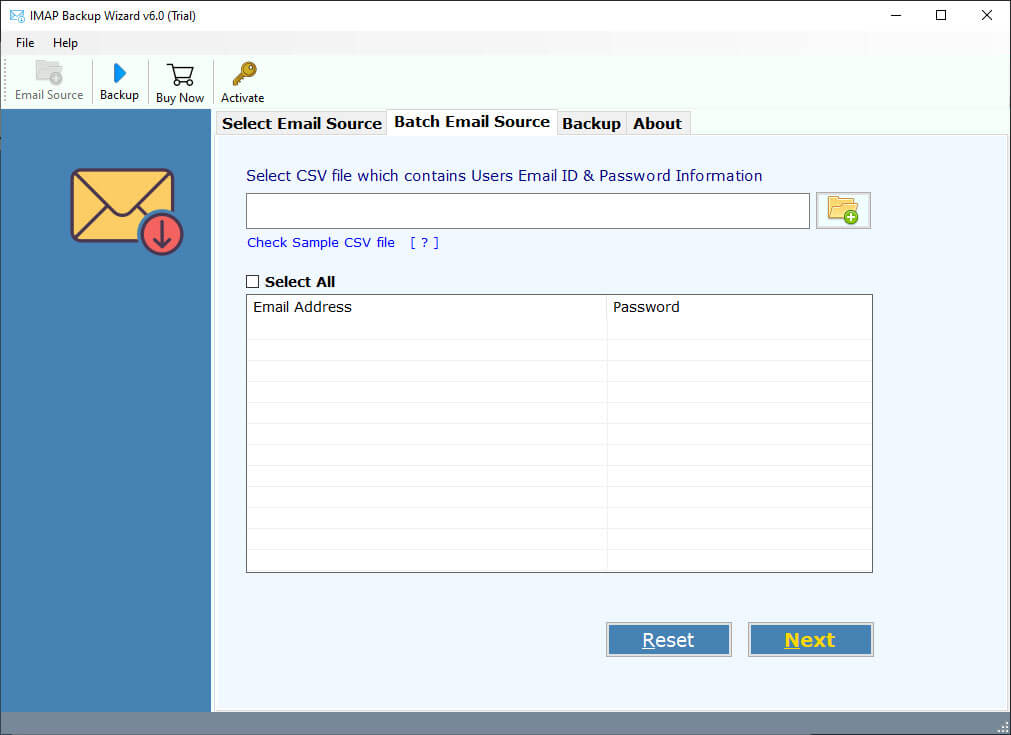 After all, enter your IMAP Server account details in the user interface panel.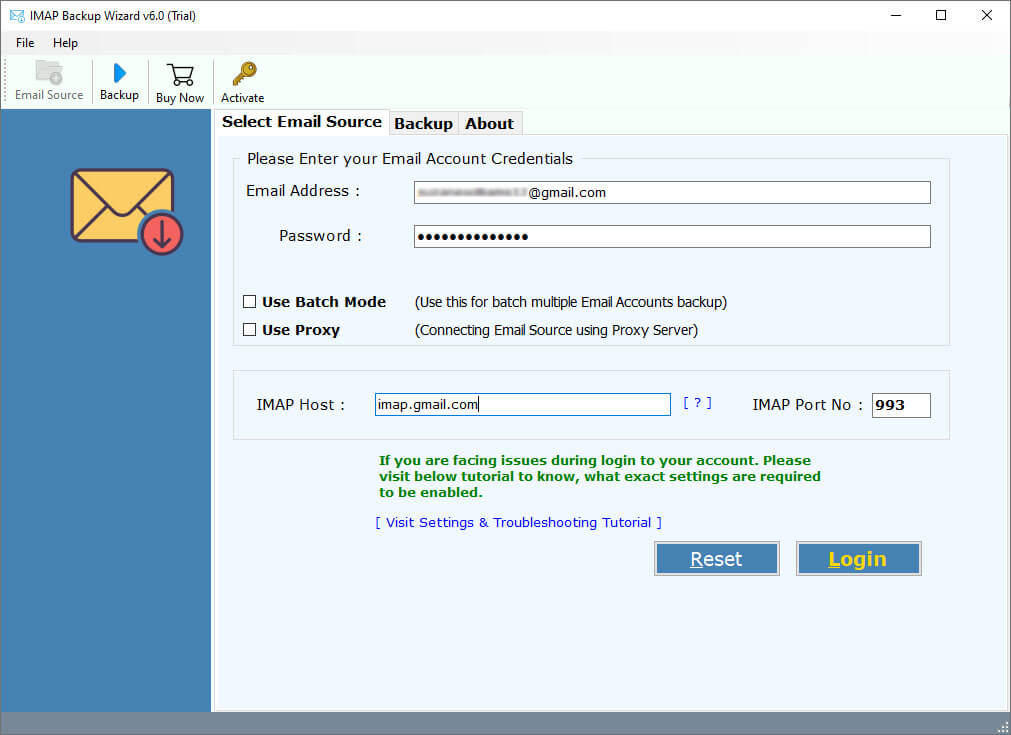 Now, select the email folders which you want to download from IMAP to PST format.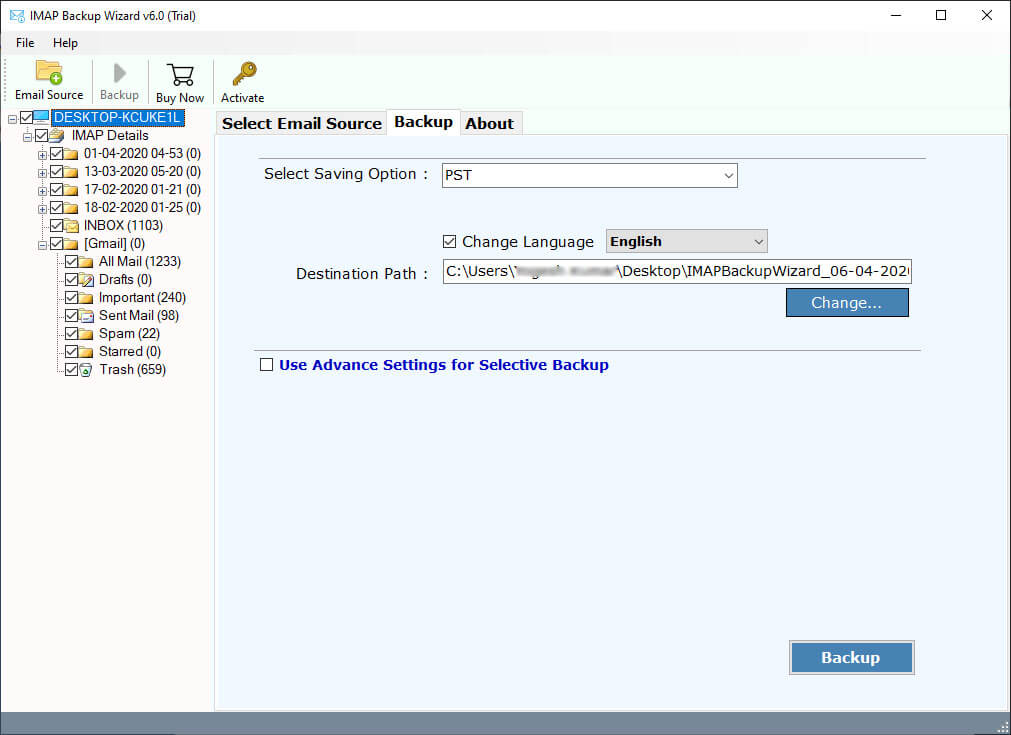 Choose the PST file saving option in the list of file saving options.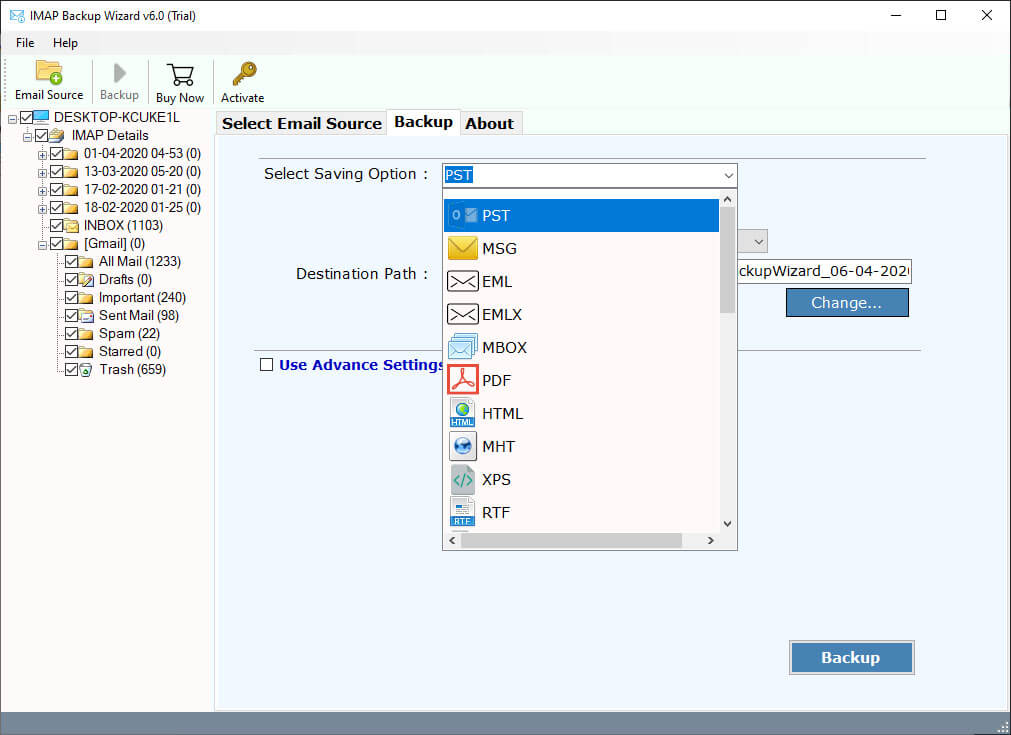 Now, select the destination location path to save the resultant data at the user location. You can also select the additional filter options if you want to download selected IMAP emails to PST format.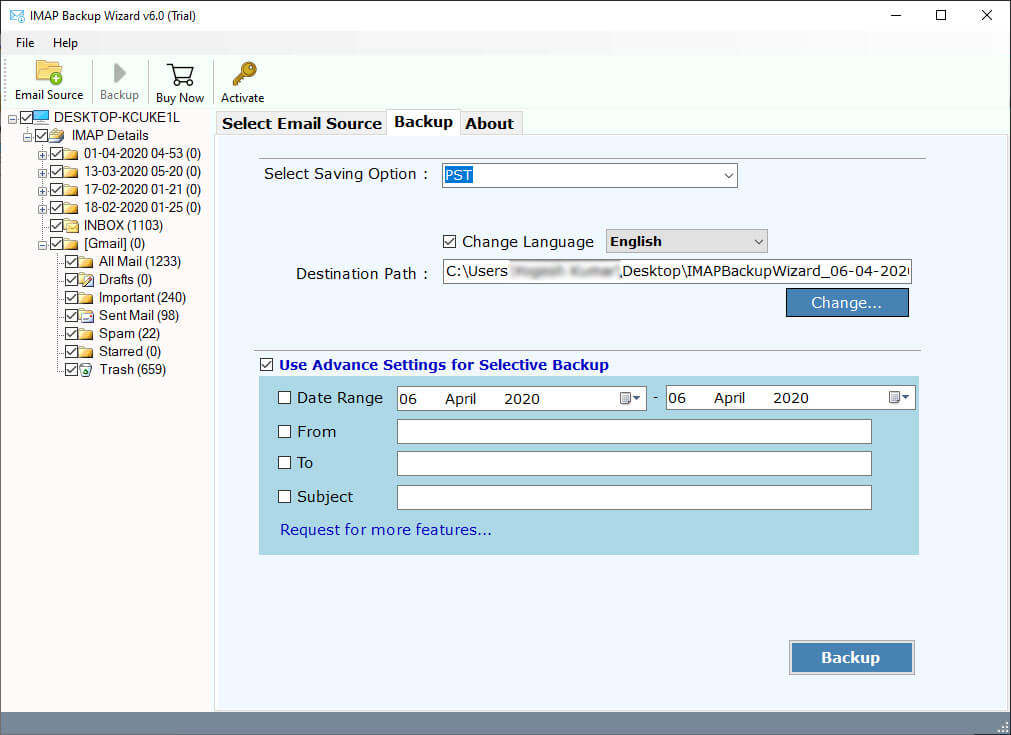 Finally, click on the Backup button to start the process.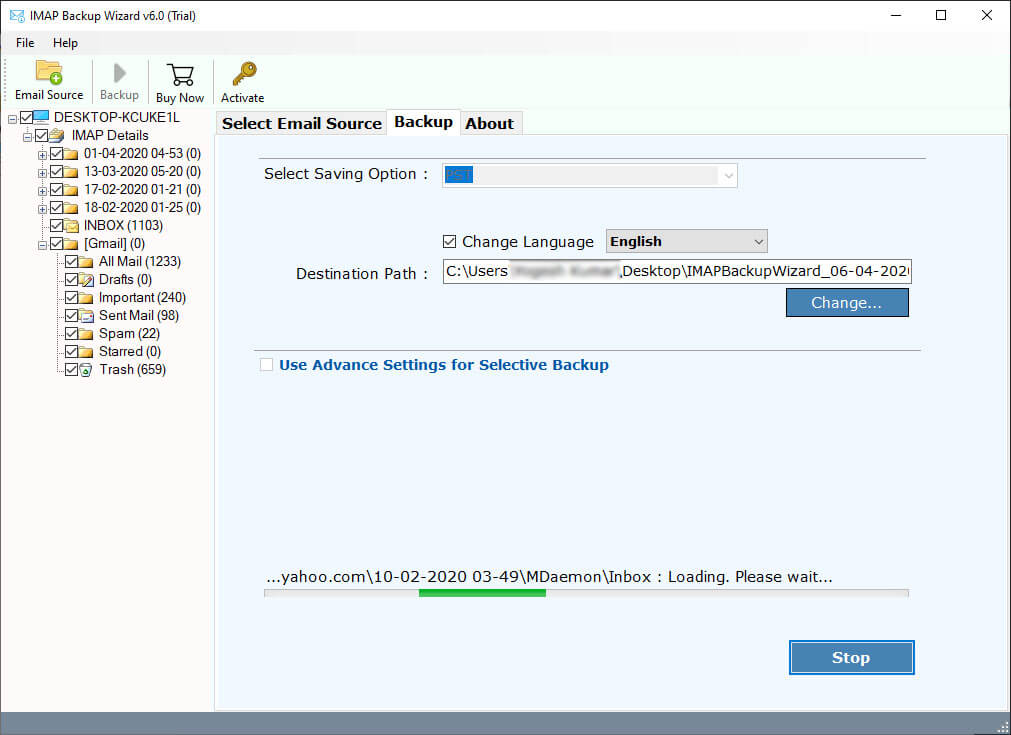 When the process is complete the software informs you by a pop-up message.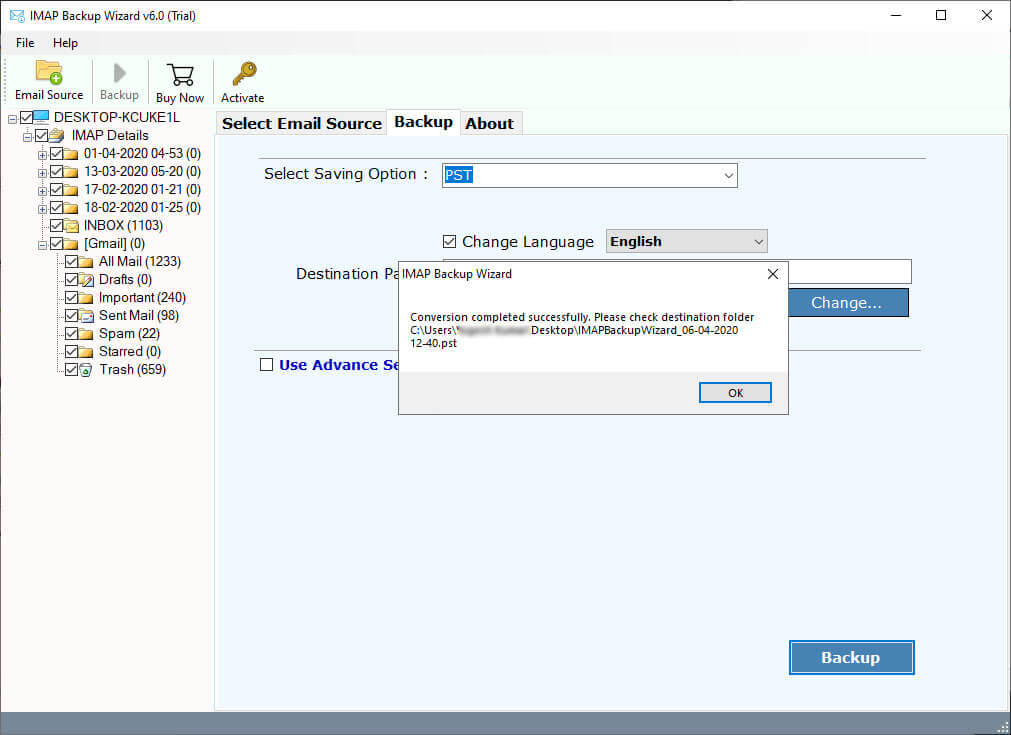 You can further import this PST file in Outlook to complete IMAP to Outlook migration.
Major Advantages of IMAP to PST Converter Tool
Security Features with 100% Trusted Interface: This application is recommended by major brands for being risk-free from all types of security loopholes. The software provides a completely secure user interface that never tampers with your email data. Also, the application never stores your IMAP account credentials in the user interface cache.
Download Multiple IMAP Accounts to PST File: The software provides an advanced feature that can solve many user issues while IMAP to PST export process. One can easily use this application to download multiple IMAP Accounts at once. Users need to create a CSV file containing all their email account details and then upload it to the software panel.
Advanced Selective Data Migration Filters: The IMAP to PST Migration tool provides multiple filter options that can be used for the selective backup process. These filters are helpful when you need to convert selected IMAP emails to PST by date range, subject, email addresses, etc.
Maintain Email Meta-Properties: The software comes with multiple advanced features including Keep Email Properties & Meta-Elements. During the migration process of IMAP to PST file. The software maintains all your email elements such as email with attachments, addresses (to, cc, bcc, from), subject, images, date and time, etc.
Keep Email Folder Structure: During the conversion process, the software keeps all your email folder hierarchy structures without any issues. So, after completing the process, you will get the exact folder structure without any changes.
Support All Windows & Mac Editions: These applications support both Mac and Windows computers. You can easily install this application on all Windows (10, 8.1, 8, 7, Vista, XP, etc.), Windows Server (2019, 2016, 2012, 2008, etc.), and macOS X operating systems.
Frequently Asked Queries
Q. How can I download IMAP Server emails to PST format ?
Answer: Follow the procedure to export IMAP emails to PST file: –
Launch IMAP to PST Migration Tool.
Enter IMAP account details and choose folders.
Select PST option in the list of file-saving options.
Set the destination location path to save resultant data.
Click on the next button to export IMAP emails to PST.
Q. Can I install this application on my Mac Computer ?
Answer: Yes, you need to download the Mac version of IMAP to PST Converter tool.
Q. Does the IMAP to PST Downloader tool keep email images during process ?
Answer: Yes, the software preserves all your email properties including email images without any issues.
Q. Does the software work on my Windows Server machines ?
Answer: Yes, this application supports all your Windows Server editions without any issues.
Concluding Lines
In conclusion, exporting IMAP to PST can be a difficult and time-consuming process. However, using a professional tool such as RecoveryTools IMAP to PST Backup tool can make the process much easier. It is faster and eliminates the risk of data loss or corruption during the migration process. You can also test this application before purchasing the licensed edition of this tool. For more details and help, contact the support team.