How to Bulk Export Emails from Webmail Instantly? Solution!
Karen Chard
~ Modified: 15-07-2022 ~ How To ~ 6 Minutes Reading
Are you in search of a solution to export emails from Webmail? Do you want to save Webmail emails locally as a backup in your system? Don't worry, just continue with the mentioned blog and get the complete solution in detail. However, the absence of the correct approach disables you from carrying out your desired task!
Not to panic anymore! It's time to sit in a relaxed mode, take a deep breath and enjoy exporting Webmail emails just as a game. Yeah! We are not joking; simply do what we say!
A lot of users usually export Webmail emails when they want to switch to other email platforms, or they want to store the data as a backup in the system.
Today we are going to share one of the simplest approaches to exporting Webmail emails to other formats or email platforms. This method does not demand any manual and technical configurations to attempt the task. Since we know that there does not exist any official solution to export Webmail emails, therefore, we are here with an alternative approach.
Now without wasting much time in talks, let us begin with the explanation of the solution.
Quick Solution to Export Webmail Emails
With this Email Backup Wizard, you can export emails from multiple Webmail platforms such as Roundcube, HordeMail, and others. Folders like Inbox, Sent, Trash, etc., all will be transferred easily via this method. Moreover, it can save the entire data of a particular Webmail to multiple other formats. Exports the data such as Godaddy Webmail to Computer, Webmail folders to Outlook, Axigen Webmail to Exchange Server, and multiple others. Even this professional software also works as a tool to backup Webmail emails.
Just Download the mentioned Webmail Export Tool in your existing system and start the process.

How to Export Emails From Webmail to Other Formats? – Steps
Launch the software on your screen and from the list of 'Email Source', choose the IMAP Server option.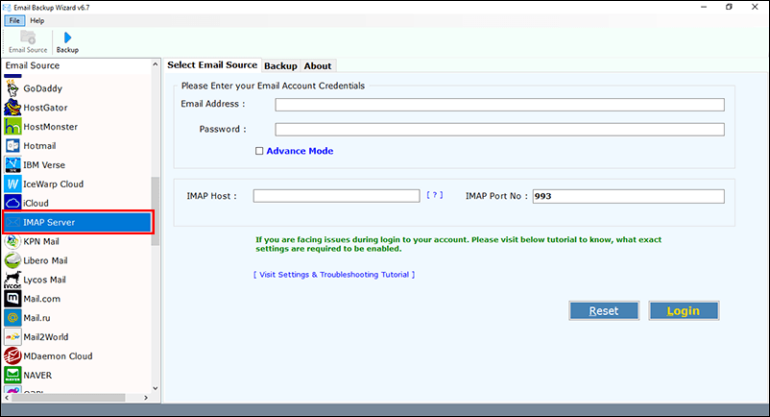 Next comes the time to enter the email account credentials of the source Webmail tenant. Here you need to ensure that IMAP settings are enabled in this source account.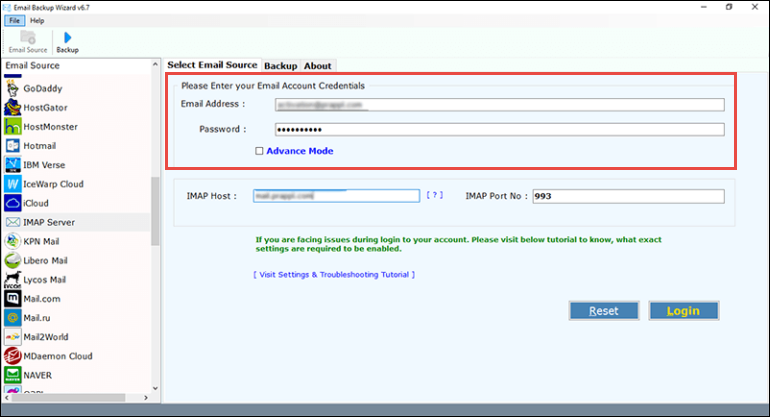 In the IMAP Host field, enter mail.name.com and mention 993 numbers in the field of IMAP Port No.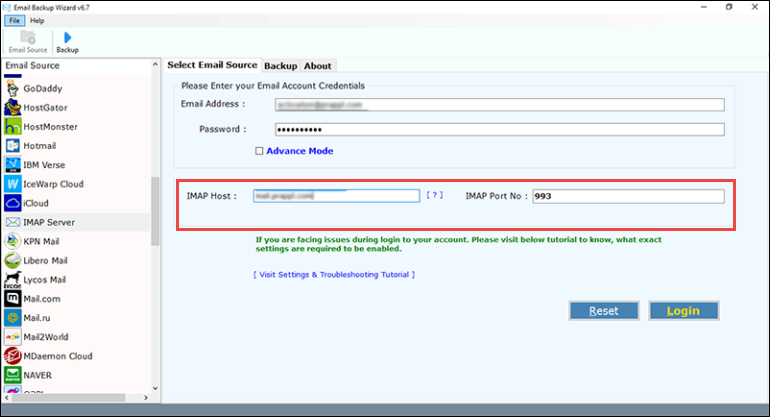 Here the software starts fetching mail folders from the source Webmail account. Just after a while, you will see that all folders get loaded on the LHS of the screen. Select all or only the required folders to continue with the process to export emails from Webmail.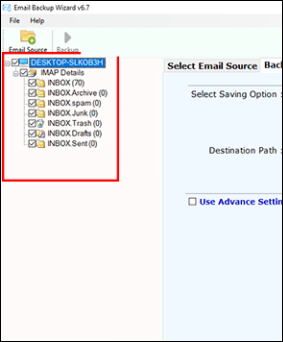 Explore the menu of 'Select Saving Option' and select Gmail from the list. You can select any other listed option as per your requirement.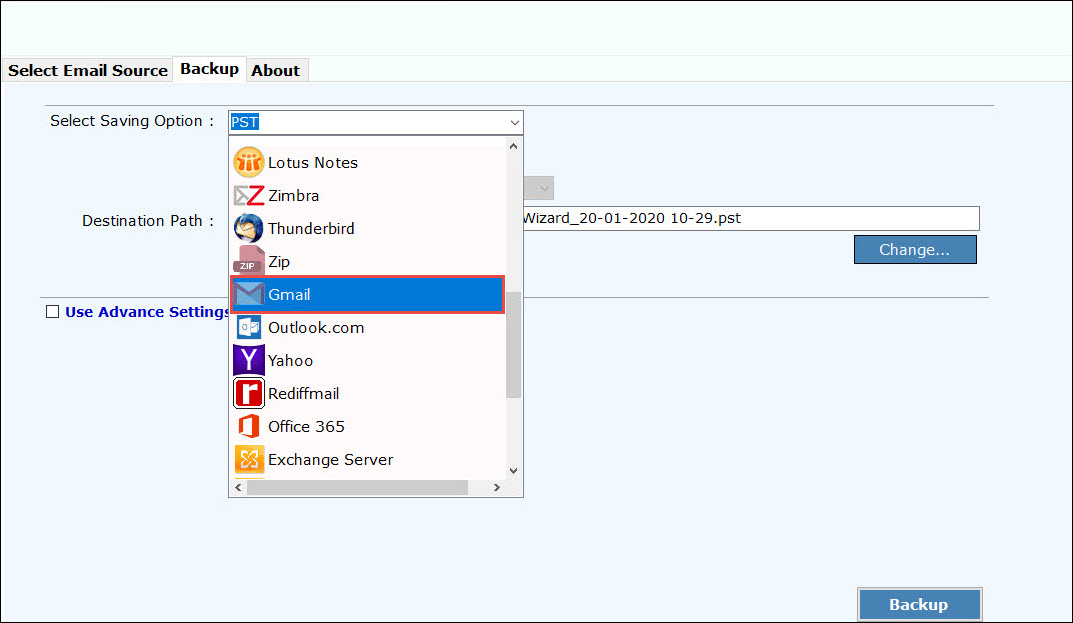 Finally, enter the credentials of the target Gmail account and click on the Convert button for process initiation.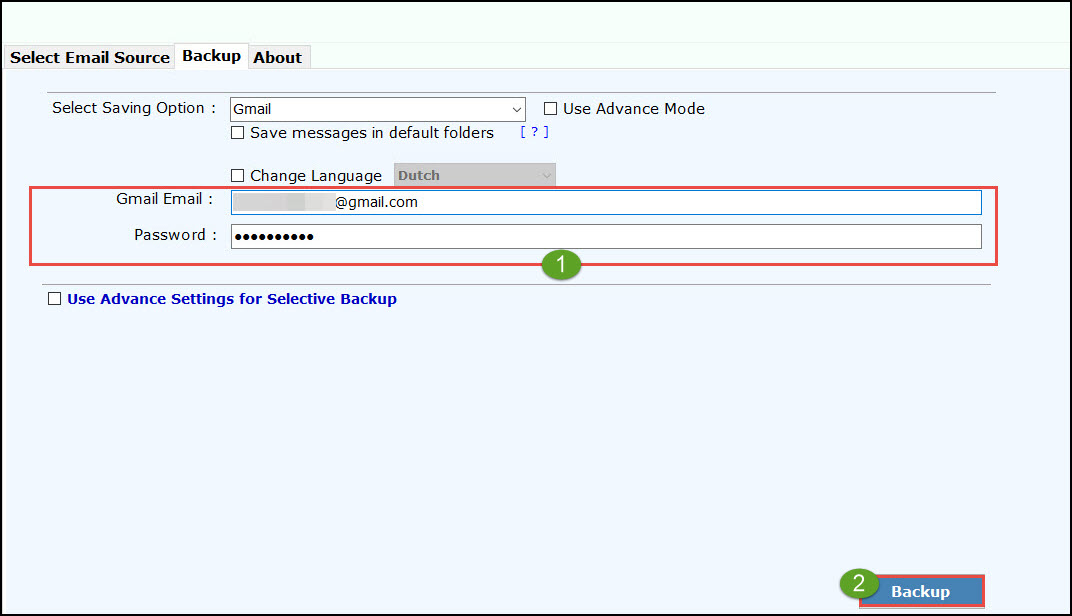 See how simple it was to export Webmail emails. Isn't it? The solution ensures data integrity throughout the processing time. Email properties are kept intact along with the attachments (if present in any messages). The file format of the attachments remains the same as it was before the conversion procedure.
Features of the Mentioned Webmail Emails Export Tool
Different people have a different set of questions when they learn about this approach. So, here we are going to discuss some major benefits of using this software:
The tool provides an easy-to-use and flexible GUI to all users whether they are from technical or from a non-technical background.
It is possible for users to export Webmail emails in bulk quantity without any kind of size limitations and restrictions.
Users can easily configure their source path just by entering the login credentials. Once configured, users can view all the files or folders in different view modes.
Possible for users to export only a selective number of files or folders according to their needs and requirements.
15+ Export option to save Webmail emails into multiple formats or other email platforms.
Just by entering the login credentials of your destination path, the data will be successfully exported.
Queries to Export Webmail Emails
Ques. 1: "I want to export my emails from Webmail, which I have been using for the last 1.5 years. There are around 1000 or 1400 emails in each folder with several important messages contained in them. I can't afford a single loss while exporting emails from Webmail to Office 365. So, before purchase, I want to know how I can assure myself with the fact that nothing will happen to my data?"
Reply to the Customer: You can test the trial version of the Email Backup wizard before purchasing it. The setup file is easily available on the software's official website. There are no charges to download the application and test it before purchase. This version will provide you satisfaction with the fact that the solution does not harm data integrity throughout the process.
Ques. 2: "Hello! I am Kelvin and want to ask a question regarding your solution. Actually, I am in search of a solution that exports emails from Telstra Webmail. But, none of the solutions provides me such a satisfactory result for my issue. I want to export email folders from Telstra Webmail to my business Gmail account. Is your product suitable for my purpose? If yes, how could I trust you?
Reply to the Customer: You can use our Email backup wizard to export emails from Telstra Webmail to your business Gmail account. In order to test the solution efficiency, use the free edition of the product. This version will allow you to export 25 emails from each of the selected folders. Later, you can remove this restriction of the free edition simply by opting for the PRO version of the solution.
Conclusion
Hence, we discussed the entire solution to export emails from Webmail in a proper manner. Just by reading out the complete post properly, users can easily implement the solution and save the Webmail emails directly without facing any kind of issue. Also, if you work manually, you can easily save emails one by one but that too will take a lot of your time and effort. Still, in case you have some doubts, please feel free to contact us.