How to Transfer Folders from Webmail to Outlook 2019, 2016 ?
Karen Chard
~ Modified: 11-05-2022 ~ Outlook ~ 5 Minutes Reading
Looking for a solution to transfer Webmail to Outlook 2019, 2016, 2013, and below versions? But unable to track a suitable approach for the same? If yes, fortunately now you have landed at the correct place. This post is dedicated towards delivering of a bug-free method to move emails from Webmail to Outlook mail client.
As we know that, there does not exist any direct method to transfer folders from Webmail to Outlook. Therefore, it is essential to pick a professional program that is purposely designed for this particular task. But the major challenging task is to find out such kind of software at an affordable cost.
"How to move Webmail folders to Outlook 2013 – This question roams in mind like anything. Since the time I had been allotted with this task, my mind is not able to concentrate on any other work. Seriously, don't know why but, its not possible for me to get a solution to perform Webmail to Outlook migration. Sometimes I feel like it is impossible! But I know that its not true. So, can any of the expert here tell me the solution to transfer emails from Webmail to Outlook?"
Hassle-Free Way to Transfer Webmail to Outlook
Not to panic anymore, we are going to introduce with an effective and efficient solution to transfer Webmail to Outlook. The name of this solution is 'Email Backup Software'. It is an independent platform where customers can effortlessly migrate their Webmail mailboxes to MS Outlook. The major aspect to be considered here is that this program is available at an affordable cost with much more in it than expected. Without wasting much time in talks, now let us see that how this method transfers folders from Webmail to Outlook.
Stepwise Guide to Move Emails From Webmail To Outlook
Following step are going to tell you that how easy it is to move emails from Webmail to Outlook. We would suggest you to first read these steps thoroughly and realize the simplicity of the procedure. Afterwards, you can use the solution on your own and transfer folders from Webmail to Outlook.
1. Download the installation file of Email Backup software and install it. Once done with the successful installation of the program, you have to launch it.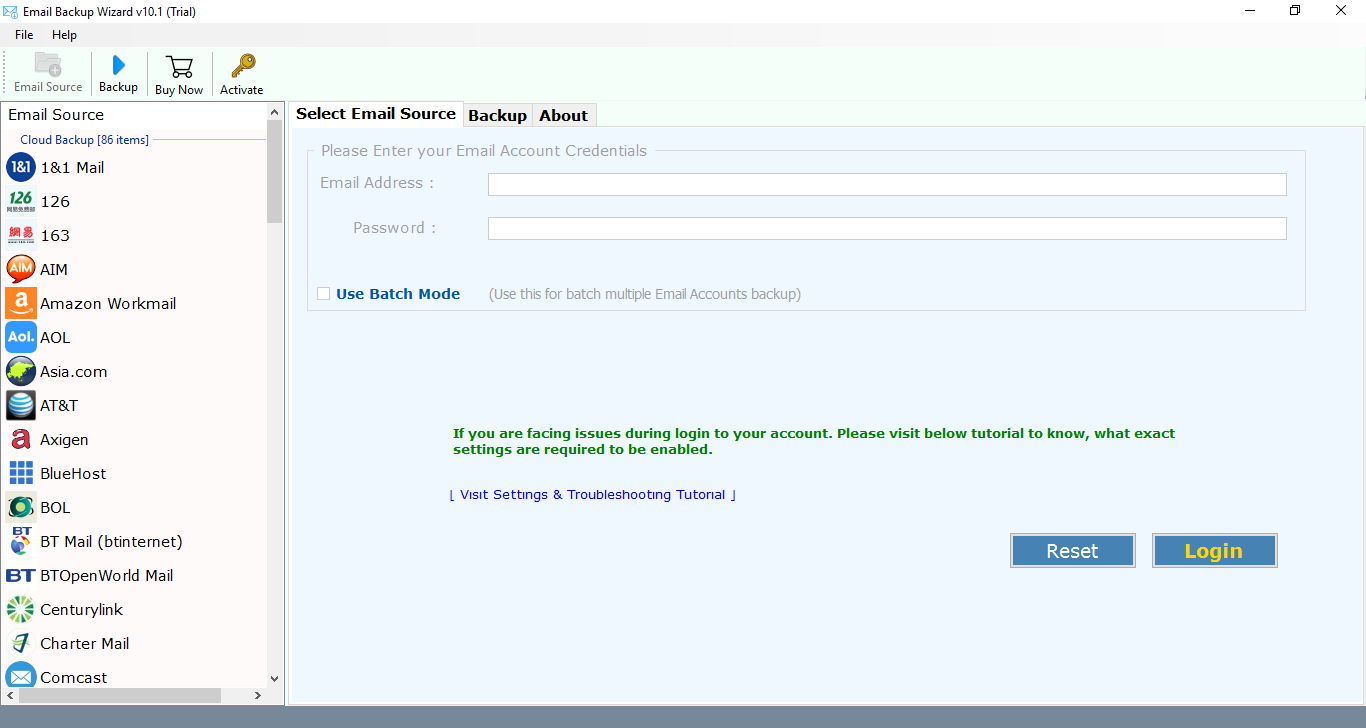 2. Scroll-down the menu of 'Email Source' and click on IMAP option.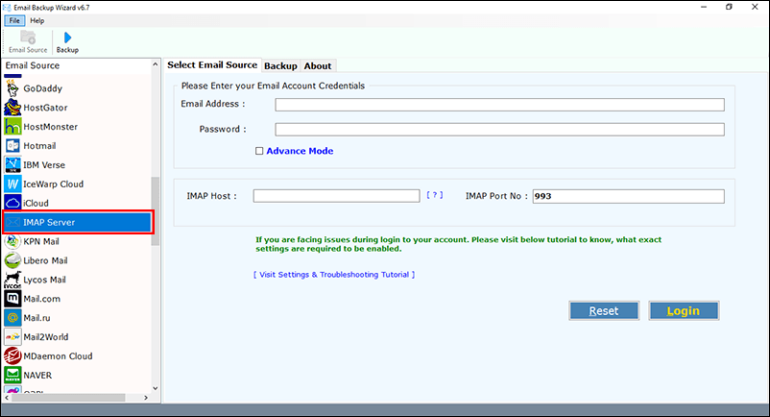 3. Its time to enter some information of the source Webmail account. In the 'email address' field, type the mail id of Webmail; and in 'password' field, enter the password of the respective Webmail tenant.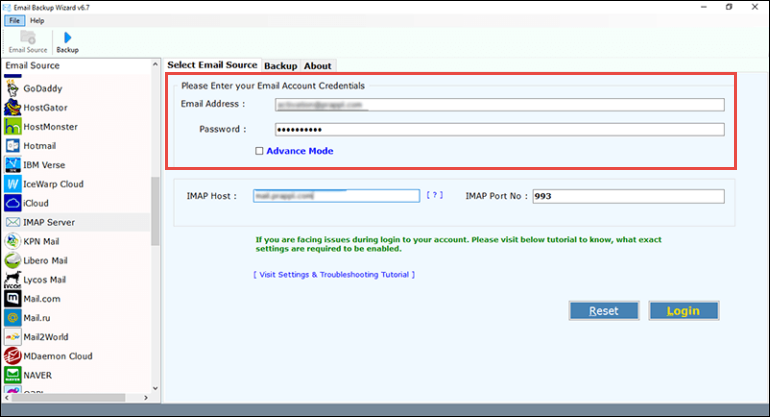 4. Move towards 'IMAP Host' text box where you have to type 'imap.mail.com'. Next comes the IMAP Port field in which you have enter 993 value. Click on Login to finish the first phase of the process to transfer Webmail to Outlook.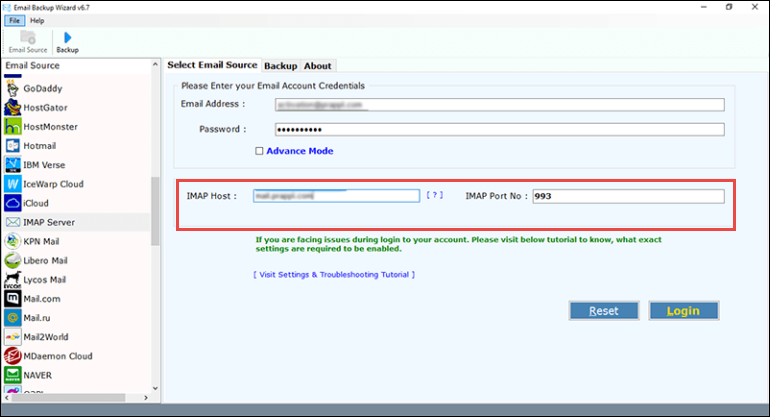 5. From the preview panel of the program, check the checkboxes of Webmail folders. These folders will be the ones that you desire to move from Webmail to Outlook.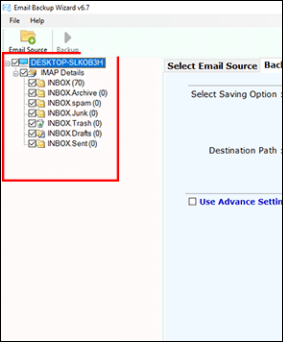 6. Choose PST option from the list of 'Select Saving Option' to continue further. Then define the target location where you want to save resultant PST file.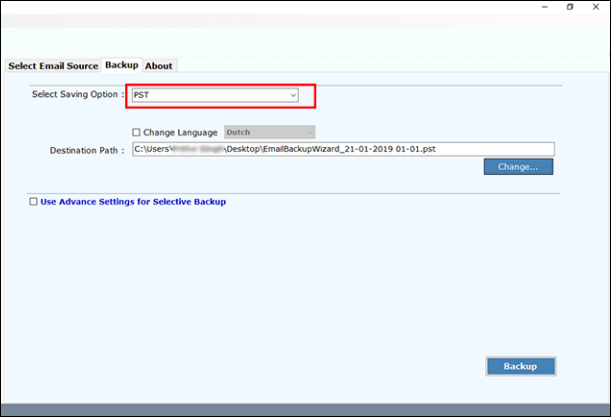 7. Finally, initiate the procedure by clicking on Backup button.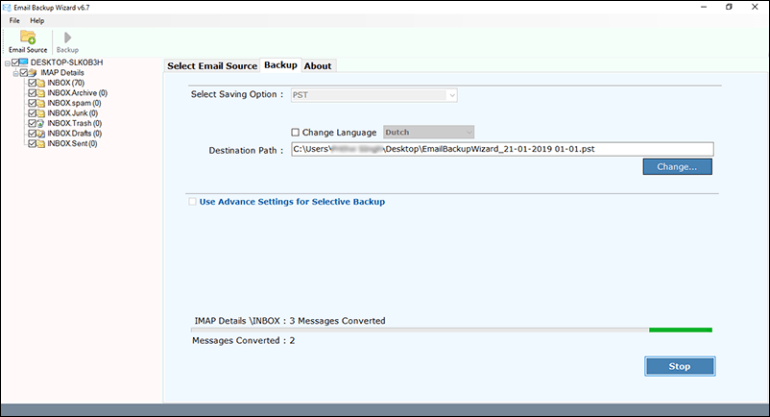 The software begins creating PST file, which comprises of Webmail data within it. We hope that you were able to feel the ease that is involved in executing this complete process. It finishes the entire procedure to move emails from Webmail to Outlook in just few clicks.
How Do I Access Webmail PST in My Outlook?
"Through your solution, I had successfully created PST file of my Webmail account. It was really a great experience while working with this solution. From bottom of my heart, I want to thank developers for coming up with such an intelligent program. But, I want a little bit help. I don't know that how to open this resultant PST file in Outlook 2016. Can any of the support member help me out with the same?"
There can be a situation where users get stuck when they have to import .pst file in Microsoft Outlook. Therefore, we are listing down the following steps to access Webmail PST in Outlook.
1. Open your Microsoft Outlook's profile in which you want to transfer Webmail data.
2. Click on File >> Open & Export >> Open Outlook Data File
3. Browse the PST file, which was created at the end of the procedure to transfer Webmail to Outlook.
4. Wait for a while and then you'll see that all your Webmail folders are included in target Outlook mail client.
We Hope That You Got Your Solution
Users can transfer folders from Webmail to Outlook program without suffering from data loss scenarios. There is no risk of data breach or any harm to data security while using this method. You on your own can test the solution by opting for its trial version. It is possible to transfer Webmail to Outlook for free but, there exist one limitation – Free edition enables importing of only 25 mails from the selected mail folder. You can eliminate this limitation by purchasing the product online, which is available at an affordable cost.