How to Export AOL Mail Contacts to vCard or VCF File – Solved!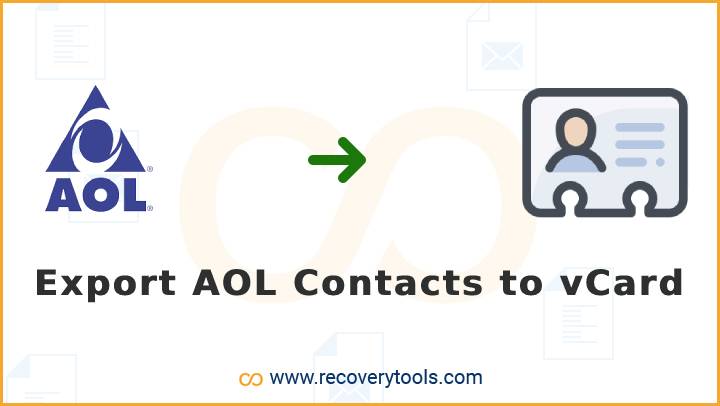 This article explains a way to extract contacts from AOL Mail to vCard format. If you are one of them who wants to export AOL Contacts to VCF files? Then this article is for you and you will get a complete guided solution here. So, if you want to know the solution, keep reading this article.
In the world of technology today everything is connected to the Internet. Therefore, it is very easy to find a solution to any problem. That's why we preferred the cloud to store our data, emails, documents, files, calendars, and contacts too. But there are several reasons when we need to export contacts from the cloud to the local machine.
AOL Mail is an email service provided by AOL Inc. It is a web-based service that provides access to online email services. It has its own set of features and benefits that set it apart from other email services. The most important feature of AOL Mail is that it gives you unlimited storage space to store your email messages, photos, files, and contacts too.
Another side, vCard is basically an electronic contact file known as Virtual Contacts. One can create a vCard file to store a lot of personal information about contacts. Using this file you can store lots of things like phone numbers, email addresses, website addresses, and more. That's why a most application that supports contacts, allows users to export and import vCard files.
Reasons to Export AOL Contacts to vCard
Another biggest reason for exporting contacts from AOL to vCard is not supporting export contacts as VCF files. AOL Mail only allows you to export contacts in CSV or TXT and LDF formats. So, that's why a huge number of users looking for a solution to export AOL Contacts to vCard file. Some of the common reasons explained in the below section:
Universal Contact Format: We all know that most phones (Android and iPhone) use VCF files to store and export their contacts. That's why a huge number of users want to export their contacts from AOL Mail to vCard format.
Backup Contacts Copy: There are a significant number of users who have very important contacts in their AOL Mail accounts. That's why people are looking for solutions to back up their contacts locally. And vCard is one of the best formats to store backup copies of your contacts.
Share Copy of Contacts: There are many users who want to share their entire contact list with someone. Therefore, they are looking for a solution to export their contacts from AOL to VCF file.
More Helpful Post:
How to Export AOL Mail Contacts File to Computer?
Open your AOL Mail account on your computer and choose Contacts Tab.

Select the more option and choose Export option.

This email service supports several saving options like CSV, LDF, and TXT. Here, select CSV option.

Now, you need to press the export button and choose the path where you want to save AOL Contacts locally.

Solution: Convert AOL Contacts File to vCard Format
RecoveryTools CSV to vCard Converter is a standard solution to change contact files. You can use this application for exporting AOL Contacts to vCard format. Because of AOL Mail supports to export and import contacts only CSV option. That's why this application will help you to change your AOL Contacts file to VCF format. Also, the solution provides several filter and encoding options for vCard. You can download the solution on your Windows and Mac machines.
Get Application on your PC:
Download for Windows Download for Mac
How to Export Contacts from AOL Mail to vCard or VCF File?
Get the Program on your machine first and install or launch it.

Choose AOL Contact files with the select option in the panel.

Manage your contact fields (if you want to change them) using Mapping options.

Set the encoding option if you want to change your vCard file.

If you want to save the resultant VCF file to another location, then change it.

Start tool process to export AOL Contacts to vCard file.

Features of Export AOL Contacts to vCard Tool
Contact Mapping Options: In order to manage your contact entries and entities, the tool offers some additional mapping options. These options are helpful to arrange your contacts by name, number, contact address, email address, and more.
Simple User Interface: There are lots of users who have come from non-technical industries. That's why we offer a platform where people can work easily without any issues.
Multiple Encoding Options: There are lots of platforms that support different vCard encoding. That's the reason every VCF file is not supported by every platform. But using RecoveryTools AOL Contacts to vCard tool, you can create several encoded vCard files such as ASCII, Unicode, UTF, etc.
Windows and Mac Supportable: The solution supports all versions of Microsoft Windows and Mac computers. You can easily install this application on any Mac or Windows workstation or server computer. Also, it supports all the latest editions of Microsoft Windows including Windows 11.
Change or Choose Resultant Location: The product can support by many advanced features including the Destination path. You can choose any location where you want to save your converted vCard files easily.
Manual Method to Convert AOL Mail Contacts to VCF File
There are lots of users looking for a free solution that easily converts AOL Contacts files to vCard format. So, you can use it using the manual process at your own risk.
First of all, you need a Microsoft Windows 10 machine.
After that, open your Windows file Explorer.
Go to the contacts folder or Windows Contacts.
Here, press the import button from the top and choose AOL contact files.
Now, import all of the contacts into your Windows Contacts.
Then press the export button and select vCard and save it at your location.
Limitation of Manual Procedure:
Some people may say that we should use only the manual solution to solve our problems. The manual solution means we have to solve a problem by using our hands. But many times the manual procedure will cause data loss. Because the manual process doesn't provide support. And you may lose your information without any notice. That's why I suggest you to use Professional Solution. Because RecoveryTools solution offers several advance options which are un-able in Manual process.
Final Words
I would suggest that you use the RecoveryTools program for exporting contacts from AOL Mail to vCard file. There are many reasons why a client needs to export AOL Contacts to VCF file. But vCard is one of the popular formats when you want to share them on other applications such as Facebook, iMessage, WhatsApp, etc. I hope you like this application for lifetime use. For more information, you can also contact us via email or chat process.