Embarqmail Migration Tool for Windows Users
Karen Chard
~ Modified: 18-06-2022 ~ IMAP ~ 5 Minutes Reading
AlOverview: In this article, you will learn about the best Embarqmail Migration Tool. The Embarqmail Migration Tool will provide users a direct option to export Embarqmail email data without any issue. Users only need to enter the account login credentials of the Embarqmail user account to load data.
Scenario: –
"I am using Embarqmail email service to manage my mailboxes. My organization is now switching to the Microsoft email platform. I have a bulk of emails in my Embarqmail mailbox account, so migration of mailboxes will take a lot of time.
When I discussed the problem with the Embarqmail team, they didn't give me a positive response. Also, I didn't get the exact solution to migrate from the Embarqmail account. Kindly suggest me a perfect solution that will allow me to export Embarqmail emails"
Instant Solution:
Yes, you can easily migrate Embarqmail emails to desired email client & file format using the best Email Backup Wizard. Also, this all-in-one software will only ask the users to provide Embarqmail account login credentials to load data. This Embarqmail migration tool allows the users to export Embarqmail to various file formats & email clients including EML, MSG, MBOX, PST, HTML, RTF, DOC, XPS, CSV, Lotus Notes, Zimbra, Thunderbird, Zip, Gmail, Outlook.com, Yahoo, Rediffmail, Office 365, Outlook.com, Exchange Server, Hosted Exchange Server, Rediffmail, Amazon WorkMail, or IMAP Mail Server.
Free Download the Solution:
Download for Windows Download for Mac
Note: The free demo version of the Embarqmail migration tool will only allow the users to export the first 25 emails from each folder. Also, if you want to convert more than 25 emails, then you need to activate the software by purchasing its license. Once you complete the purchase process, an email will be sent to you with having activation key within 15 minutes.
Quick Steps to Convert Embarqmail Emails:
Install & Launch the Embarqmail migration tool.
Choose IMAP option & then enter credentials.
Select all required mailbox folders for conversion.
Choose the Desired file format to save resultant files.
Click the Backup button to start & analyze the process.
Embarqmail Migration Tool Will:
Migrate Email Headers: A user can migrate headers of Embarqmail emails like To, From, Cc, Bcc, Sent Date, Received Date, Email Subject, Email Size, Time of the email.
Migrate Whole Email Body Content: You can migrate all the components of Embarqmail emails including Writer signature, email formatting, inline pictures, font size & face, margins, hyperlinks, bold, italic, underline, etc.
Export Email with Attachments: The Embarqmail migration tool supports migration of emails along with all inserted attachments i.e., images & pictures (PNG, JPG, GIF, BMP, WEBP), Text & Documents (TXT, RTF, DOC, DOCX, PDF, XPS), Archives (ZIP, TAR, TGZ, RAR) or other files like HTML, MHT, JS, CSS, & other files.
Pre-requisites:
The Embarqmail migration tool will ask the users to enter the login credentials of the Embarqmail email account. To load the mailbox items, you must aware of the Email Server Settings of the Embarqmail email account.
Embarqmail IMAP Settings:
Username: email address.
Password: account password.
Port No.: 993
IMAP Server: mail.centurylink.net
Security: SSL/TLS
Operating System: Win 10, Win 8.1, Win 8, Win 7, Win XP, Win Vista, Windows Server 2019, Windows Server 2016, Windows Server 2012, Mac OS X & All Previous Mac & Windows OS editions.
System Requirement: Minimum Pentium IV Processor, 256 MB RAM, Minimum 100 MB Space
How to Use Embarqmail Email Converter Software ?
Install & Run Embarqmail Converter tool on your Windows PC.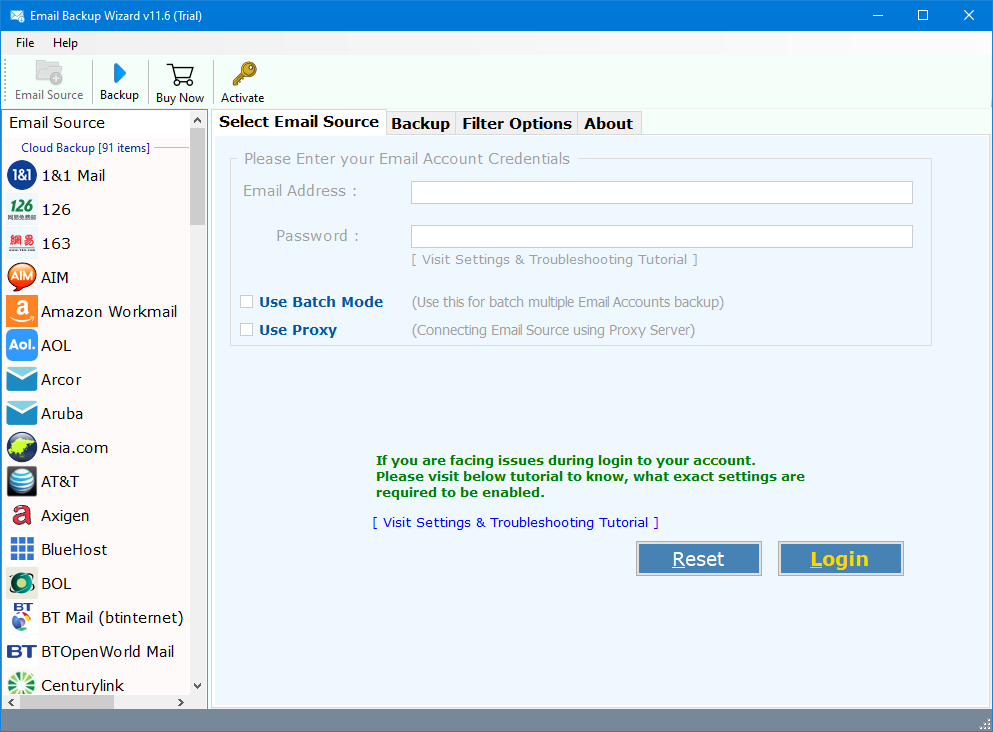 Choose the IMAP option from the 90+ email source list.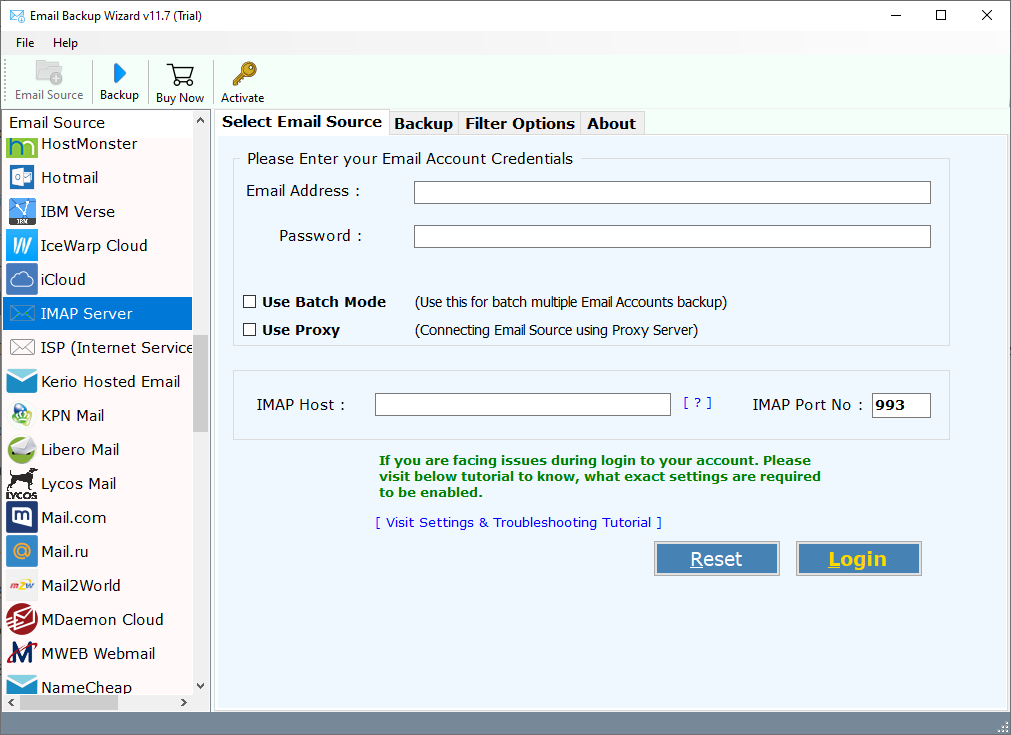 Now, provide Embarkmail email login credentials i.e., Email Address, Password, IMAP Host & IMAP Port Number.
Select all the required mailbox folders for the conversion.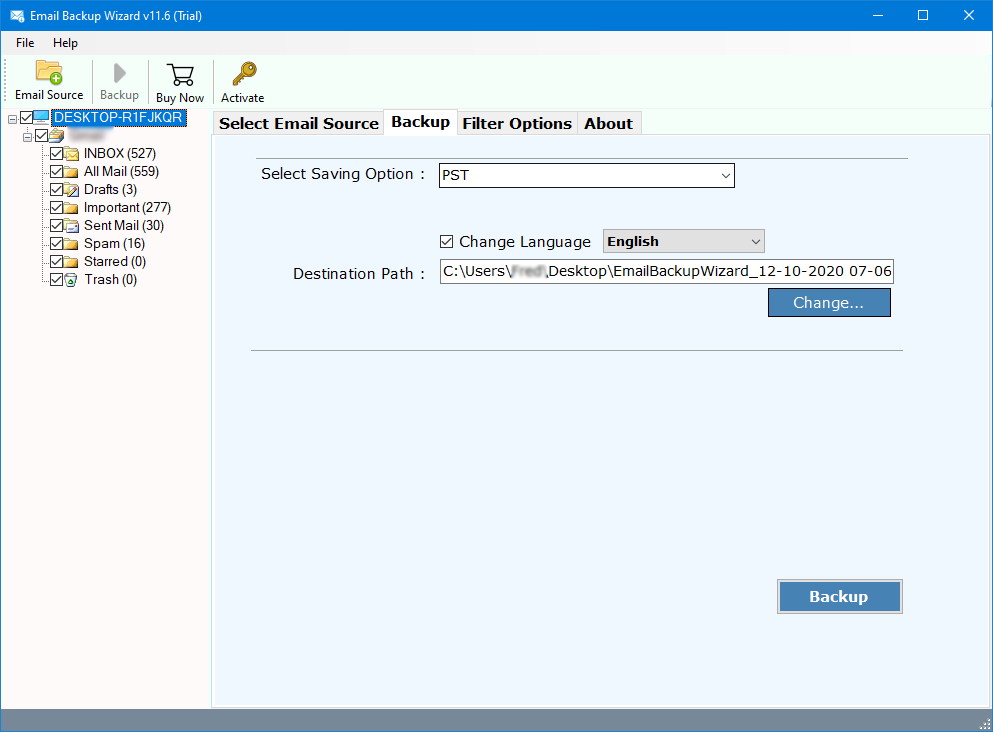 Choose the desired saving format from the list of 30+ file formats.
Set up Embarqmail migration options like change destination path, change language, or use Advanced settings for selective backup.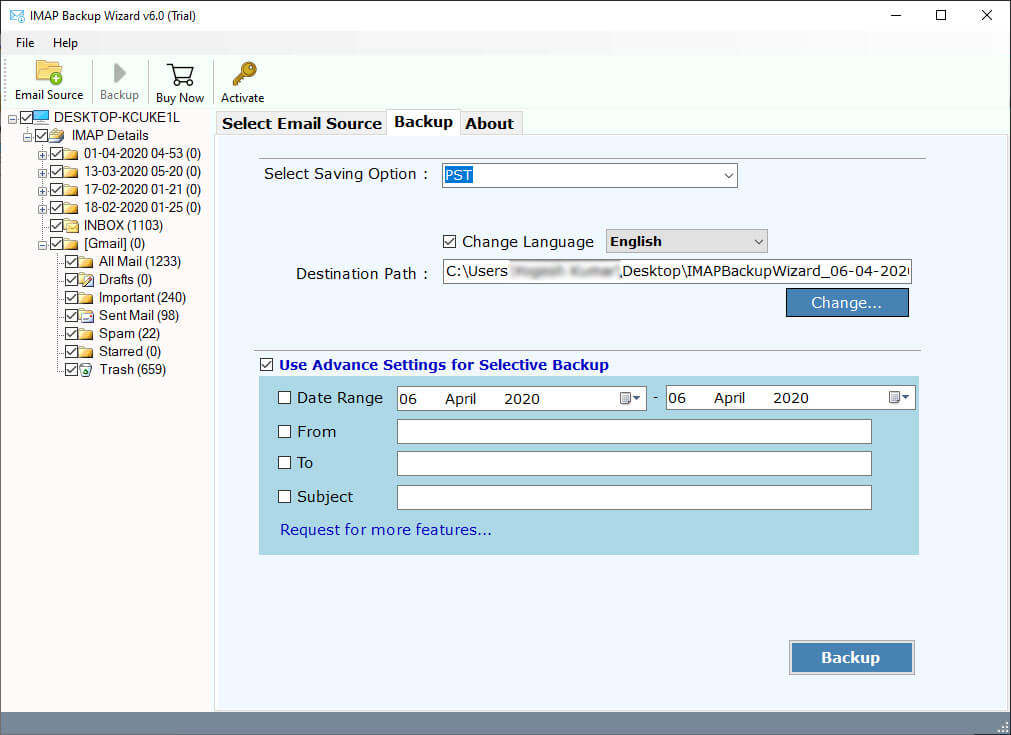 Now, click on the Folder icon to change the destination folder path.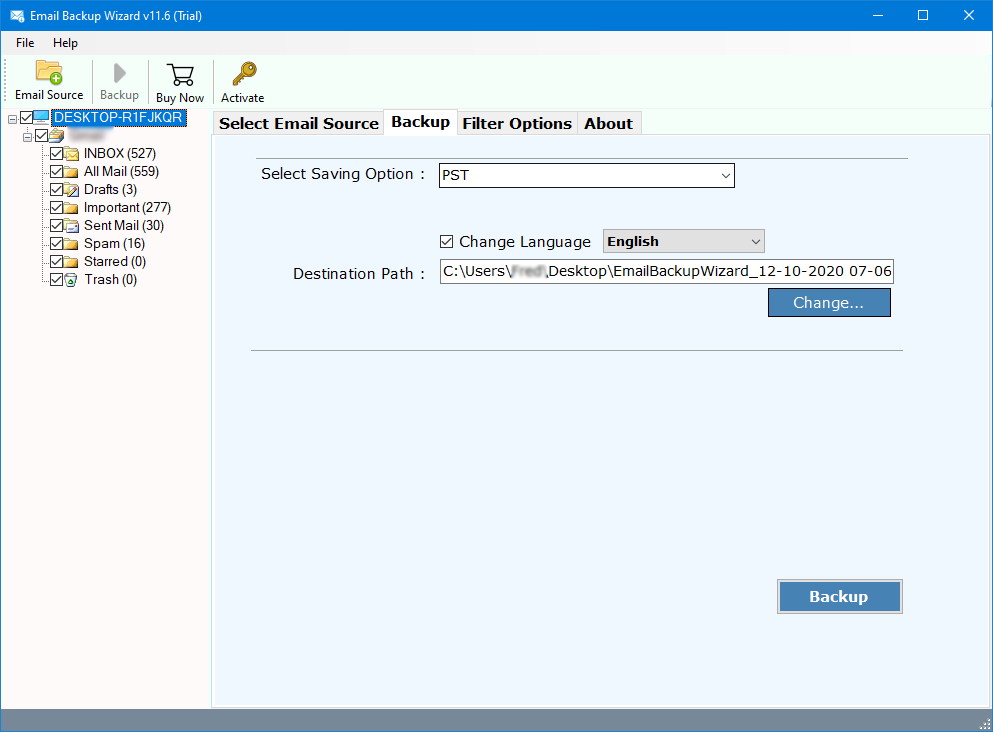 Click on the Backup button to start the Embarqmail migration process. Users can preview the live conversion process directly in the utility panel.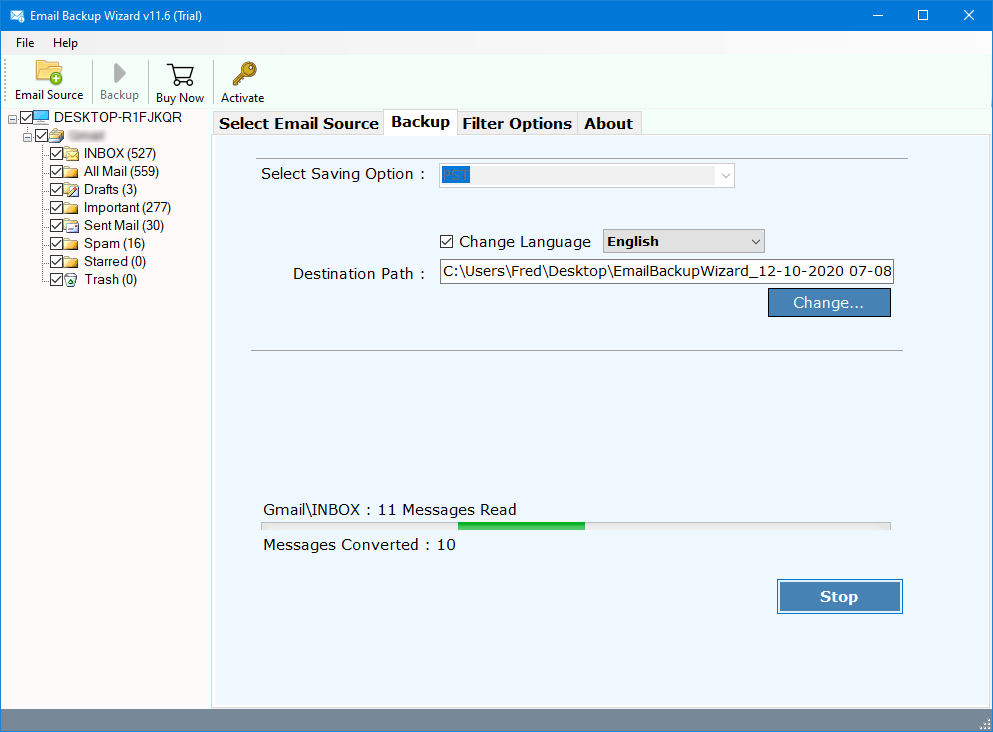 After the process finished successfully you can obtain the resultant output files from the default destination location.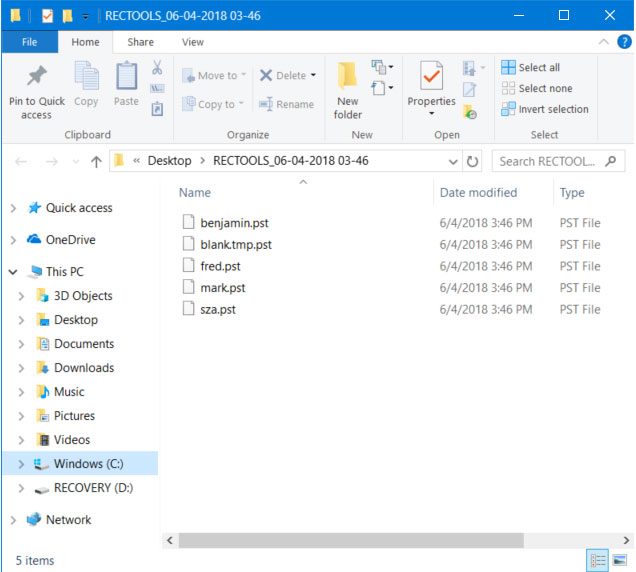 Reviews & Ratings:
I must appreciate the developers of this Embarqmail migration tool for providing me such an advanced solution. I have thousands of Embarqmail emails in the server & wants to migrate them to another Mail Server. Also, this utility gives me a direct option to do so. I only need to choose the items for the conversion & rest of the task will be handled by the utility itself.
As a mac user, there are not so many applications available at present time that allows me to migrate Embarqmail mail server items. It preserves all the original mailbox properties without any issue. Also, the utility allows me to export only selective mailbox items by providing advanced filters settings. Thank you, team RecoveryTools, for providing me this solution.
Conclusion
In the above article, I had explained the best Embarqmail migration tool. It is a robust, user-friendly & simple solution to convert Embraqmail emails. Also, the Embarqmail converter software comes up with a free trial edition that allows exporting only a few Embarqmail emails.