How to Convert MBOX to Doc & Other Readable Formats?
Karen Chard
~ Modified: 20-01-2023 ~ Convert Data ~ 5 Minutes Reading
Overview: Are you one of those who are looking for a solution to export MBOX emails to readable formats like DOC? If Yes! Then read this article. Here, we will use the best solution to convert MBOX to DOC and other readable formats in batch.
Readable formats are divided into 2 types:
Human Readable formats like PDF, HTML, Word (DOC/DOCX), etc.
Machine Readable formats like CSV, XML, JSON, etc.
Enterprises search for a solution through which they can convert MBOX format to one of these readable files. Generally, it is required to access MBOX emails on a PC with file readers / Excel app / Word program. These applications are commonly present in all computers and therefore, people are able to access emails of MBOX files on any system.
In this informative write-up, we are going to primarily focus on MBOX to DOC conversion (Microsoft Word format). Move towards the next section of this post to get to know details about the technique. For other formats, you can read our articles dedicated to them:
A Professional Way – Convert MBOX to DOC
RecoveryTools MBOX Migrator utility allows you to convert bulk MBOX emails to Word document formats such as DOC / RTF / CSV / XPS/ HTML, etc. So, it has options for both human and machine-readable formats.
No matter whether a person has high technical abilities or not, he or she will be able to use this approach without any challenges. You can use this application on your Mac and Windows computers.
Download from Here:
Download for Windows Download for Mac
Note: This is a trial edition for exporting few emails from MBOX to Readable document format. For more, purchase the software key.
Steps to Convert MBOX to Word Document
Launch the software on your machine.
Select MBOX files with dual options.
Choose the DOC option in the file saving list.
Set destination location path by clicking on browse.
Click on the next button to convert MBOX to Word Document.
How to Convert MBOX to Readable Formats – Complete Process
The detailed steps for converting MBOX to DOC and other readable formats along with screenshots are as follows:
Download the setup file with the above buttons on your PC and then, install it. This procedure hardly takes 20 to 30 seconds for its completion. Now, launch the application that you have installed recently and click on the Next button. You can consider this as an initial phase for opening the MBOX file on Windows 10.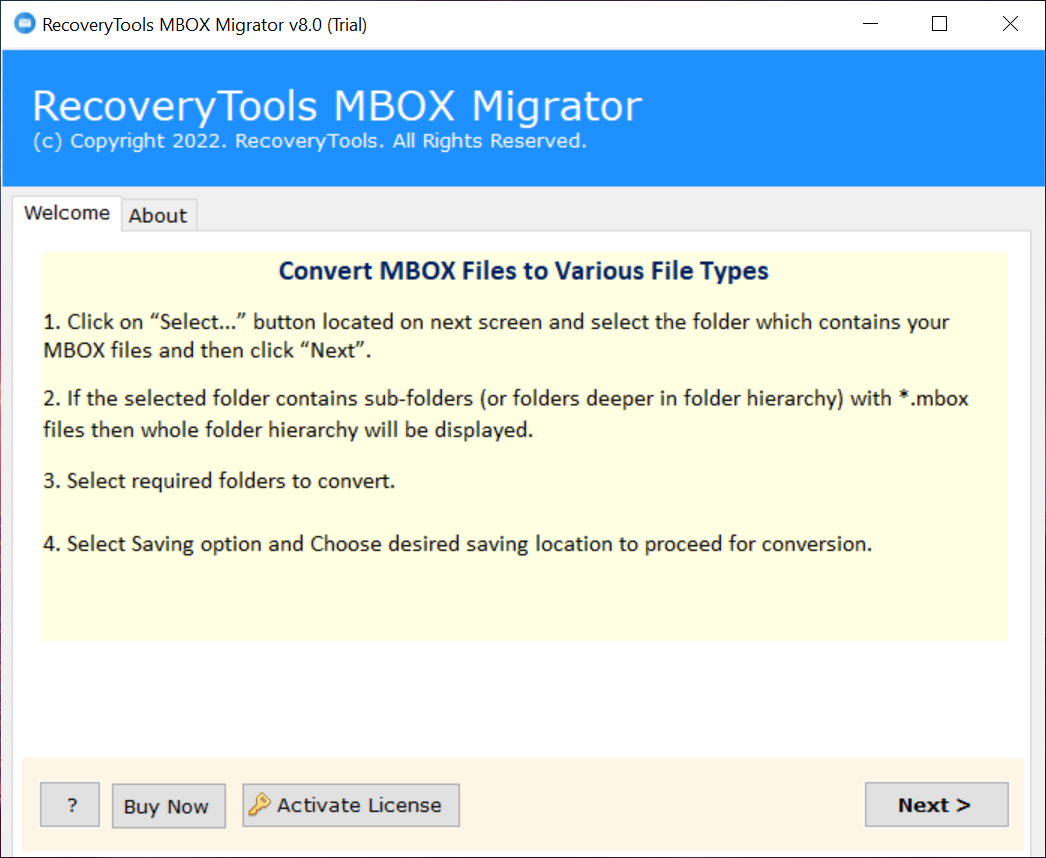 It's time to click on the 'Select Files' button to browse the MBOX files whose emails you wish to export in a readable format.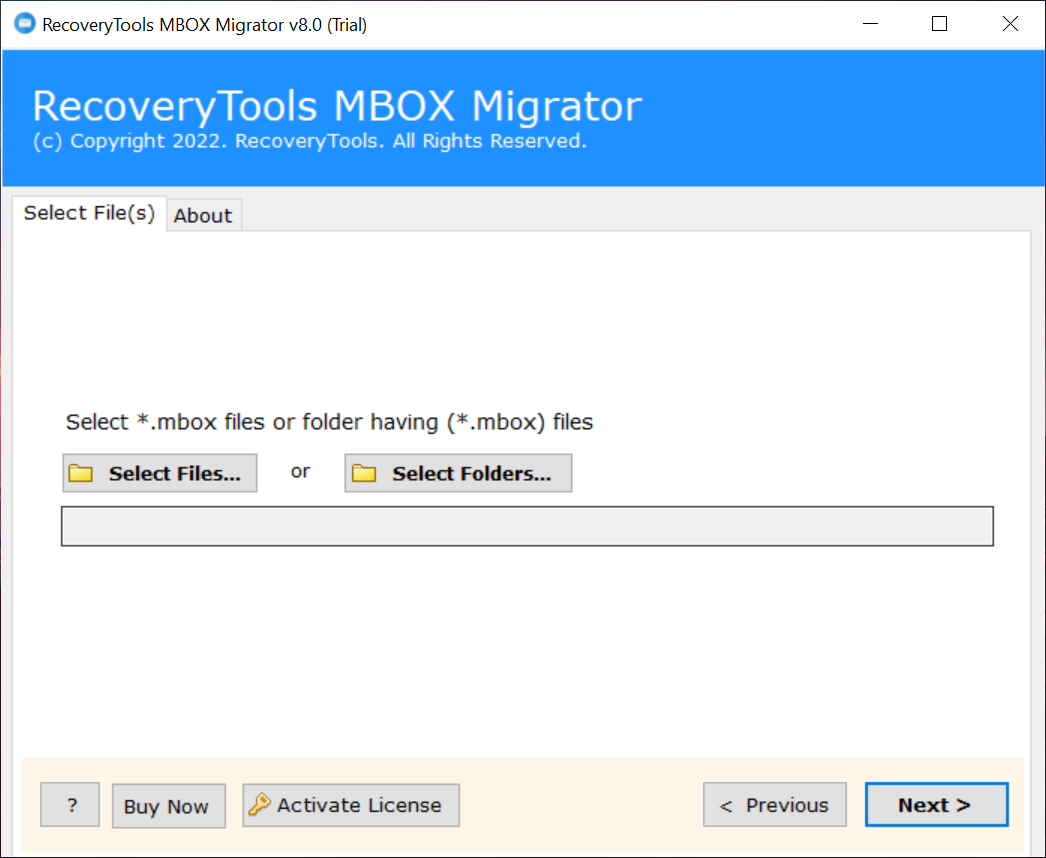 An 'Open' window appears where you have to locate the path for the source MBOX file. Perform a single mouse click on this file and then, click on the Open button.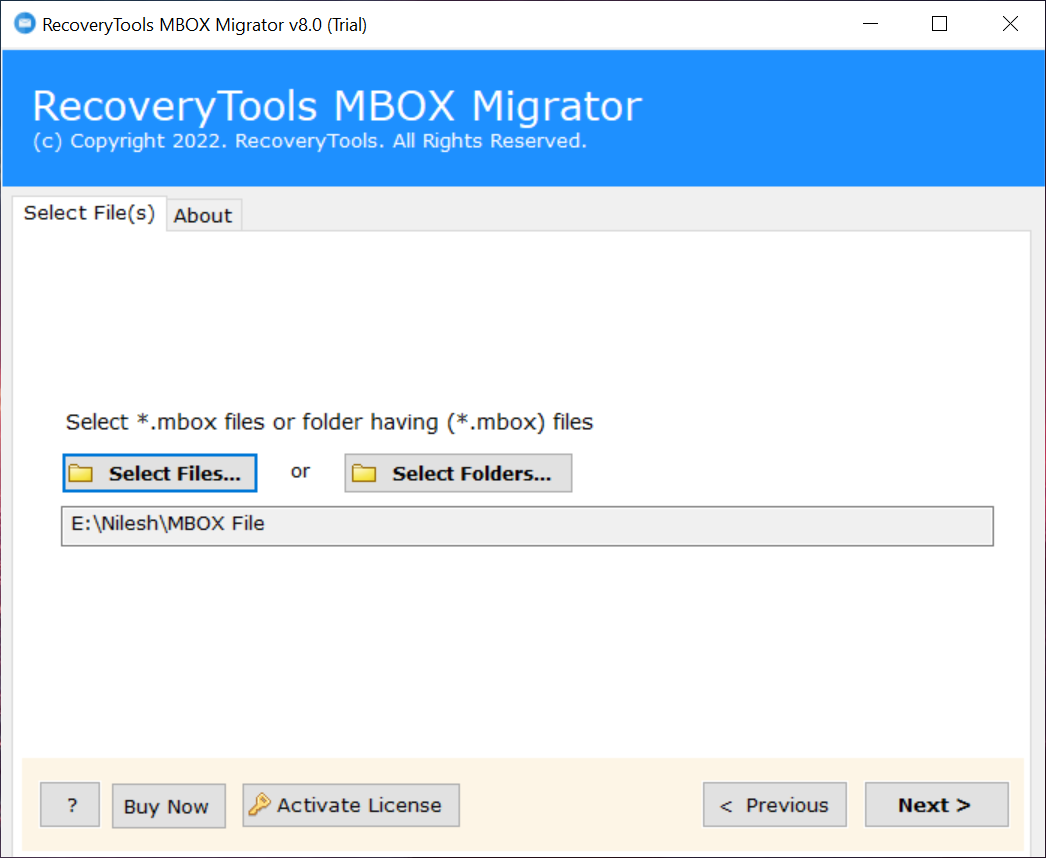 Continue with the procedure of converting MBOX to readable format by clicking on Next. It's your time to check the checkbox of chosen MBOX file items whose emails you wish to process.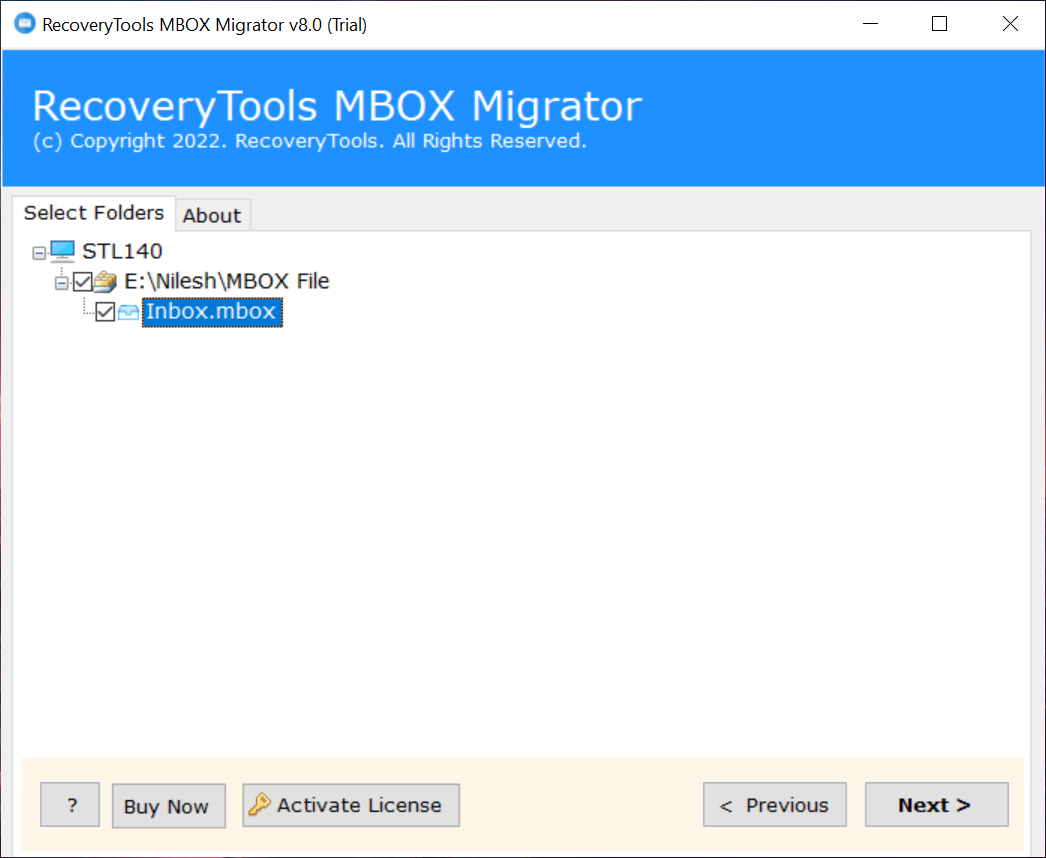 Explore the menu of 'Select Saving Option' and select any one of your desired file formats.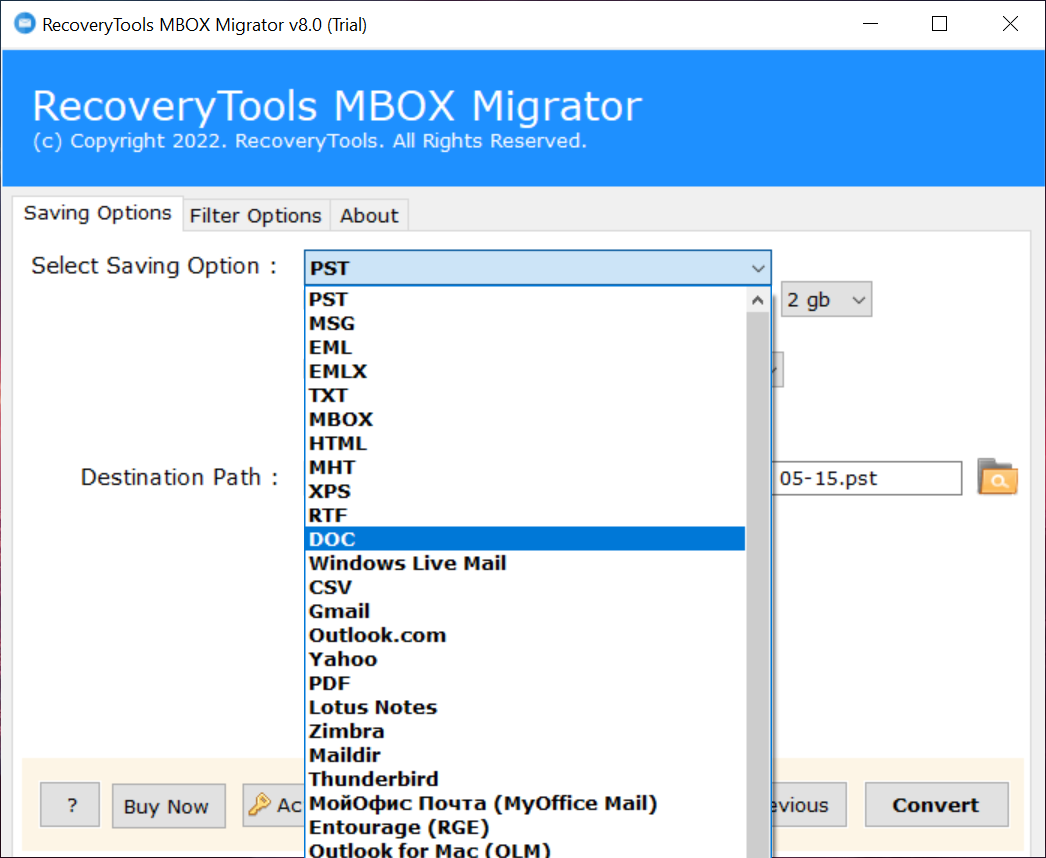 In the 'Destination Path' file, define the location of your system where you want to save resultant readable files. If you wish to change the default 'File Naming Option' setting, expand the menu of it and choose any one of your desired options.
Begin the process execution by clicking on the Convert button. The software starts converting MBOX format to chosen readable files.
After the completion of the process, a prompt appears. This indicates that the conversion procedure has been finished and now you can use your resultant readable files. Click on OK and close the software window.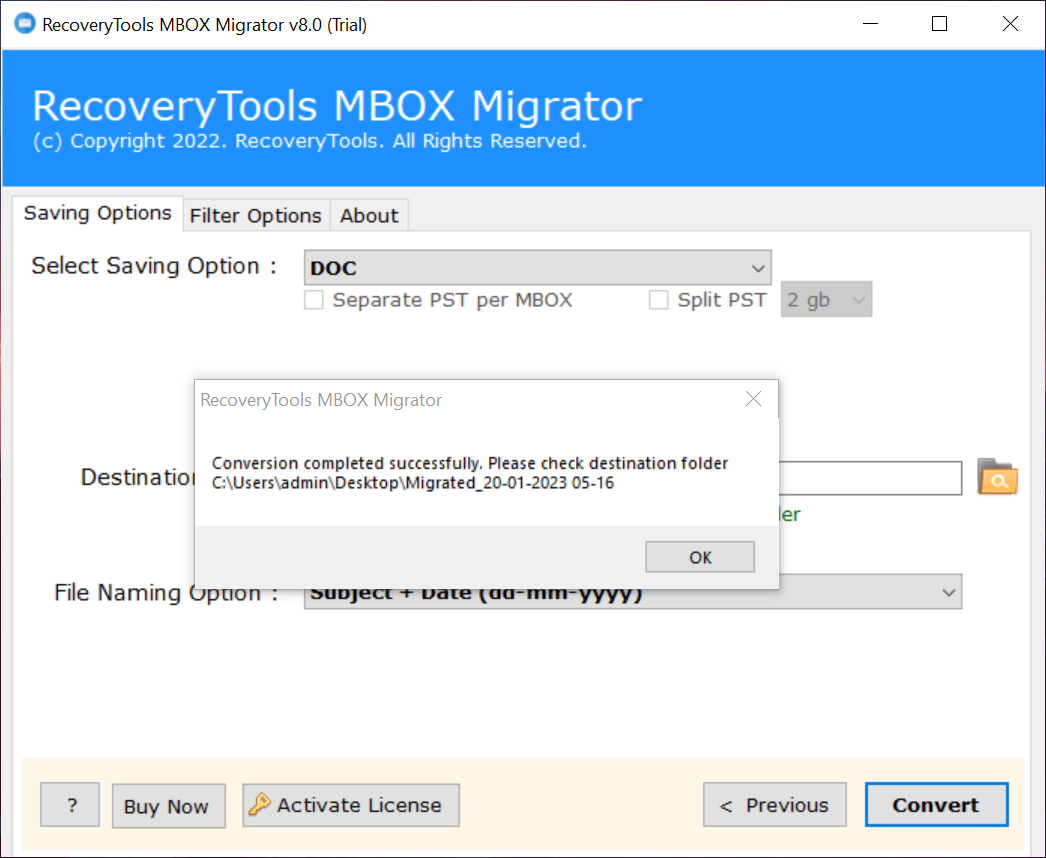 What Else is Needed for Conversion?
You must be thinking – Does this MBOX to DOC converter need any supportive program to access? It's a proud moment for us to tell you one amazing reality about this solution i.e., This software does not need any supportive application. It is an independent method to convert MBOX to Word and other file formats.
Well, we want to inform you one thing i.e., if you choose "PDF" that has attachments(s), the attachment(s) of the email will be embedded in each portable file. But, in case, you pick "DOC" and other readable formats, then the attachments will be stored in a separate folder. The purpose of the folder creation is to keep all attachments safely on PC without any damage.
That's All For the Day
The solution to convert MBOX to readable format has been shown in this post. Officials can read this technique and simultaneously implement it by using the trial version of the mentioned software. The demo edition is available on the official website of the program. Professionals can download and install a virus-free file of the tool and test it.
But, the only limitation in this edition is that it exports the first 25 emails from MBOX to Word DOC format. Once people get satisfied with this edition, they can activate the licensed version of the product to remove the limitation of the demo version. And hence, use the program without any restriction.