Best Way to Import NSF to Office 365 Admin Center
Karen Chard
~ Modified: 25-03-2023 ~ Lotus Notes ~ 4 Minutes Reading
Find out the best way to import NSF to Office 365 admin account to migrate data across multiple users in one account.
Are you looking for a solution to migrate NSF files to the primary mailbox of the Office 365 admin account? Try the Lotus Notes Converter software. Has the ability to log in using the Office 365 admin account to migrate NSF files across all user accounts.
My friend, Stephen was using Domino Server to manage his organization's email accounts. Over time, the attraction to the cloud-based Office 365 admin account has grown rapidly.
So, he asked me to help him on how to transfer from the Domino server NSF file to the Office 365 admin account.
Unfortunately, a user cannot directly import NSF files into the O365 account. However, there are many manual tricks that can help you convert NSF to an Office 365 account. The manual data migration process is a very complex and tedious task.
During the manual process, a user always faces a threat for the loss of his crucial data. Once data is lost, it cannot be recovered.
Hence, it has always been advised to choose a licensed application, which guarantees the safety of your data. I personally suggested nMigrator software to him.
Also, the application has a direct option to migrate data from the Notes NSF file to the Office 365 admin account.
How to Import NSF Data to Office 365 Admin Center – Watch Video
After watching this video, you will find out how easily you can import data from the NSF file to an O365 account.
Also, the application is capable to migrate the data of Lotus Notes/IBM Notes/HCL Notes NSF file. It also supports to import data exported from Domino Server & SmartCloud Notes NSF files into Office 365 account.
If you're an Office 365 administrator, the NSF to Office 365 migration tool offers the "I'm an admin" option. When logging in with administrator credentials, the administrator can access multiple users.
When selected, the software provides a Mailbox Mapping tab where users can map the NSF file to Office 365 users. Also, the Select button provides a drop-down menu that lists the Office 365 users that the administrator is associated with. NSF file.
User can easily map their mailbox folders using a CSV file.
This option allows users to import different NSFs for different Office 365 users through a single administrator account.
Step-by-step Process to Migrate NSF files to Office 365 Account:
Install & Run NSF to O365 Migration tool.
Load NSF mailboxes in dual ways. Preview emails or select for the conversion.
Choose Office 365 option from the list & provide login credentials.
Enable I am Admin option, & setup language settings.
Now, map your mailbox folders to the user's account in the admin account.
After completing the setup process, click on the convert button to start the process.
Analyze live NSF to Office 365 migration process in application panel.
Check the SavingLog report after the process finished successfully.
I think the above steps will clear up all your doubts. The application allows you to view NSF e-mail messages without the Lotus Notes e-mail client. Also, this tool is cleverly designed to export NSF files to the Office 365 primary folder or to an In-Place Archive mailbox.
Apply Advanced Filters Settings for Selective Migration: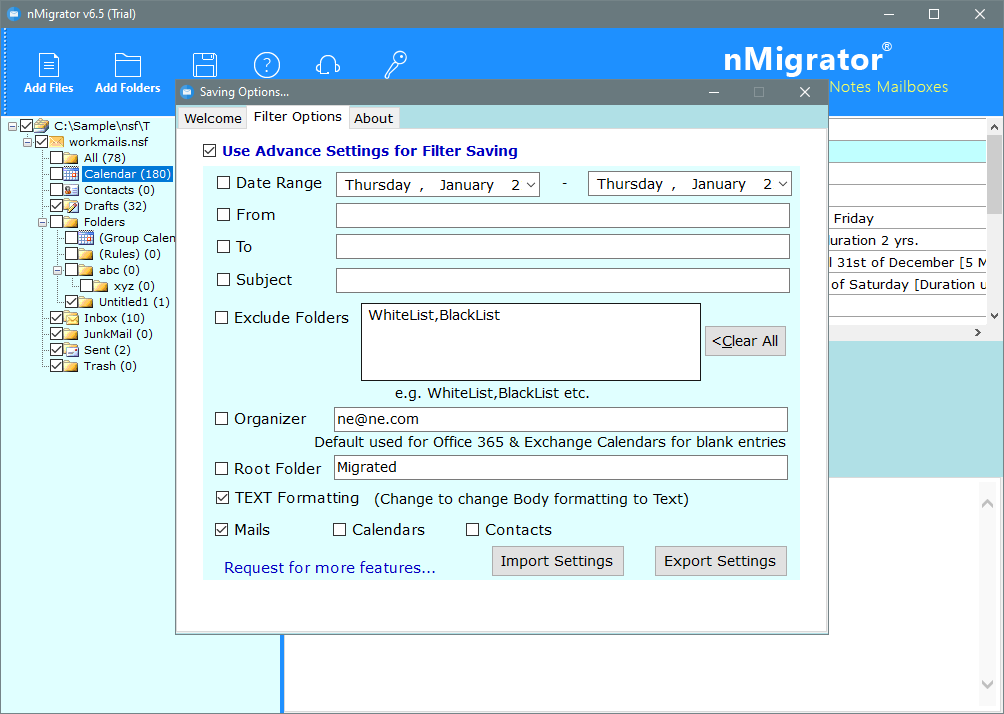 This application offers various advanced filter settings. These settings allow users to export only selected NSF file data to an Office 365 account.
Date Range (Applied to migrate specific data between date range)
From (all emails received from specific email account)
To (emails sent to a specific email account)
Subject (emails with the particular subject)
Exclude Folders (exclude any unwanted folder like whitelist)
Organizer (CN Values, by default used for Office 365 Calendars for blank entries)
Root Folder (import NSF data to a primary folder of Office 365)
TEXT Formatting (change to change body formatting to text)
Mails (Export only NSF emails to Office 365)
Contacts (migrate only NSF contacts to Office 365)
Calendars (convert only NSF calendars to office 365)
All these filter settings are available in the software panel. The user only needs to activate the settings by checking / unchecking.
Conclusion:
This tutorial provides information on the best solution for importing NSF files into your Office 365 account. Also, the application described above offers a language setting the preference to map folders to folders.