How to Import NSF Files to Exchange Server?
If you are looking for a smooth process to import NSF files to Exchange Server, then here are a few tips. You can successfully import Lotus Notes NSF Files or Domino Server NSF Files to Exchange Server very easily.
IBM Notes is a very well-known name in the industry of email communication. Previously, it was known as Lotus Notes & at present, HCL owns it. Many IBM Notes users are looking for a way to migrate NSF files into an Exchange Server account. The reason is very simple:
Cost: The cost of IBM Notes & Domino Server is very high in comparison to Microsoft Outlook & Exchange Server.
Reliability & Performance: Exchange Server is more reliable & smoother in comparison to Lotus Notes. Organizations sometimes need a dedicated person to handle IBM Notes & Domino Server.
These are just a few reasons enough to import NSF files to Exchange Server.
"I am working as a lead manager in a company. My task is to successfully perform Lotus Notes to Exchange Server migration. We have a large number of NSF files & want to import all of these files into the Exchange Server account. Can you help me how can I do that?"
The answer to this query is obvious Yes.
Best Solution – NSF to Exchange Migrator:
The RecoveryTools Lotus Notes Migration Tool is the best solution available at present time to import NSF files into Exchange Server account. Users can export unlimited files without any size limitation using this toolkit. The utility works in a completely independent environment, hence you need to disconnect Domino Server connectivity before the migration.
Trial Limitation: One can export only the first 25 emails from NSF file to Exchange Server during its trial limitation. If you want to migrate more that 25 emails, then you need to first activate the software. You can activate it by purchasing the license key. Once you complete the payment process, you will get an email within 15 minutes containing the product activation key.
Quick Steps to Import NSF Files to Exchange Server:
Install & Launch NSF to Exchange Migration Tool.
Load NSF files in its panel in dual ways.
Choose only desired NSF Mailbox folders.
Select Exchange Server Saving format from the list.
Set up NSF to Exchange 2016 options & start the process.
Advanced Features of NSF to Exchange Converter
Easy & Simple Working Interface:
The NSF to Exchange Converter software is designed to provide easy & simple environment to all the non-techie users. You do not need to have any advanced technical knowledge to perform the migration. It is the simplest way to move data.
Get Preview of NSF Emails:
A user can preview the emails stored in Notes NSF file. You can read all the information directly in the utility panel i.e., email header, attachment files, signature, content, etc. Users can also save all the NSF email attachment files directly through utility panel.
Advanced Filters Settings:
One can easily apply the advanced filters settings to export only specific emails. You can apply these settings of the basis of various parameters like To, From, Date Range, Subject, Exclude Folders, Text Formatting etc.
Preserve Original Metadata Properties:
The utility will maintain all the original metadata properties of NSF emails while moving them to Exchange Server account. It will not make any changes in the original details of the emails like Meta Properties, Embedded attachment files, Signature, Hyperlinks, Body Content etc.
Run on Microsoft Windows Machine:
You can run this toolkit on all the latest versions & editions of Microsoft Windows. It is compatible with Windows 10, Windows 8.1, Windows 8, Windows 7, Windows XP, Windows Vista, etc. for both 32-bit & 64-bit OS editions.
How to Import NSF Files to Microsoft Exchange Server?
Install & Run Notes NSF to Microsoft Exchange Migration tool: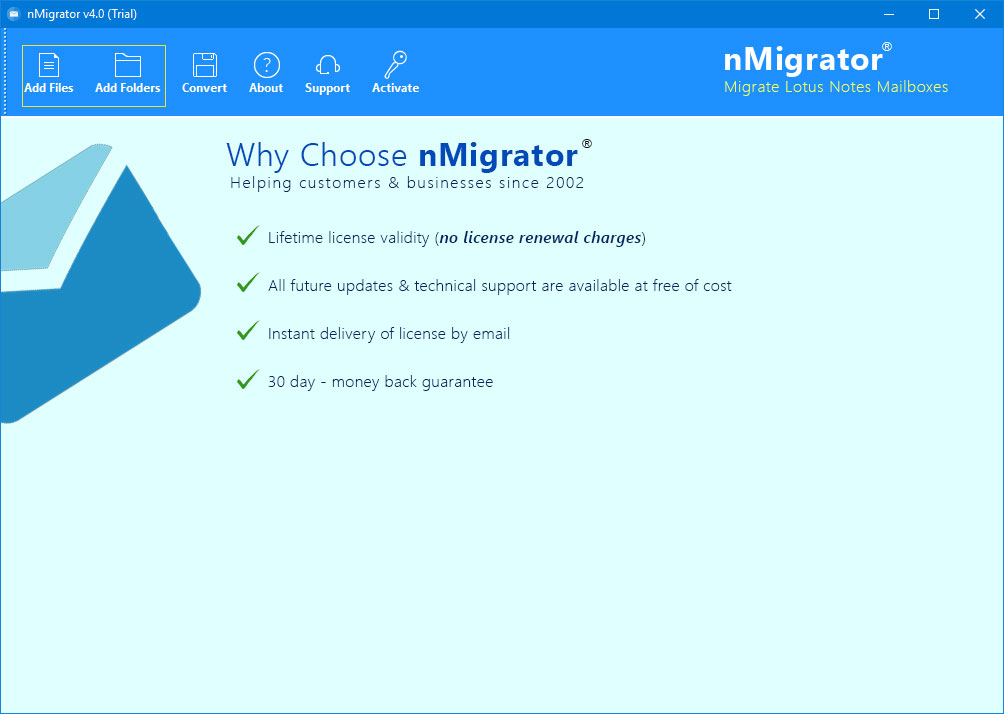 Load NSF files into the application panel in dual ways, i.e., Add Files or Add Folders.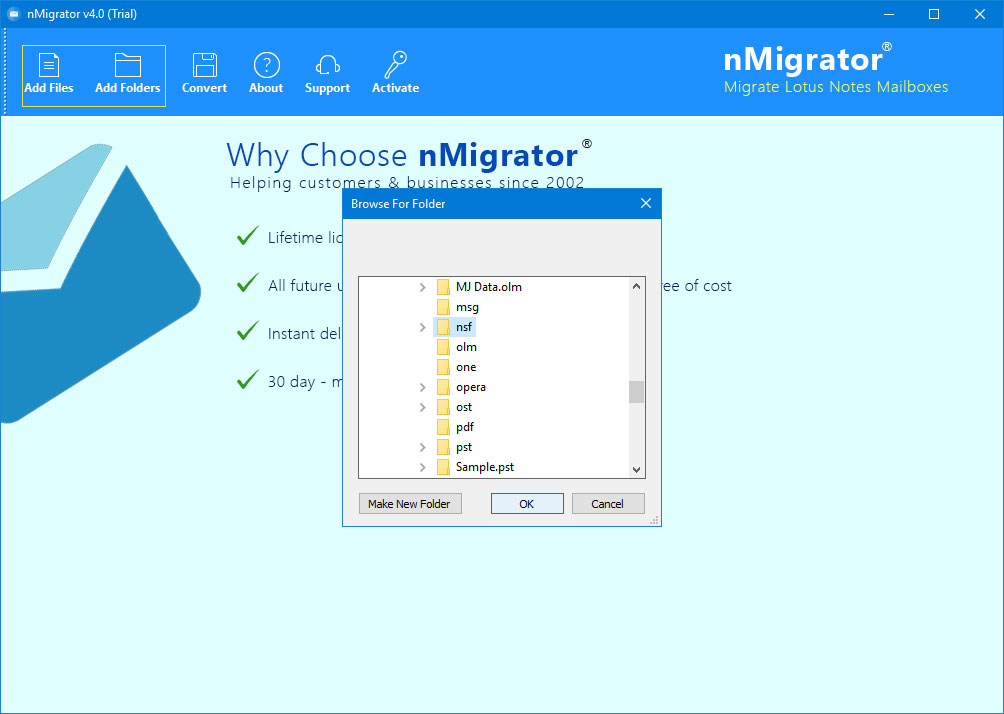 Choose all the required mailbox folders for the conversion.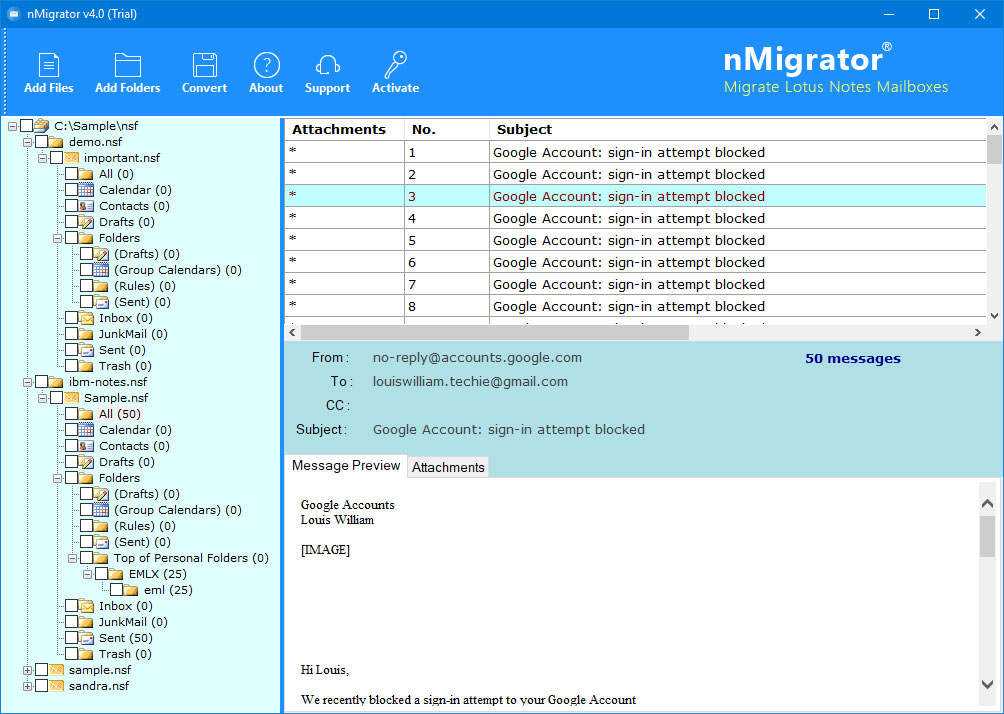 You can also freely read email information in the software panel along with attachments.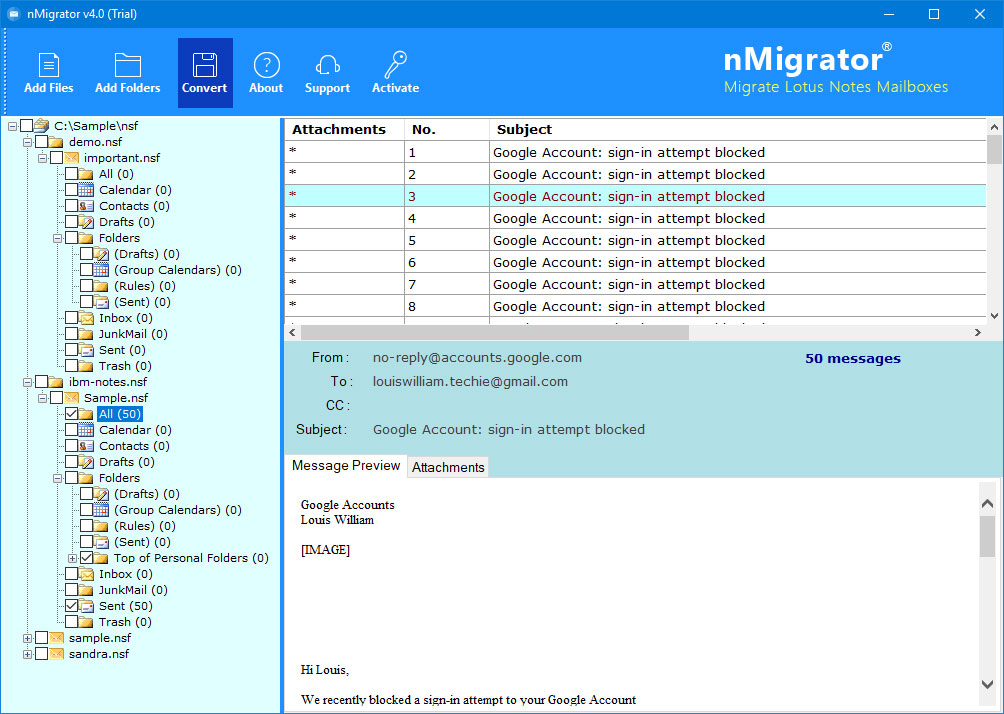 Now, choose the Exchange Server option from the list.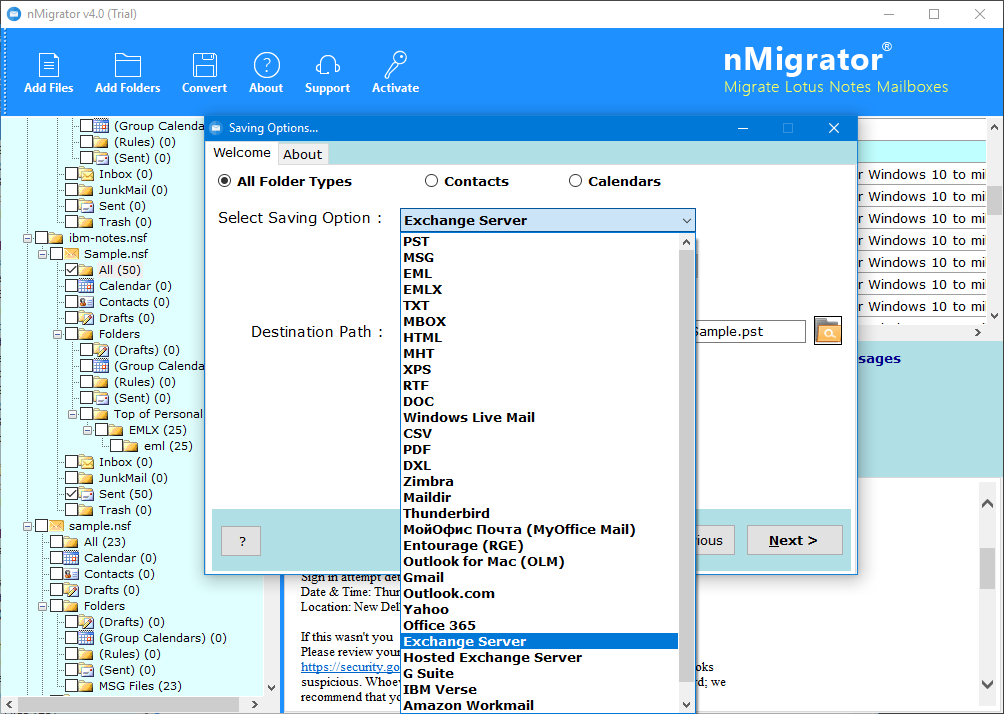 Setup NSF to Microsoft Exchange Server migration options like enter credentials, change language, I am Admin, or Copy to default folders.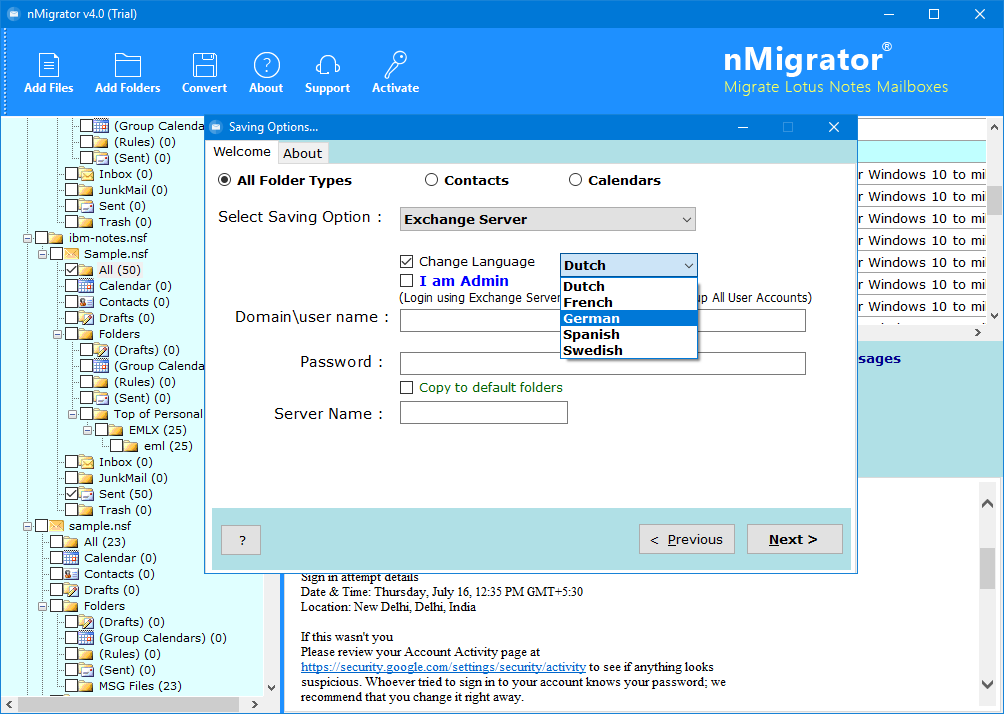 Click on the next button to start the process.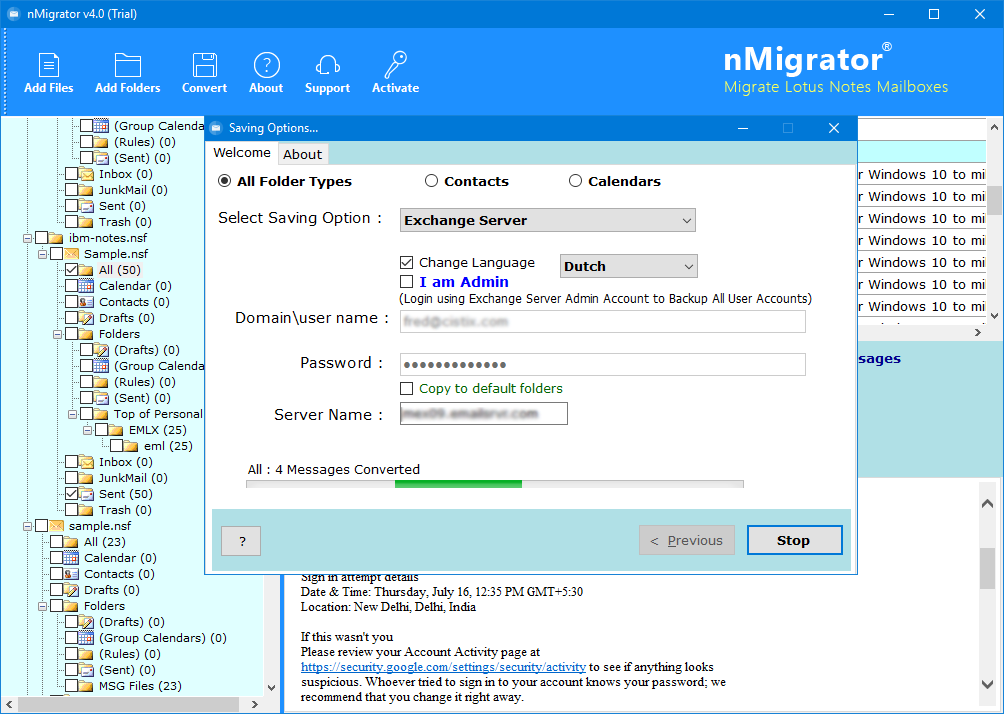 FAQs
Query 1: I have 500 MB of username.nsf file & 23 MB names.nsf file. I am looking for a way to import both of these files into an Exchange Server account. Is it possible to do so using your application?
Solution: Yes, a user can easily import username.nsf & names.nsf both files to Exchange Server without any issue.
Query 2: Does this software support batch conversion of multiple NSF files into Microsoft Exchange Server?
Solution: Yes, it provides dual-mode to the users to load NSF files in the application panel. Choose Add Folders options & select multiple NSF files to import into Exchange Server in bulk mode.
Query 3: I do not have the Lotus Notes email client configured on my Computer. Can I still use your application?
Solution: No, you need to have IBM Notes / Lotus Notes or HCL Notes email client configured in your machine to perform the successful migration.
Query 4: I have NSF files obtained from Notes 9.0.1 edition. Does your toolkit support importing NSF files to Exchange Server?
Solution: Yes, the utility supports the conversion of NSF files obtained from Notes 9.0.1, 9.0, 8.5, 8.0.2, 7.0, 6.5, or 6.0, etc.
Conclusion
In the above article, I had explained the best way to import NSF files to Exchange Server. The free trial version of the edition of this toolkit will enable the users to export only the first 25 emails from each folder. I hope you will get the perfect solution to move NSF files into the Microsoft Exchange Server account. You do not need to pay anything to check it's working. To use the full version, you need to activate the software.