How to Convert Yandex Mail to Outlook PST ? – Direct Approach
I am using Yandex Mail since many years. But now, I have started facing many problems while using it. There are many problems like late email delivery along with some security issues. Now, I want to convert Yandex Mail to Outlook. Please suggest me some good solution to directly migrate Yandex email to Outlook.

Gizelle, Russia
Are you are also looking for a method to convert Yandex Mail to Outlook? If so, here in this write-up, you will get the perfect solution. The Yandex Email migration tool is a professional utility to migrate Yandex email to Outlook. Yandex backup tool offers a number of benefits for a smooth and fast Yandex Mail migration. Also, in just a few steps, you can convert Yandex Mail to Outlook. You can download the utility to import email Yandex to Outlook PST.

How to Convert Yandex Mail to Outlook ?
1. Firstly, install and run the Yandex Mail migration tool on your Windows-based PC. The tool can run on any version of Windows Operating System.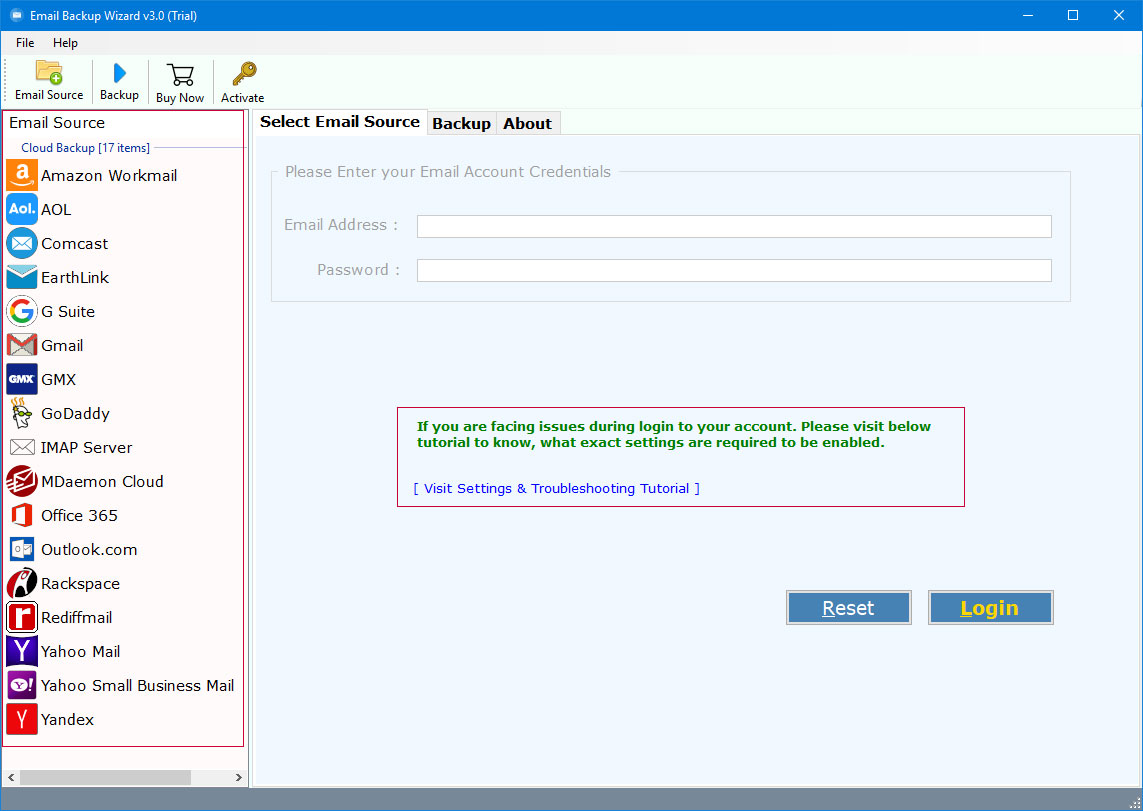 2. Now, from the given list of Email Source, choose Yandex Mail to migrate Yandex email to Outlook PST format.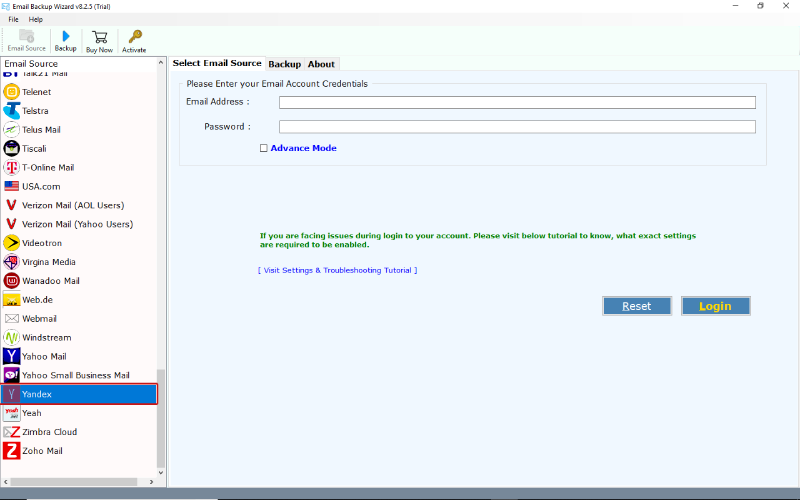 3. Enter the login details of your Yandex Mail account. Once you are done, click on Login and connect to your Yandex account.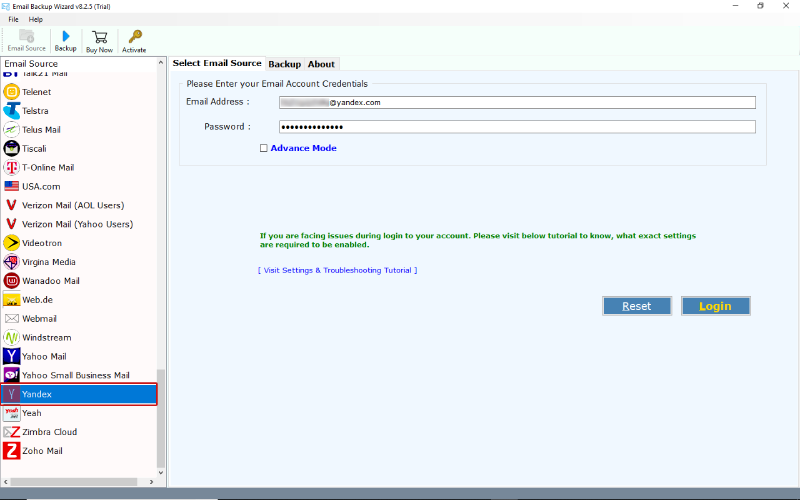 4. The Yandex email backup tool will display all the files/folders of your account. Here choose the folders you want for Yandex Mail migration. Now, as you want to convert Yandex Mail to Outlook PST, choose the saving option as PST. Once you convert Yandex emails to PST format, you can manually import PST file to Outlook.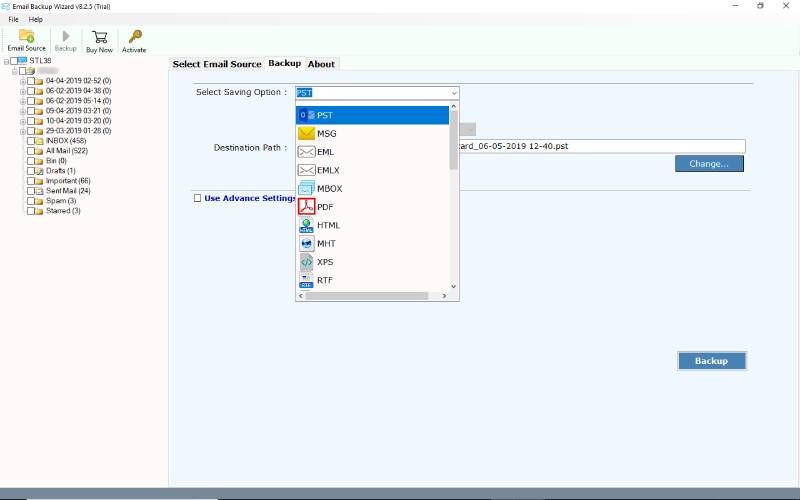 5. Also, the Yandex Mail migration software provides Advanced Settings. If you want to use it, check the Advance Settings option and fill the required details. In the end, click on Backup to migrate Yandex email to Outlook.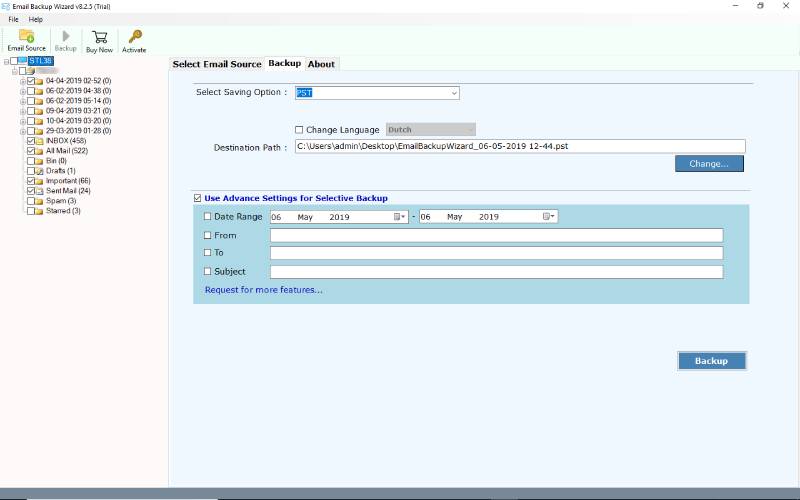 6. Within some time, all your selected emails will be converted. In the end, the utility will show a completion message.
Why Choose Yandex Email Backup Tool ?
1. Self- Explanatory Interface: The Yandex Mail migration tool has an attractive, self-explanatory user layout. All users, whether technical or non-technical, can easily use this software.
2. Windows OS Compatibility: The tool is compatible with all the versions of Windows Operating System including Windows10, Windows 8, etc.
3. Advance Mode for Easy Login: In case you face any difficulty while logging in to your account, you can use Advance settings for smooth login.
4. Safe Migration: The Yandex to Outlook migration is done ensuring the complete security of data. Also, while the conversion process, no data is lost.
5. Folder Structure Maintained: The utility maintains the proper folder structure of the files. It does not disturb the order or name of folders.
6. Migration with Attachments: The tool lets you convert Yandex Mail to Outlook along with attachments. You can easily migrate files without losing any attachments.
Some User Queries

1. Can I import email Yandex to PST format directly ? Also, I have around 150 Yandex emails. Is there some way to transfer Yandex email to Outlook in bulk ?

Ans: Yes, definitely, you can migrate Yandex to Outlook PST format using the Yandex migration tool. It lets you convert multiple files at once.

2. How to add Yandex Mail to Outlook along with all the attachments ? Please give an appropriate solution.

Ans: The Yandex email to Outlook migration tool as a suitable solution to convert Yandex Mail to PST.
Closing Words
In the above blog, we have briefly explained the complete Yandex Mail migration. Also, the tool used is an efficient solution to convert Yandex Mail to Outlook. The Yandex email migration tool is a multi-specialty software. Using this Yandex backup tool, you can quickly migrate Yandex Mail to Outlook PST. Also, there is a DEMO version available for the tool. To experience the working of utility, you can download it.