How to Transfer Emails from HostGator to Gmail Account ?
Karen Chard
~ Modified: 02-06-2022 ~ How To ~ 7 Minutes Reading
Overview: Are you also facing a similar query ? Have you created a newly hosted website using HostGator services, but now want to transfer HostGator emails to Gmail ? If yes, then keep reading this blog. A one-stop solution is described in this write-up for this problem.
HostGator is a powerful email service provider that provides domain registration, web hosting, making, accessing, and handling business webmail and other email services. It has an easy-to-understand Graphical User Interface which makes it convenient for use by any user. Though one does not require any technical proficiency to utilize HostGator webmail provide. However, the time is taken to load pages as genuinely disturbed HostGator.
Gmail – If you possess or deal with a business and have the opportunity to pick your organization's email service. Then, Gmail or even Google Apps is probably the most ideal alternative available. While a lot of individuals use Gmail for personal correspondence, but it has world-class usefulness for small or big organizations too.
"I have a medium-scale IT organization and currently hosted my business website as HostGator. All of the business email account messages and other information are edged in via HostGator. There are some specific email messages in my HostGator email account and I want to migrate them to Google mail. I have checked a lot on the internet regarding the solution for this but was unable to find it. Can you suggest me a reliable software that can help me to transfer HostGator to Gmail ?"
– Catherine, UK
Take an Overview About HostGator and Gmail
By utilizing a Google mail account, you can feel like you have a proper IT team behind your ultra-modern organization along with the facility of easy setup and web-based apps availability.
There are premium benefits of using Gmail over any webmail such as: –
Large storage space
Less expensive and less labor (just you!) to keep up with
Synchronization with Microsoft Outlook
Requires only internet connection
Security of information
Simple search and handling of multiple email accounts.
Want to Bulk Transfer HostGator Emails to Gmail ? – Try this Multipurpose Application
The most reliable and effective solution to transfer HostGator mailboxes to Gmail account is RecoveryTools Email Backup Software. This powerful utility has the capability to perform bulk email conversion within few seconds. It gives the facility to transfer emails from HostGator to Gmail with embedded attachments. You can use this utility to transfer into Office 365, etc.
All you need to perform the conversion is your accurate email address and IMAP details. The rest of the process is automated and will directly move selective emails from HostGator to Gmail service.
Before you proceed towards the steps to perform this migration, download the solution:
Download for Windows Download for Mac
Free TRIAL for Business/ Technicians- In order to understand the software in a full-fledged manner, we suggest you to first try the trial version. It is completely free of cost and gives functioning to migrate 25 email items from HostGator to Gmail. For rest of the email migration without any limitations, please buy the license keys.
Steps to Transfer HostGator Email to Gmail Account
Launch the solution on your PC.
Choose the HostGator or Webmail options.
Select the folders which you want to migrate.
Pick Gmail option and enter all the details of account.
Start the HostGator to Gmail Migration process.
How to Transfer Emails from HostGator to Gmail Account ?
To start with, download and launch the software on your machine.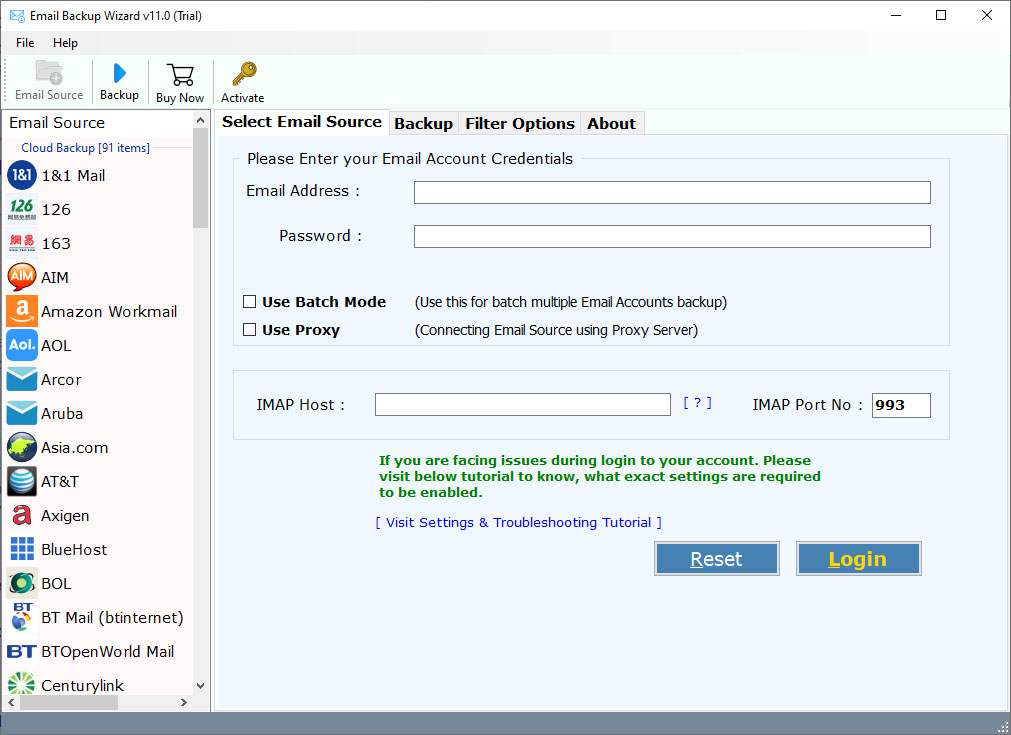 There are other additional options like 'Use Batch mode' and 'Use Proxy'. The former one is to transfer multiple HostGator account data to Gmail. The latter one is to connect the email source using Proxy Server. So, choose them as per need.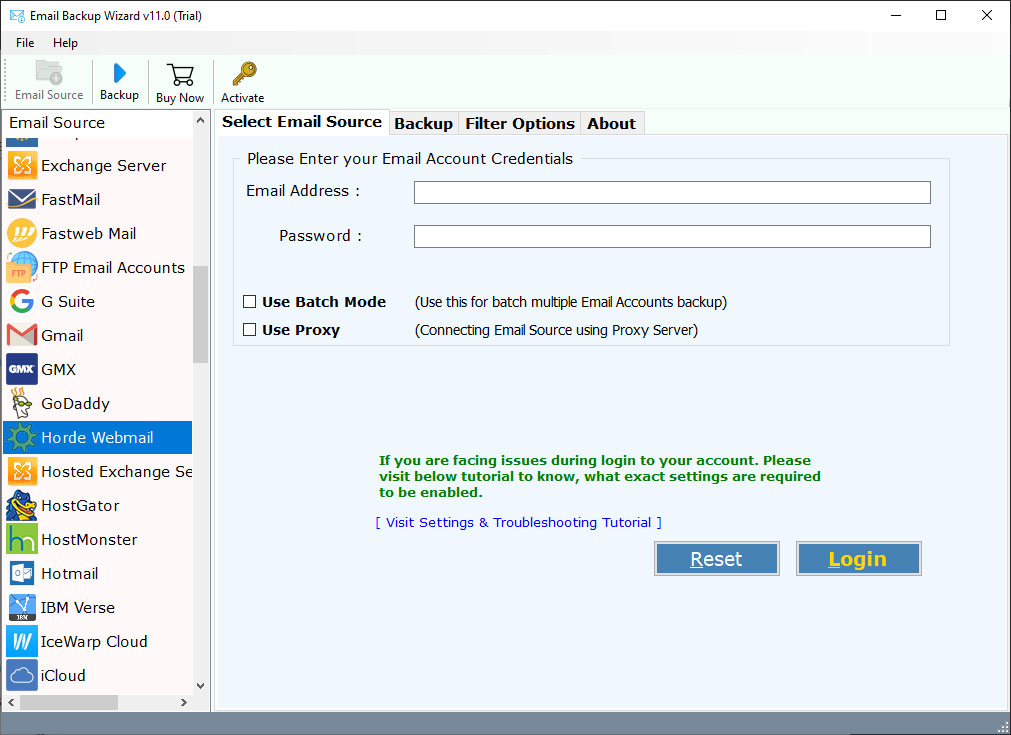 Now, enter the email address and password of the HostGator account. Also, fill the IMAP host like gator*****HostGator.com and IMAP Port number as 993. Thereafter, hit on the login button to continue the process.
Note: You can also migrate HostGator Webmail email accounts. Choose Webmail options (Horde or Roundcube or SquirrelMail).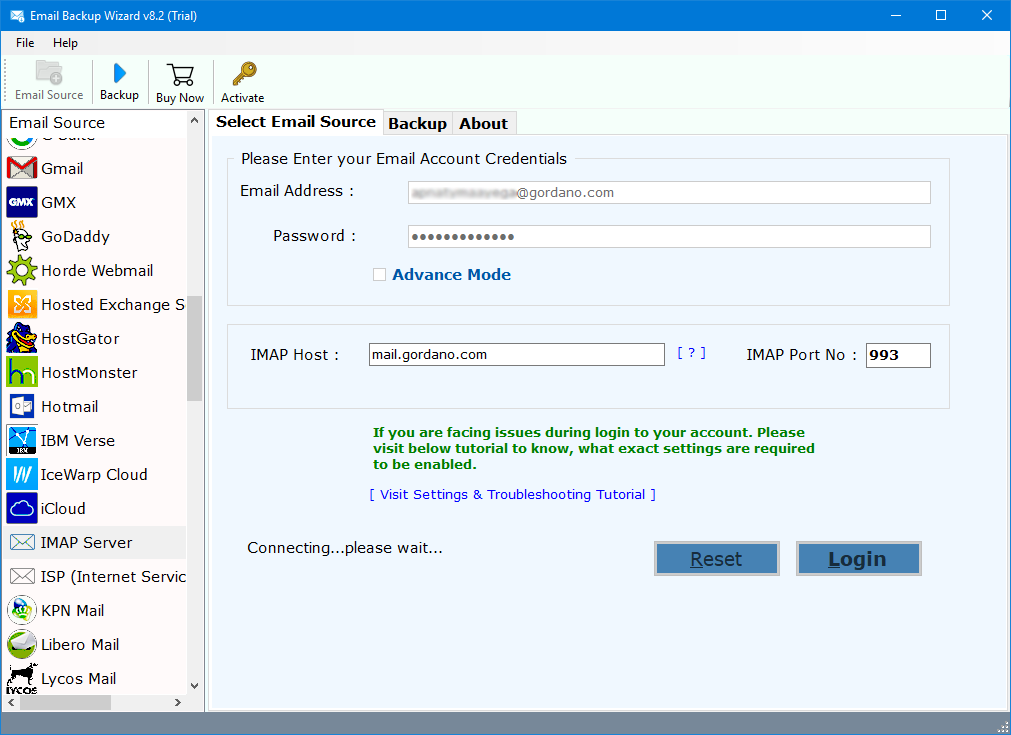 Now, enable those email folders whose data you want to transfer from HostGator to Gmail.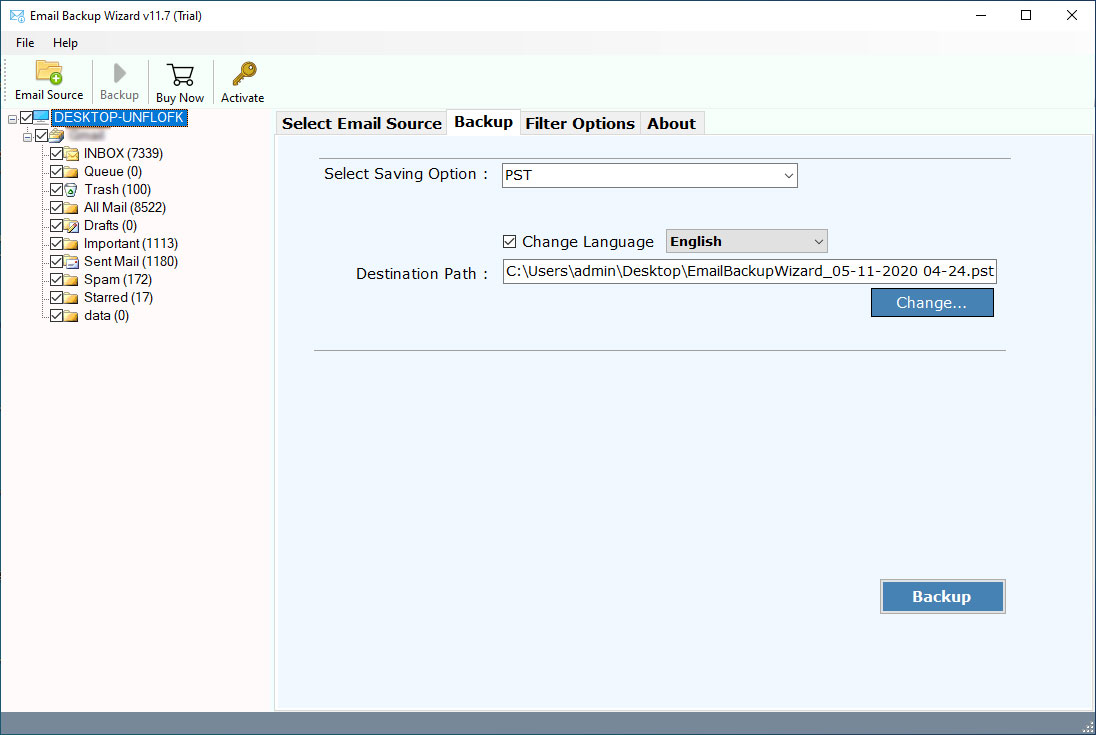 After this, select Gmail as the saving option.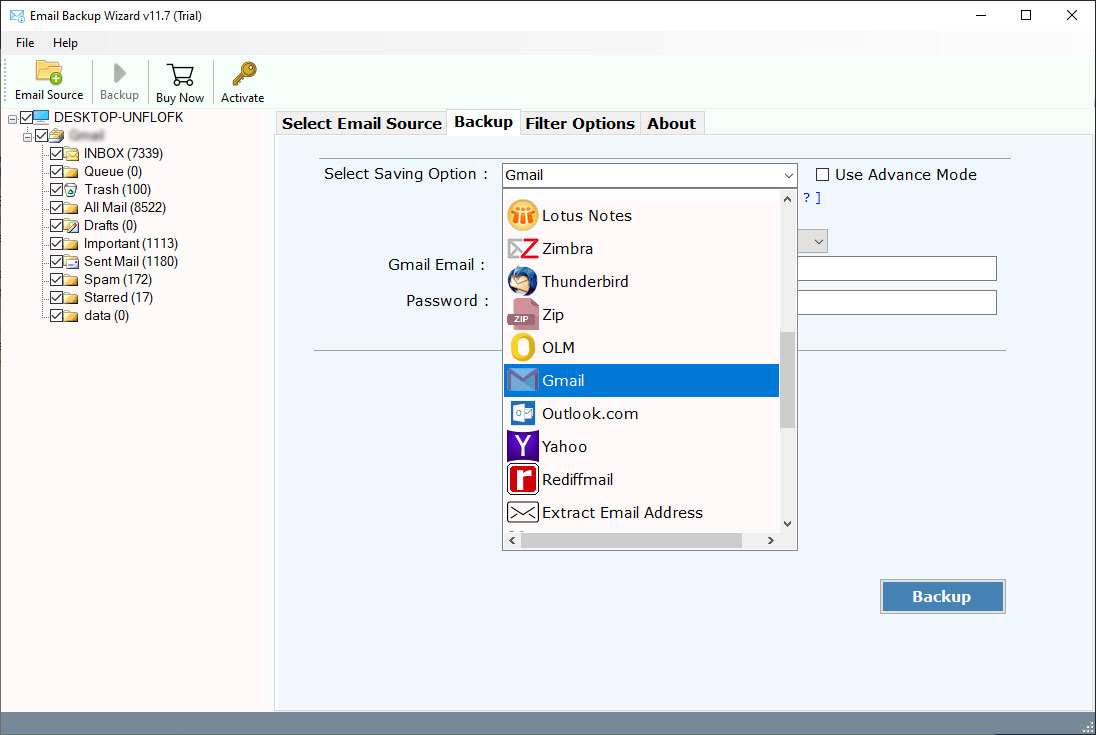 Specify the Gmail email ID and password.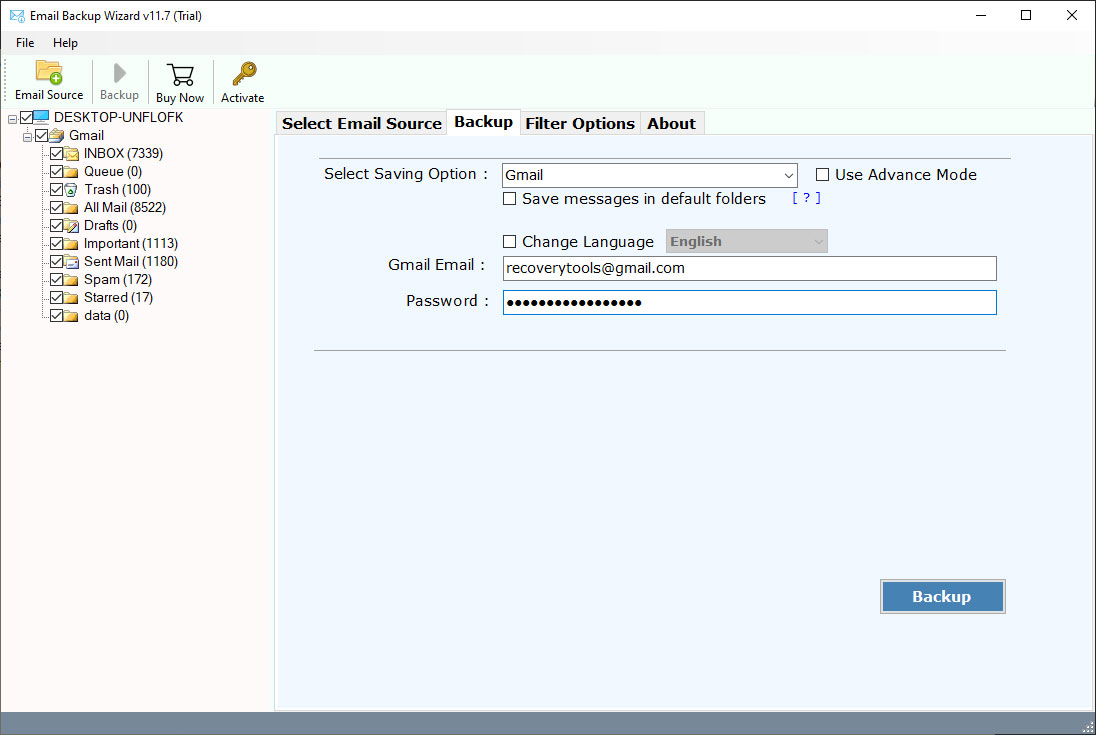 Also, you can use filer options to migrate selected emails only.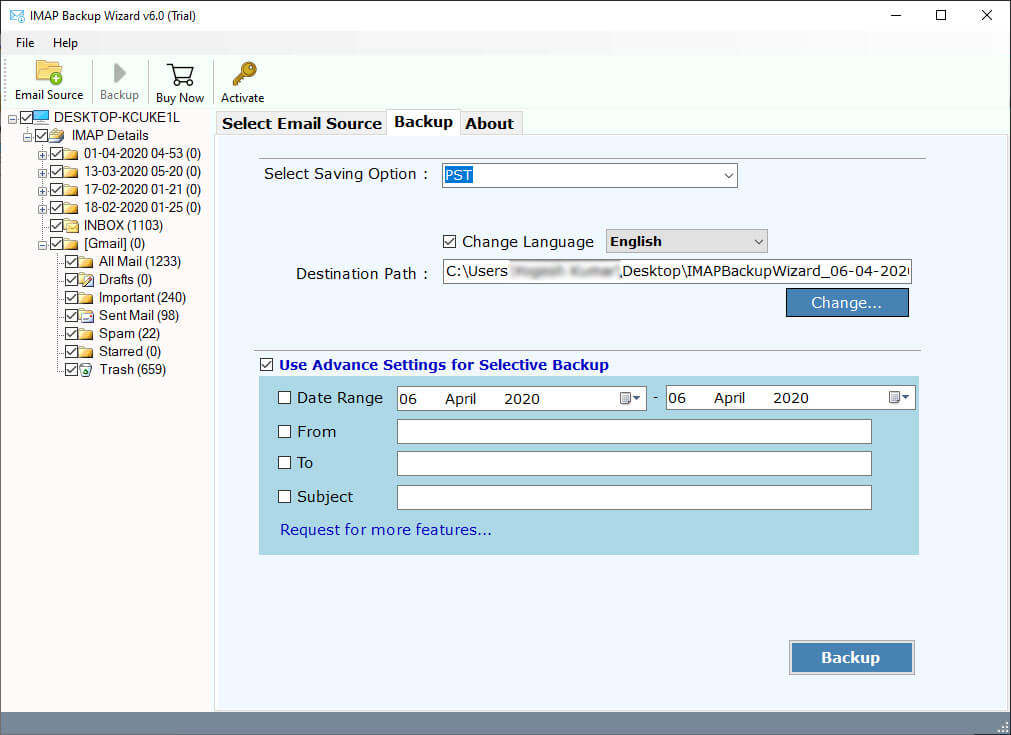 Tap on the backup button to finish this task. The process to transfer emails from HostGator to Gmail is running on your screen.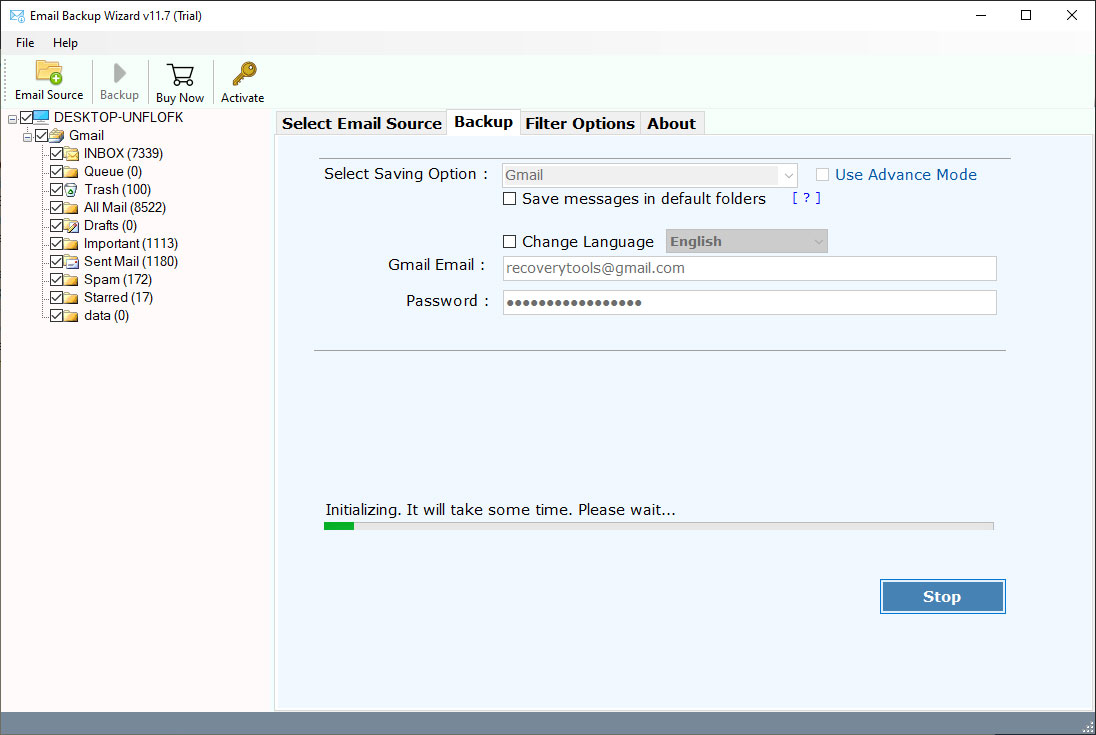 Check the Gmail account to view all transferred HostGator email messages.
HostGator to Gmail Migration Tool – Top Features Explained
Save Messages in Default Folders:
The HostGator to Gmail transfer utility gives an alternative option to save HostGator webmail messages to default folders in your Gmail account. For instance, HostGator inbox email to Gmail inbox email migration.
Advanced Settings for Selective Mail Transfer:
The product accompanies specific relocation filter choices to move emails from HostGator to Gmail selectively. Presently, you can move just chosen messages from HostGator to Gmail account with cutting edge settings alternative.
Boundless Email Transfer Process:
The product permits you to transfer HostGator emails to Gmail in batch. It offers an advanced mode called batch option to migrate your multiple HostGator email mailboxes to Gmail at once. Select the option and upload a CSV file contains all HostGator email account details.
The product upholds different language choices. Presently, you can decipher and change over English language messages to numerous language options easily.
Maintain Emails and Folder Hierarchy:
The HostGator to Gmail transfer tool allows you to move all the chose HostGator mailbox directories to Gmail account. It will retain all the various HostGator mailbox folders including all emails while the process. Also, it keeps all your email elements and internet properties with attachments.
The product works with all forms of Microsoft Windows & Server Operating System. Also, the solution supports all editions of Mac OS X operating system machines. This solution supports all the latest versions of OS including Windows 11 or Server 2019.
FAQs – General Queries
Hi, actually I want to know that can I move only a few email folders from HostGator to Gmail account using this solution ?
Sure, the solution offers selective folder migration as well as selective email migration. If you want to migrate selected email folders, then after connected with your HostGator account. The solution allows you to choose the required email folders for the migration process.
I am still using Windows 7 on my computer because of some hardware limitations. So, can I use this solution on my computer also ?
RecoveryTools solution supports all Microsoft Windows editions. So, you can install it on your Windows 7 computer without any issues.
Can I use the solution on Mac machines also ?
Yes, you can. But you need to download the Mac version first.
How many HostGator email accounts migrate into Gmail in a single process ?
The solution gives a batch option. This alternative allows you to move multiple HostGator accounts to Gmail without any limitations.
Final Words
The above description, explains the ways to transfer HostGator Email to Gmail or Google Workspace account. If you need a method that gives an automatic pathway to migrate HostGator to Gmail account. The solution provides easy to use simple platform. You can also get a free trial edition to migrate emails and understand the process of this tool easily. For any other information, contact the support team.
Also Read: How to download email attachments from HostGator?