Thunderbird v78 Introduces New Address Book Formats (abook.sqlite, history.sqlite)
Karen Chard
~ Modified: 20-05-2022 ~ Thunderbird ~ 4 Minutes Reading
The latest release of Thunderbird email client changed the main address book from .mab to .sqlite.
Old Thunderbird address book data directory:
abook.mab – Personal Address Book
history.mab – Collected Contacts & Address Book
But, with the latest release, Thunderbird changed the saving format for Contacts & Address Book.
New TB 78 Address book data directory:
abook.sqlite – Personal Address Book
history.sqlite– Collected Address Book
Thunderbird Address Book File Location:
Thunderbird email client has a different profile name folder by default on this path:
C:\Users\<Windows user name>\AppData\Roaming\Thunderbird\Profiles\<Profile name>\
If you have changed your default storage of the Thunderbird program, follow the steps to export Thunderbird Address Book.
Launch Thunderbird Email Client.
Open the Tools menu & choose Address Book.
In the Address book menu, again choose the Tools tab.
Click on the Export button to start the process.
Choose the CSV option from the list.
Give a name to the file & click on the Save button.
But not everyone is happy with this new data file introduction.
New TB Address Book Format brings New Issues:
Here is a scenario:
What a mess? I am using Thunderbird for years & I just installed the new TB edition. Previously, whenever I upgraded my Thunderbird on the same computer or a new computer. I just copy my previous data folders on the new machine on the same profile path.
My wife's computer encountered a hardware glitch. So, I replaced it with a better machine. I updated to Windows 10 & installed Thunderbird v78. I transferred the profile in a traditional manner. At this time, the Thunderbird gives me a warning of incompatibilities to be expected.
In my wife's new machine Thunderbird has no address book & the send button is grayed out.
In that scenario, there seems no way to make Thunderbird v78 recognize the abook.mab or history.mab files. Even I have backup files of Thunderbird which I take on June 2020. Below screenshots will better explain the problem.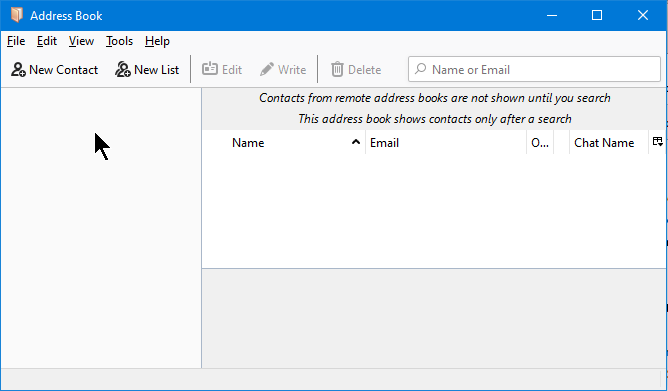 Does anybody have a solution or any add-on that will help me to do so?
Manual Solution to fix Thunderbird 78 Contacts issue:
However, the new TB v78 supports a completely new abook.sqlite file & history.sqlite file. You need to create a New profile in Thunderbird. Path: Help/Troubleshooting & then choose Profiles from Option.
Now in the new profile, navigate Help/troubleshooting. Now click on Open folder to open profile, & then close the Thunderbird. Copy your old abook.mab & history.mab files of your old profile into the new profile. Finally restart the Thunderbird program.
Limitations:
The biggest problem a user will face at this time is that the user needs high technical knowledge. Apart from it, there is no guarantee of your data safety.
How to resolve this issue with a third-party application?
If you face any problem while resolving this problem manually, then try a third-party solution. The solution will help the users to automatically detect the Thunderbird data from configured profile location.
One such application is RecoveryTools Thunderbird Migrator software. It will automatically detect the mailbox items from the default Thunderbird Profile path.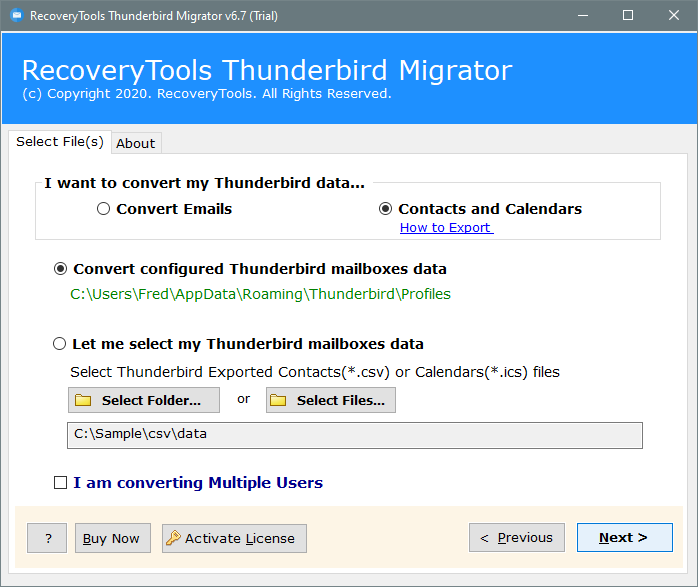 The application is algorithmic to convert abook.sqlite files.
A user can export Thunderbird abook.sqlite & history.sqlite contacts file to PST, vCard & ICS file format. Choose your desired file saving format according to needs.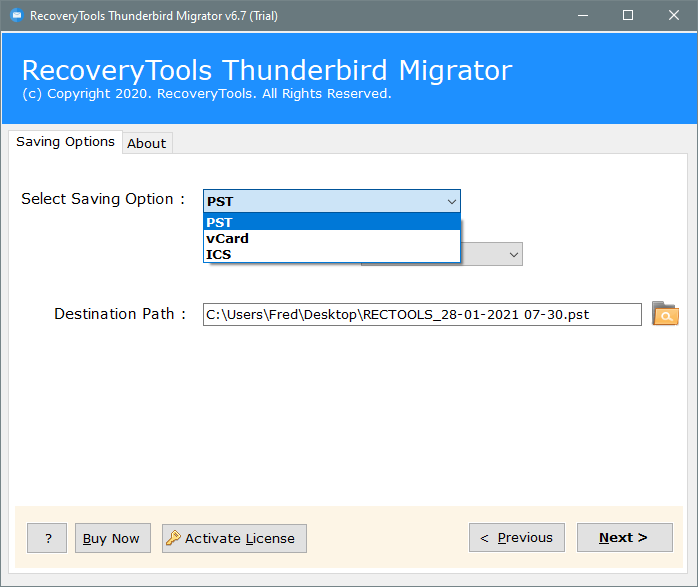 Note: ICS option will only save Calendar entries of Thunderbird. To export Thunderbird abook.sqlite contacts, it is recommended to choose only PST or vCard option.
Final Words:
With the latest release of Thunderbird v78, iy also introduced a new Address Book saving format i.e., abook.sqlite in place of sqlite.mab file.
The above article fully explains all the recent changes & how you can access the Thunderbird Address Book file. In case if you problem with getting old Thunderbird Contacts in a new format, then try the software.
The USP of this application is its support for the conversion of the latest SQLite address book file. User can save them as useful PST file or default vCard contact format.